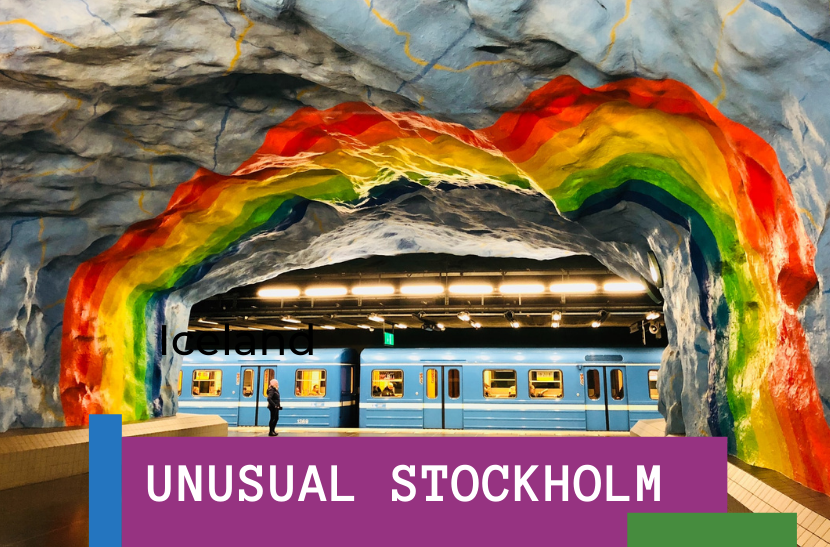 Find out about the off the beaten track and unusual things to do in Stockholm!
After you have visited the Old Town "Gamla Stan", took a boat trip around the archipelago, ate the meatballs with lingonberry sauce, it's time to try something "different". 
1 | See fantastic Stockholm Skyview from the Ericsson Globe
This experience you can get only in Stockholm: the Globe is the largest hemispherical building on Earth.
The architecture and the size of the Globe are really impressive.
It hosts big events, concerts, and shows like the Eurovision Song Contest, the Figure Skating Championship, and the World Cup of Hockey.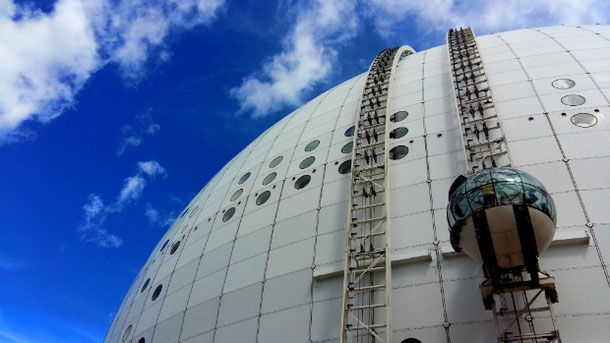 You will reach the top of the Globe in a glass ball attached to rails on the superstructure of the building.
From the height of 130 meters (425 feet) above sea level, you will see an amazing panorama of Stockholm.
Some people get so over impressed, that they even make marriage proposals here.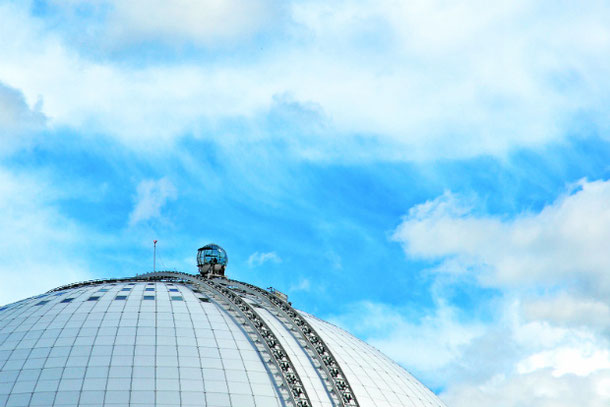 As I am a fan of unusual and off the beaten track attractions, I enjoyed my ride on the Globe in Stockholm. It's definitely something unique that I have not seen anywhere else. 
Where : Globentorget 2 12177 Stockholm
Price: 160 KR that is around 19 USD. 
However, I went to the Skyline Globe for FREE because I had  the Stockholm Pass. 
I wanted to maximize my stay in Stockholm and visit many attractions, so the Stockholm Pass was an excellent option. Basically, it's one ticket for almost all the places of interest in Stockholm. 
With the Stockholm Pass I could go to these attractions:
Vasa Museum
The Royal Palace
Nobel Prize Museum
Drottningholm Palace & Boat Tour (Apr-Oct)
Skansen Aquarium
Nordiska Museet
Stockholm Winter Tour (Dec-Apr)
Royal Canal Tour (Apr-Dec)
Storkyrkan Cathedral
SkyView
Stockholm Panorama Tour
Gröna Lund Tivoli (Apr-Sep)
Guided Stockholm Old Town Walk (May-Aug)
Chinese Pavilion at Drottningholm (May-Sep)
Fotografiska
Hop-on Hop-off Bus & Boat Tours
Archipelago Tour with guide
Vikingaliv
Riddarholmen Church (May-Nov)
Under the Bridges of Stockholm (Apr-Nov)
Swedish Museum of Performing Arts
Bergrummet - Tidö Collection of Toys & Comics
Museum of Spirits
S/S Stockholm to Vaxholm
Artipelag Art Gallery & Grand Canal Cruise to Artipelag (May-Sep)
Drottningholm Court Theatre (Mar-Dec)
Strindberg Museum
The Royal Stables
Boat trip to Fjäderholmarna
National Museum of Science and Technology
I managed to visit just half of the list, but even so, I spent a lot less than if I bought a separate ticket for each attraction.
So, my personal conclusion for the Stockholm Pass: thumbs up! 👍
2 | Stay at the unusual Stockholm hostel inside of the Boeing 547
How about an overnight stay in the Boeing cockpit?
Are you looking to stay in a quirky hostel in Stockholm?
Then the Jumbo Stay hostel is for you! Moreover, you don't need to go far from the airport when you arrive to Stockholm. The hostel is only a 15-minute walk from the airport terminal and can be reached by a shuttle bus. It's a convenient option if you fly late at night or very early in the morning.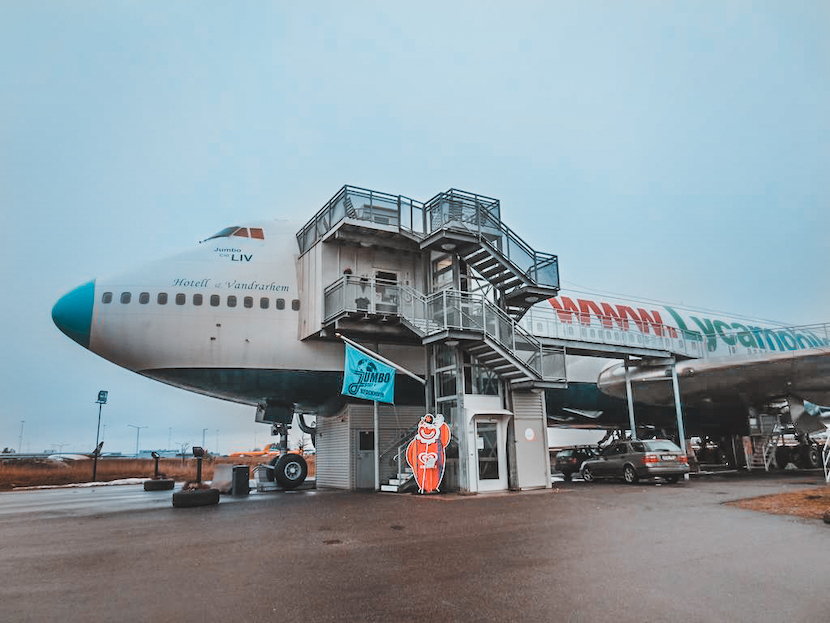 Photo credit: Jumbo Stay Hostel 
Right on the edge of the takeoff field, a handsome Boeing 747 is parked. 
It's too old to fly but is not willing to die. 
Now this airplane pleases all air maniacs and lovers of unusual things. 
When you get aboard, a member of the Jambo stay team will meet you in a uniform. You can choose among 33 rooms with up to four beds in each. The best room, a cockpit suite is located on the upper deck. 
Nothing can compare with the exciting feeling when you lie in bed in your small room and look at the row of illuminators and planes taking off. 
Check availability of the hostel and see more photos. 
Jumbo Stay is not just a hostel, it's also an unusual cafe and a place to go on an excursion for aviation enthusiasts.
You don't need to stay overnight in the hostel to visit the cafe as it is open to the public. 
Enjoy your breakfast, coffee, or ice cream in the quirky Stockholm cafe in a converted first-class lounge. 
3 | Command Stockholm light tower by your smartphone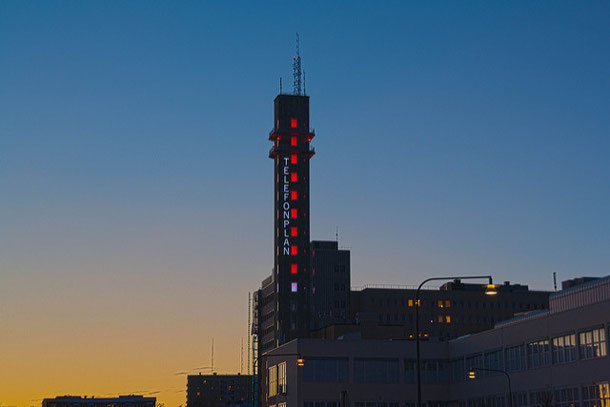 Were you thinking, what unusual things can you do with your smartphone? I bet, yes. Here is an idea from the creative Stockholmers.
Why not control a tower with your phone, like with a console, and to change the colors in the windows?
You can do it at  the permanent light installation Colour by Numbers in Stockholm's Telefonplan tower.
You just need to install the app and start choosing which floor you would like to light and with which colour. You can see the result either by going to that area (the lights are visible within the radius of 10 kilometers) or to view it via the live web camera.
The Colour by Numbers Stockholm is an unusual artistic installation based on the approach of participatory design where everyone can become a co-creator. The idea is to use technology as an urban sign language and to briefly influence at least some part of the cityscape. 
Note: the installation is closed at the moment; please check the website of The Colour by Numbers for the update on when it will be open again.
4 | Become the fifth ABBA: unusual thing to do in Stockholm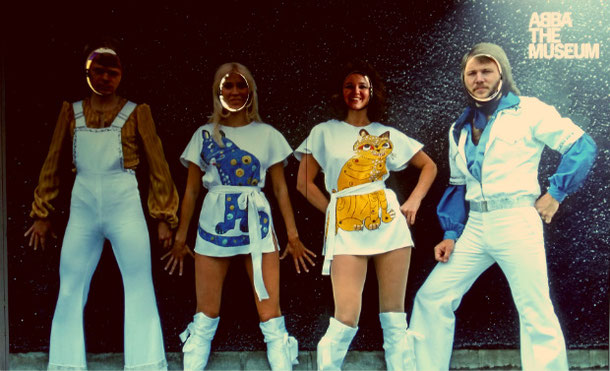 The ABBA museum in Stockholm is not an ordinary museum.
Singing ABBA songs in karaoke, dancing on the retro dance floor will give you so much fun, happiness and will charge you with positive energy. At least, it's what I felt there. 
The funniest thing to do there was to become the fifth ABBA and perform together with the band. 
I just chose my favorite ABBA song and went on the stage to perform together with Björn, Benny, Agnetha & Frida in life-size digital 3D illusion avatars.
You don't need to know the song by heart: you will see the words to sing and the dancing movements to repeat.
I had a chance to experience it at the closed TBEX event in the closed ABBA museum at night, and it was the party to remember ))))
I hope you will like it, too. 
The ABBA is a music that doesn't get old! 
Get your ticket to the ABBA Museum in advance to avoid waiting at the entrance: 
5| Be like a Stockholmer: go hiking, kayaking or join local outdoor activities
Swedes love nature and outdoor activities. 
For them, every time of year is a new reason to spend time outdoors, all-year-round, and whatever the weather.
A passion for nature cuts to the heart of what Scandinavians call "friluftsliv". This expression literally translates as 'open-air living'. 
Swedes spend their free time biking, sailing, ice skating, nordic walking, and kayaking.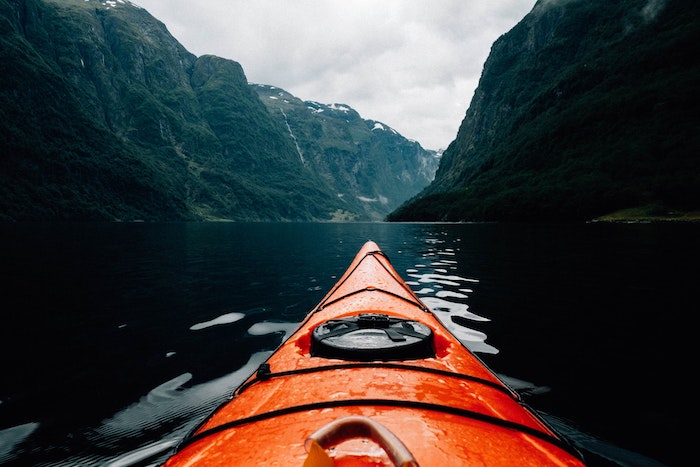 Swedes spend their free time biking, sailing, ice skating, nordic walking, and kayaking. 
I had a chance to exercise in a Swedish way when I was living in Brussels. I used to attend classes from a remarkable Swedish fitness organization Friskis&Svettis, translated in English as "Healthy & Sweaty". 
Why is it remarkable? It's a sport non-profit organization entirely run by the volunteers. Yes, both members and the instructors are volunteers. 
Friskis&Svettis developed a uniquely Swedish way of training called "Jympa". They are now present not only in Sweden but in other European countries. The training classes were very social, international, sweaty, and very "feel-good".
And, great news for you! If you are staying in Stockholm for longer than just a weekend, you can attend Friskis&Svettis free classes in Stockholm parks.
The training offered is diverse: from the mentioned above Jympa to Core and Yoga on the grass. It's an excellent way to meet Stockholmers and get to know them. Check Friskis&Svettis page for details.
If you come to Stockholm for a short trip, check out what you can do in Stockholm in 1 day. 
To develop a passion for nature and sports like the Swedes, I went on a Hiking Tour in the Nature Reserve near Stockholm. 
Not everyone knows that it's possible to go on a great hiking and adventure trip just 20 minutes away from the city center of Stockholm. 
During 5 hours of hiking, we explored a beautiful protected area, the Stockholm Nature Reserve. In the middle of the hike, we stopped to have lunch cooked on a campfire. 
Our guide took us to the best spots for trekking and explained about Swedish flora and fauna. 
I enjoyed taking a break from urban sightseeing and exploring beautiful nature around.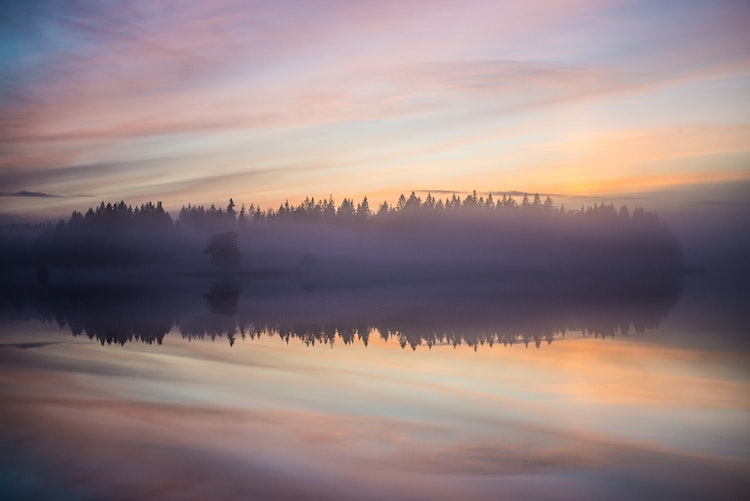 Another great way to get closer to the Swedish nature is to go kayaking. There are several organized tours in Stockholm that suit both to the people who never tried kayaking and to the experienced kayakers. 
More information about the kayaking tours below: 
6 | Attend a Kaninhop in Stockholm: an unusual rabbit competition invented by the Swedes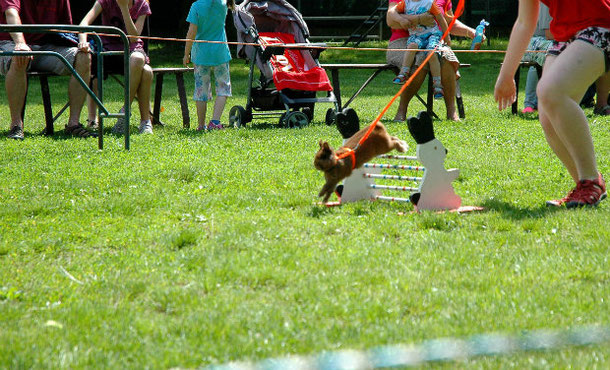 A totally off the beaten track and local thing to do in Stockholm is to attend a Kaninhop.
What is Kaninhop? It's a not so common thing.
As you can guess from the photo, it's a rabbit-jumping competition.
The Swedes invented it back in the 1970s.
The concept is simple: trained rabbits hop over the obstacles. The rules are similar to those from the horse-jumping but adapted to the bunnies. 
In Sweden, there are many rabbit clubs and you can attend Kaninhop competitions in Stockholm.
Check this website for more details.
7 | Play board games Stockholm-style: outdoors, in the cafes and special bars
Together with outdoor activities, Stockholmers like board games!
When the weather is warm, they do it in the open air. So why not be like a local and play giant chess with Stockholmers in the park?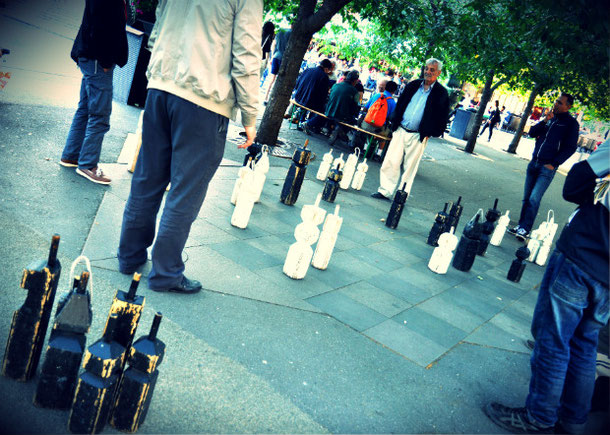 In colder months or the evenings, locals meet to play board games in the clubs and bars. Surprisingly, the choice of such cafes is huge. 
Folk and Friends is a social club and a bar where you can taste 80 different beers and play board games. 
In Dice Cafe, you will find an impressive selection of board games including rare and unusual games. It's also possible to rent the games and play in the nearby park Kronobergsparken, if you prefer to play on the fresh air.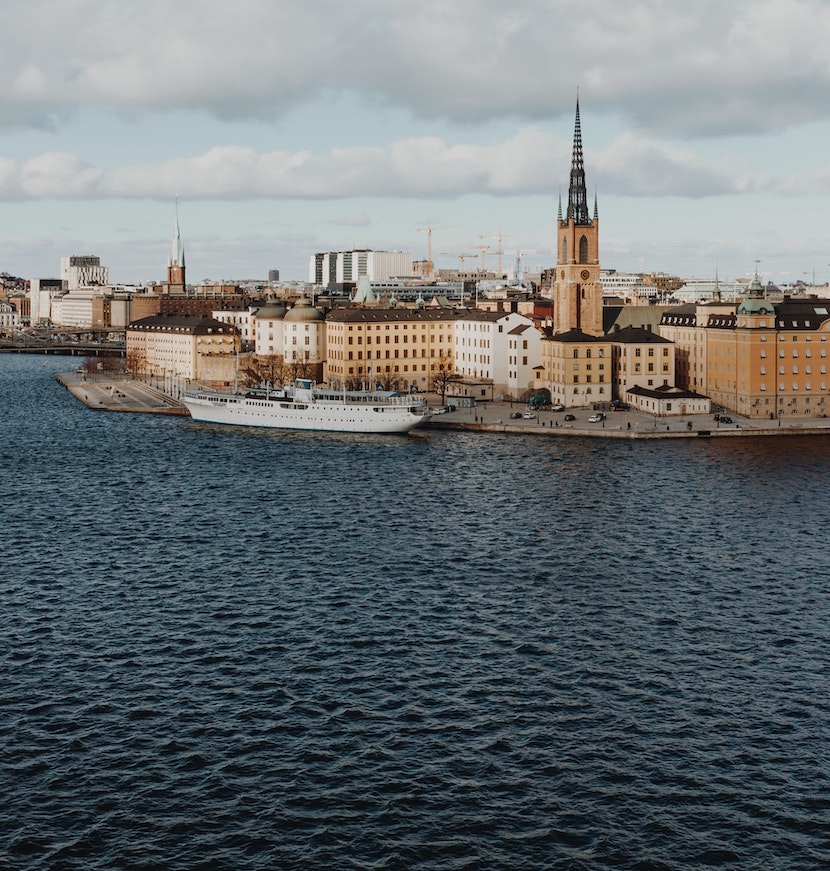 Ugglan bar is Sweden's largest recreational space for grown-ups. There you can play darts, pinball, boule, shuffleboard, air hockey, arcade games, foosball, and more. 
Other cafes and bars where you can play board and other games in Stockholm are BrewDog Kungsholmen, N3rds, and O'Learys. 
8l Stockholm off the beaten track: explore the world's longest metro art gallery
When you are in a Stockholm subway, don't just rush in and out. 
Instead, if you slow down a bit, you can explore the world's largest art gallery that is 110 kilometers long!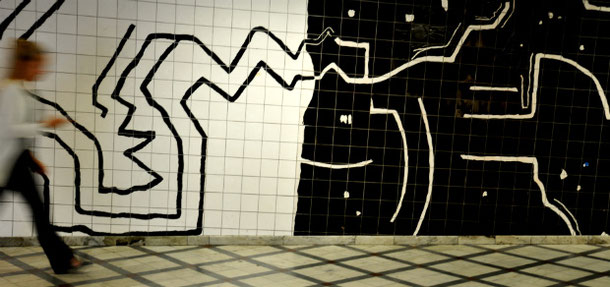 The Stockholm metro is decorated with amazing paintings, sculptures, and mosaics that were created between the years 1950 and 2000. The Stockholm Metro art hunt is one of the best free things to do in Stockholm: It's fun and educational. 
The stations that I recomment to visit are Stadion, Radhuset, Solna Centrum, Kungsträdgården, and T-Centralen.  
If you are an art lover and want to dig dipper into the meaning and the story of this metro art, there is a fascinating tour of Stockholm Subway Art. 
The guide will explain why Tunnelbana - the Stockholm Metro - is rightfully considered one of the main attractions of the city. The state invested about $ 1.5 million annually in the Stockholm underground gallery. 
It's quirky, unusual, strange, and mysterious. 
Each metro line is decorated in its own way. I was surprised to see there not only street art, but Greek sculptures,  ultra-modern video installations, and grottoes. 
Moreover, the Stockholm metro is also an exhibition hall as it often hosts exhibitions of artists.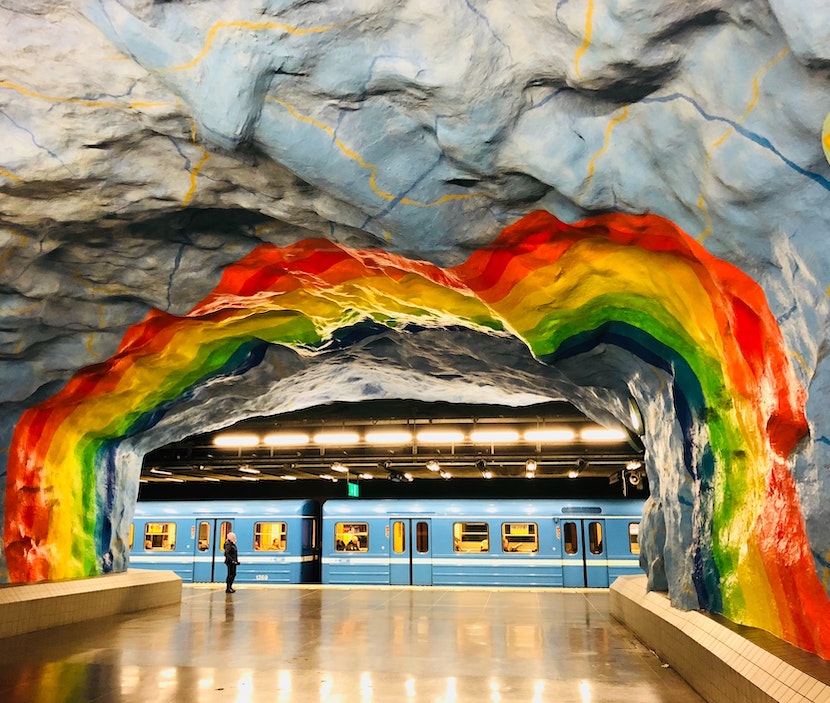 9 | Understand the Viking culture & explore the oldest town of Sweden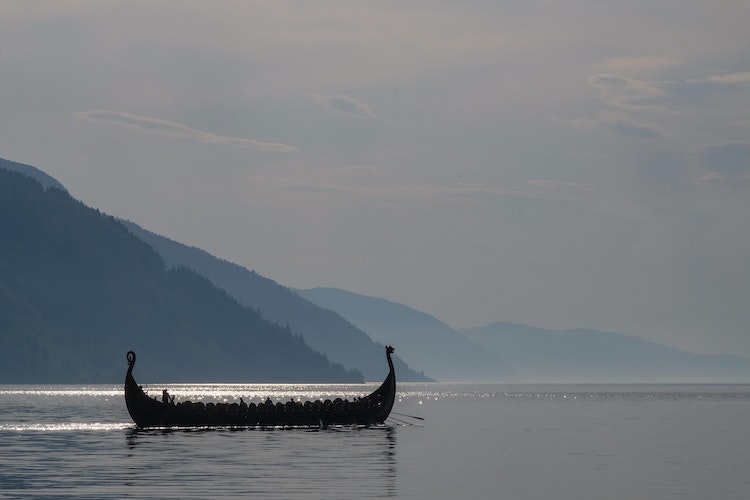 Just 45 minutes driving from Stockholm will 
10 | Warm up in the unusual Ice Bar in Stockholm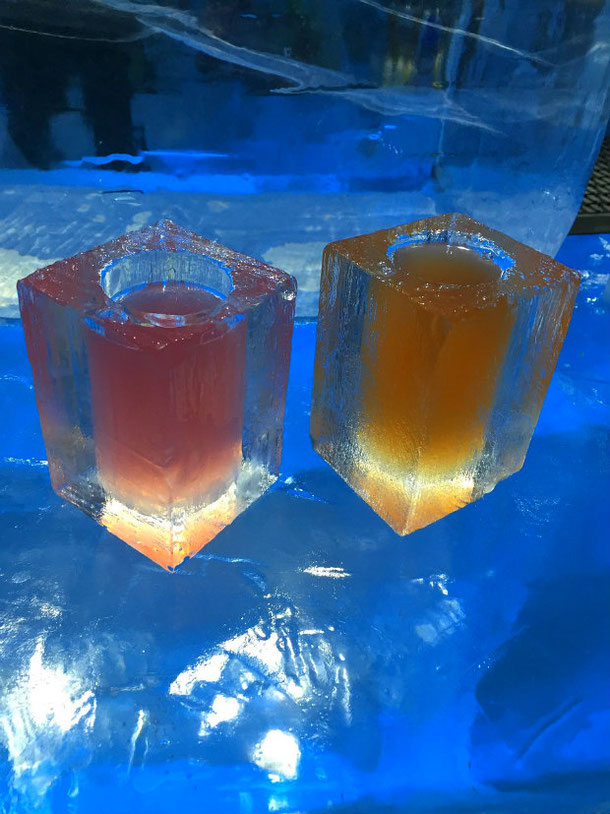 If you have not been yet to the Ice Bars in other cities, you have to visit this unusual cafe in Stockholm.
Swedish Ice Bar is actually the first permanent ice bar in the world !!
Then the concept was introduced in different countries from Japan to Russia and The United Arab Emirates and had a big success.
Everything in this bar, except of drinks, is made from ice, even the glasses and the art work on the walls!
The ice itself is not an artificial one, it was transported from the the Torne River in Swedish Lapland. It's great to come to the Ice Bar in any time of the year: in summer you will cool down at -5° C (23° F); and in winter you will warm up with the shots served there.
It's a fun and "cool" experience :) 
Where: Vasaplan 4
Check the Ice Bar's website for more details.
HAVE A NICE TIME IN STOCKHOLM!
With love,
Sasha & The Alternative Travel Guide 
SAVE IT ON PINTEREST: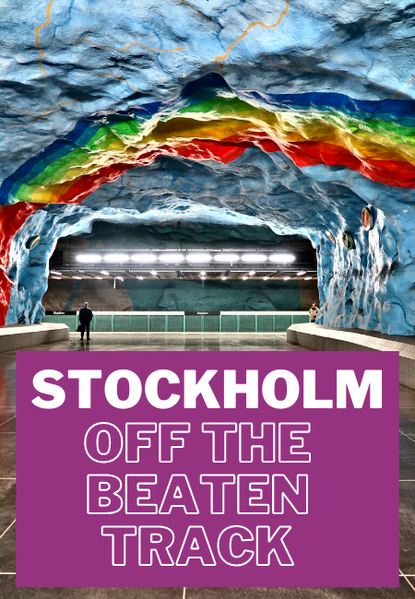 SHARE THIS BLOG POST:
 
 
 
 
 
 
 
 

 

ABOUT THE AUTHOR

 

Hi, nice to meet you! I'm Sasha, a "free spirit" and a world citizen at heart who was born in the country that does not exist: Transnistria. I am on my adventurous journey to discover alternative, quirky, unique and unusual things to do and to visit in cool cities around the world. Join me and try something new! I write in Globish, since English is not my native language, so feel free to correct me or to make fun of me :).