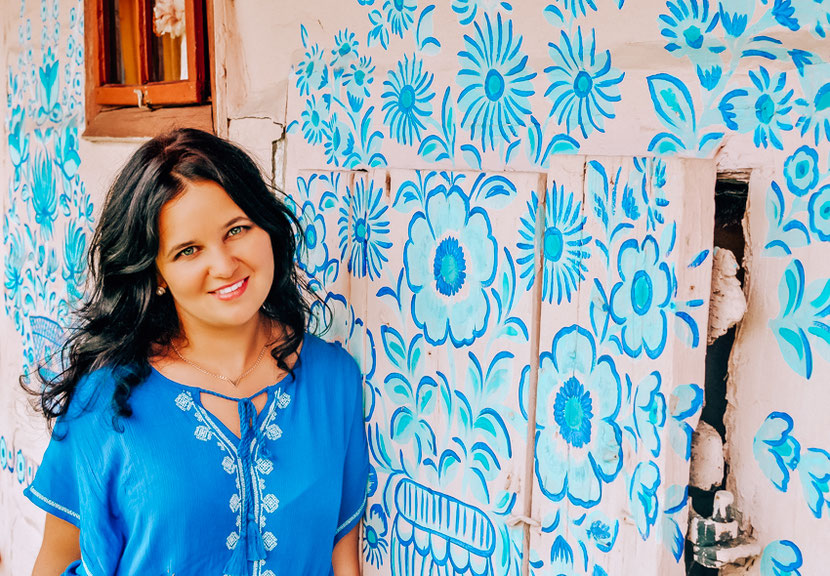 Do you want to go to a fairytale like place? The village of Zalipie is a unique place on the tourist map of Poland. It is a living open-air museum of unusual traditions and cottages painted in flowers. It is known in Poland as "the painted village".
In this blog post, I tell how this village appeared, why everything is painted there, from wells and dog kennels to a fire station and a church, and how to get there.
Zalipie - the most colorful Polish village
Due to its remote location, Zalipie is not overcrowded with tourists. I visited it on a summer Sunday, and I was surprised to see only around twenty other visitors wandering the streets of the village.
It was quite a long ride to reach Zalipie, but it was definitely worth it.   
Zalipie is located in the Małopolska province, near Krakow. So if you plan to visit Krakow soon, add Zalipie to your travel bucket list.
There is no other village like that in Poland!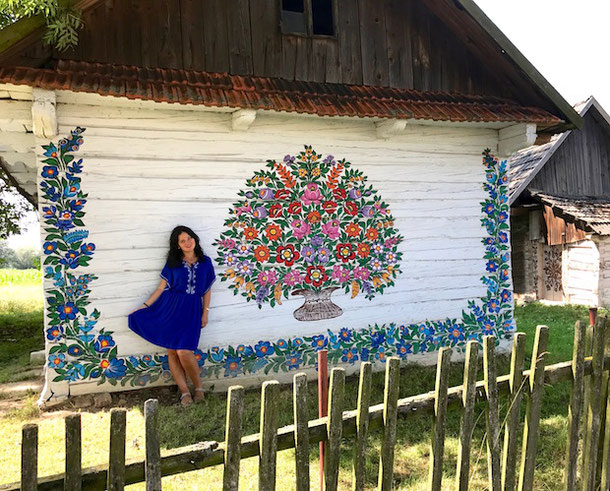 The custom of decorating the houses with flowery paintings originates from the end of the 19th century, from the times of smoky huts.
There were no chimneys in such huts, and the smoke from the hearth passed through the hole in the roof. Walls in such a smoky house were buried.
To brighten the interior of the house, village women whitewashed the sooty areas to make their homes look beautiful. But even after the whitewash, dark smoke was sometimes still visible.
To disguise the soot further, women were painting floral motifs on the  fresh whitewash.
Over the time, flower ornaments took over the stoves, the walls and ceilings of the huts, and finally the outer walls of houses and even farm buildings. 
Even though old stoves have long since been updated and there is no need to hide soot marks, Zalipians continue the flower-painting tradition. 

It has even become an annual village-wide competition for the best painted-flower-house. 
The tradition of painting beautiful flowers spread now on all the houseware: beds, tables, spoons, plates, bells, bridges, garbage cans and dog houses. 
Everything in the Zalipian household is blooming :)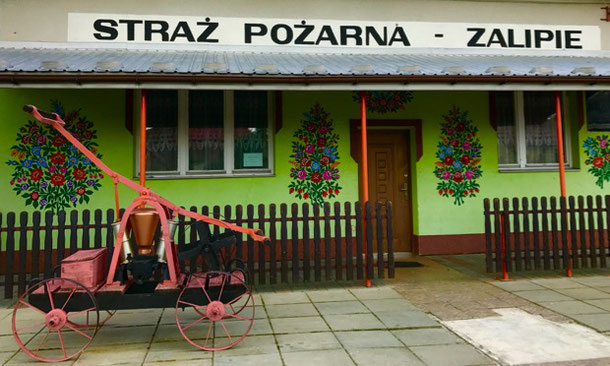 And here is a Zalipian fire station.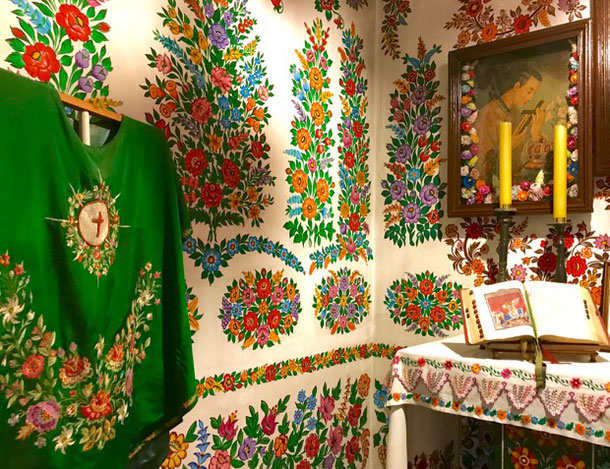 Festive mood  inside of the church.
The desire to paint everything with flowers did not bypass the religious inhabitants of Zalipie.
I was looking forward to my trip to Zalipie and I was amazed to discover that the village is more than just houses decorated with flowers. 
Zalipie turned out to be multidimensional folk art!! 
Look at this, it's so pretty! 
Travel tips for visiting Zalipie
How to reach Zalipie
The best option to plan a trip to Zalipie is to combine it with a trip to Krakow as Zalipie is situated just 100 km away. To reach the place, you can take a train from Krakow to the nearby Tarnow and then take a bus to Zalipie. 
http://rozklad-pkp.pl/en
You may also check a carpooling option at the BlaBlaCar that is very popular in Poland and find a ride to Zalipie.
As Zalipie is located in the middle of nowhere, the easiest way to access Zalipie is still by car, and you will need a GPS or a map to find it. 
I was traveling to Zalipie from Warsaw and it was almost a four hour drive. 
Important! It is a remote rural area without restaurants, cafes or hotels.
You will probably spend a couple of hours in Zalipie, so it's a good idea to bring some food with you and make a picnic on the nature.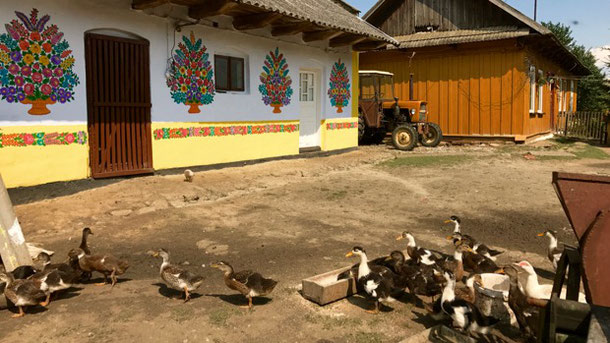 Where to stay and what to visit nearby
If you want to explore other places in the area, I advise to visit Tarnow with its beautiful Old Town and Solec-Zdroj, a mineral water village.
It is worth to stay overnight at one of the mineral spa hotels as this mineral water is among the strongest therapeutic water in Poland, very rich in sulphates, chloride-bromide, brine and other minerals.
We stayed at the Malinowy Raj ("Raspberry Paradise") mineral hotel, which is a 40-minute drive from Zalipie.
It has several mineral pools, outdoor and indoor, as well as a unique salt-sulfide pool with hot water.
Water in that pool comes directly from the Raspberry Natural Hot Spring. Since it is healing water with a high content of minerals, you can bathe there for maximum 30 minutes. (in other pools you can stay longer).
Another possibility is to take curative baths at the public pools with mineral water that cost only 20 PLN (5 Euro) per hour. 
A great option to relax and unwind after long walks!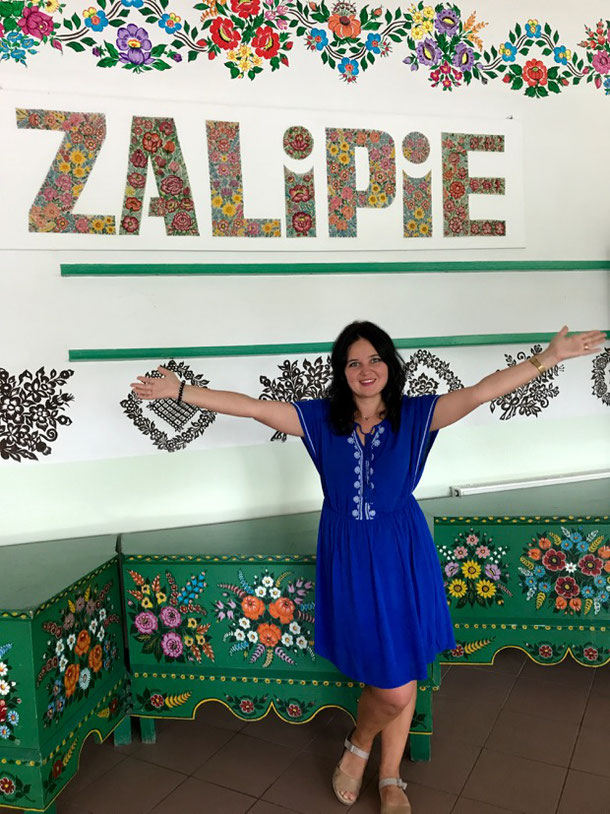 Thanks for reading! 
Did you find it useful? - Like! 
Have you been to other unique and unusual villages? If yes, where? Share it in the comments. 
Want to be the first to know when a new interesting article is published? 
Cheers,
Sasha 
 
 
 
 
 
 
 
 

 

ABOUT THE AUTHOR

 

Hi, nice to meet you! I'm Sasha, a "free spirit" and a world citizen at heart who was born in the country that does not exist: Transnistria. I am on my adventurous journey to discover alternative, quirky, unique and unusual things to do and to visit in cool cities around the world. Join me and try something new! I write in Globish, since English is not my native language, so feel free to correct me or to make fun of me :).