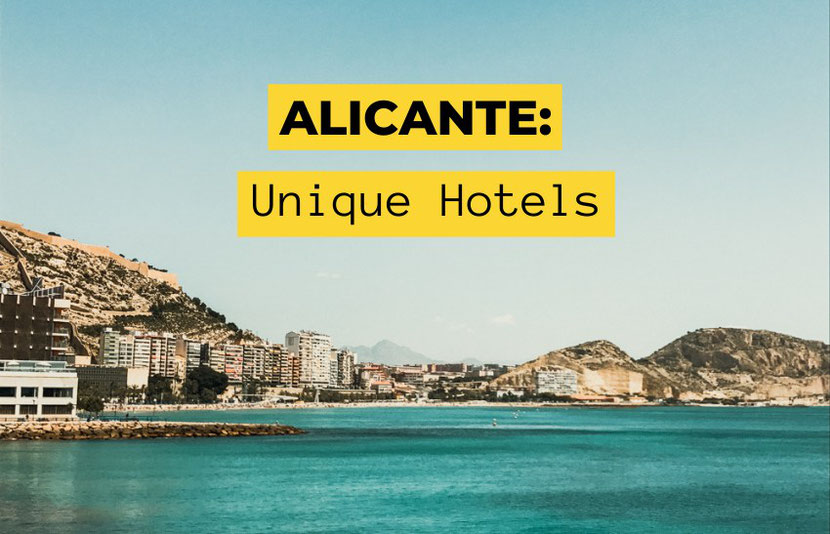 If you want to spice up your Alicante holidays, why not stay at one of the boutique hotels in Alicante? On The Alternative Travel Guide, I collected many unique places to stay in different cities, and I could not miss my favorite city on the Costa Blanca, Alicante.
Here is my selection of quirky accommodation and unusual hotels in Alicante and surroundings that will charm you at first sight. 
Hotel Boutique Alicante Palacete S.XVII In A Former Palace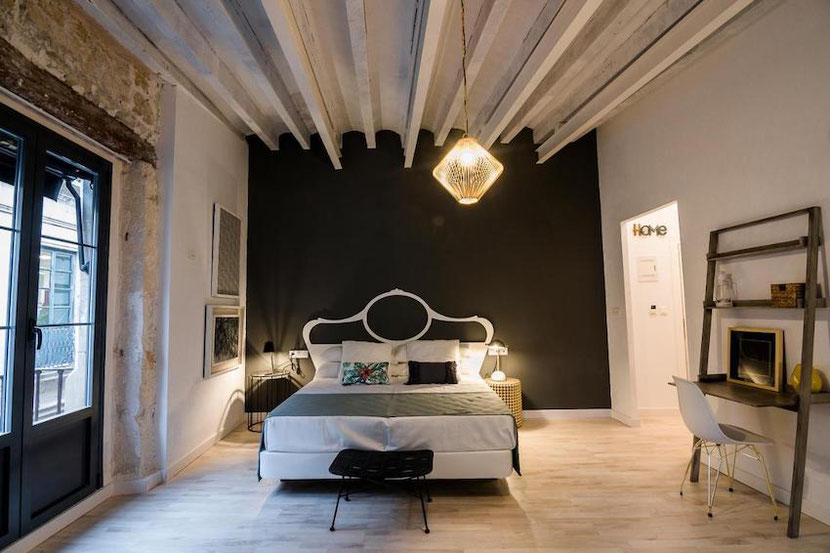 Photo courtesy of Hotel Boutique Alicante Palacete 
This historic boutique hotel in Alicante is perfect for a romantic stay, as it's an adults-only hotel. The hotel owner has managed to create a magical atmosphere in a renovated old palace from the 17th century.
This cozy hotel is suitable for privacy and silence lovers. You will not meet crowds of guests because the hotel has only 17 rooms. Each room is decorated in a unique, eclectic style, combining antique and modern interior design elements. If you want to change the calm atmosphere to a more lively one, just leave the hotel, and you will find yourself in the center of Alicante, with many bars, restaurants, and cafes.
A ten-minute walk will take you to the central beach of Alicante, where you can enjoy the sea and the sun.
The hotel has another surprise for you: a lovely rooftop terrace for drinks. In summer, you can enjoy an open-air breakfast on the patio or spend evenings under the stars with a glass of wine in hand. 
HOSPES AMÉRIGO: A Unique Hotel In A Former Convent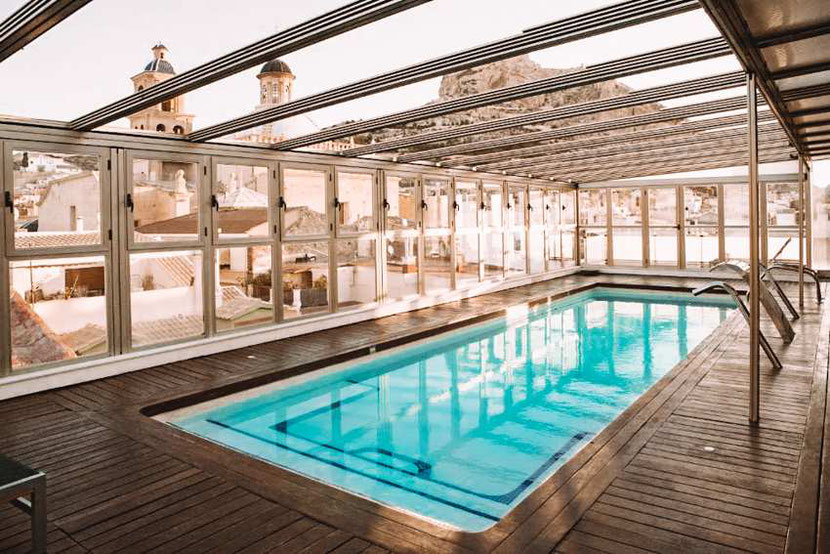 Photo courtesy of Hospes Amérigo Hotel 
The next star in our chart of unusual hotels in Alicante is HOSPES AMÉRIGO, housed in a 15th-century monastery of black monks. 
The old monastery has turned into a fantastic place, combining history and modern Mediterranean style.
Hotel Amérigo welcomes guests with a stunning historic façade made of ancient stones, which you will also notice inside the hotel. It also features magnificent gothic windows. This hotel is suitable for travelers who value exclusivity and uniqueness. Indeed, there is no other such luxury hotel in a former monastery in Alicante, and maybe in the whole of Spain.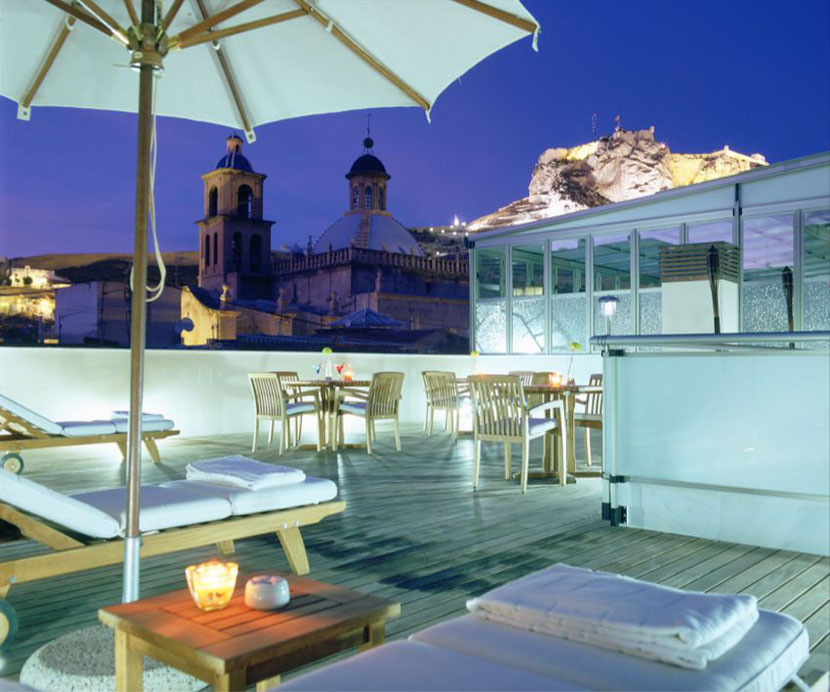 Photo courtesy of Hospes Amérigo Hotel 
You can enjoy stunning views of the Castle of Santa Barbara, the symbol of Alicante, from the hotel's rooftop terrace and a bar and even from some rooms. On a hot day, you can cool off in a rooftop pool, which also offers magical views of the castle, the old town of Alicante, and the mountains.
The rooftop pool with a view is a great place to unwind after an active day in the city. The hotel AMÉRIGO  is located in the heart of Alicante's Old Town, in the vicinity of two of Alicante's most iconic historic buildings: the City Hall and the Cathedral of Saint Nicholas. 
The hotel is just a short stroll away from the stunning port of Alicante. You'll be able to take in the breathtaking views of the Mediterranean Sea as you walk along the fantastic promenade and explore other cool things to do in Alicante cruise port. 
AMÉRIGO has collected all the advantages that a traveler could wish for: proximity to the sea and the beach, Alicante must-visit sights, restaurants, cafes, chic rooms, top service, and a unique historical building. 
VIVOOD Landscape Hotel & Spa: A Boutique Hotel With An Infinity Pool in Alicante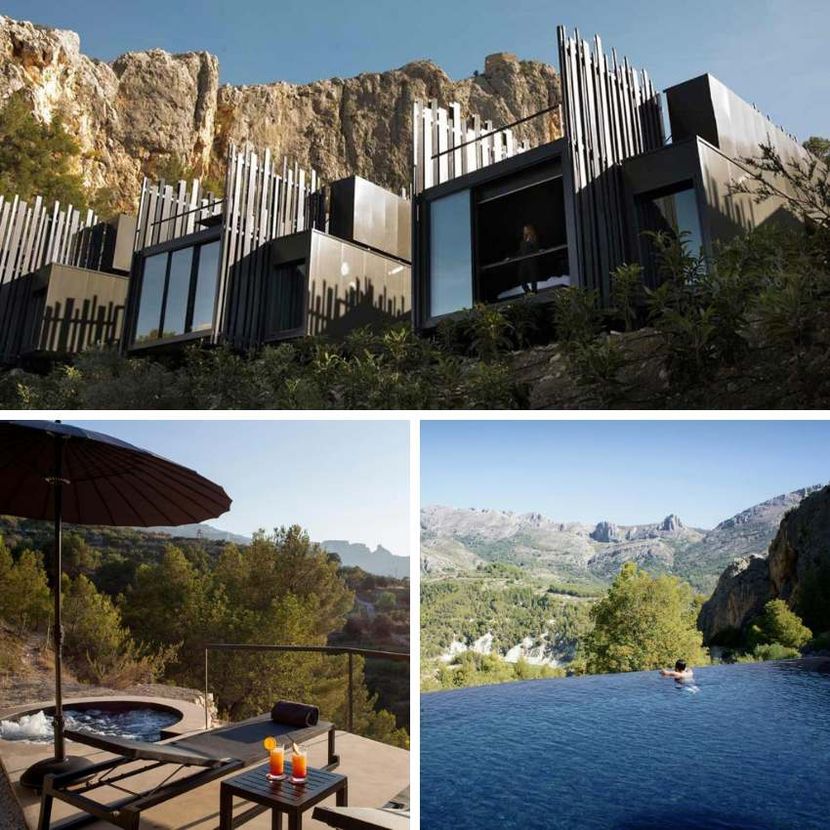 Photo courtesy of VIVOOD Landscape Hotel & Spa
A real gem among Alicante boutique hotels is Vivood Landscape, located outside the city in the beautiful Guadalest Valley. By the way, Guadalest is a top natural attraction on the Costa Blanca, which is definitely worth a visit to see the extraordinary landscapes.
Vivood Landscape Hotel takes you to another dimension. Here you will forget about your watch and the concept of time.
This hotel is not just an overnight stay, but a whole experience.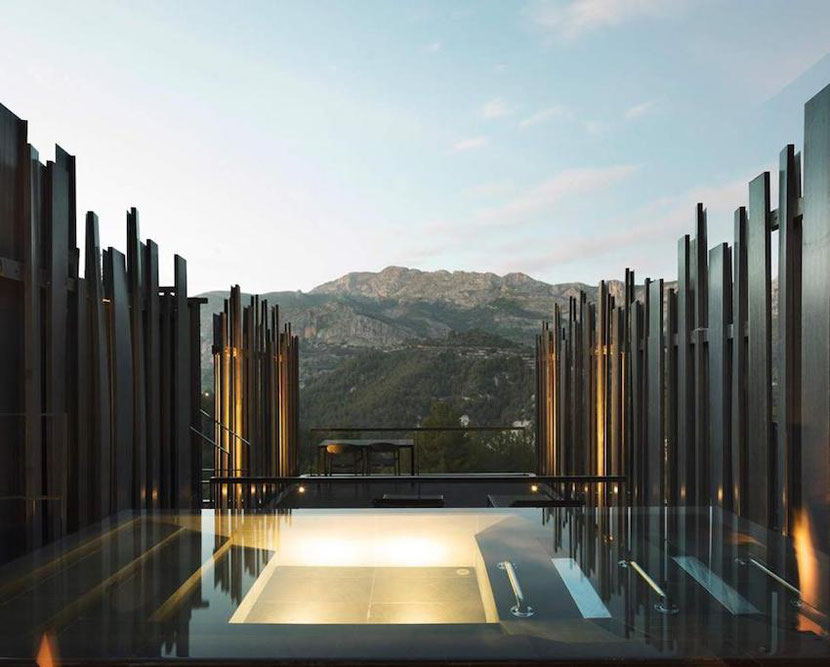 Photo courtesy of VIVOOD Landscape Hotel & Spa
Everything here is designed so that you can feel in harmony with nature. The hotel itself is located in a gorgeous area on the mountainside. You can enjoy views of nature through the transparent walls of the rooms, the spa, and the infinity pool.
This hotel will be a great option if you want to completely disconnect from the hustle and bustle, do a digital detox, relax from stress, and rejuvenate. Even if you don't know how to meditate, you will meditate naturally in this place. Staying at the Vivood Landscape Hotel is a meditation process in itself.
To help you connect with yourself and with nature, you can practice in the hotel's yoga studio or attend an Ayurvedic spa ritual and turn your trip to Alicante into a pure retreat.
SAVE IT ON PINTEREST FOR LATER:
---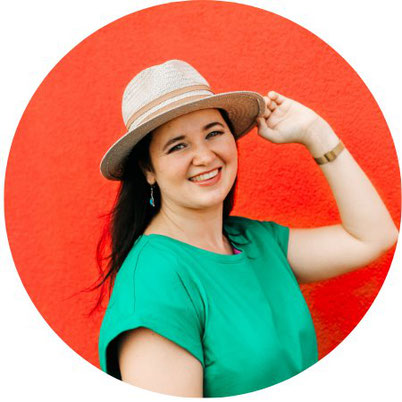 ABOUT THE AUTHOR
Hi, nice to meet you! I'm Sasha Naslin, a founder of The Alternative Travel Guide and a world citizen at heart.  
I traveled to 60+ countries on different continents and stopped counting cities after two hundred. 
I am Russian-French and write in Globish, as English is not my native language, so feel free to correct me or make fun of me :).
---