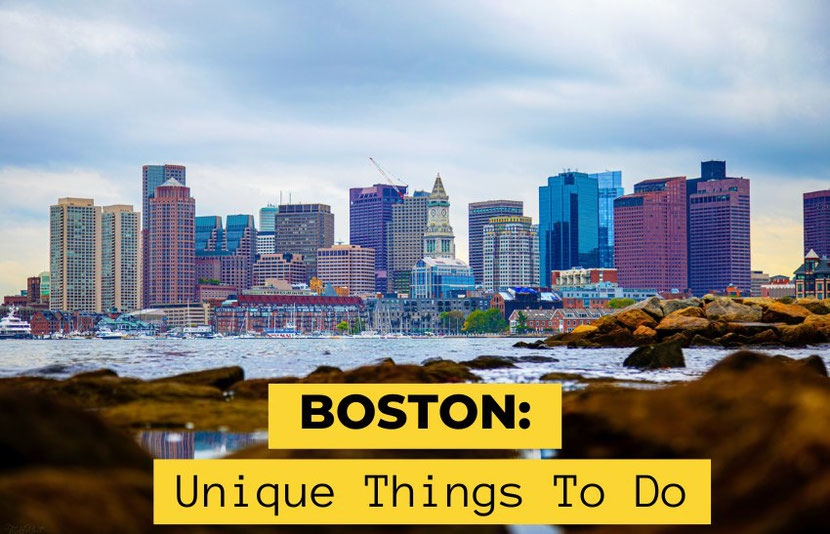 If you're planning a visit to Boston and looking for hidden gems, this guide is for you! Boston is steeped in history and oozes charm seemingly everywhere you look. A visit can inspire thoughts of the early days of the United States alongside experiencing modern art and restaurants.
Boston is a city of neighborhoods with distinct styles. Beacon Hill charms with cobbled streets and beautiful building facades. Back Bay melds that charm with upscale shops and residences. The North End harkens to its Italian roots. The South End feels more residential and houses an art district. Fenway keeps things moving with sports games and music.
This list will help you discover some lesser-known spots and encourage you to explore various regions in and around Boston. You can read about the Freedom Trail, Duck Boats, Faneuil Hall, the North End, the Boston Common, and the USS Constitution in many Boston travel guides. Let's go a layer deeper and experience alternative Boston!
Pin It: Unique things to do in Boston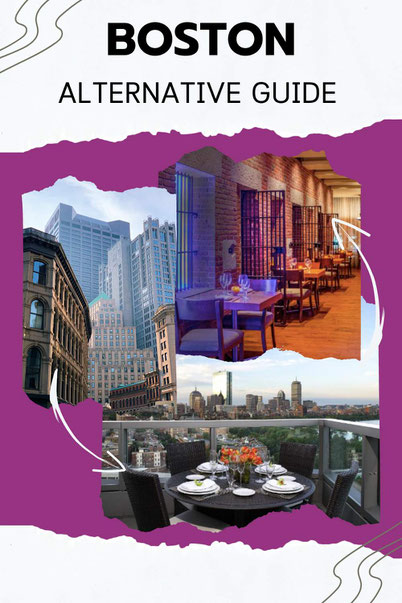 1 | Isabella Stewart Gardner Museum
The Isabella Stewart Gardner Museum is an amazingly unique Boston art museum. It walks the line between being well-known and somehow remaining unknown to many. The Museum of Fine Arts gets much of the attention in this space. The Gardner deserves a visit if you love art, history, gorgeous architecture, and crime mysteries!
Inspired by international travel and the Palazzo Barbaro in Venice, Italy, Isabella purchased a plot of land in the Back Bay Fens Boston neighborhood in 1899 and began construction of her museum. After the building's completion, she moved into the 4th-floor quarters and began assembling, organizing, and displaying her collection.
The museum served as a way for the public to see her beautiful and historic artwork collection. The museum also provided a venue for various artists to paint and perform. John Singer Sargent visited to paint in the Gothic Room. Isabella's will stated that the museum should remain as she left it for future generations to enjoy.
When you visit, you'll enter through a gorgeous courtyard full of lush vegetation with beautiful architecture and balconies. The courtyard sometimes hosts musical performances as well. You'll then walk through variously themed rooms like the Dutch Room, Gothic Room, and more. The Gardner's collection includes paintings from classics like Rembrandt and Titian, ancient books, and beautiful tapestries that stun with their level of detail. It spans many styles of art from around the world.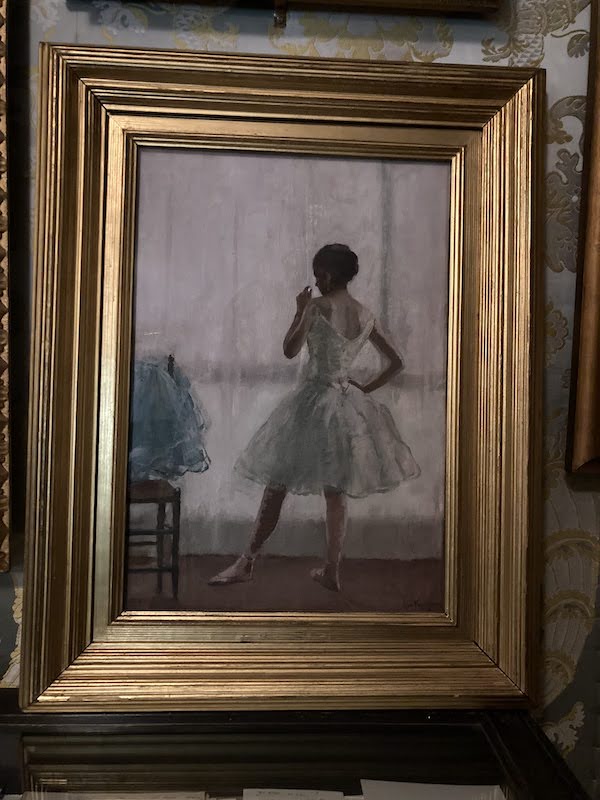 The Gardner also gained fame as the site of the largest art theft in the world. During your visit, you'll see empty frames showing the locations of the stolen pieces. As of 2023, the estimated value of the stolen artwork tops US $500 million. A US $10 million reward is being offered for information leading to the recovery of the art from the Boston art heist. The documentary series This is a Robbery: The World's Biggest Art Heist details the theft and investigation.
The museum is located in Back Bay Fens, an urban wilderness area that is part of Frederick Law Olmsted's Emerald Necklace. It provides beautiful surroundings for a stroll before or after a visit. Olmsted also designed Central Park in New York City.
The Gardner is truly worth a visit!
2 | SoWa Art & Design District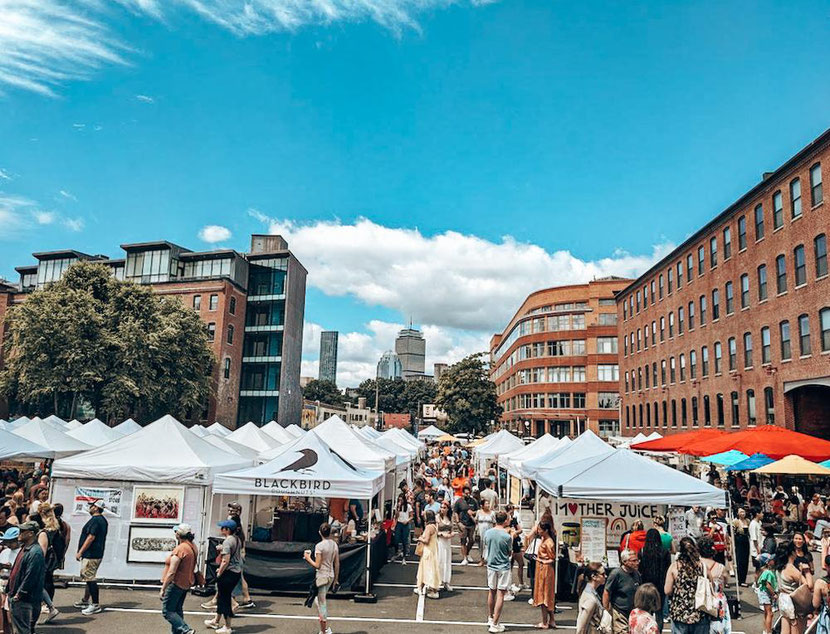 SoWa Art & Design District is an area of Boston's South End with many artist studios, galleries, shops, and restaurants. Reclaimed industrial buildings that once held factories now house several studios and businesses. SoWa is a lively area to walk around that is awash with the arts.
The SoWa Open Market and SoWa Vintage Market are fun events where you can browse goods from local artists and vendors in an open-air market. The SoWa market is open every Sunday from early May through October. Some artist studios are open to visitors during this time. A selection of food and beverage trucks also service the market. The market is very dog friendly too.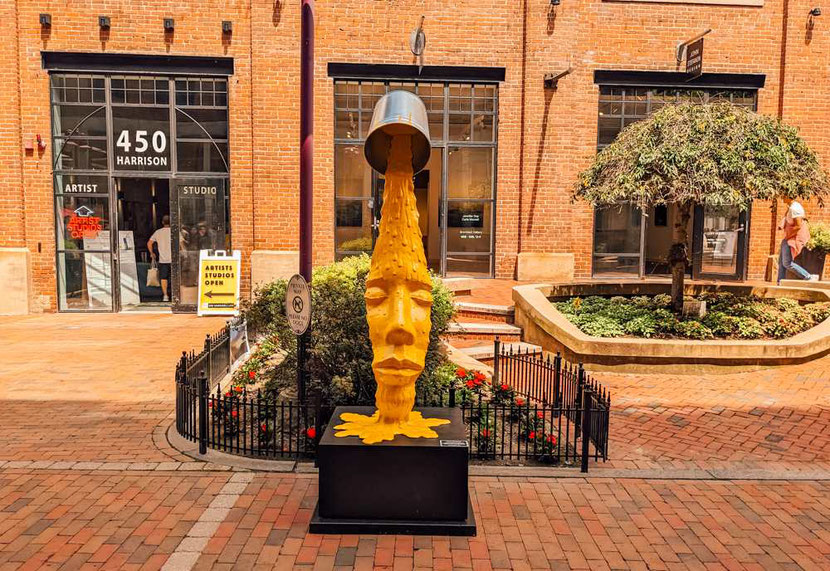 Studios, galleries, and shops are open to the public on the first Friday of every month. Visiting will let you experience new art, meet the artists, and get inspired. Food trucks are onsite during warmer months as well.
After you visit SoWa Boston, continue to explore the South End. Charmingly quaint businesses and residences fill its walkable streets and parks offer areas to relax.
3 | Stay in Unique Hotels in Boston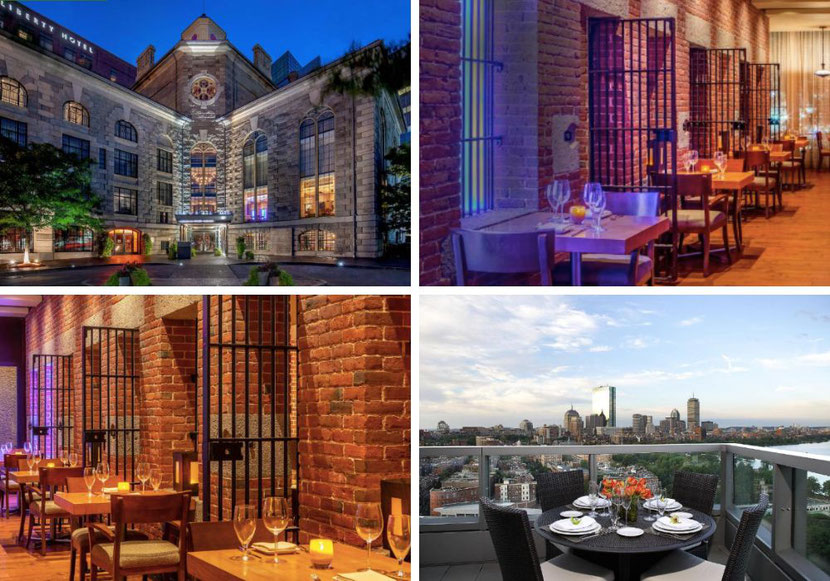 Boston has its share of beautiful and historic buildings. Some of these like Trinity Church and Old North Church have been preserved in their original forms for visitors to enjoy. Others, like the Charles Street Jail, have been repurposed.
Boston's Charles Street Jail began functioning in the 1850s. It continued operation until it was shut down in 1991. After years of disuse, it was revamped into The Liberty Hotel to give guests a unique experience with a strong dose of history.
Many original prison elements have been preserved and can be seen upon visiting. The large entryway with stories of picturesque balconies greets visitors. The recreation yard is now a manicured courtyard. Cell blocks and gates still adorn bars, restaurants, and hallways throughout the hotel.
The hotel leans into its history with placards describing the history located throughout. The aptly-named CLINK restaurant serves seafood and New England favorites. The Alibi bar and lounge serves up cocktails in a setting with themed decor.
Sweeping views of Beacon Hill and Boston greet guests on higher floors. The gorgeous architecture and design make the Liberty Hotel worthy of consideration.
Even if you don't choose to stay there, it's worth stopping by while enjoying other Boston attractions in Beacon Hill.
4 | Museum of Bad Art
Maybe you've visited the Isabella Stewart Gardner Museum, SoWa, or the Museum of Fine Arts in Boston and are looking for a change of pace. All that tasteful art made by classically talented artists is probably getting tiring, right?
Take a trip to the neighborhood of Dorchester in the south of Boston to visit the Museum of Bad Art (MOBA) located in Dorchester Brewing Company!
The museum's trademarked motto is "Art too bad to be ignored". You'll absolutely experience that when you visit in person or view their online collections.
A description of its provenance and an often humorous analysis highlighting why it belongs in the collection accompanies each piece. When you visit MOBA online or in person, take time to read these gems. They're informative and funny!
You'll hear about pieces from prized sources like "Purchased by her mother at a yard sale in Washington, DC in the 1970s" and "Purchased at a thrift shop in Boston, MA". The descriptions highlight why the piece was considered bad. Reasons include logical discontinuities, poor execution, misinterpretation, etc. Photos and paintings that inspired them accompany some pieces to highlight the badness of interpretation.
Beyond the art, the Dorchester Brewing Company taproom serves a great selection of beer and food in an attractive, comfortable setting. There are often events and live music. The upstairs has a great view of the city. Their outdoor roof deck is open when the weather is nice.
So grab a beer, some good food, and revel in some bad art in Dorchester!
5 | Mount Auburn Cemetery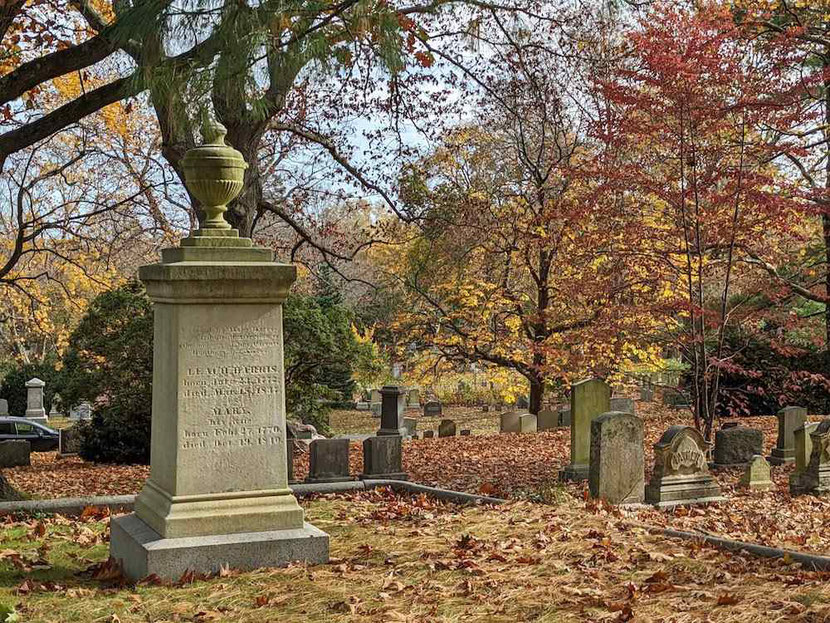 The tranquil and picturesque Mount Auburn Cemetery lies north of Boston between Cambridge and Watertown. Originally dedicated in 1831, the cemetery is cited as the first rural garden-style cemetery in the United States. Today it serves as the peaceful resting ground for those buried there and a beautiful outdoor space for visitors. It is a gem among the famous Boston cemeteries.
If history strikes your fancy, many notables from the history of Boston are among the Mount Auburn Cemetery burials. These include Isabella Stewart Gardner, founder of the Isabella Stewart Gardner Museum mentioned in this post.
The public is welcome to freely visit this Boston cemetery during operating hours and explore the grounds that provide rolling hills, walking paths, ponds, lovely trees & flowers, and beautiful artwork on the burial markers and mausoleums. Bird watching is a common activity at Mount Auburn, with many species having been documented here over the years.
You can find more information on Mount Auburn Cemetery's visiting page. The beauty and ambiance of Mount Auburn Cemetery will surely make an impact during your Boston travel.
6 | Kayaking on the Charles River
For a unique perspective on the city, canoeing, paddle boarding, or kayaking in Boston on the Charles River should be on your list of Boston activities to consider! The Charles River flows about 80 mi (130 km) from Hopkinton, MA in the west to the Boston Harbor in the east and runs along the north side of Boston.
Boston kayaking gives you beautiful sweeping views of the city. You'll have a chance to see wildlife like ducks, geese, cranes, lily pads, and turtles too! Springtime is perfect to see fluffy ducklings and goslings out with their parents. Being on the river is a nice break from the city hustle providing some physical activity to boot! Kayaking is among some excellent non-touristy things to do in Boston.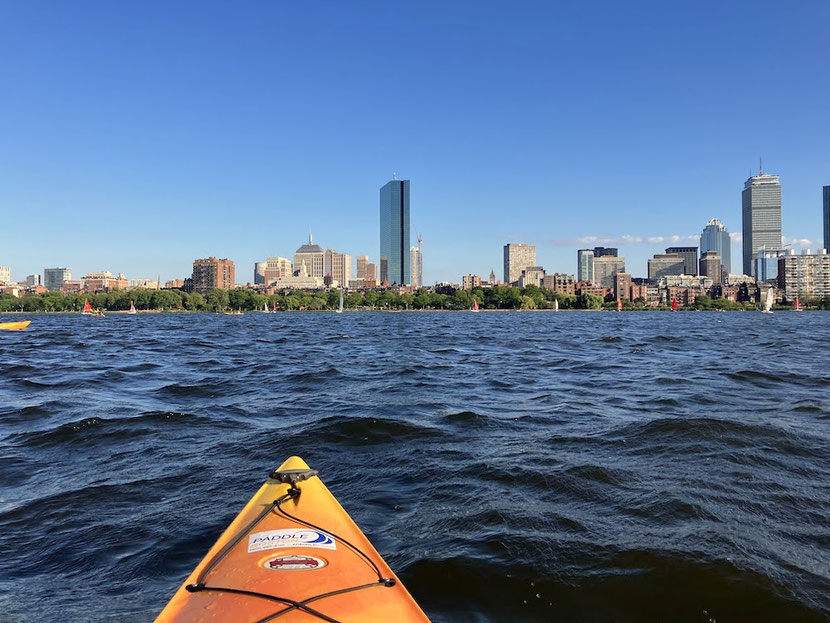 Several companies provide Boston kayak rentals to help you get out on the water.
Paddle Boston rents kayaks, canoes, and paddle boards at multiple locations along the river. The Cambridge/MIT location provides the most expansive views of the city. The Allston/Brighton location is great for nature areas and admiring the bridges near Harvard University. It gives easy access to a Night Shift beer garden for relaxing afterward.
Community Boating offers kayak and sailboat rentals. They are located in a similar area of the Charles as the Cambridge/MIT Paddle Boston location. The launch is on the Boston side of the river.
The boat rental will come with the essentials you need to enjoy your time on the water. You can bring water, food, hats, and any necessary sun protection. When you are out on the water you'll see other paddlers, rowing teams, and sailboats. It's a lively and friendly environment to enjoy!
If the thought of kayaking sounds like too much cardio for your liking, fear not. There's a hilarious solution for us non-Olympian types in Boston: the Charles River Sightseeing Cruise! 
So, picture this: you're chilling on a boat, taking in the sights of Boston and Cambridge without even having to break a sweat.
You're on a journey along the Charles River, and guess what? This isn't just any journey – it's a narrated one. Yep, there's someone on board who's got all the deets and is ready to spill the beans on the coolest stuff.
You get to admire the big shots of Boston and Cambridge, like Beacon Hill, Esplanade Park (which is like the red carpet of parks), and the fancy Back Bay. 
And get this – it's not just a quick wave and move on kinda deal. You're in for a whole 70 minutes of cruising, and it's not just sightseeing, it's "fully narrated" sightseeing. It's like having a personal tour guide, but without the awkward small talk.
So, there you have it – the Charles River Sightseeing Cruise, where you can be lazy, cultured, and entertained all at once. Click here to book your tour. 
7 | The Arnold Arboretum of Harvard University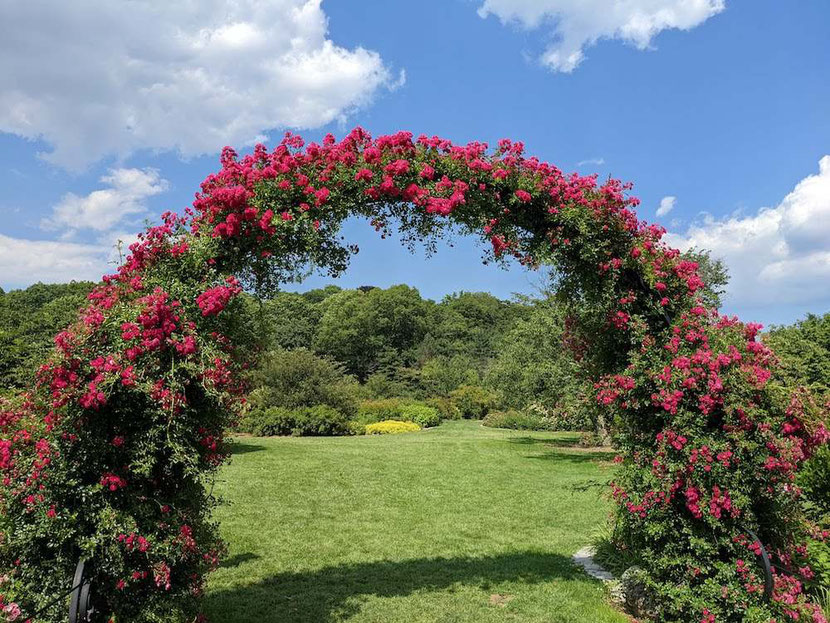 Let's continue with gorgeous outdoor free things to do in Boston! The Arnold Arboretum of Harvard University is another excellent place to escape the city and enjoy beautiful nature. The Boston Arboretum has a lovely mixture of manicured and more natural areas. Trees, shrubs, and flowers of all kinds adorn the grounds. Various species bloom through much of the year. You'll be able to see roses, cherries, magnolias, crab apples, lilacs, and more as the seasons change!
Visiting when the lilacs are in bloom is one of my favorite things to do in Boston. You can walk a path lined with many varieties and take in their gorgeous sights and lovely aroma! Lilac Sunday is a popular celebration of lilacs held every Mother's Day.
If you venture beyond the manicured areas, you'll find many wooded paths perfect for a stroll through the woods. Birds and other woodland wildlife will often accompany you on your walks.
The Arboretum's visiting page shows the layout of its collections, lets you plan your visit, and provides info about guided and self-guided tours.
Leave time to explore the greater Jamaica Plain area after visiting the Arboretum. Jamaica Pond and Olmsted Park are beautiful parks to continue your outdoor time. Both parks are part of Boston's Emerald Necklace, designed by famed landscape architect Frederick Law Olmsted. Family-owned businesses, shops, restaurants, and cozy bars await you in the rest of the neighborhood.
8| Visit the Mapparium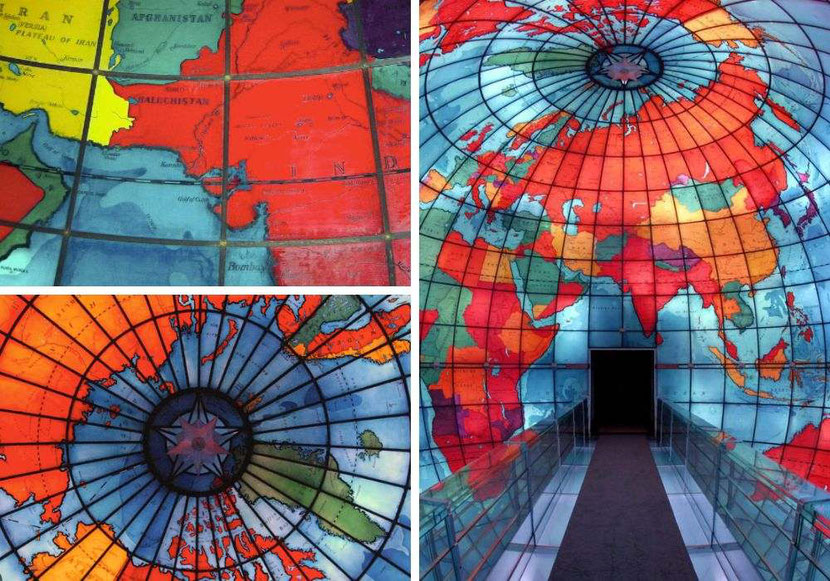 Inside The Mary Baker Eddy Library, there's this awesome thing called the Mapparium. It's like a huge three-story globe made of colorful stained glass. And get this – it lets you see the world in 3D just like it was back in 1935. At first, they called it "The Glass Room," and it was created to show off how far The Christian Science Monitor reached around the world. But now, it's even cooler because it shows how countries and borders have totally changed over the last hundred years.
And guess what? When you swing by, you can catch a quick presentation called "A World of Ideas." They use fancy LED lights to show how ideas have traveled through time and space, shaping the world we know today. But hey, if you're more into the actual globe itself, there's this other exhibit where you can learn all about its history and how it was put together. Super interesting stuff, I tell ya!
9| Go on a Secret Food Tour
Hey there, food explorer! If you look for cool things to do in Boston, you have to go on a guided food tour in Boston's North End. Trust me, it's like a flavor-packed adventure for your taste buds, and you won't even need a treasure map to find the deliciousness!
Imagine this: You're strolling through the historic streets, and the aroma of Italian goodness hits you like a hungry bear hug. Your guide is basically a foodie superhero – they know all the secret spots and the stories behind the bites. It's like having a food encyclopedia with legs!
Now, get this – we're talking about the land of pasta dreams and seafood galore. You'll be slurping down noodles like you're in a Roman fountain, and the seafood? Well, it's so fresh it's like it just swam up to say "hello" before ending up on your plate.
But let's be real, it's not just about stuffing your face. It's about time-traveling through taste. Every bite is like a leap back into the recipes of grandmas and grandpas who knew how to make food that makes you want to hug yourself. And let's not forget the seafood – you'll taste the ocean in every bite. It's like Neptune himself is high-fiving your taste buds.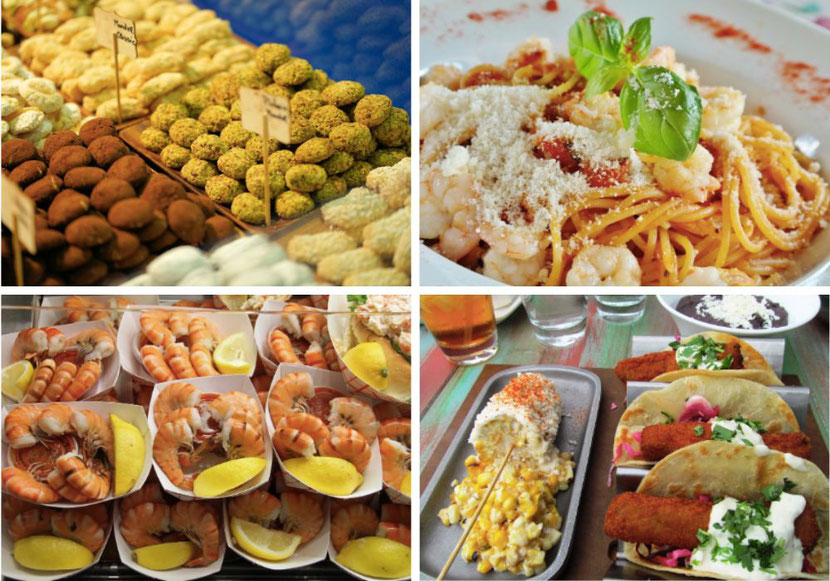 And here's the kicker – you're not just a foodie on a mission. You're joining a gang of fellow food enthusiasts who are probably making the same funny food dance as you after every epic bite. The North End's got that cozy neighborhood vibe mixed with a dash of "food is life" energy.
So, seriously, why wait? Grab your stretchy pants and let's go on a North End food quest. It's like a journey through taste and history, sprinkled with laughs and served with a side of "OMG, that's so good!" Your taste buds are ready for this adventure – are you? Click here to book your food tour in Boston. 
About The Author
Ryan is a co-creator of The Traveling Something. He writes about exploring locales with a focus on being outdoors.
Seeing the underwater world snorkeling and scuba diving are two of his passions that he shares in guides on The Traveling Something.
Beyond that, he has worked in software development for over a decade and applies those skills to blogging.