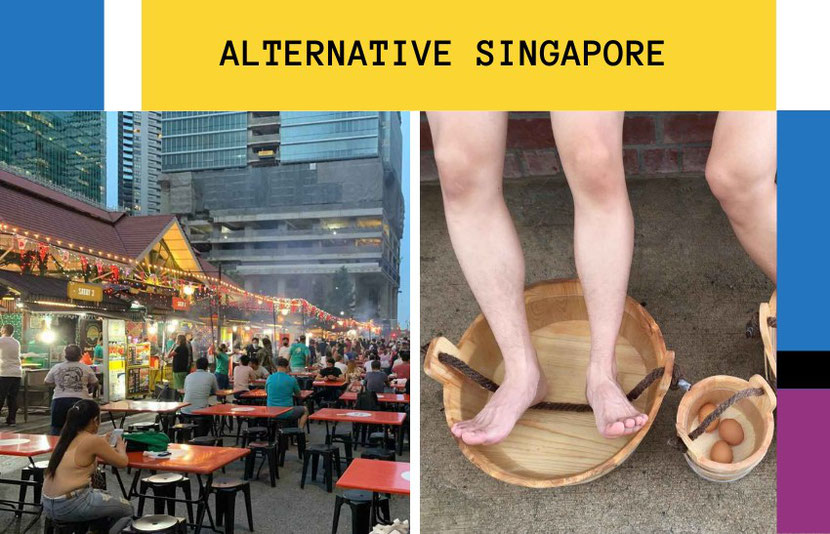 Singapore is a really small country, if you view it on the map, you might not be able to find it. Usually, a trip to Singapore is done together when visiting South East Asian countries like Malaysia and Thailand. Tour groups would usually sell tour packages that consist of these three countries. 
Singapore is so small with no natural resources but is actually one of the richest cities in the world. It is also a major transport hub and has one of the best airports in the world. The airport was ranked 3rd in 2022. It is also the second safest city by Economist Intelligence Unit. You might be asking, what does this small island have to offer you?
If you have been to this fantastic city, you would likely head to the main attractions of Singapore like Marina Bay, Gardens by the Bay and Sentosa. You might also head over to the cultural districts like Chinatown, Little India and Kampong Glam as Singapore is a multi-racial country. This will practically sum up the main attractions that most tourists will visit on their first trip here. 
However, if you're planning to visit Singapore again because you like it here or if you do not want to go to the usual touristic attractions then this article is for you. This article will share with you some alternative and unique places in Singapore.
Let's explore alternative Singapore! Underrated places in Singapore are waiting for you. 
Alternative & Unique Things To Do In Singapore
Visit Farms and Plantations
Ok, here is Singapore off the beaten track: Visit farms and plantations in Singapore. Did you hear it wrongly? Farms and plantations? Singapore being a country with no natural resources has been ramping up its food resilience, it has multiple farms in the area of Lim Chu Kang.
This area has an entirely different vibe from the other urbanised parts of Singapore. There are multiple animal farms and also research facilities. This area has become sort of an excursion for Singaporeans who wants a change of environment.   
Hey Dairies Goat Farm
Head over to Hey Diaries Goat Farm. This farm is a fully operational goat farm that supplies goat's milk to supermarkets. There are no entrance fees, you can visit the goats and see their milking process. It is recommended to go in the morning between 9 am to 10:30 am to see the goat milking session.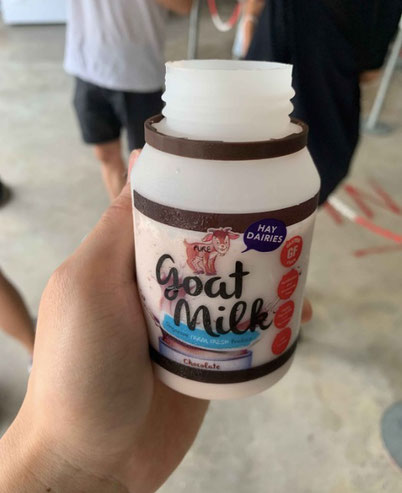 You can freely walk around the farm and see the goats.
While doing so, you can also buy Alfalfa Hay at $5 to feed the goats. Don't you like this kind of hands-on activity? 
Once you're done with your tour, head over to the counter to buy a bottle of goat milk. You can choose from fresh goat milk or chocolate goat's milk. I have tried both of them, and I would recommend the chocolate version as it will mask the strong goat taste. With chocolate milk, you will still get obtain the beneficial nutrients from the milk while at the same time enjoying it. For those adventurous ones who would like the original taste, try the fresh version.
Do note that there will be some goat smell all over the place and this is very natural as it is an animal farm, so just be prepared for it. 
Before leaving, you can also purchase souvenirs relating to the goat like handmade goat soap. 
How to go: 
By public transportation, take bus number 975 from Bukit Panjang Interchange and stop at bus stop number 34011. Walk to Hay Dairies Goat Farm. While taking the bus, use Google maps to check where you should stop at. 
The best way to reach is by car or taxi as the location is quite remote. Simply use a taxi or call Grab or Gojek from Kranji MRT station.
Address : 3 Lim Chu Kang Lane 4, Singapore 718859
Opening hours: 9:00 am to 4:00 pm (Mon, Wed, Thurs, Fri, Sat & Sun)

Bollywood Farms
This place should be visited with the goat farm as they are located close together and also I would recommend you try the food here. 
Poison Ivy Bistro is a really unique place to have your meal as the food is prepared in a farm-to-table concept from their farm. The food is really delicious and made with effort. 
What I have chosen is their famous Bollywood Star dishes the Nasi Lemak Platter. It is really worth the price for the portion provided.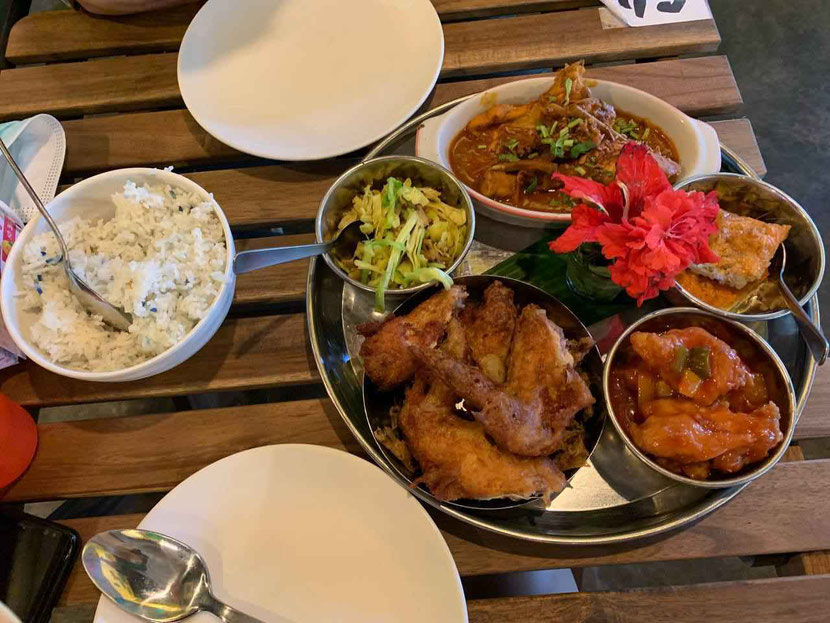 After having your meal, you can take a walk around the plantation to check out their agriculture. Going to the Bollywood farms will be a good idea for someone searching for unique experiences in Singapore. 
How to go:
the place is quite remote, I would recommend that you call for Grab or Gojek ride-hailing service. Alternatively, from Hay Dairies goat farm, walk for about 1.5km to reach. 
Address: 100 Neo Tiew Road Singapore 719026
Opening hours: 
Thursday - Friday: 8 am to 4 pm. Last order at 3 pm. 
Saturday, Sunday & Public Holidays: 7 am to 5 pm. Last order at 4 pm.
Closed on Monday, Tuesday and Wednesday.
Stay At An Unusual Hotel In Singapore
If you are looking for new experiences and inspiration, it is a great idea to stay at one of the unique hotels in Singapore. 
A conceptual place with an unusual interior is a great base for your special journey in Singapore. 
The hotel with the WOW factor is the PARKROYAL COLLECTION Pickering.
Even though it's in the center of Singapore, you'll get the impression that you're on a retreat in the jungle.
From this hotel you can enjoy magnificent views of Singapore and swim in the Infinity Pool surrounded by tropical greenery.  This hotel is one of the unique places to stay in Singapore that will amaze you. 
Click here fore more information about the hotel PARKROYAL COLLECTION Pickering.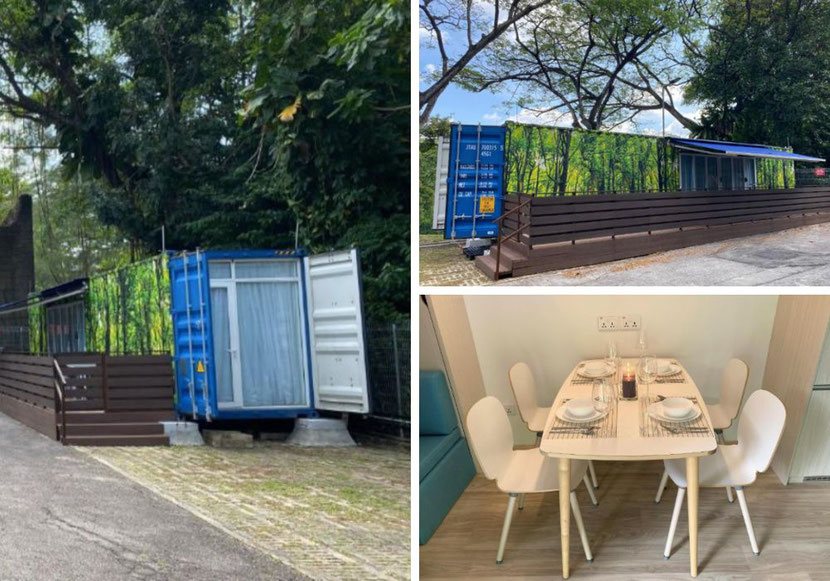 If you're looking for a unique place in Singapore but on a budget, check out Shipping Container Hotel At Haw Par Villa. It's a hotel in a real container and it's one of the cool hotels in Singapore! 
The container hotel is located in a green area and guarantees you a new experience. 
All rooms are fully equipped with all amenities, including air conditioning and TV. See more photos of this hotel here and decide if it's for you or not. 
Another unique hotel in Singapore that will impress you is the Synergy B Boat hotel. Yes, as the name itself implies, it is a hotel on a boat!!! 
If you want romance or want to surprise your significant other, spending a night in this hotel will make you remember it for a long time. 
Not far from the boat hotel you can go canoeing. And of course, in this hotel you can enjoy 360 degree views of the sea. Click here to view photos of the boathotel in Singapore. 
Trek at Singapore Green Corridors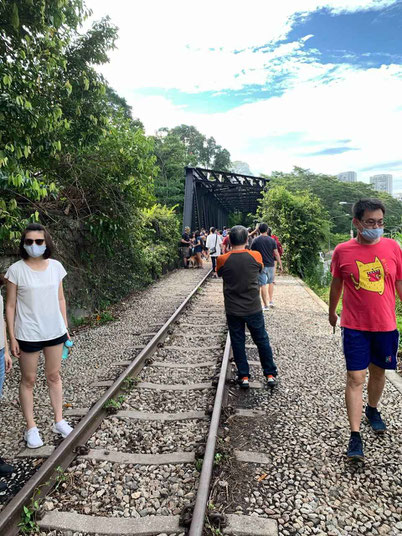 If you want to explore singapore off the beaten path, visit the green corridors. There are many different green corridors that the Singapore government create to make Singapore a green and walkable city.
These green corridors are cycling and walking paths for locals to exercise at.
The two most used corridors are the Bukit Timah Rail Corridor and The Southern Ridges walking path.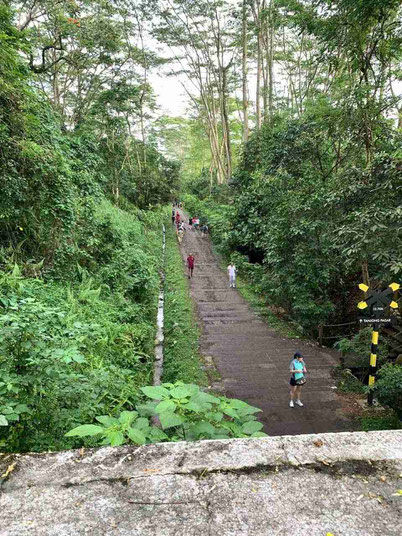 Bukit Timah Rail Corridor 
The whole rail corridor is 24 km long, which is not able to complete for recreational purposes, therefore, I will guide you on the best route to start and end for this walk. 
The main spots that you will be viewing for this walk would be the Truss Bridge, Bukit Timah Railway Station as well as the nature that you will come across along the way. 
The history behind this rail corridor is that it is actually a real railway track for trains coming over from Malaysia all the way to the South of Singapore.
The track is also owned by Malaysia Government which prompted the Singapore government to use land to swap the ownership rights of the tracks. This is for the better use of the area that the tracks pass through. 
While walking you will be able to come across the tracks which are currently out of use. 
The best place to start your trip will be from Hillview MRT station. There will be signage to direct you to the rail corridor. After a short while, you will see a bridge the Truss Bridge, you can take some photos there. 
Then simply follow the track all the way to Bukit Timah Railway Station. Here is a map that you can refer to on your route there.
Opening Hours: Open 24/7 but there are no lights in order to protect the wildlife. Therefore, it is suggested to go during the day.
The Southern Ridges
Similarly to the rail corridor, it is a walking route that you can take to be immersed in the nature amongst Singapore urbanised infrastructure. The Southern Ridges should be on your list of unique places to go in Singapore.
This Google map shows the best route that you can take to get the best views.
This hike is longer and slightly tougher than the rail corridor route as it involves elevated slopes and steps. It is still suitable for all ages and there are resting spots at different parts of the trail.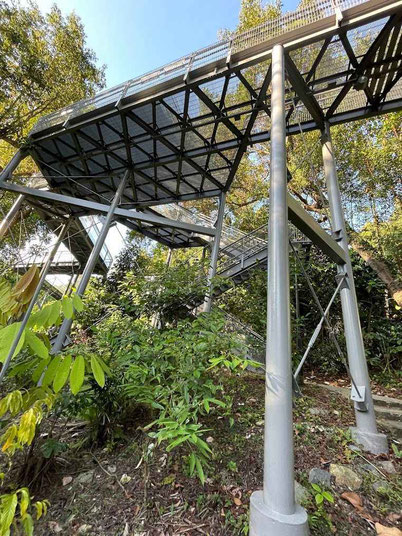 On the way, you can get to climb up a bridge made of metal and you will not need to walk on the forest ground anymore.
You will be walking above ground level, above nature.
It is a really wonderful feeling. 
The whole route will lead you to Henderson Waves, and Mount Faber Park and end off at Vivo City, the largest mall in Singapore. Where you can have your meals or do some shopping.
Opening Hours: Opens 24/7
Sembawang Hot Spring Park
Surprisingly, in Singapore you can also find a natural hot spring. It is not as natural as other hot springs that you can find in Thailand or the Philippines as it has been urbanised, but it's still on of the unique attractions in Singapore.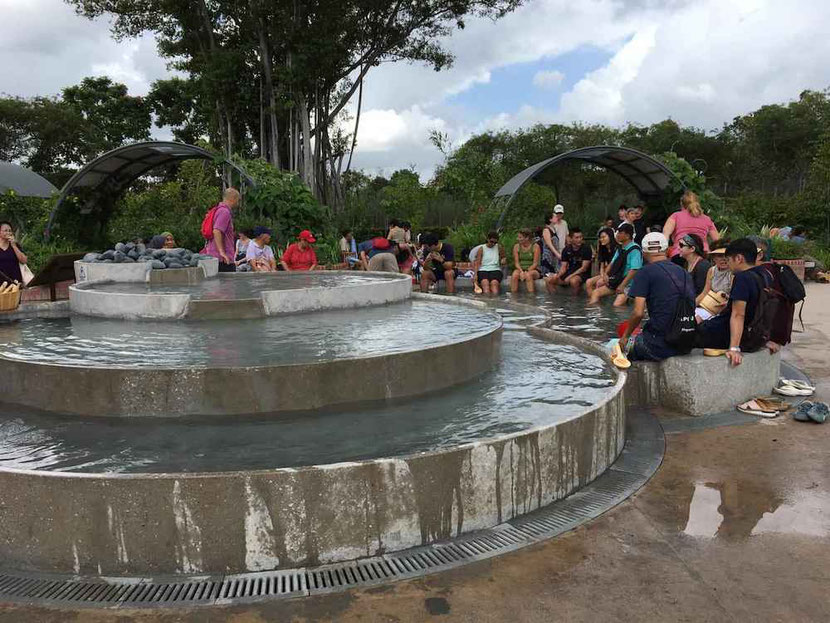 However, the water is pumped from a natural hot spring. The maximum temperature is 70 degrees Celsius and goes down to around 40 degrees Celcius depending on which station you take the water from. 
I have also seen locals bring eggs over to cook in the 70-degree Celcius water. If you look for some unusual things to do in Singapore, then you know what to do :) LOL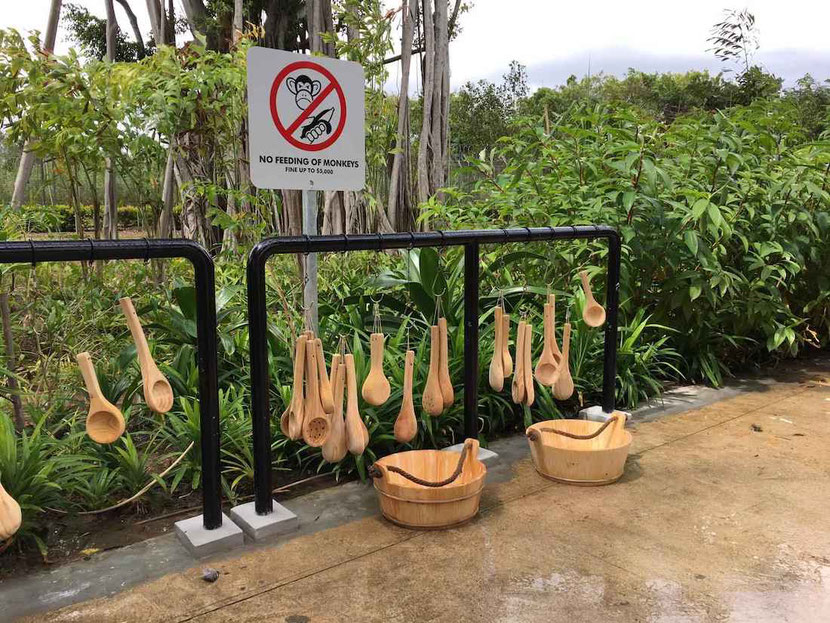 There are wooden pails and scoops provided but there is a limited amount available. The turnover rate is quite fast, so just wait at the collection point and you should be able to get a set.

The pail is actually for you to take the warm water and soak your feet in, while the scoop is for you to pour water over your knees and calves.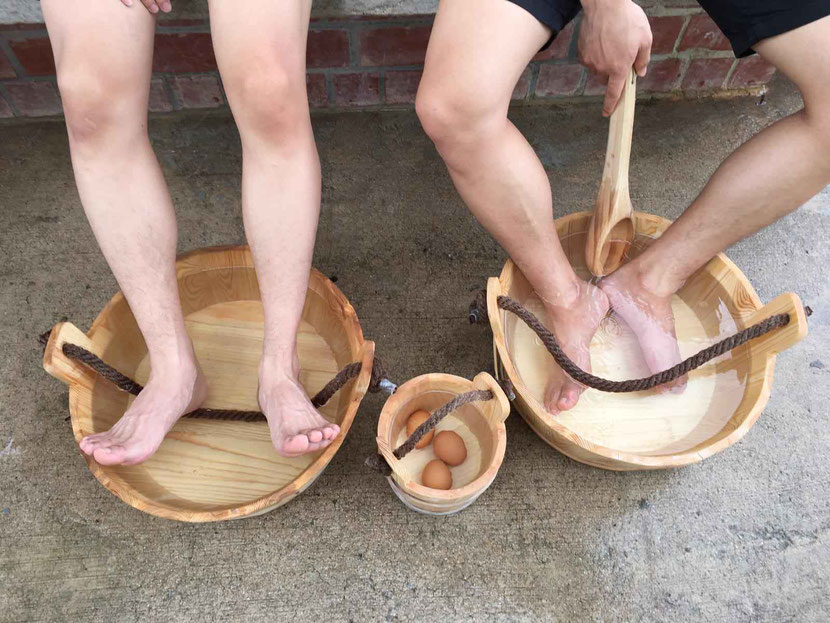 There is also a cascading pool, which is meant for people to sit around and soak their feet in it. 
The whole experience is entirely free of charge, you only need to make your way there.  Sembawang Hot Spring Park is one of those places to have fun in Singapore, as locals do. 
How to go:
Take bus 858 or 969 from Yishun MRT. Follow this map for directions. 
Address: Along Gambas Avenue. Singapore 756952
Opening hours: 7 am to 7 pm daily
If you're planning to go to the hot spring, you can also spend some time at Northpoint Mall at Yishun MRT. It is a huge mall with many different food options. This is considered a neighbourhood mall, so it is really different from the malls that you come across on Orchard Road. 
Lau Pa Sat Satay Street
Satay is one of the things not to miss in Singapore. This dish that I am going to recommend to you is well-known to all Singaporeans. Satay is a kind of meat skewer. You can choose from different animal meats such as chicken, beef, mutton, and pork. You then dip it in a specially made peanut sauce for pairing. 
Usually, you can find individual stalls selling Satay in Hawker Centers or coffee shops. However, this street is entirely different. The atmosphere is very happening. 
Once it reaches 7 pm, the traffic police will close off the whole road. Then the stall owners will rush to set up the tables. The whole street will be selling Satay and there will be around 10 different stalls for you to choose from.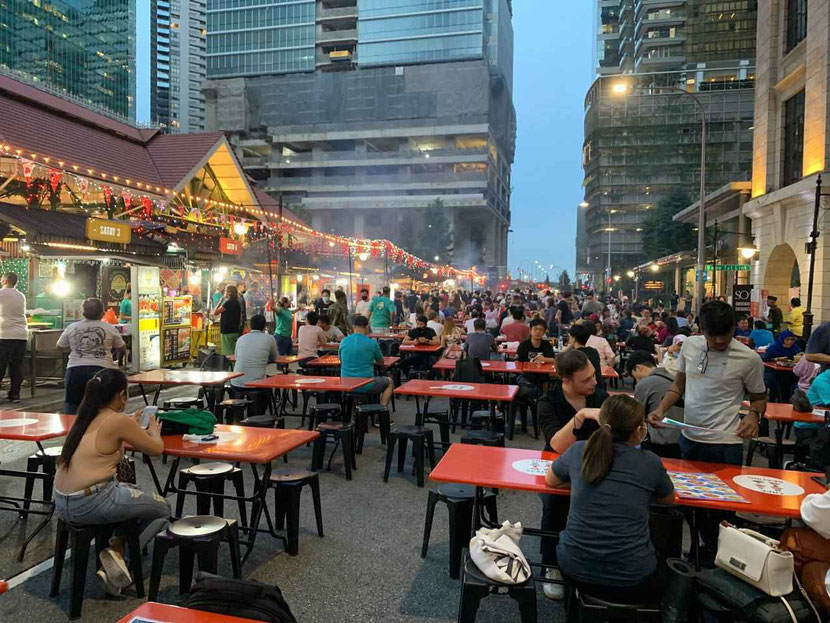 Something different here is that they also sell Prawn skewers. They are also predominantly Muslim sellers, therefore you will not be able to order pork skewers here.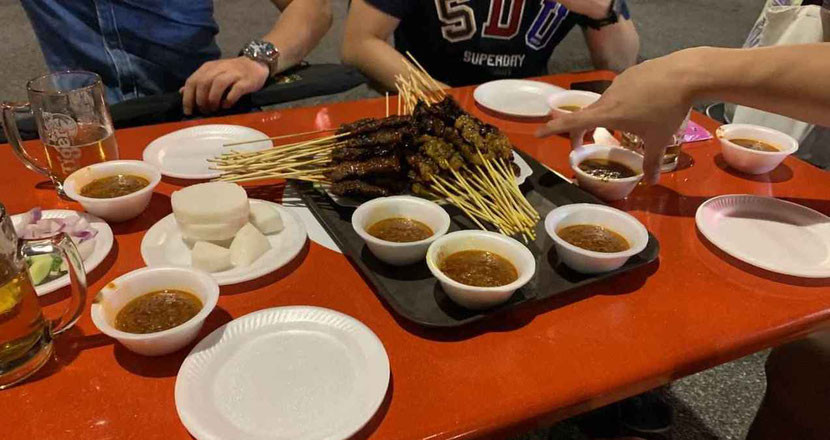 Most stalls are quite similar and the quality does not differ much, so you can choose any stall that you like. They have set meals that you can choose from, otherwise, just order how many sticks you want as the price is the same per stick at around $0.80/stick. Remember to order the Ketupat rice as well.
Address: Boon Tat Street Singapore
Opening hours: 
Saturday & Sunday, 3 pm - 3 am.
Monday to Friday, 7 pm - 3 am.

Create Your Unique Singaporean Perfume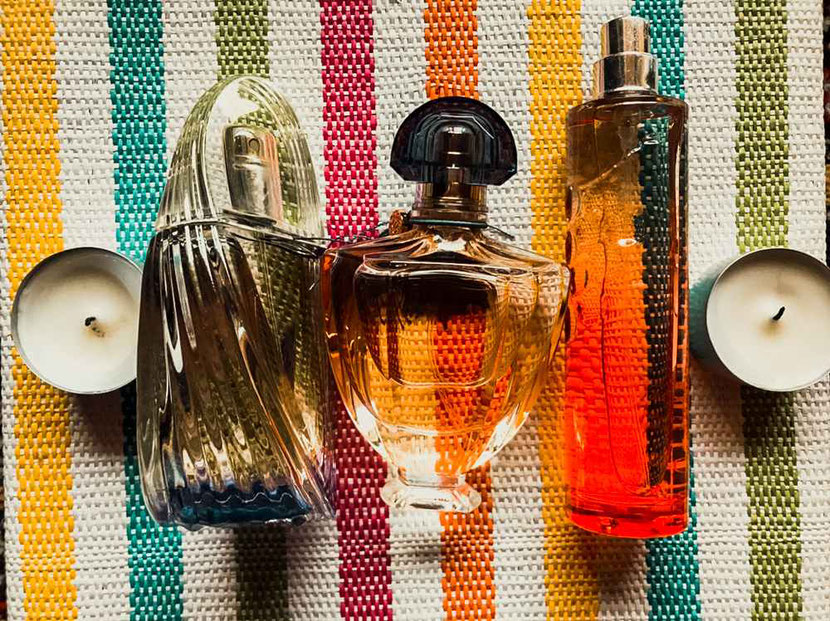 If you love fragrances, discovering new things, and most importantly, want to bring home a unique souvenir from Singapore, go to a master class on creating your unique perfume. 
You will be able to create a fragrance that suits you, your amazing personality and nature. You can also create a fragrance that will support you in solving a specific problem. 
In Singapore, you can create a solid natural perfume with exotic essential oils from Singapore - here is the link to this event. 
You can also create a perfume in a spray of Singapore's most unusual flower scents - here's a link to that activity.
Creating a personal perfume in Singapore is fun and exciting.
Final Thoughts
These are the unique things to do in Singapore that locals themselves do during their free time. You will get to see the other side of Singapore apart from the normal tourist sites and what the media portrays to you.
Singapore on a whole is a very clean, green and safe country to travel. The country is also multicultural and has a mix of different races and religions.
The people of Singapore are friendly, inclusive and willing to help, so if you have any questions feel free to ask any passerby. I believe that you will definitely enjoy your trip and visit cool places in Singapore! 
If you are considering other travel destinations in Asia be sure to check out Budget Itinerary Blog.
ABOUT THE AUTHOR
Marcus is a writer for the Budget Itinerary blog that provides cost-savvy travellers with the best guide to travel destinations. As a traveller, he believes that there is always a low-priced and good-quality option out there, and he is always searching to find these loopholes that can help reduce the cost of travelling. He also has a habit of collecting souvenirs from the countries he has travelled to. His recent collections are the Matryoshka Doll and Tesbih beads.