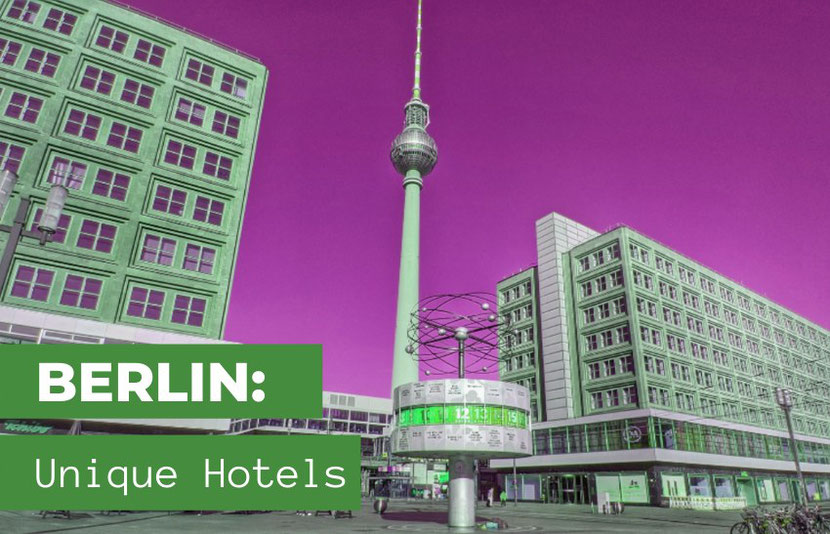 Berlin is a melting pot of free thinkers, innovators, startuppers, bohemians, artists, and anything a little unconventional. This city is filled with youthful energy, a legendary past, vibrant street art, and bustling nightlife. 
With its reputation for being alternative and hipster, it's not surprising that you can find so many cool hotels in Berlin. Here are the top boutique hotels in Berlin with a unique vibe and concept that will inject lashings of color, creativity, and playfulness into your Berlin stay!
1. HÜTTENPALAST: A Cool Hotel in Berlin With a Camping And Caravanning Theme
Neighborhood:
Neukölln, an international, multicultural, and trendy district, with tons of exotic restaurants, Middle Eastern pastry shops, vintage shops, a Turkish market, and many hip bars. 
Best parts?
● The Hüttenpalast is an alternative and cool hotel in Berlin located in a post-industrial space. The hall with an area of 150 square meters was once a factory workshop producing vacuum cleaners.
● This urban camping site houses eight vintage caravans and three small wooden houses, each of which can accommodate two people. 
● Every motorhome is unique in design and decoration: one features a domed metal ceiling, the other was part of the Berlin Festival' Art Village and was painted by the renowned Berlin artist Nomad. Each of the caravans has its unique story.
● In the garden, the green oasis of this quirky campsite, you can relax and meet other travelers.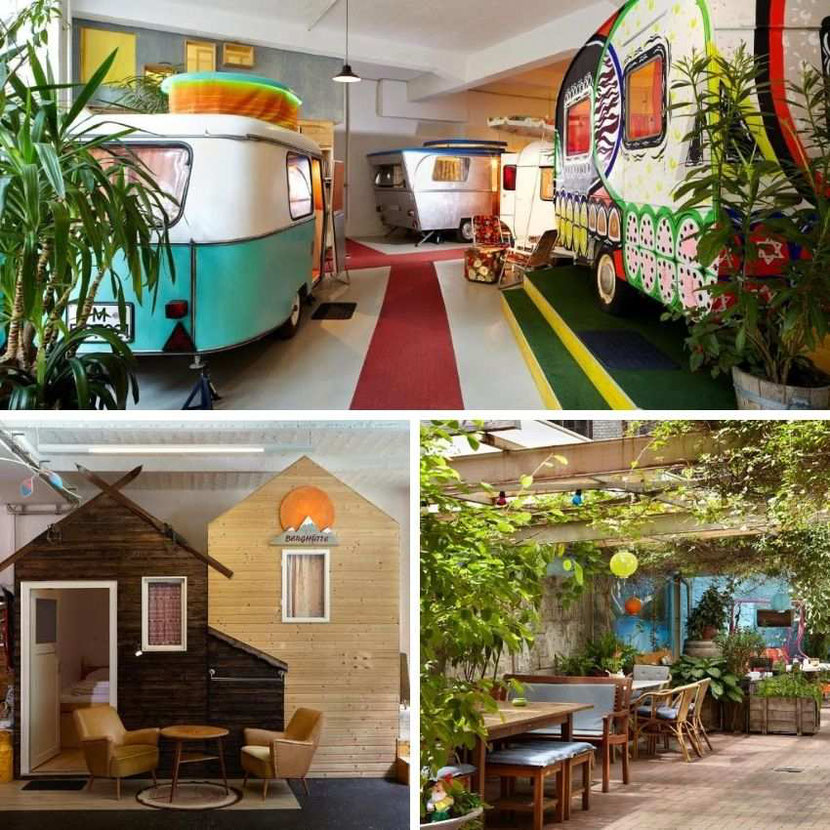 Photos courtesy of Huttenpalast 
Worst parts?
The caravans are a bit narrow. Therefore, if you are claustrophobic, it is better to stay in the more spacious, factory-loft-style Hüttenpalast rooms. Besides, you will have to use shared bathrooms in the caravan area, just like in a real campsite. If it's an issue for you, opt for the loft rooms that feature private bathrooms.
Summary: Is this hotel right for you? 
This hotel is perfect for travelers who like a camping and caravanning vibe but want to have all the hotel comfort. Hüttenpalast is an excellent choice for couples who love adventure and unusual places, as well as for a group of friends. 
Moreover, you can organize an event or a themed bachelor party here, as groups of up to14 people can book one entire hall for exclusive use! 
2. MICHELBERGER: An Alternative and Hipster Eco-Hotel In Berlin
Neighborhood: 
The hotel is located in the Friedrichshain district of East Berlin. 
It's known for its alternative vibe, techno clubs, incredible street art scene, indie boutiques, hipster bars, and restaurants. It is one of Berlin's most vibrant nightlife areas. The hotel itself is a 10-minute walk from Berlin's iconic East Side Gallery. 
Best parts?
● The former factory has been transformed into a hipster dream with white walls and designer furnishings: an eco-friendly hotel in shabby chic style. 
●The design of the hotel perfectly captures the artistic and rebellious spirit of Berlin. Post-industrial rooms with high ceilings are decorated with kitsch wallpaper, flea market items, and TVs built into industrial boxes. 
● The funky, book-filled lobby has a piano instead of a TV that you can play on. 
● In summer, you can sit back and relax in the hotel's spacious courtyard, where the café and bar work: in the evenings, they turn into a party. 
● The hotel features an organic restaurant, one of the best in the neighborhood. The big breakfast buffet includes vegan and gluten-free options. 
● You can have fun in their cool bar with live music on most evenings. It often hosts concerts by little-known but talented indie musicians and more famous artists like Damien Rice or Arcade Fire. 
If you're looking for a hip and cool hotel in Berlin, you've found it. The Michelberger has a hipster vibe, from a former factory setting and quirky decor to live local music and organic food in the restaurant.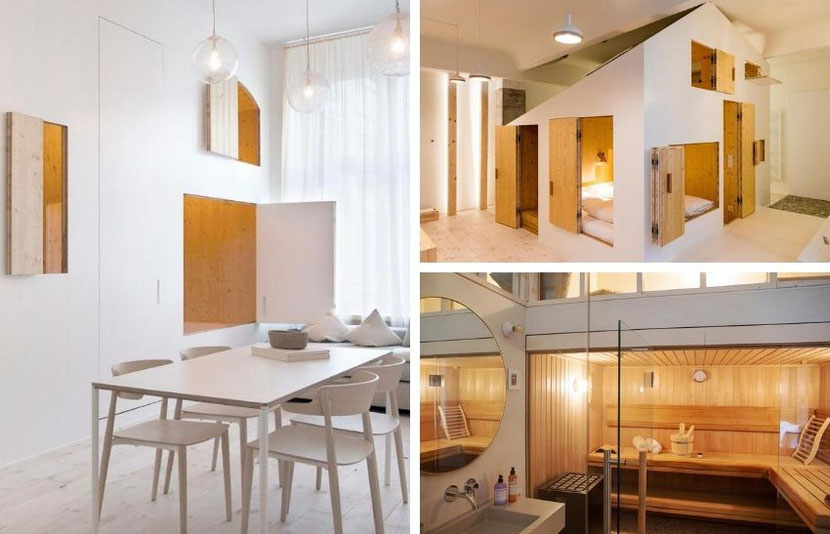 Photos courtesy of Michelberger Hotel
Worst parts?
Most of the rooms in this budget boutique hotel are quite small. Showers in some rooms have windows into the rooms and therefore lack privacy. Breakfast is not included in the rate. 
Summary: Is this hotel right for you? 
This funky hotel's main clientele is made up of hipsters, musicians, models, entertainers, young entrepreneurs, media people, and techno club enthusiasts. How do you like this company? This hotel is suitable for trendy, creative, and artistic young people who value uniqueness in everything.
It will be ideal for solo travelers, couples, or groups of friends. 
3. Provocateur Berlin: It's Time For Two! A Sensual And Unique Hotel in Berlin.
Neighborhood:
West Berlin, Charlottenburg-Wilmersdorf. The hotel is located just a 5-minute walk from the Kurfürstendamm shopping street. It's Berlin's most famous boulevard and the heart of the western part of Berlin. 
Along the Kurfürstendamm, there are flagship stores of famous and luxury labels, international brands, and large department stores. It's a district of well-groomed courtyards and beautiful old architecture. This chic area of Berlin, with many small cozy cafes and trendy restaurants, is the second center of the German capital. 
Best parts? 
● A small and intimate boutique hotel in Berlin
● Sexy rooms with a seductive interior 
● Burlesque atmosphere
● A fabulous Asian-themed restaurant by a renowned local chef 
● A glamorous bar for late-night conversations with a glass of wine 
● A restaurant with delicious food that got tons of positive reviews 
● Sensual textiles, red velvet decor, and gorgeous bedding
● Luxury furniture 
● Freestanding pearl-shaped baths in the middle of the room 
● A luxury stay at an affordable price 
Photos courtesy of Provocateur Hotel
Worst parts? 
Lounge music is often played until 2 a.m. in the bar that can be heard in some rooms on the first floor. If you are a light sleeper, ask for rooms on other floors. This hotel is not the best option for business travelers. 
Summary: is this hotel right for you? 
Provocateur is a perfect hotel for couples and a romantic getaway in Berlin.
With its sensual ambiance, this boutique hotel in Berlin will be a haven, retreat, and unique experience for your couple. Whether you want to celebrate Valentine's day in Berlin or just spend a romantic weekend with your partner, this is the hotel you will remember for a long time. 
4. 25hours Hotel Bikini: A Hip Design Hotel in Berlin With a Jungle Theme
Photos courtesy of 25hours Hotel Berlin Bikini
Neighborhood:
West Berlin, close to the city center, only 3 minutes walk from the nearest metro station and only 3 km from the Brandenburg Gate.  
The hotel is located in a green area, near a huge park and a zoo. 
Best parts? 
● Cool room designs with casual chic and urban jungle atmosphere.
● An abundance of indoor plants.
● Hammocks for relaxation. 
● Park view from the room windows.
● In the evening, you can relax in the hotel's rooftop bar - Monkey Bar, one of the best nightlife spots in Berlin. It offers a breathtaking 360-degree view of the city. 
● As a true hipster place, the hotel has its own bakery. 
● The hotel provides free bicycles for the day to explore Berlin like a green eco-traveler. 
● After an active day in the city, you can relax in the hotel's sauna. 
● An Airstream street food van is permanently parked outside the hotel. 
Worst parts? 
Make sure to check if the rooftop bar and the restaurant are open since the hotel sometimes rents it out for private events. If there are parties in the bar, it can be loud in the evening and part of the night. If you are a light sleeper, don't choose rooms located close to the rooftop bar. 
Summary: Is this hotel for you? 
This modern, playful and trendy hotel with the stylish urban jungle is a perfect choice for travelers loving the feeling of freedom, greenery, and quality in everything. 
5. NHOW: The Coolest Music, Lifestyle and Pet Hotel in Berlin
Neighborhood:
East Berlin. Situated in a trendy area between Friedrichshain and Kreuzberg with numerous hip bars, cafes, restaurants, shops, and clubs. The East Side Gallery is just 11 minutes away. The hotel is also within walking distance of the best concert venues.
Best parts? 
● This concept hotel is the first music hotel in Europe with musical decorations and amenities, two state-of-the-art recording studios, room service with guitars and keyboards. You can order instrument room service absolutely free of charge. Rooms are equipped with modern stereo systems with digital interfaces. 
● In addition to playing musical instruments, you can also go to impromptu concerts on the hotel's rooftop. 
Attend art, exhibitions, fashion shows, product presentations, conferences - NHOW is a hub for art and lifestyle in Berlin. 
● The hotel is housed in a building with a unique design. At the top of the building is a giant shiny cube that not only serves as decoration - there are rooms inside! 
● Unusual futuristic design and atmosphere in the rooms. The interior is decorated with psychedelic colors and quirky designer furniture. Harmonious colors and shapes of furniture relax you and transport you to another dimension.
● You can relax in a huge spa oasis right in the hotel. It is equipped with a gym, fitness and cardio machines, two saunas, a steam bath, and several experience showers. Don't miss their massage package. 
● It's a pet-friendly hotel!
If you travel with your dog, just book a totally pet-ready room with everything your pet would need: a dreamy bed, a water bowl, and a food bowl. The hotel also provides advice on pet-friendly places in Berlin.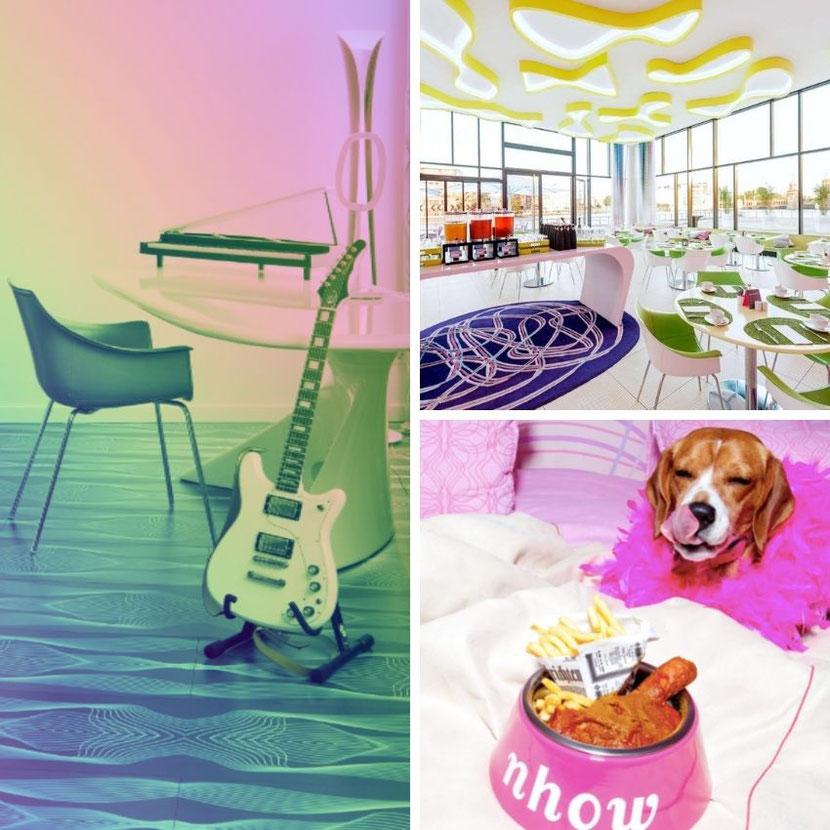 Photos courtesy of NHOW Hotel
Worst parts? 
I didn't find any! 
Summary: Is this hotel for you? 
Are you looking for a hotel in Berlin to fully enjoy the thriving music scene? Then nhow Berlin is the place for you. If you have not played the guitar for a long time and want to remember your youth, here you can order a guitar or a keyboard to your room or even record a song in a recording studio. 
This unique hotel with a rock 'n' roll lifestyle is suitable for solo travelers, creative couples, and traveling friends who love art, design, and music. 
The hotel is also suitable for travelers with children - children of up to 11 years of age stay free of charge in their parents' room.
And, the last but not least, this hotel is also perfect for travelers with pets, as pets are treated as VIPs at NHOW. 
---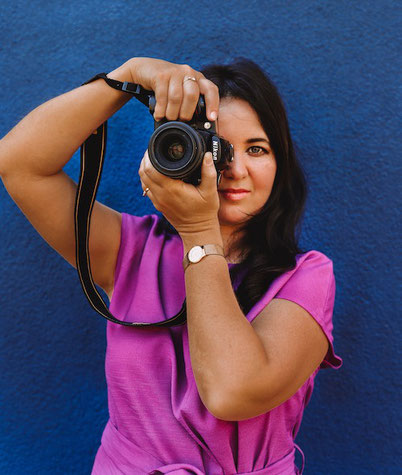 ABOUT THE AUTHOR
Hi, nice to meet you! I'm Sasha Naslin, a founder of The Alternative Travel Guide and a world citizen at heart.  
I traveled to 60+ countries on different continents and stopped counting cities after two hundred. I didn't quit my job to travel the world. Instead, I created my job out of travel.
I help people to travel deeper, authentically and try new things. I want travel to change you in ways you never imagined.
---