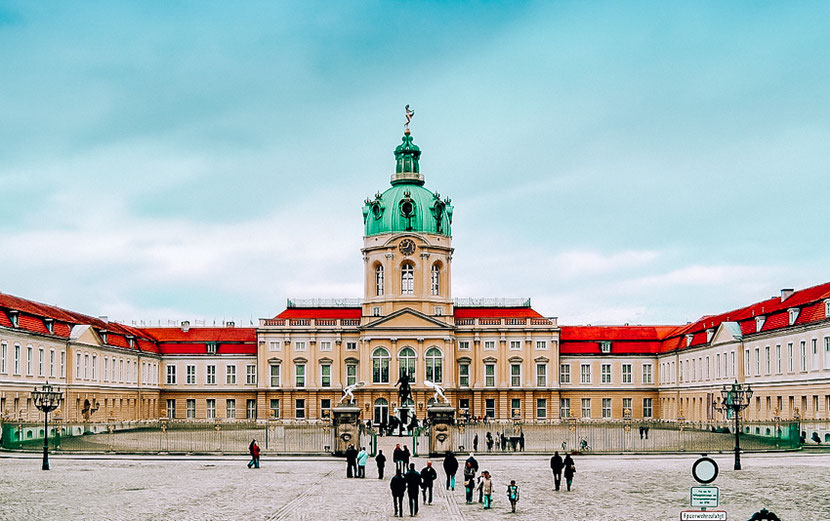 Charlottenburg-Wilmersdorf district of Berlin is aristocratic and green, where the Charlottenburg area with the beautiful palace is the heart of West Berlin. This district will suit business travelers and visitors of the trade shows at the Berlin Messe, travelers with kids, and those who want to see the beauty of Berlin pre-war architecture.
In this blog post: recommendations on where to stay, hotels, what to visit, and safety in the Charlottenburg-Wilmersdorf district. 
Berlin Charlottenburg District: The Heart of West Berlin
On one of my trips to Berlin, I lived in Charlottenburg as I wanted to be closer to the Messe Berlin exhibition center. In March every year, a world tourism conference ITB Berlin takes place in Berlin, and I usually participate there as a travel blogger. I chose Charlottenburg for proximity to the Messe Berlin, but I was pleased to discover a vibrant and elegant part of Berlin, too. 
The area of Charlottenburg-Wilmersdorf itself is clean, unhurried, aristocratic, and has varied architecture. 
Here, houses from the Rococo era stay side by side with townhouses from the beginning of the century, buildings with simple 1950s shapes, and modern high-tech buildings.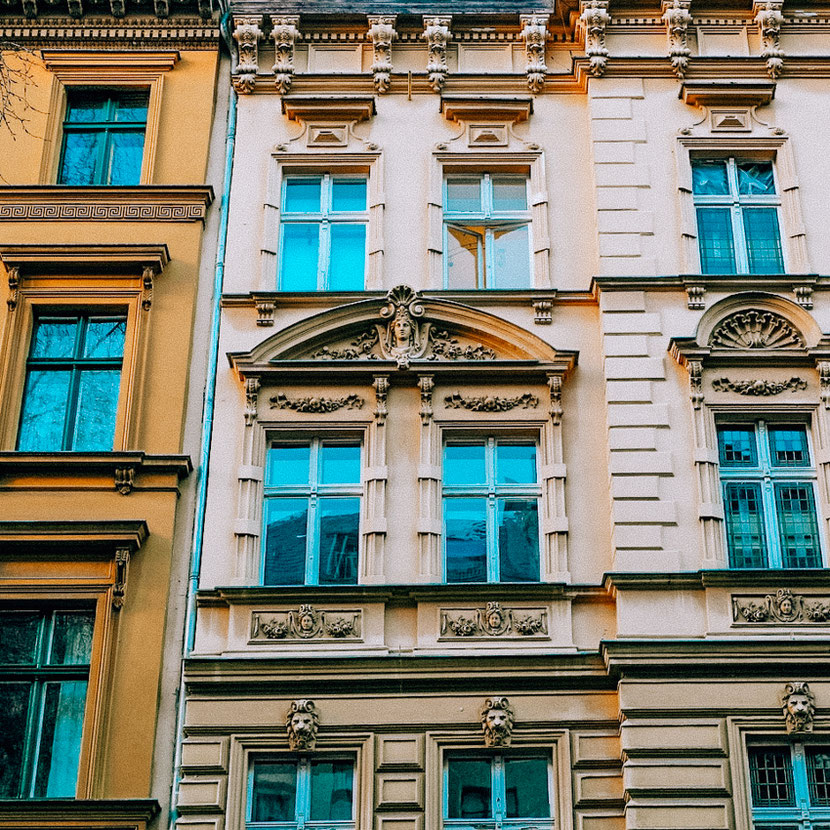 The history of this area began back in 1895, with the idea of Bismarck, who wished to create his own Champs Elysees in Berlin.  He managed to get loans for the construction of Kurfürstendamm and the first villas. The area was then called the New West, as opposed to the Old West that was then in the Potsdamer Platz area.
The New West stretched in the direction of the richest city in Germany - Charlottenburg to Grunewald. 
The New West of West Berlin became a legend in the "golden twenties" when bohemian cafes, luxury shopping malls, literary clubs, art galleries, nightlife, restaurants, dance halls, Wild West Show, jazz, and cinema opened there. 
Then there was a difficult period of the stock exchange crisis of 1929, socialists, Nazis, and demonstrations. 
A new heyday of Charlottenburg came only in the 60s. City West became the hallmark of the prosperous West Berlin. 
The windows of old shopping centers were shining again, and the audience floated from one luxury boutique to another.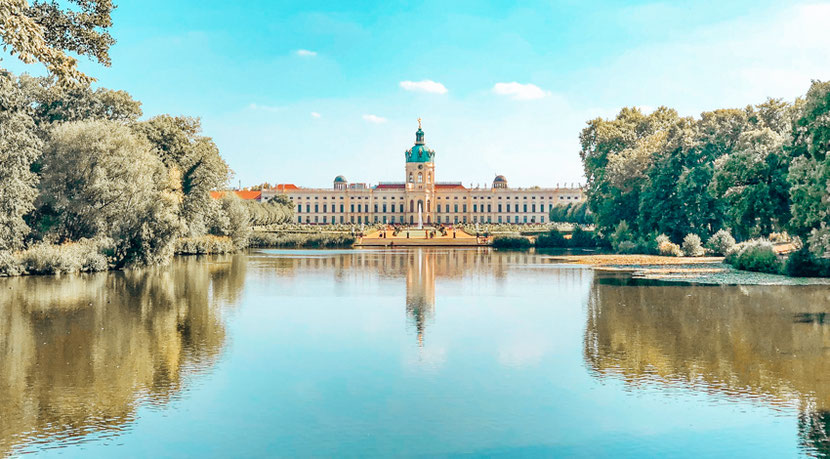 In Charlottenburg, next to exclusive and sophisticated places, democratic shops and restaurants coexist. There is Lidl, Rossmann, Deichmann, and many affordable restaurants, bistros, and eateries where you can dine even for 6 euros (like Vietnamese pho soup, Indian curry with rice, or North African falafel).
The streets of Charlottenburg are full of life, restaurants, cafes, shops, and trendy Berliners.
In Charlottenburg, every lunch and dinner you can try different international food: Indian, Vietnamese, Arabic, Turkish, Thai, and Russian. 
This area is popular among family-oriented Berliners as it is calm and green, with lots of children cafes and playgrounds.
What to see in Berlin Charlottenburg-Wilmersdorf District
1. Charlottenburg Palace
In the area, visit the beautiful Baroque Charlottenburg Castle, built in the 17th century.  It is the symbol of the district and is wonderful at any time of the year. 
The palace was built following the example of the French Versailles.
Visit the Old Palace, the Treasury of Prussia, the amazing Porcelain and Gold cabinets, and the magnificent palace park with many unusual plants. 
It's also possible to spend an evening in the Charlottenburg Palace like the Prussian sovereigns. The experience includes a culinary journey to the Prussian times with a 3-course menu accompanied by a concert by the Berlin Residence Orchestra.
More information about the dinner and the concert at the Charlottenburg Palace.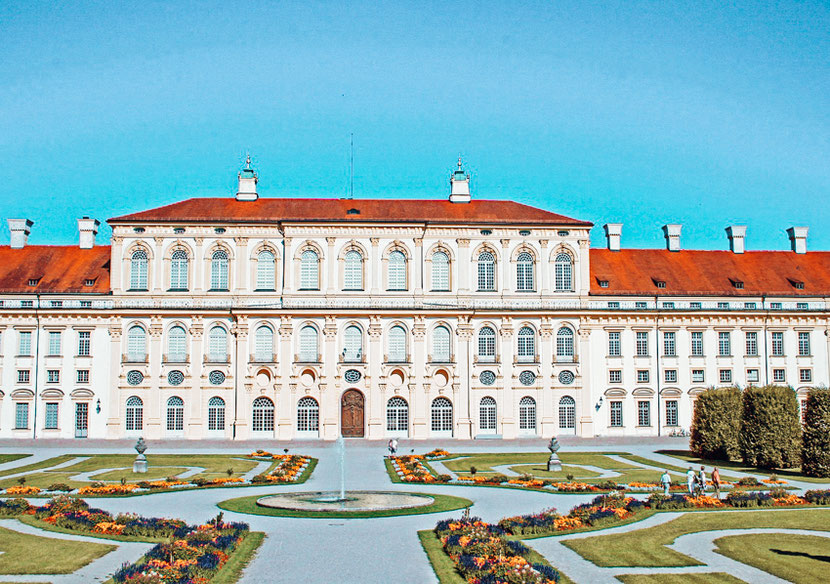 2. Kurfürstendamm
Walk along Berlin's famous Kurfürstendamm boulevard and feel the spirit of West Berlin. Kudamm is known as a popular destination for walking, shopping, and entertainment. The prototype of Kudamm was the Champs Elysees of Paris.
3. Bikini Berlin
Historically, well-to-do Berliners and even millionaires have lived in Charlottenburg.
Therefore, the area is full of chic restaurants and shops.
Explore the Bikini Berlin concept mall that combines urban chic and historic ambiance.
4. Berlin Zoo
Visit the Berlin Zoo - the first zoo in Germany with many rare animals including big panda. 
5. Ka-De-Ve
Trading House Ka-De-Ve in Berlin  was the largest trading house in continental Europe and a showcase of the capitalist way of life in Germany. 
Nowadays Ka-De-Ve represent seven floors of first-class shopping, a magnificent deli with 500 types of bread, clothes, accessories, shoes, sports equipment, and God knows what else, but is extremely pleasant in quality and, most importantly, adequate in prices.
6. Hard Rock Cafe Berlin
Charlottenburg is also home to the world famous Hard Rock Cafe that is located on Kurfürstendamm. Go there for its flair, atmosphere and their legendary burgers. The Hard Rock Cafe Berlin attracts rock music fans as there are tons of music devotional items and collectibles such as gold records or signed guitars exposed there. 
If you want to go to the Hard Rock Cafe in Berlin, you should book in advance on the Internet.
It is always very crowded and there are long queues at the entrance. Sometimes, waiting in a queue at the entrance can take hours. To avoid waiting, book a special ticket for priority seating.
It gives you immediate access to the venue and includes 2- or 3-course dinner plus soft drink, coffee, or tea for only 20 Euros. 
In the Berlin Hard Rock Cafe there is also a shop with legendary t-shirts and sweaters with the inscription "Hard Rock Cafe Berlin". A t-shirt of this kind costs around 28 euros. 

7. German Opera House
The Deutsche Oper Berlin in Charlottenburg was opened in 1911. 
Unfortunately, the beautiful old opera house was destroyed by bombing in 1943. The new building of the German Opera was built in 1961.
Now it's Berlin´s largest music theatre where you can attend both classic performances and discover new forms of opera and musical theater that go beyond the standard showcase. 
8. C/O Berlin
If you like photography, make sure to visit C/O Berlin,  the top exhibition venue for photography and visual media of Berlin that shows works by renowned artists and promotes emerging talent.
C/O Berlin is located in the Amerika Haus (America House) building that has been a place for cultural dialogue between the US and Germany since the Second World War. 
Where to Stay in Charlottenburg-Wilmersdorf District
Hotels in Charlottenburg-Wilmersdorf district of Berlin
In Charlottenburg, I stayed at the Come Inn Berlin Kurfürstendamm. It is located in the lively part of the Kurfürstendamm boulevard with lots of shops and cafés.
Adenauerplatz Underground Station is a 5-minute walk away, providing easy access to other parts of Berlin and attractions.
Prices are 60-100 euros per night, depending on dates and the level of comfort of the room. Overall the hotel is very pleasant, modern, and well worth its three stars.
The hotel's specialty is a restaurant and a terrace with panoramic views of Berlin.
See more photos and information about the hotel Come Inn Berlin Kurfurstendamm.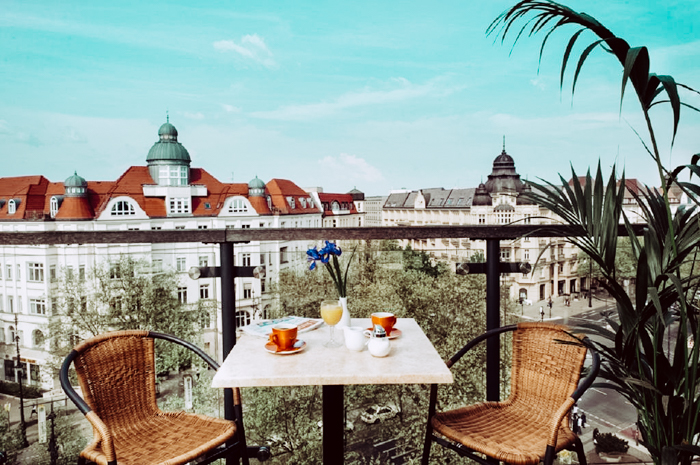 More Hotels in Charlottenburg:
Safety in Charlottenburg-Wilmersdorf District of Berlin
This area seemed to be very safe and calm, even more than the Mitte district.
I have not seen suspicious individuals, fights, or homeless people here. Nearby is the huge Tiergarten park with one of the best zoos in Europe. From Charlottenburg, the Brandenburg Gate can be reached in half an hour by public transport.
By the way, with the Berlin Welcome Card, you can save a lot of money on transport, as it gives you free travel on Berlin's public transport and entrance to lots of museums.
BERLIN SAFETY TIPS FOR TRAVELERS
BERLIN DISTRICTS GUIDE & SAFETY TIPS FOR TRAVELERS
BERLIN MITTE DISTRICT: ALL THE MUST-SEE SIGHTS OF BERLIN IN THE WALKING DISTANCE
MITTE BERLIN DISTRICT GUIDE: WHERE TO STAY, HOTELS & SAFETY
KREUZBERG BERLIN DISTRICT: HIPSTER AND ALTERNATIVE BERLIN
KREUZBERG BERLIN DISTRICT GUIDE: WHERE TO STAY, HOTELS & SAFETY
FRIEDRICHSHAIN BERLIN DISTRICT: THE CENTER OF EAST BERLIN
FRIEDRICHSHAIN BERLIN DISTRICT GUIDE: WHERE TO STAY, HOTELS & SAFETY
PRENZLAUER BERG BERLIN DISTRICT: MAMA LATTE-MACCHIATO, YAPPI, EXPATS AND RICH BOHEMIA
PRENZLAUER BERG BERLIN DISTRICT GUIDE: WHERE TO STAY, HOTELS & SAFETY
With love,
Sasha & The Alternative Travel Guide 
SAVE IT ON PINTEREST FOR LATER: