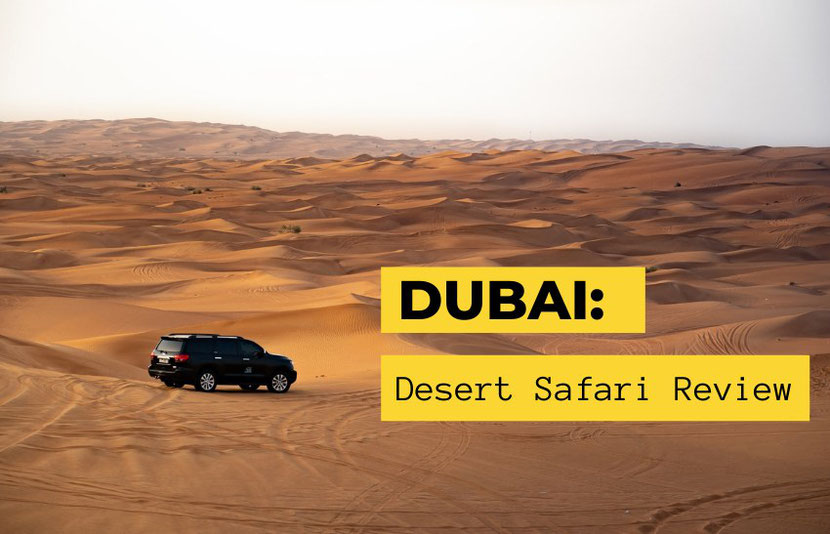 As a travel freak curious to know about local culture and off-beat attractions, visiting Dubai and its untouched desert landscape was on my bucket list for quite a long time. And I got it to check it off finally! After navigating through its diverse desert landscapes during our 10 days Dubai program, I am excited to share some essential information that you should know about desert safari Dubai. 
Planning Desert Safari Dubai: Top Tips
1. Desert Safari In Dubai: Where To Go
As part of our Arabian Desert exploration, we got to take in some of the region's most stunning desert landscapes. 
Al Awir
This is hands-down the first choice to go for a desert safari in Dubai. It took 40 minutes for us to reach this area from the city center.
Dubai Desert Conservation Reserve
Located about 50 minutes drive from Dubai, this is a protected reserve and, more importantly, the UAE's first national park.
We visited this conservation reserve in the early morning for the sunrise hot air balloon ride.
The views were surreal, and the whole experience was magical! Yes, it was absolutely worth it. I enjoyed the hot air balloon flight. I felt heavenly calmness, observed the unequaled beauty of dunes and indigenous desert flora and fauna that inhabit the region. 
Al Lahbab
I was initially skeptical about taking a desert journey to Al Lahbab as the standard desert safari, and Al Lahbab Desert Safari program was more or less the same.
But we are glad that we finally took this safari.
The exhilarating ever drive through its unparalleled, enigmatic red dunes is something that we will remember for a lifetime. 
Liwa Oasis
Liwa Oasis is one of our favorites. This incredible oasis is not anywhere within Dubai but in Abu Dhabi.
The best thing is that it's a part of the Empty Quarter (locally known as Rub al Khali) – the world's largest sand desert. 
2. Driving In The Desert
You can drive and discover Dubai's desert on your own, provided you are an expert driver and have access to a well-maintained 4X4 vehicle.
But make sure that you bring your international driving license if you're planning to embark on a desert journey on your own.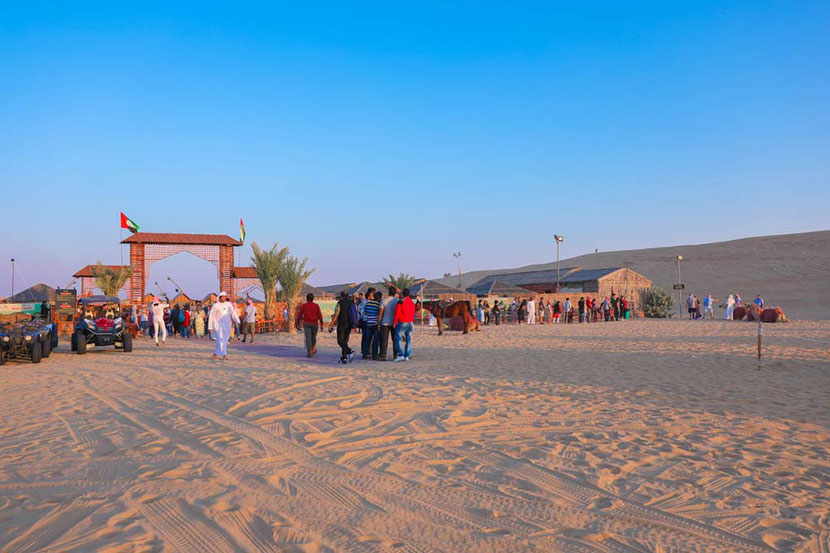 3. Desert Safari Tour
4. When To Visit
We being hardcore outdoorsy people, visited Dubai in January. The climate was warm during the daytime though pleasant, with a salubrious breeze. We went on our desert trips in the evening and on one in the early morning, both times the weather was cool. 
The winter months in Dubai are from October to March. And, of course, it's boiling in the other months of the year, with July and August being the hottest months. 
5. What To Wear
Modest dressing is generally recommended for your Dubai visit.
But for your desert trip in Dubai, make sure that you wear the right clothing.
Avoid loose skirts and instead wear long-sleeved cotton or linen tops plus comfortable trousers. You may further require a lightweight jacket or a hoodie for your early morning or winter desert trips.
Complete your look with a quality pair of sneakers, gaiters, or sandals. 
6. Other Must-Haves
Regardless of your morning or evening desert trip, make sure that you apply a lip balm (of at least SPF 30) and slather on good sunscreen lotion or cream to protect your skin from intense desert sunlight.
Sunglasses are another staple to have on your desert safari.
To avoid sunlight directly hitting your face, you can use a hat (preferably a wide-brimmed one).
Also, carry a light shawl which is ideal for shielding your face and neck from sun and dust. 
What We Enjoyed Most About Our Desert Safari?
Dune Bash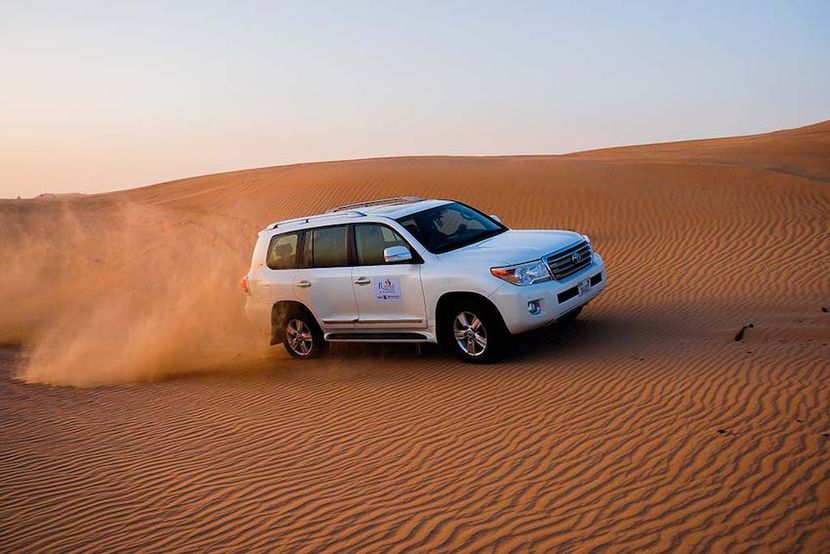 This was undoubtedly the most significant highlight of our desert trips in Dubai.
It is nothing but a super thrilling rollercoaster ride over the desert dunes. An exceptionally maintained Land Cruiser is used for this purpose.
But for our Red Dune Safari, we amped up the fun and thrill aspects by doing this part on a mighty Hummer, and it was well worth every penny we spent. 
Desert Sunrise and Sunset Views
Yes, we got to see both desert sunrise and sunset views, and no words could probably describe this phenomenon of the sun coming out of the desert sands. It was also amazing to see the sun going back to sands at twilight. 
Camp Visit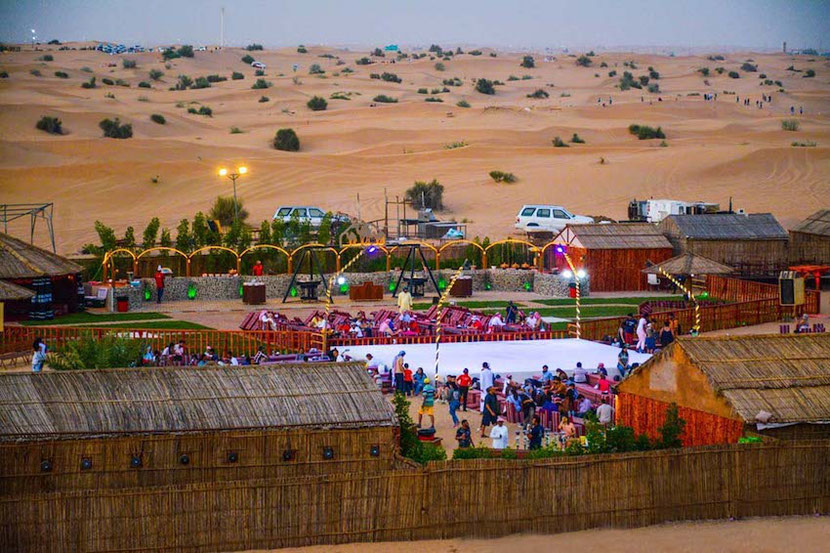 This part is indispensable as it gives you a genuine slice of the Bedouin culture and traditions while allowing you to take in the traditional Arabian hospitality.
We were welcomed here with aromatic Arabic coffee and succulent dates that were much needed to replenish our energy after the electrifying dune bash experience. 
Camel Ride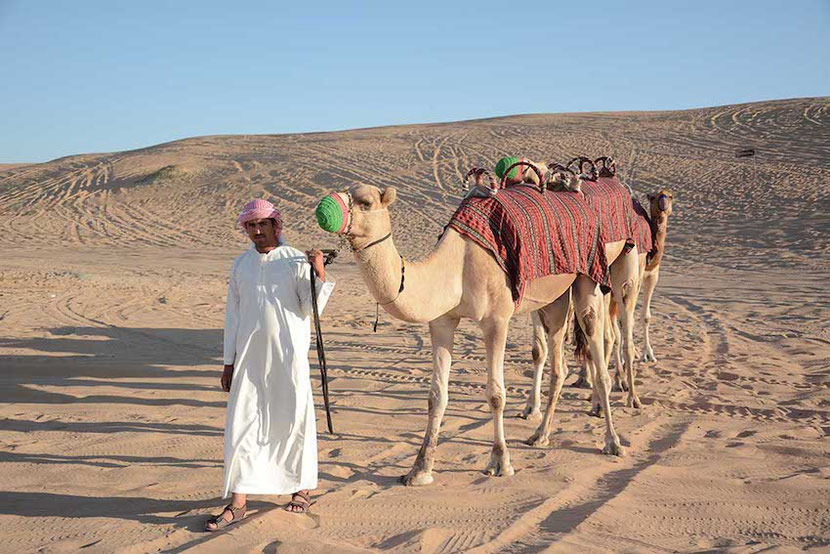 Camels are an intrinsic part of Dubai's humble past and rich heritage.
Fascinatingly, it was once the region's only means of transport in the ancient era.
And we got to enjoy this activity both on our overnight desert safari and red dune safari. Against the backdrop of endless desert sands, this wobbly ride on camelback was an exhilarating adventure. 
Quad Biking & Sandboarding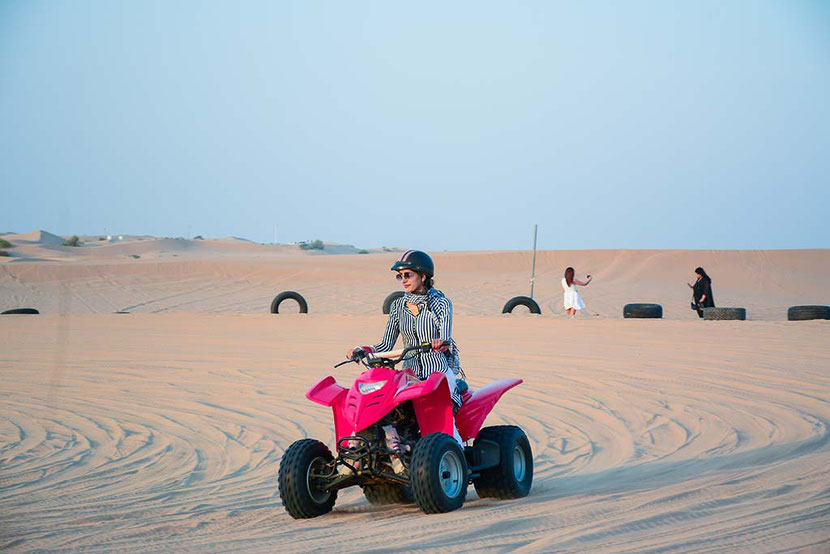 Quad biking and sandboarding in Dubai desert weren't actually included in our desert trip, but we did this for an additional fee. And it was super fun to ride the quad bike and test our balancing skills on the sturdy sandboard.
For those who don't know, it's simple to ride a quad bike. You can drive it with minimal supervision and, of course, without any prior experience. 
Cultural Activities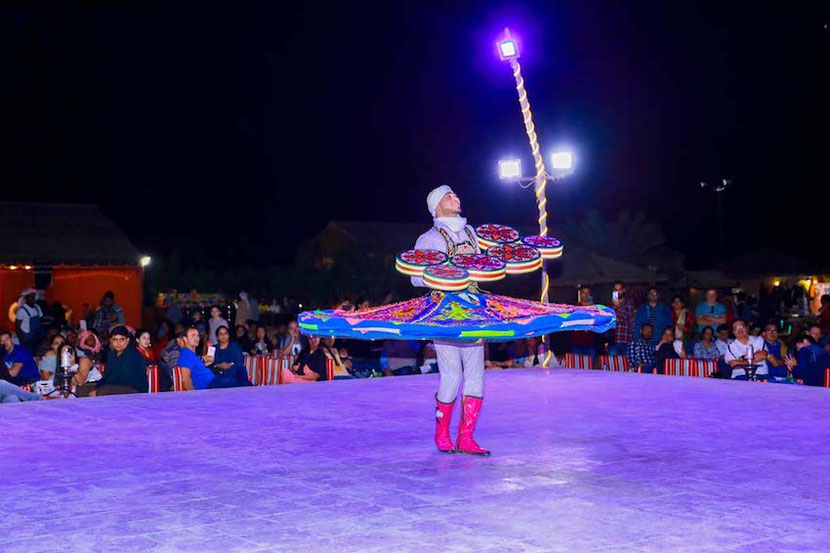 Participating in many cultural experiences was one of the most fun-filled parts of this desert safari.
Henna artists beautified our hands with stunning Arabic designs (but extra charges apply for elaborate designs).
Smoking shisha transported us to an altogether different era.
We got to watch falconry and also capture some fantastic souvenir photographs wearing traditional Emirati dresses. 
BBQ Dinner
It was a multi-course buffet-style dinner with an inspiring mix of BBQ specialties, local Emirati favorites, and famous international delicacies. I ate starters, soups, fresh-cut fruits, along with several desserts and unlimited refreshments, to complement this rich, lavish meal. 
Traditional Entertainment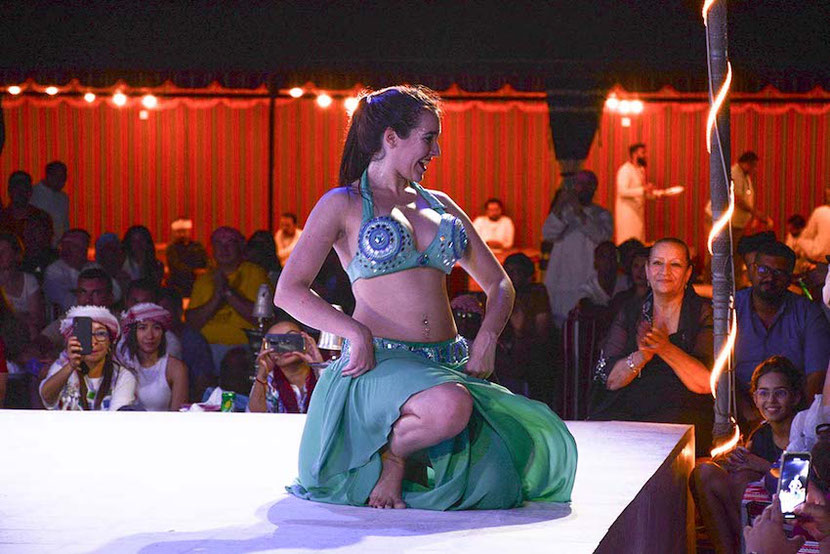 You can't help but fall in love with the alluring performances by the brilliant Tanura artist and the graceful Belly Dancer at the desert camp. Some of the participants even joined them along.
Camping In The Desert
This was one of the high points of our overnight desert safari! We had pre-booked this experience, and our service provider assured us that all facilities would be arranged for our camping beneath the desert sky.
It, therefore, was a hassle-free experience to cozy up in our fully equipped tent, set amidst the supremely isolated sand dunes. 
Hot Air Balloon Ride
For this, we had to sacrifice our deep sleep and start our day before dawn. But this magnificent sky-high experience enveloped by the most compelling views of the desert and enriched by cool pleasant morning breeze made up for it. We also got to savor a traditional Arabic breakfast as part of this tour. 
Roundtrip Transfers
We had the option to book desert safaris with or without transfers. As we luckily added it at the time of booking, the whole experience turned out to be incredibly enjoyable with an absolute peace of mind. One can choose from the shared or private transfer, and we went for the latter considering its affordability. 
What Didn't We Like About Our Desert Safari?
Our desert trips in Dubai were overall amazing but with a few minor hiccups. For instance, we expected a one-hour camel ride, but it lasted for not more than 10 minutes. The same applies to other desert activities such as quad biking. But for many precious moments and memories that we created during our desert safaris, these hitches are not very important. 
Is Desert Safari For All?
Not actually; there are many pulse-racing activities (mainly dune bash) involved in a desert safari which may not be ideal for those who are pregnant, have undergone any surgery recently, or have any serious ailment. You can opt for desert tours like Dinner in the Desert, which allows you to enjoy the desert beauty while getting yourself away from all the extreme actions and adventures. 
Conclusion:
So that's it! Dubai is a compact city that is mostly visited for its glamorous version. But with the exclusive desert safari Dubai trip, we hope that you would definitely go beyond the usual and immerse yourself in the raw beauty and sheer tranquility of the golden sands that encircle the region. 
ABOUT THE AUTHOR
Neha Singh is a travel blogger @ Dubai Wikia. She is a postgraduate in Mass Communications and a keen writer. Neha is passionate about traveling to new places, reading fiction, learning new things and loves being a nature trekker.