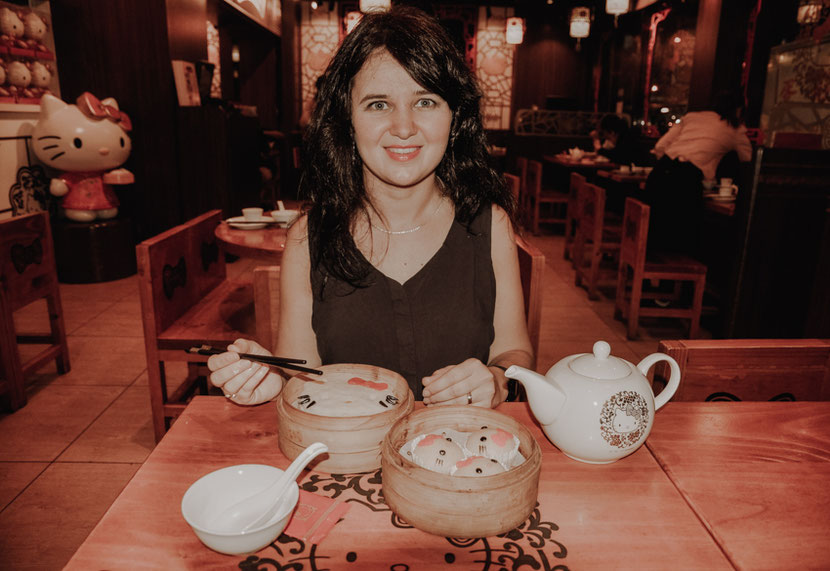 Hong Kong is a city of always chewing people. With such a variety of dishes and street food, it is impossible not to turn into a serious gourmet here. No surprise, most of the places to visit in Hong Kong are centered around food! 
Besides traditional restaurants, Hong Kong is famous for other types of restaurants that are akin to an adventure.  
These are concept restaurants with an unusual setting and food. I found five themed restaurants and cafes in Hong Kong that are worth heading to if you are looking for an extraordinary culinary experience. 
Looking to save money while traveling in Hong Kong?
● If you are a coffee-lover and want to try some of the most unusual coffees in Hong Kong, such as Wellness Latte, Caffe Rosa, or Honey Roasted Latte, enjoy this super deal "Buy 3 & Get 1 Free Coffee" at the best coffee shops of Hong Kong. 
● Get a free entry for Art Central, the main event of Hong Kong Art Week. If you like contemporary art and meeting talented and interesting people, don't miss out this event. 
● Save on traveling around Hong Kong with this inexpensive MTR Tourist Day Pass. With this ticket, you can enjoy unlimited MTR rides all around Hong Kong. It's an excellent bargain if you plan to visit many places in different parts of Hong Kong within one day. Click here to book a discounted MTR Day Pass for Hong Kong.
● If you want to save on accommodation in Hong Kong, check out these hotel rooms offers up to 72% OFF. With this deal, you can book discounted staycations, hotel rooms for day use or selected hours, and even find affordable long-stay hotel offers. Click here to see discounted hotel room offers in Hong Kong. 
---
1. Hello Kitty Chinese Cuisine - a quirky restaurant in Hong Kong where everything is dedicated to the cute cat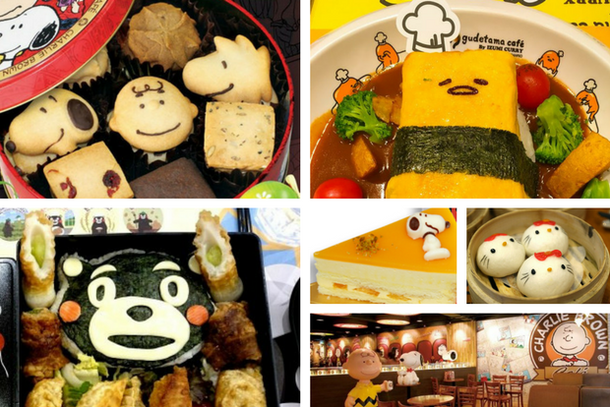 The first thing that struck me in Hong Kong is that locals love their favorite cartoon characters so much that they are ready to eat them.
Because of this phenomenon, Hong Kong has become home to dozens of cartoon-themed cafes and restaurants: Hello Kitty Chinese Cuisine, Snoopy & Charlie Brown Cafe, Pop-up Cafe Pom Pom Purin, Gudetama Cafe, Ding Dong Restaurant, Moomin Bakery & Cafe, and Kumamoto Cafe among others. 
In these restaurants, you can eat the cutest dim sum in the world in the form of Hello Kitty, a snoopy-looking cheesecake, and a moomin-like latte. How do you like this menu?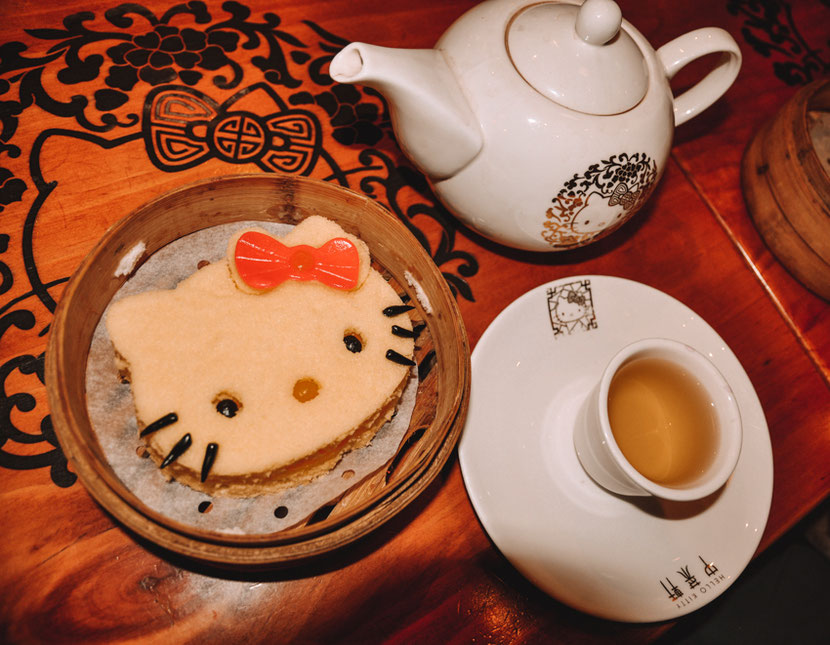 Hello Kitty Chinese Cuisine is an unusual restaurant in Hong Kong where all dishes are made in the shape of Hello Kitty. 
Ever since Hello Kitty appeared in Japan in 1975, its popularity has not subsided. The Sanrio character has evolved into a global marketing brand and franchise. She is loved by both children and adolescents, girls and boys, and even adults.
Hello Kitty's popularity has long gone beyond the borders of Japan. This character is adored all over the world, and Hong Kong is no exception.
In 2015, the world's first Hello Kitty dim sum restaurant opened here.
If you or your kids are fans of Hello Kitty, read my blog post about Hello Kitty Locations in Hong Kong where I also wrote about dining at Hello Kitty Chinese Cuisine restaurant. 
Address: Hello Kitty Chinese Cuisine, Canton Road, 332-338, Kowloon
2. Izumi Curry Gudetama, Canahei & other: unusual themed restaurants in Hong Kong
Gudetama Lazy Egg cafe Hong Kong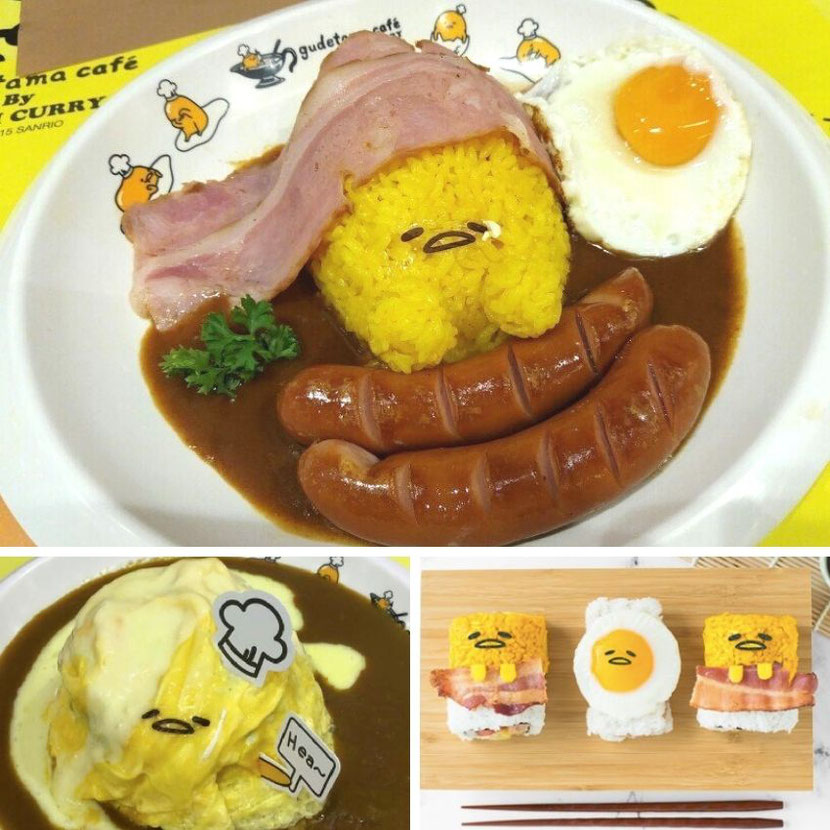 Izumi Curry is a company with several restaurants in Hong Kong. Some of them are unusual themed restaurants dedicated to cartoon characters.
Gudetama Cafe is devoted to another popular Japanese character - Gudetama Lazy Egg. In this restaurant, you will sit on eggshell chairs, drink from an egg mug, and eat funny food Gudetama Lazy Egg-shaped.
It can seem strange to a western person, but in Hong Kong, Gudetama made a splash because of his thin voice, lazy character, and cute appearance. He can now be seen everywhere: among soft toys, keychains, notebooks, T-shirts, and pillows. 
For those who don't know, Gudetama's character debuted in 2013 after a new character contest run by Sanrio. Characters should not only be cute but also represent Japanese cuisine. Gudetama took second place in this competition, and thus his life of fame began. 
The cultural influence of Japan in Hong Kong is enormous, so Gudetama, after its success in Japan, rapidly began to gain popularity here as well. Now at Izumi, Gudetama is present in every dish in the form of a hard-boiled, half-raw, or whipped egg. Gudetama's eyes and mouth are made of rice paper, so you can it too. Do you want to be like Hongkongers? Eat cute cartoon food. 

Address: Gudetama Cafe, YATA, LG / F, apm Millennium City 5, No.418 Kwun Ton
Kanahei's Small Animals Café by IZUMI - a themed cafe in Hong Kong for children and adults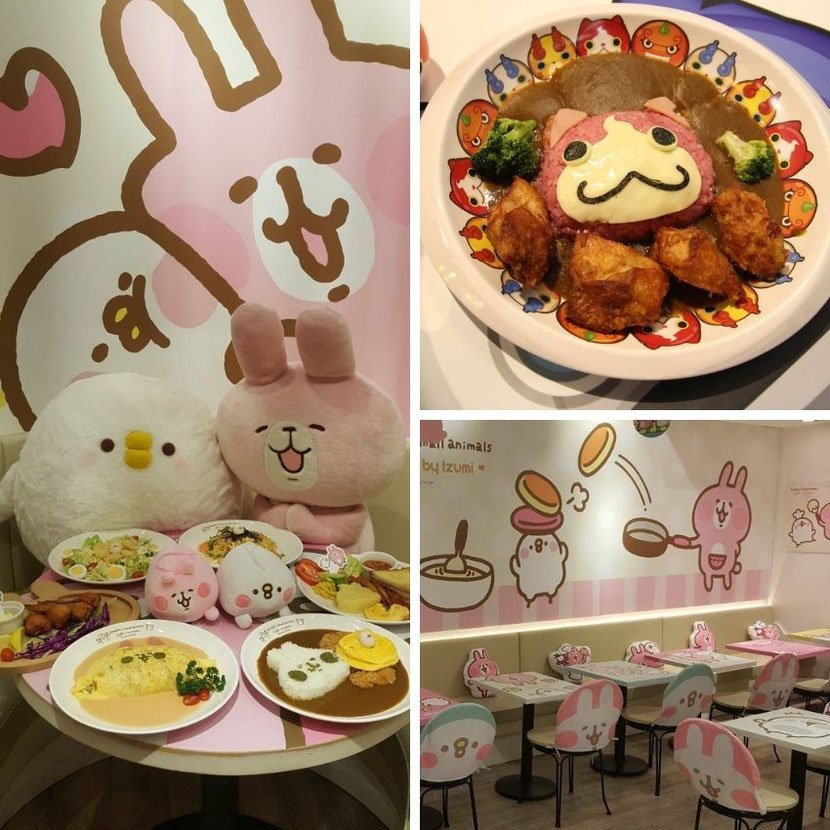 Another fun cafe & restaurant of this chain is Kanahei's Small Animals Café by IZUMI.
If you are traveling with children, be sure to go to such a cartoon restaurant in Hong Kong: your kids will be delighted! This cafe features cute characters a bird Piske and a pink rabbit Usagi that were created by the Taiwanese illustrator Kanahei. 
At first, these cute characters were popular only on the Internet, but their fame quickly grew and now they flaunt on food packaging, posters, animal-formed cookies, and even sports contests are held in their honor. 
Address: Kanahei's Small Animals Café by IZUMI - LG / F, apm Millennium City 5, 418 Kwun Tong Road, Kwun Tong
Please note that Izumi themed cafes and restaurants in Hong Kong now and then either change their name, change the concept of the cafe, or the company periodically opens new pop-up cartoon restaurants. 
So, perhaps, during your visit to Hong Kong, this restaurant will have a different name and will be dedicated to a new cartoon character. 
3. The Galley by Cafe Proud Wings: Hong Kong's quirky aviation-themed restaurant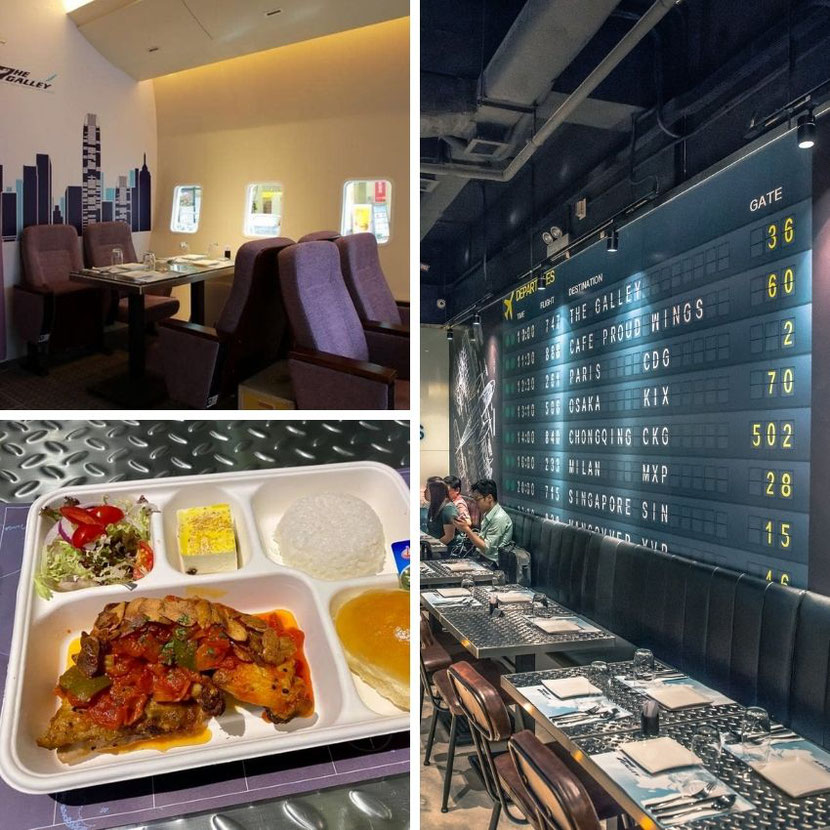 Aviation enthusiasts will appreciate the unusual Hong Kong restaurant The Galley by Cafe Proud Wings.
It should come as no surprise that the city with one of the best airports in the world has a restaurant dedicated to airplanes and aviation.
To get to your dining table, you first need to go through a corridor that looks like an exit to the plane. The restaurant itself looks like an airplane cockpit with round windows and typical tables and seats. On the wall, there is a huge board with the timetable of arrivals and departures.
If you love airplanes, the exciting atmosphere of the airport, or uncommon off the beaten track places, be sure to check out this unique restaurant in Hong Kong. 
Fortunately, although the food here looks like the menu onboard the plane, it tastes differently. Here you can try black risotto with squid ink, crab cake with mango salsa, and truffle soup.
Address: 39 Ka Shin Street, Tai Kok Tsui Hong Kong
4. Jumbo Kingdom: unusual floating restaurant in Hong Kong
One of the most unusual restaurants in Hong Kong and its ancient landmark - the Jumbo Kingdom ship in Aberdeen Harbor.
The floating restaurant was opened in 1976, and all these years its popularity has only grown. Its creator, Hong Kong and Macau tycoon Stanley Ho invested HKD 30 million in its construction, and the decorations alone were worth HKD 6 million.
The Jumbo Kingdom floating restaurant in Hong Kong is popular with local and foreign businessmen and celebrities. Queen Elizabeth II, Tom Cruise, David Bowie, Gong Li, Stephen Chow, and Bruce Lee visited this place.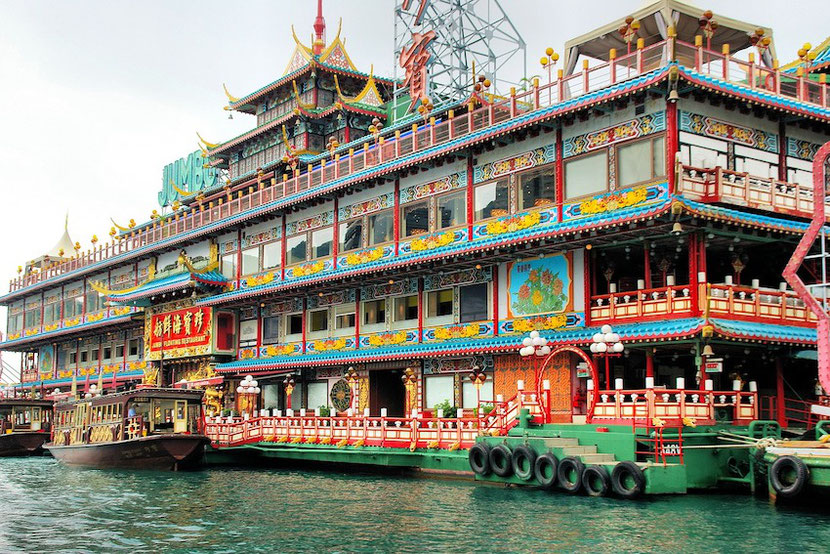 Here you can taste the strangest and most unusual Chinese dishes and a wide variety of seafood: shark fin soup, sea urchins, swallow's nest soup, century-old eggs.
One of the eccentric dishes: Flamed Drunken Shrimp. Live shrimps are poured with vodka. And from ordinary shrimp, they turn into drunken ones. The shrimps start dancing and brawling. After that, they are transferred to a Chinese wok, got light and fried.
An average dinner at the Jumbo Floating Restaurant in Hong Kong will cost about HKD 1,000, with a minimum of HKD 300-400 per person. 
Click here to see a discounted meal deal for the Jumbo Kingdom Floating Restaurant. 
For those looking to fully experience the floating restaurant and surrounding area, there's a VIP offer: a 7-course menu with unlimited free drinks from the open bar plus a private sunset cruise on a traditional Chinese boat.
The price of this activity is $ 160. More information here.
If you are not planning to dine at a floating restaurant but still want to visit this extraordinary Hong Kong landmark, I recommend joining the Aberdeen Harbor Boat Tour.
On this boat trip, you will visit the sites that represent every era of the floating village in Aberdeen Harbor. Learn the history of local Hong Kong fishermen and visit a traditional houseboat. Details about the excursion here.
There is also an excellent offer from Klook: a boat tour to the Aberdeen Fishing Village in a traditional sampan that also includes a traditional lunch.
You will have the chance to taste authentic boat noodles with pork or chicken cooked directly in a mobile sampan kitchen. It's a delicious dish and a must-try in the Aberdeen area.
And of course, you will visit the fishing village, see the Jumbo Kingdom and even traditional dragon boat training and live fish trade. 
Click here to book a discounted ticket to the Aberdeen Fishing Village - with or without lunch. 
5. HA Cube: quirky restaurant in Hong Kong where you can fish for shrimps and then barbecue it
I traveled a lot but I have never seen such a concept of a restaurant anywhere other than in Hong Kong!
If you are a fisherman at heart, but you have no time to fish, come to HA Cube - the only indoor shrimp farm in Hong Kong. In addition to shrimp, you can fish for lobsters and crabs here, and then immediately make a barbecue out of your catch.
What do you prefer: shrimp in cream, shrimp with lemon or pepper? Grilled shrimps are served with snacks - french fries and rice.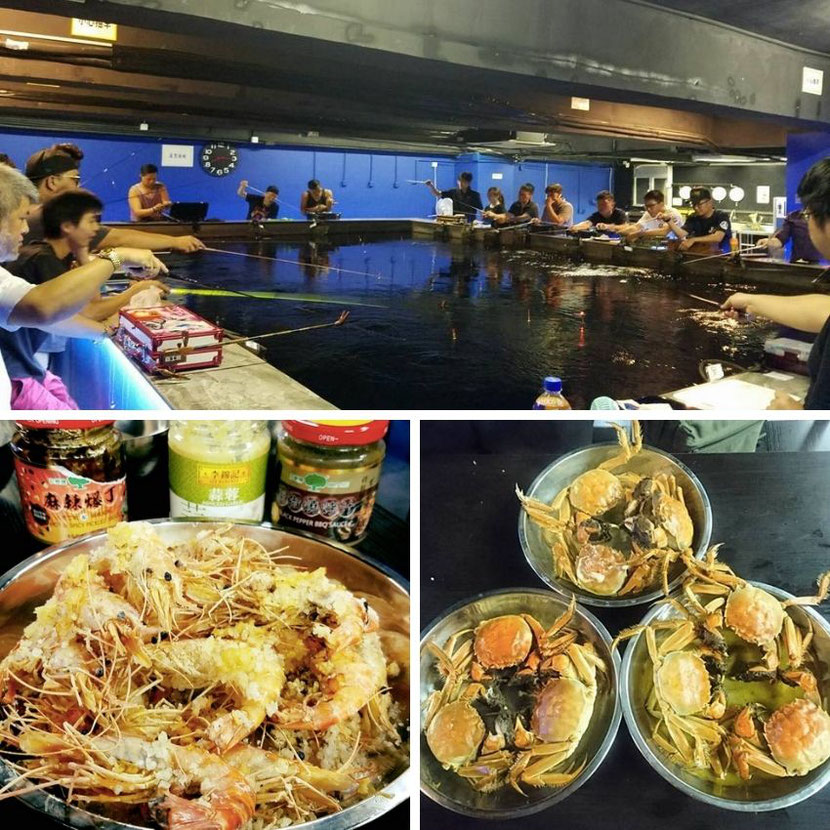 This kind of fishing is not afraid of heat or rain. The weather is always good at this unusual restaurant in Hong Kong. You will find here everything you need for a real shrimp hunt: bait, a fishing rod, and a fun company.
The shrimp fishing area and dining area can seat 100 people, so it is usually noisy and lively here.
Address: Rooms D and E, 8th Floor, Wandi Plaza, 3 Tai Yau Street, San Po Kong, Kowloon.
3 minutes from the Exit A2 of Diamond Hill MRT Station
Make an appointment by phone: 3565 4233
Opening hours: Monday to Sunday from 12.00 to 02.00.
Closed every Tuesday
Last entrance at 24:00 
With love,
 Sasha & The Alternative Travel Guide 
SAVE IT ON PINTEREST FOR LATER: