London tops the lists of the most expensive cities to visit in the world. But London on a budget is possible! With a bit of research on London money-saving tips (you are in the right place for this) and advance planning, you can see and experience the best of the city while keeping your budget under control.
Here are a few tips on how to save money in London to help you on your way.
London on the cheap: Useful tips for those who are going to visit London and don't want to spend their fortune there.
There is so much to see and admire in London at any time of year. You can sigh with delight at the views of the Thames or grimace in despair at the price tags.
The capital of Britain - not a cheap city and never was, but still, if you take our advice, even here you can very economically spend time, while not denying yourself anything. And with the money saved you can afford more fun activities in the city and buy gifts for yourself, your family and friends. 
Stay at the London YHA Hostels that are affordable and suitable for all types of travelers (including families!).
London is top of many peoples bucket lists. So many people think that a holiday in London has to cost the earth but it doesn't and one way to save money in London is to stay at the YHA hostels.
Whether you are travelling to London as a family, as a couple, solo or in a larger group the YHA hostel group will have something that suits you, in a location to where you need to be.
Hostels have come a long way from being known as party central for backpackers and at times not so nice places to stay.
Now you will find places like the YHA are leading the way in inclusive travel for all people but still at a great budget rate.
These days you can find family rooms with an ensuite available as well as dorm rooms with communal bathrooms.
Not only are the rates great the facilities that the YHA hostels have are second to none.
At the hostels, you will find large kitchen areas with seating for you to cook your meals. The fully stocked kitchens are a great way to save money by cooking your own meals with most of the hostels in London conveniently located within walking distance to a supermarket or small convenience store. Self-use laundry facilities will also help if you need to wash and dry your clothes.  
The communal areas are a great way to meet new people and also get some of the best tips on seeing London during your visit. At many of the YHA hostels, you will also find that they have activities for people to join free of charges like walking tours and trivia nights as well as services that will help you get discounted tickets to the theatre or other activities that may be being held around the city. 
The YHA London Central is a brilliant YHA hostel in London and has all of the above-mentioned facilities but is also close to so many attractions.
The tube can be expensive at times, so from this YHA hostel you can walk to museums, famous high streets, the theatre and open green spaces in the city.
This travel tip was submitted by Bec from Wyld Family Travel. 
Wetherspoons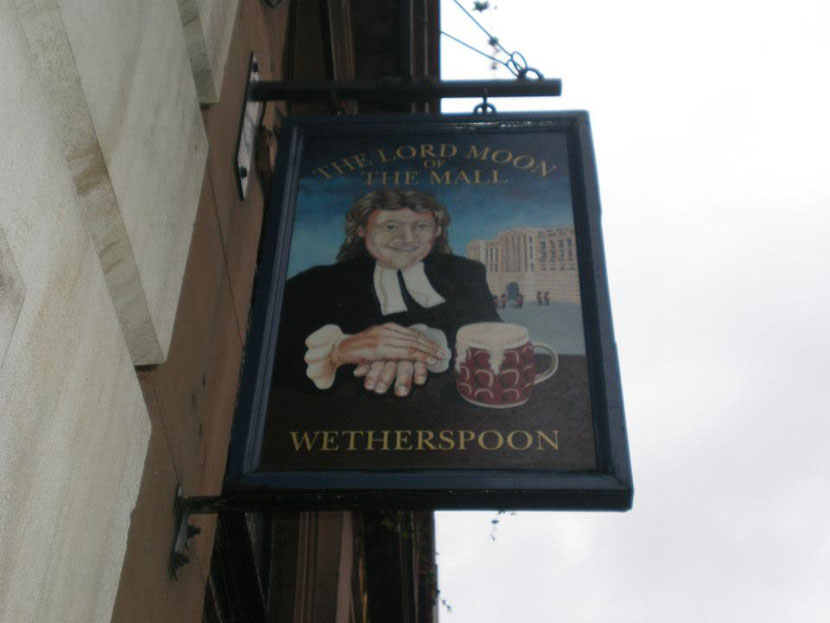 When you travel, food expenses are usually one of the most important items in your budget. In one of the most expensive cities in the world like London, this is even more true. So you should find a way to cut these costs.
The cheapest options to eat would be to cook by yourself or eat some street food.
But if you would like to sit somewhere and eat food inside without paying a fortune, you don't have many options. If you seek that kind of place, one of the Wetherspoons pubs should be your choice.
This chain of pubs opened the first place back in 1979. From that time on, they now have around 1000 pubs in the whole of the UK. In London, just in Zone 1 alone, there are 20 pubs. Most of these places are a bit quirky and open in unusual places like banks, train stations, cinemas. 
Here you can get a pint of beer for around 4 GBP. But an even better option is ordering a combo of burgers and beer for less than 6 GBP. And in most other places, you would pay more just for a pint. One of the pubs in this chain with the best reviews would be Lord Moon in the Mall close to Trafalgar square. Now they even have an app for smartphones (both iPhone or Android).
Here you can find the closest pub to your current location with directions. When you are in a pub, you can make orders and payments via this app. They also diversify to hotels now, and reservations of cheap rooms can be done in the app as well.
So when in London, remember Wetherspoons, download the app and enjoy your stay. 
This travel tip was submitted by Dzangir from Dr Jam Travels
Here is How to Travel Cheap in London: Get a Visitor Oyster Card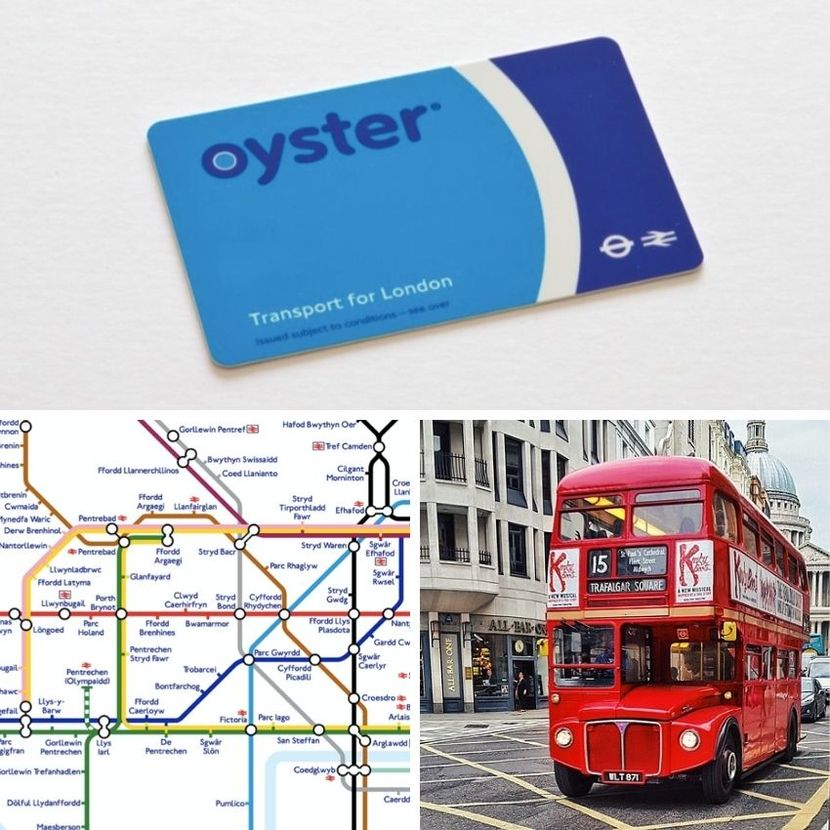 London can be a budget destination if you know how to explore it. 
The London tube is the perfect way to get around, yet it can be a bit pricey. The good news is that there's a way to save a lot of money by using public transport. Do you want to know how to save money in London as a tourist? 
Get a Visitor Oyster Card!
The Oyster Card is a magnetic rechargeable card, valid for all of London's public transport. Using it is way cheaper than paying for a single journey ticket every time you ride the London Tube.
You buy it once and you can use it forever: it doesn't expire!
If you aren't planning a second trip to London, you can also return your card for a refund of the remaining balance and the card deposit (£5).
The transport fares are cheaper when you touch in with an Oyster. Another reason why you should use it is that there is a maximum daily cost for adults, after 9:30am, Monday to Friday.
This means that when you have reached the daily limit you can travel for free for the rest of the day!
It is more than 50% cheaper than buying single tickets with cash or a paper Travelcard, making this an effective way to visit London on a budget.
Another important bonus offered by the Visitor Oyster Card is that it includes several special offers and promotions at restaurants, shops and entertainment venues. Which means you can buy awesome London souvenirs for less!
The Visitor Oyster Card also allows for a nice discount on the Emirates Air Line cable car.
This lovely experience will let you enjoy aerial views of London's skyline, as you travel from the Greenwich Peninsula to the Royal Docks.
With a Visitor Oyster Card, adult one-way fares will cost you £4 and child fares only £2. So you will get a 50% discount on one of the London bucket list experiences!
You can easily buy a Visitor Oyster Card from Gatwick Express ticket offices at Gatwick Airport, on board Eurostar trains travelling to London or get it online. 
This tip was submitted by Danila from Traveling Dany.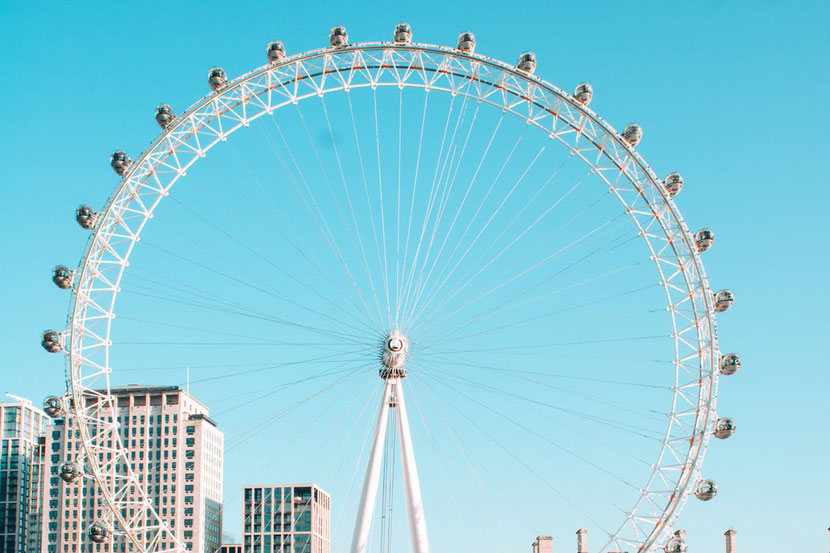 Get Fit and Explore London with Santander Cycles
One of the best ways to save money when you are visiting London is by saving on regular public transport.
Public transport is a very easy way to get around London, but there is an alternative that will get you everywhere as well. This alternative is Santander Cycles.
Santander Cycles is a bike-sharing system that you can find across London. This bike-sharing system makes it easy to rent a bike for a short time without the need to own your own bike. This makes it cheaper to visit some of the most famous sights of the city such as Big Ben, Tower Bridge, London Eye, Oxford Street, and much more. Also, you can go to a lot of the most Instagrammable places in London in a quick and affordable way.
In total there are more than 12,000 bikes in the city, which is a lot, and you can find these bikes at about 800 docking stations in all parts of London.
Because of this, there is almost always a docking station of Santander Cycles near you! This makes exploring the city by using this bike-sharing system very convenient!
What's great is that using Santander Cycle is very cheap.
For only 2 pounds, you can make an unlimited number of journeys in the city during a period of 24 hours. So when you are exploring the city for one day, this is a very affordable way to get around. However, keep in mind that each journey cannot exceed 30 minutes, otherwise there is an additional fee of 2 pounds for each extra 30 minutes.
Also, you can have a membership if you live in London, but this is not required. However, a membership makes using the cycles easier and you can sometimes get a discount. For example, there's a 25% discount for students in London. What's great as well is that there is a Santander Cycles app. With this app, you can find bicycles in a more convenient way as you can see cycle availability at each docking station. Also, you can see your recent activity, save favorite docking stations, and much more. 
This travel tip was submitted by Dymphe from Dymabroad. 
Sky Garden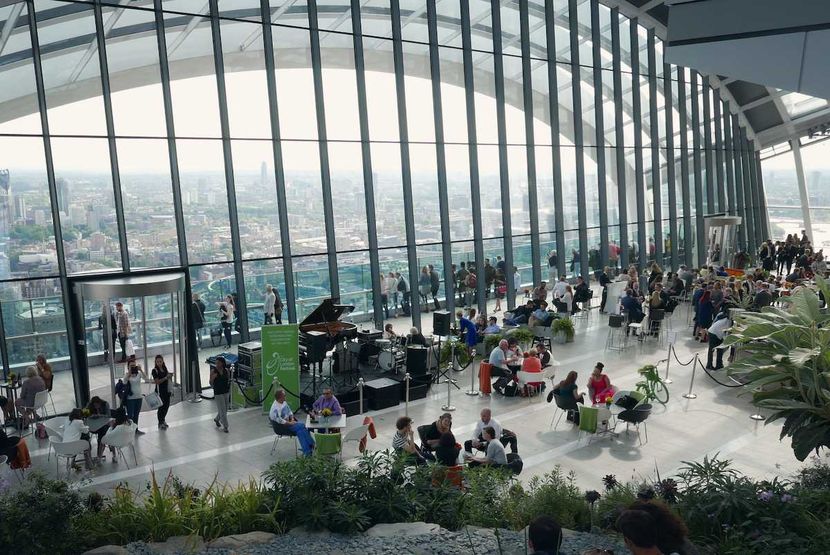 If you are looking for cheap London activities, then you should head to Sky Garden. The name Sky Garden brings you back to the ancient times of Babylon with its "Hanging Garden". In Babylon, it was a tiered garden featuring a wide variety of trees, shrubs, and vines and looking like a huge green fantastic mountain. 
There are a lot of oddly-shaped buildings in London (that are free attractions in themselves), and Sky Garden is one of them. It's a relatively new building that has a strange swollen shape that redefines the city's skyline. It is located at the top of 20 Fenchurch Street. 
The garden is a modern interpretation of having a garden up on such a high level. The stylish design of Sky Garden and its modern infrastructure have made it one of the most popular attractions in London since its opening in 2014. Sky Garden is also one of the best places to visit in London for free. 
You will find Sky Garden on the top floor of the "Walkie-Talkie" with a dedicated elevator. Created by Uruguayan architect Rafael Viñoly, the site was designed to bring green space to the urban area. When it was completed, it was declared to be the tallest public park in the city, filled with exotic plants on mindfully arranged terraces, walking paths and trails, seating areas, and an observatory deck for the public to have a moment of peace and to enjoy the beauty of the city's view.
At the front of the garden, there is an open-air deck from where you can enjoy a fantastic view of London at the River Thames waterfront.
 You will be able to observe the most iconic London sights: the Shard, Saint Paul's Cathedral, Tower Bridge, even to the West End if the weather is good.
There are a bar and two restaurants in the garden at different price points, so you can sip coffee or have a full lunch based on your budget.
Entrance to the Sky Garden is free on weekdays.
However, note that the garden could be closed if it is reserved for a private event. Pre-registration is required, and the visiting time slots open two weeks in advance.
Check Sky Garden's official website for the opening schedule and availability, as the quota can be filled up pretty fast during high season and peak hours. 
This travel tip was submitted by Kenny from Knycx Journeying. 
Free Things To Do in London
If you're traveling on a budget and seeking ways to cut down on expenses for sightseeing, consider finding free activities to do in London - the city is packed with them! 
London is a city of free museums. Here you can do things that you rarely get to do in other cities - go to a museum for an hour, go to a museum because you are walking by, go to several museums in one day, and even return to a place you really liked. What's also cool about London museums is that they operate as public spaces - with wi-fi, coffee shops and a welcoming atmosphere. You can sit down somewhere with your laptop right on the floor, and you won't be kicked out by a cleaning lady or security guard.  
 The Museum of London, the British History Museum, the Natural History Museum, and the Science Museum are all free. You'll learn about British history without spending a penny! 
The National Gallery and the Tate Modern are also free.
There is a free viewing platform on the 10th floor of the Tate Modern gallery of modern art. Note that the platform closes earlier than the museum, so don't arrive too late. Check opening hours on the day you visit.
One of London's most popular spectacles is the changing of the guard outside Buckingham Palace. The theatrical show with guards in red uniforms and bear hats look spectacular. The ceremony is held every Monday, Wednesday, Friday and Sunday. The official starting time for the changing of the guard is 11:00 am. The entire ceremony lasts about 45 minutes. Arrive at least half an hour before the start time (earlier is better), or you'll have to watch the show on other people's smartphone screens. And check the calendar, sometimes the show is canceled due to weather or events in the city. 
Don't forget London's parks and gardens, they are magical. Hyde Park, Regents Park, St James's Park, Kensington Palace Gardens, Hampstead Heath, Richmond Park - you probably know these names from books and movies. It's the perfect place to take a coffee stroll, have a picnic, and watch the hundreds of squirrels.  Richmond Park even has deer. Logically, the parks are free. But some public gardens look like private territory. For example, the secret Phoenix Garden (21 Stacey Street, WC2H 8DG) in London's West End. But no, this is a public and free location, a hidden corner of serenity in the center of the metropolis.
Final words...
So now you've got some insider know-how about saving money in London and like-a-local tips, and you are ready for your trip to London. With these local tips and advice on where to cut costs and expenses in London, you can relax and enjoy this incredible city. 
And of course, if you know some other hacks on saving money in London, feel free to share in the comments! 
SAVE IT ON PINTEREST: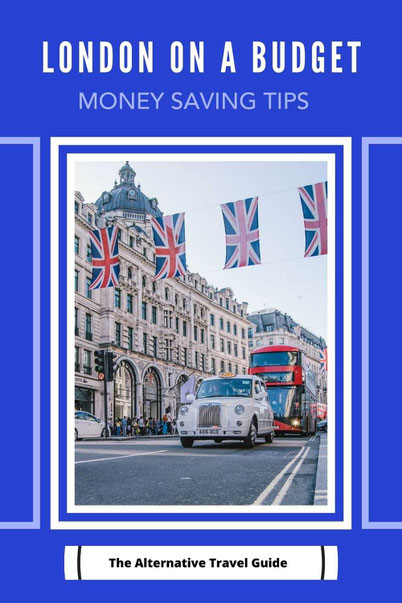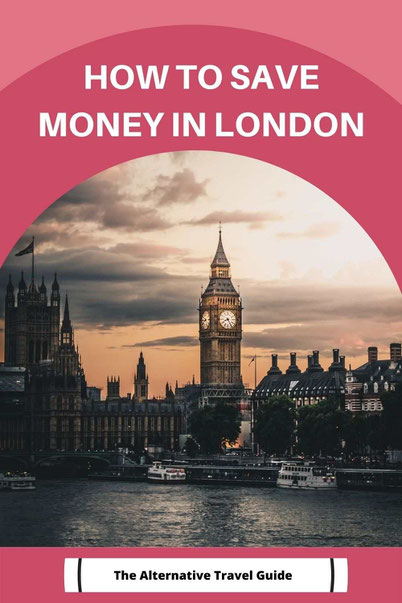 ---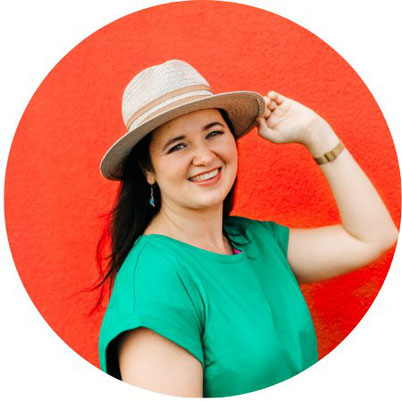 ABOUT THE AUTHOR
Hi, nice to meet you! I'm Sasha Naslin, a founder of The Alternative Travel Guide and a world citizen at heart.  I traveled to 60+ countries on different continents and stopped counting cities after two hundred. 
I created this travel blog to help you organize your dream trip. On this site, you'll find countless resources and travel tips. Travel more, travel smarter. 
---