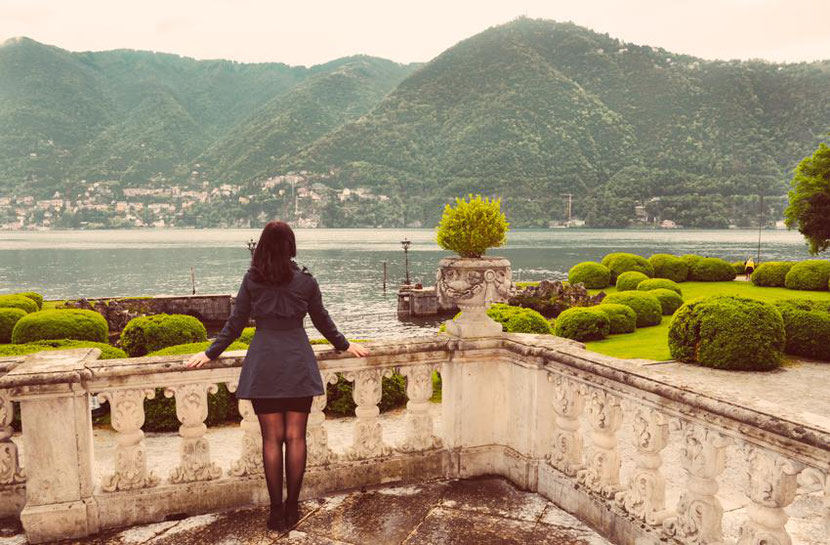 Those who say that Lake Como is one of the most beautiful lakes in the world are not exaggerating. I have been to many places in Italy, but I felt pure delight and awe for the perfect nature on Lake Como. 
However, the man also worked hard in this corner of the world and built villas and elegant colorful houses that harmoniously fit into this magical place. World stars, celebrities, and millionaires buy estates at Lake Como, and the directors choose to shoot movies here for a reason. 
What I like most about this lake: it is very diverse. Wherever you turn your head, you will see fascinating views that force you to grab the camera to take them away with you. And once you go a few kilometers by boat, the landscape changes completely.
In this travel guide to Lake Como, you will find answers to questions: When is the best time to go to Lake Como? How to get to Lake Como from Milan? What is the best area to stay? What to see and do in Lake Como? And a lot of other useful information. Here's everything you need to plan your perfect trip to Lake Como!
LAKE COMO TRAVEL GUIDE: TABLE OF CONTENTS
1. When is the best time to go to Lake Como?
I traveled to Lake Como at the beginning of May. The weather was pleasant; the air smelled of spring and local azalea flowers. It was warm during the day, but I had to wear a trench coat. After all, it is northern Italy.
Therefore, if you plan to visit Como in spring, pack a light coat or a jacket, as well as an umbrella and preferably leather or waterproof shoes, since it frequently rains this time of year. 
The climate in Lake Como is moderate and mild, so objectively, you can come here at any time of the year. But there are still some peculiarities.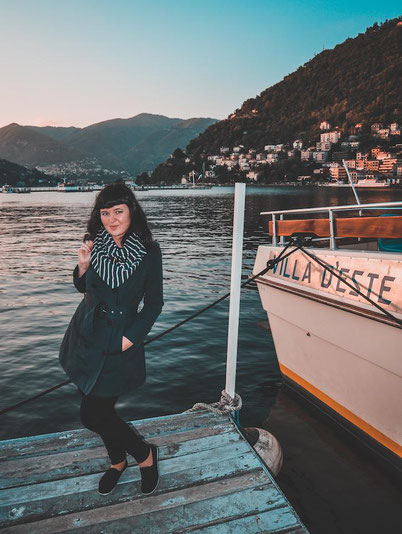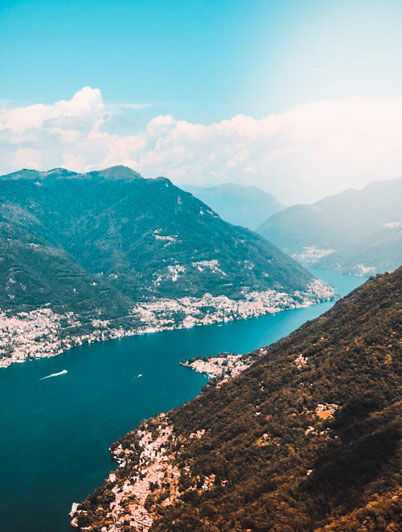 If you want to wander the streets of Como's old town, discover the picturesque villages on the shores of the lake and go on excursions, the best time to visit Lake Como is spring and autumn. 
The most comfortable temperature for long walks is from early April to late May and from early September to late October. If you have planned a few weeks to travel around Italy, you can also visit beautiful lakes in the Dolomites, which are a 4-5 hour drive from Como. 
In June, it becomes already hot but still not stuffy, and the asphalt is not melting. 
In July and August, heat comes to Como, together with thousands of tourists.
But at the same time, the water in the lake warms up and becomes comfortable for swimming. Therefore, if you want to combine a visit to Como and a beach holiday, then hot July and August are the most suitable for this. But be prepared for ticket queues at the ticket office for villas and ferries, restaurants, and high housing prices. Since Lake Como is hot and sweaty in July and August, be sure to add lightweight and breathable clothing made of natural materials such as linen, cotton, and viscose to your packing list for Italy.
By winter, the tourist season in Como is officially closed, as are most restaurants and hotels. But you can still rent apartments in winter and find places with authentic pizza. In winter, Como is worth a visit during the Christmas season to wander around the colorful Christmas market in Como's Old Town, taste local delicacies, buy unique gifts and feel the fabulous atmosphere.
2. How To Get To Lake Como From Milan?
The most convenient starting point for traveling to Lake Como is Milan. You can fly to Milan from any major city, including low-cost airlines WizzAir and Ryanair, with connections to Milan Malpensa airport. 
Low-cost airlines also fly to Milan Bergamo airport, but it takes much longer to get from Bergamo to Lake Como. 
If you flew to Milan Bergamo airport, the easiest way to get to Como is to take a bus to Milano Centrale central station, and then take a train to Como.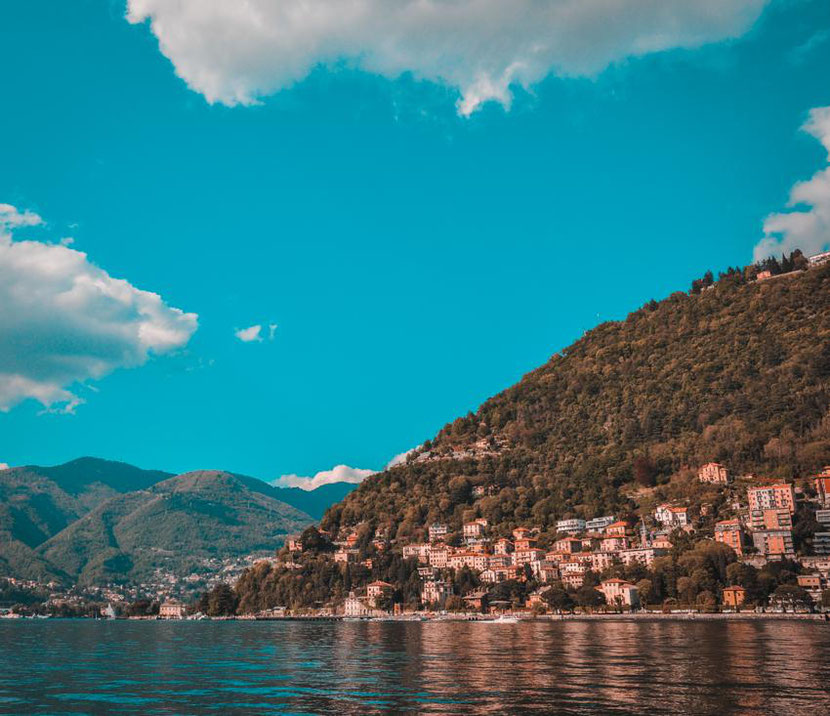 If you land at Milan Malpensa Airport, a shuttle will take you to Milano Centrale Station. You will immediately see several buses heading to the Milan train station at the exit from the airport. They run very often, every 30 minutes. From the Milano Centrale train station, take a direct train to Como San Giovanni station, Como's central train station. These trains circulate every hour. 
The trip from Milan to Como takes about half an hour and costs 7 euros.
If your primary purpose of the journey is Milan and you plan to be based there, you can also visit Lake Como as part of a one-day tour. This tour with an English-speaking guide includes a yacht trip along the lake and coastal towns and a Como city visit.
3. What Is The Best Area To Stay in Lake Como?
For centuries, Lake Como has attracted an elite, from celebrities to successful business people from all over the world who have bought villas here. 
The lakeside is dotted with luxury homes and five-star hotels.
However, even though Lake Como is one of the most famous landmarks of Italy and a millionaires' hotspot, you do not need to have six zeros on your bank statement to visit Lake Como.
There is an impressive array of accommodation options, from luxurious resort villas for 2,000 euros per night to modest apartments for 50 euros, allowing visitors to experience the magic of Lake Como, even for a few nights. 
So, in Como, you can find accommodation for every taste and budget. 
4. Best Places To Visit & Best Things To Do At Lake Como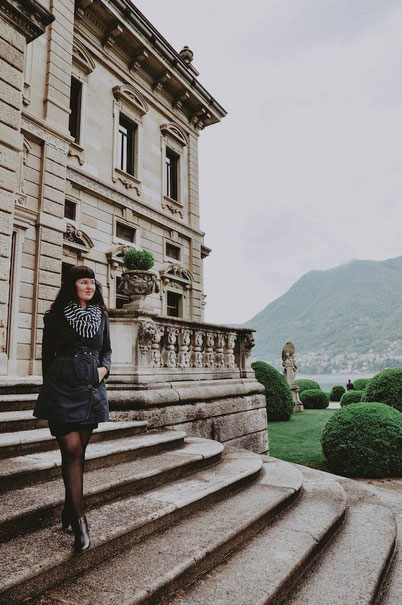 4.1 Cernobbio: a favorite place of Hollywood stars.
Cernobbio is the most popular destination in Lake Como and one of the favorite destinations of VIPs and Hollywood stars. 
In this town's vicinity, there are some of the most beautiful historic lakeside villas, two of which deserve special attention: Villa Erba and Villa d'Este. With its charming villas, Lake Como tops Italy's bucket lists of many travelers: you will not find such unique landscapes and magical ambiance anywhere else in Italy. 
Villa Erba is a stately 19th-century Italian Mannerist villa built by Luigi Erba, the brother of the famous Italian businessman Carlo Erba, to show his wealth. 
Villa Erba is currently hosting international events and conferences. People can rent halls on the villa's ground floor for organizing weddings, meetings, and exhibitions. 
I recommend taking a walk through the old park, which offers a delightful botanical promenade among Mediterranean trees, flowering shrubs, and elegant colorful flower beds overlooking Lake Como and the mountains. 
Villa d'Este is also used today for events, congresses, and banquets. For example, the famous Ambrosetti Forum takes place there.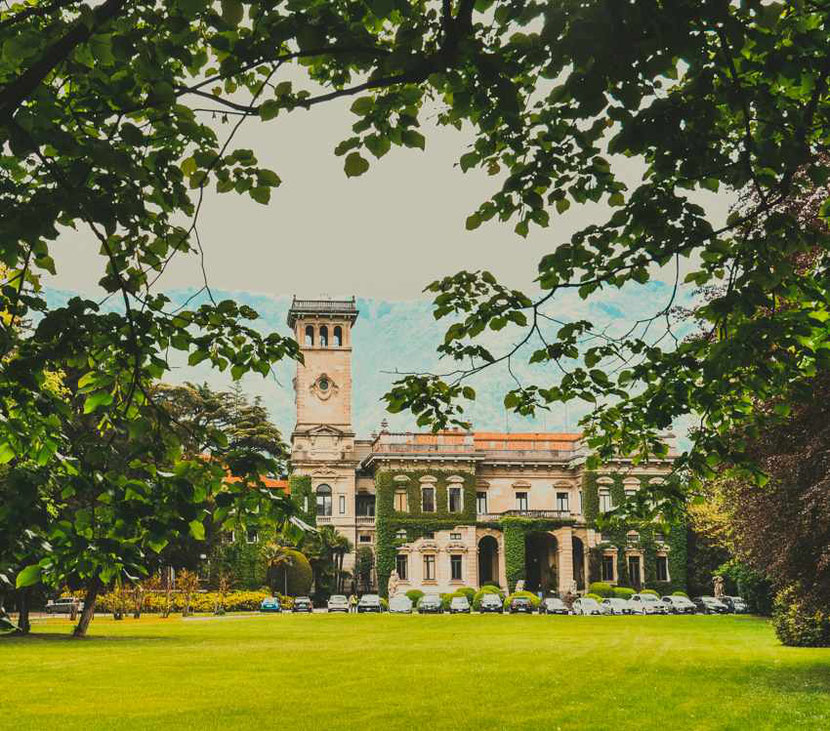 4.2 Villa Balbianello: an iconic place where Star Wars and James Bond movies were filmed.
Villa Balbianello is known for filming the Hollywood movies Star Wars, Attack of the Clones, and Casino Royale.
In "Star Wars," at Villa Balbianello, scenes were filmed about the planet Naboo, where Padmé Amidala lived. To this day, saga lovers dressed as their favorite heroes come to the villa to find the movie's exact places and take photos. 
And in the movie "Casino Royale," James Bond was recovering here after being wounded and kissing a girl in the park near the villa. 
The history of this luxurious villa dates back to the 12th century. From the 12th to the 18th century, there was a Franciscan monastery on this site. The remains of this monastery are the two towers of the villa. 
Behind them opens a beautiful view of Lake Como, towns scattered along the coast, and the majestic Alps disappearing in the distance. The building of the villa and the loggia were created at the end of the 18th century when Cardinal Angelo Maria Durini became the estate owner.
In the following centuries, Villa del Balbianello changed ownership many times.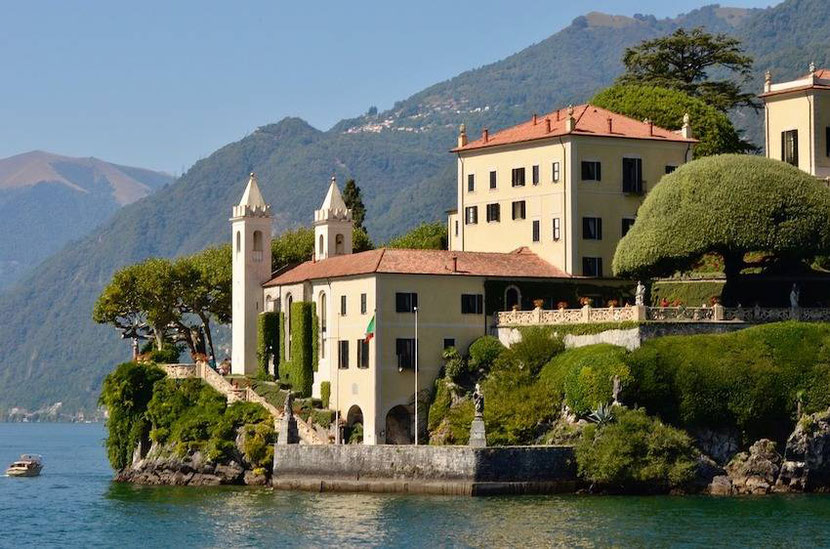 In 1974, Count and traveler Guido Monzino bought the villa. He did not change the external facades but completely renewed the interior. 
Among the antique furniture of the 18-19 centuries, French fireplaces, exotic carpets, you can see the memorabilia of the last owner, including the equipment that he used during the first Italian expedition to Mount Everest. 
You can visit Villa Balbianello and admire it all because when he died in 1988, he bequeathed the villa to the FAI (Fondo per l'Ambiente Italiano) organization and money to cover maintenance costs.  FAI is a private, non-profit organization dedicated to protecting Italy's cultural heritage that may be lost.
How to visit Villa Balbianello? 
From Milan, take a train to Como and then take a bus or ferry to Lenno. If you are in Bergamo, take a train to Varenna and then the ferry to Lenno. Train timetables can be found at https://www.trenord.it. Information on current ferry hours can be found at www.navigazionelaghi.it/home 
You can reach the villa on foot from Lenno along with one of two roads. A shorter one takes about 20 minutes, and a longer road takes about 45 minutes and passes through the top of the cape. 
You can also get to the villa by water taxi from the port. 
Price: 5 euros one way or 7 euros for two. 
Entrance tickets to Villa Balbianello.
You can buy one of the types of tickets:
The park only ticket: 11 euros 
With this ticket, you can see the villa from the outside, take pictures on its terraces and walk through the picturesque park with lemon and tangerine trees. 
The park and the villa ticket: 
Adults 20 euros, children (4-14 years old) 10 euros, students (up to 25 years old) 14 euros. 
With this ticket, you can visit the rooms and halls of the villa. 
The combi ticket includes an entrance ticket to the villa + a visit to the garden + a visit to the villa interiors + a boat trip on the lake, + a guided tour. The price is 55 euros. 
2. Visit the Villa Balbianello with a private guide on a full-day tour
This option is suitable for those who do not like to waste time searching for boats and paths and want to visit Villa Balbianello and Lake Como in a company of an English-speaking local. 
The tour includes:
a walking tour of Bellagio, a pearl of Lake Como with villas and fantastic panoramas;
a guided tour of Varenna;
a boat cruise on Lake Como;
a visit to Villa Balbianello;
a visit to Villa Melzi;
a visit to a historic olive oil mill and a degustation of local specialties; 
a traditional lunch at a lakefront restaurant. 
Click here for more info about the full-day tour to the Villa Balbianello and other Lake Como attractions.