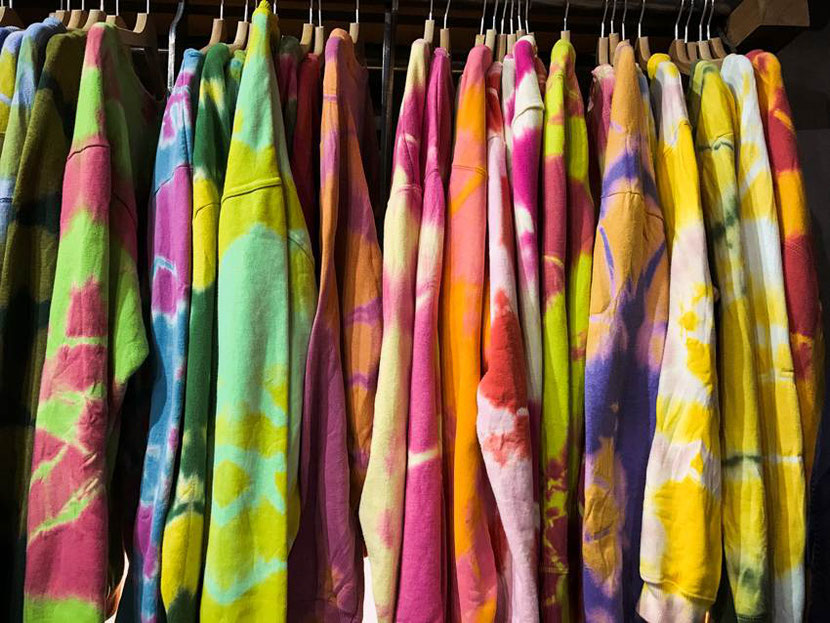 Every time I visit Paris,  going to local vintage shops is a must for me. I am addict to hunting for unique clothing and vintage gems in Paris thrift stores. Vintage items and accessories add zest and originality to the modern look. 
Besides, buying vintage is environmentally friendly. I like giving clothes a second life. Sadly, most people have a prejudiced attitude towards vintage and thrift shops, and, due to stereotypes, they continue to bypass second-hand shops. 
But since you're reading this article, I don't need to convince you that you can find cool stylish clothing in second-hand shops and that reusing clothes is a way to take care of the planet. So, here are my favorite second hand shops in Paris where I hunt for rare and unusual items. 
THE BEST VINTAGE STORES IN PARIS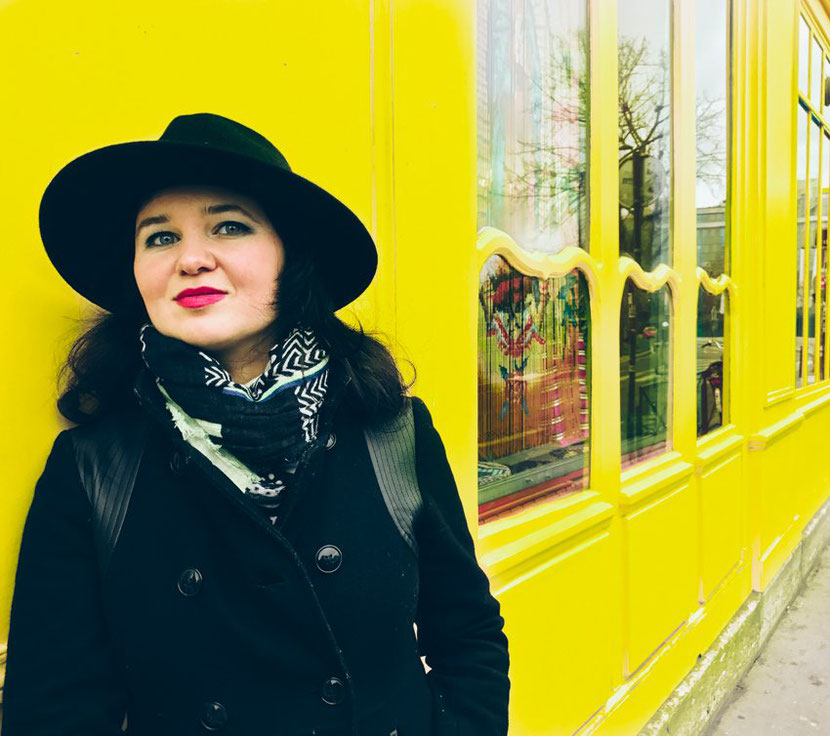 Kilo Shop Paris & Kilo Shop Kawaii: a Vintage Shop with Colorful Clothes
If you are a fashionista who cares about ecology and sustainable development, don't miss Kilo Shop Paris and Kilo Shop Kawaii. 
It's a vintage shop with carefully selected colorful and unique pieces where you pay by weight. Besides, the store recycles old clothes and gives them a second life. Le Marais has 2 Kilo Shop boutiques located ten meters apart: Kilo shop and Kilo shop Kawaii. 
Kilo Shop Kawaii is a concept store with Japanese vintage clothing.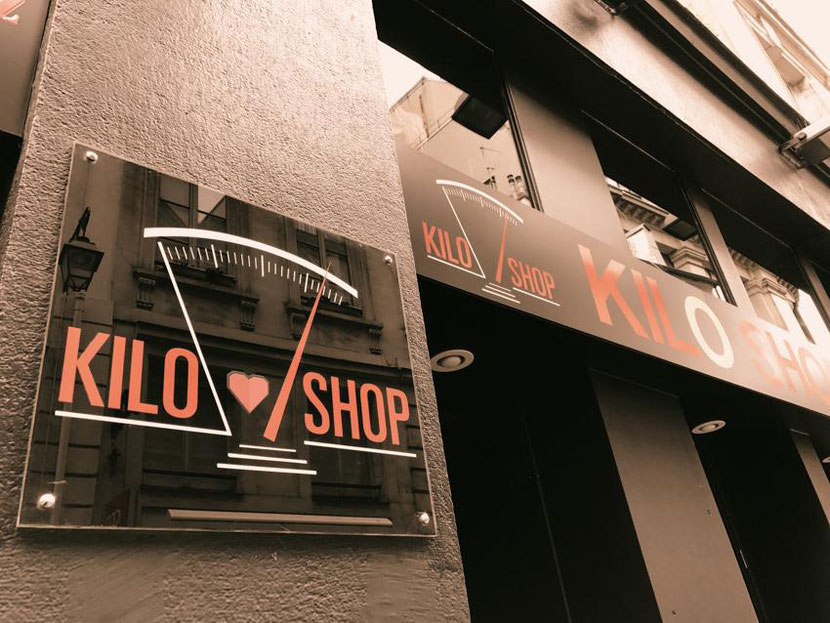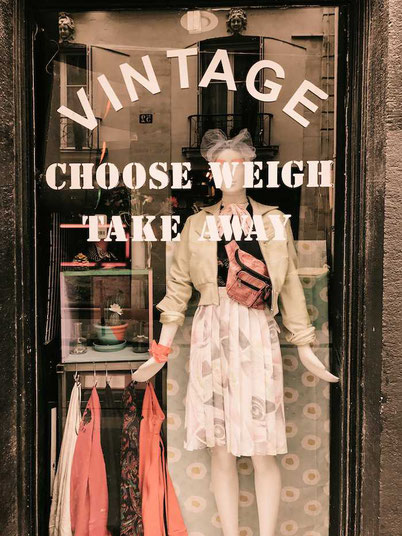 Colored stickers on clothing and accessories indicate the price per kilogram. 
To know the price in advance, all you have to do is put the clothes on the scales and choose the badge color. 
You will also find fixed-price items. 
You can spend several hours in Kilo Shop without even noticing the time flies. It is also one of the favorite places in Paris for teenagers. 
The store is huge and occupies two floors. It offers a large selection of clothes and accessories, bags, shoes, scarves, belts, fur coats, and biker jackets. 
It's like Ali Baba's cave for those who want to stand out from the crowd. 
Address: Paris, 65 Rue de la Verrerie.
FREE'P'STAR
Oh my god, how can you walk past this display case with vintage handbags ?! After all, there are never too many handbags! :-) 
Such beauty awaits you at FREE'P'STAR, a trendy vintage and second-hand boutique in Paris with lots of items from the 70s. Here you can create a mind-blowing stylish look and stand out from the crowd.
At first, FREE'P'STAR had only one boutique in Paris, but it became so successful that there are five of them now.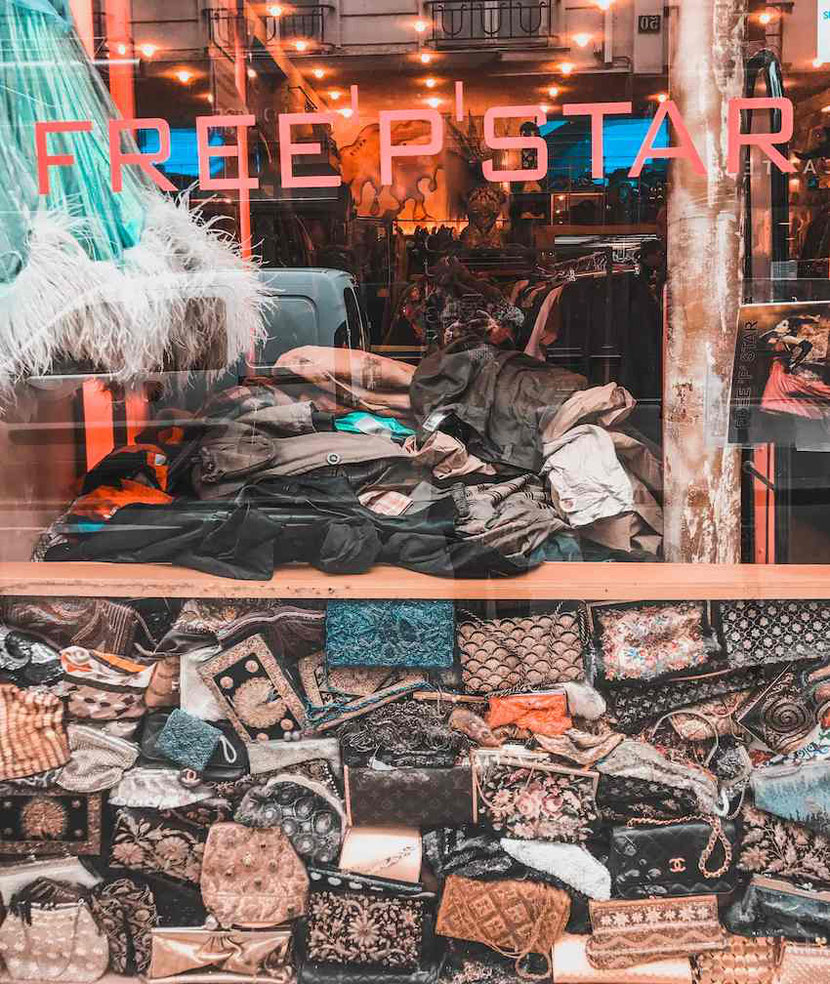 Addresses:
52 rue de la Verrerie
Metro: Hôtel de Ville. 
Monday-Saturday: 10h-20h. 
Sunday: 12h-20h. 
61 rue de la Verrerie. 
Metro: Hôtel de Ville. 
Monday-Saturday: 11h-20h30. 
Sunday: 12h-20h30. 
20 rue de Rivoli. 
Metro: Saint-Paul. 
Monday-Saturday: 11h-20h. 
66 rue Saint-Antoine. 
Metro: Saint-Paul. 
Monday - Sunday: 11h-20h. 
51 rue Saint-Denis. 
Metro: Châtelet Les Halles. 
Monday-Saturday: 10h-20h. 
Sunday: 12h-20h. 
FREE'P'STAR stands out from other vintage stores in quantity and variety of clothes at reasonable prices. Come here for clothes, shoes, and accessories for both women and men.
Vintage Désir: a Vintage Shop in Paris with Hipster and Military Items
This small boutique offers a wide selection of vintage items, from denim hipster shirts, military-style coats to Irish sweaters, hats, and tons of accessories. 
The store has regular deliveries of new clothes, and the prices are fair.
Given the small size of the store, I recommend coming here for shopping on weekdays. 
32 rue des Rosiers, 75004 Metro: Saint Paul 
Open every day from 11 to 21
Guerrisol: A Second Hand Shop in Paris with a Mega Selection of Clothes
Guerrisol is undoubtedly one of the best second hand shops in Paris, and moreover, and it's very affordable.
You can create a new wardrobe in this store, at shocking prices! Prices range from 1 to 30 euros: for a jacket, you will pay 10 euros, for a T-shirt or blouse - 5 euros, for a coat - 30 euros. 
You will not buy here vintage Chanel, but the shop generally offers clothing from high-quality brands. There are fewer retro items than in specialty vintage stores, but a good hunter will find them too. 
So roll up your sleeves and go treasure hunting!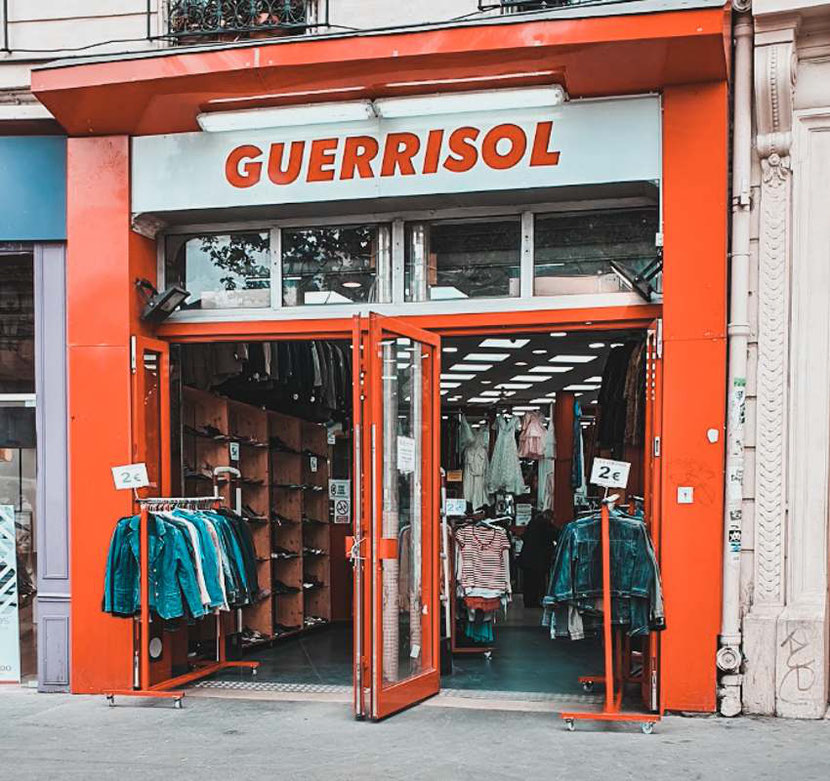 There are 4 Guerrisol locations in Paris: 
19 avenue de Clichy, 75017 
Metro: Place de Clichy
Open from 10 am to 7:30 pm. 
96 Boulevard de Barbès, 75018
Metro: Marcadet 
45 boulevard de la chapelle, 75018 
Metro: Gare du Nord 
17 bis Boulevard Rochechouart, 75009 
Metro: Barbès-Rochechouart