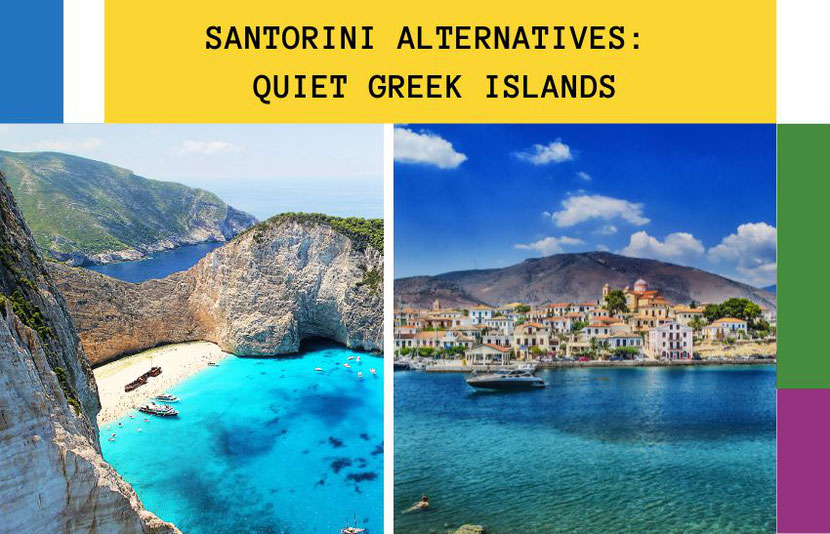 Are you curious which are the best Non-Touristy Greek Islands to Visit? 
Greece has a staggering 227 islands within its boarders, and while you may have heard of huge tourist-driven islands like Santorini, Mykonos, and Corfu, here are 21 islands that you may not have heard of before. Of course, Santorini is a beautiful island, but it is too hyped and too crowded with tourists. When you're there, you feel like you're not on an island, but on a bustling avenue in a big city, and you have to stand in a long line to get your picture taken against a beautiful view.
It's important to recognize that overtourism has negative consequences that extend beyond just the visitors themselves. The popular Greek islands, which attract a lot of tourists, are particularly vulnerable to this issue. The environment suffers as a result, and locals find themselves facing excessive increases in home prices. To combat overtourism, the Greek National Tourism Organization is urging tourists to explore other destinations beyond the well-known islands like Santorini. This can help ensure that local communities are not negatively impacted by an influx of visitors.
Throughout this list, we'll share why these non-touristy islands are great Santorini alternatives and worth visiting, where its located in Greece, if there is an airport on the island, and how long it takes to get to by ferry from Athens (Pireus Port). 
Stop following the crowd and mass tourism, discover less touristy places. 
And remember, less touristy places don't mean less beautiful or less interesting. In fact, it is on these lesser-known Greek islands that real adventure and mind-blowing nature await you.
21 Best Non-Touristy & Quiet Greek Islands
1 - Koufonisia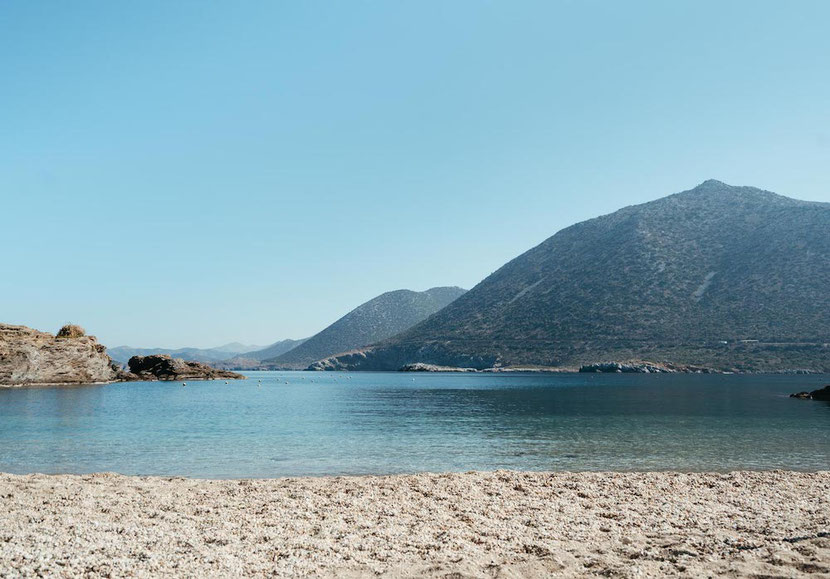 Koufonisia is a great starting point for your Greek islands hopping adventure. Koufonisia is an archipelago of two small islands in the Aegean Sea, located between Naxos and Amorgos. This enchanting island is ideal for travelers seeking a tranquil getaway away from the touristy parts of the Greek islands. Kato Koufonisi doesn't even have roads.
You have to take a boat to the island and then hike to the secluded beaches. You can book a boat tour (or rent your own boat) and explore the island's turquoise coves, fishing villages, and beautiful coastline.
Location - The Cyclades
Closest Airport - Naxos Airport Apollon
Ferry from Athens - 8 hours
2 - Donaousa
Donoussa is the perfect destination for a relaxing Greek island escape. With only 150 permanent residents, this small island has managed to remain free of mass tourism and maintains a tranquil atmosphere. The highlight here is the quaint beach town at Danoussa Port, along with Stavros Beach and its crystal-clear blue waters, white sand, and breathtaking views.
The island is only 4 kilometers across, so you can hike to all the most beautiful places, including Kedros Beach, Livadi Beach, and the nearly uninhabited traditional village of Mersini.
Location - The Cyclades
Closest Airport - Naxos Airport Apollon
Ferry from Athens - 7 hours
READ ALSO:
NEA MAKRI & MARATHON BEACHES NEAR ATHENS
3 - Iraklia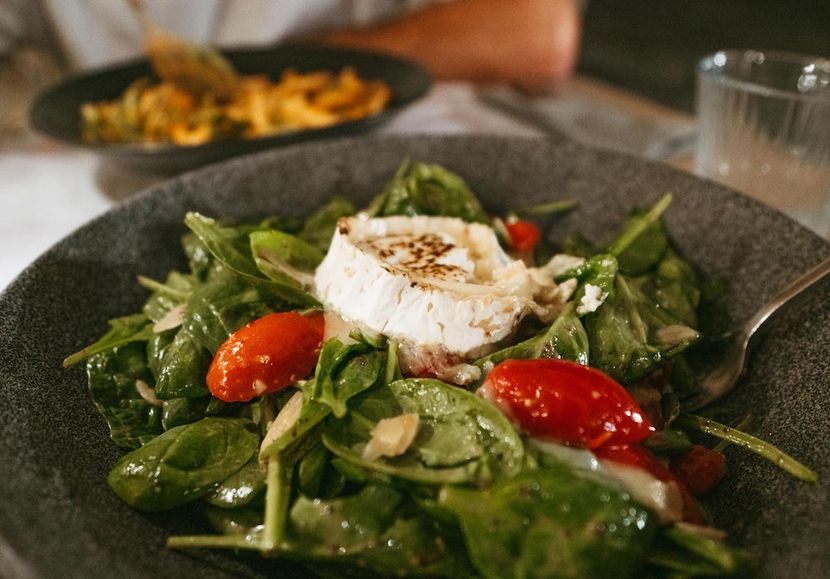 Iraklia, located between Naxos and Ios, is the perfect place to find some peace and quiet. The island is one of the least populated islands in Greece, consisting of mostly undeveloped land. This is partially what makes the islands such a great place to visit. Iraklia is full of untouched beaches and rugged mountains great for nature lovers. Hiking trails are also abundant, so it's perfect for nature lovers who want to explore the landscape. The most popular places to hike to are the Cave of Saint John, the castle of Livadi Beach, and Papas Hill summit for panoramic views of the island.
Location - The Cyclades
Closest Airport - Naxos Airport Apollon
Ferry from Athens - 7.5 hours
4 - Syros
Syros, the capital of the Cyclades, is a great destination for those looking to explore Greek culture and rich history. The city center, Ermoupoli, is full of beautiful neoclassical architecture and colorful streets filled with restaurants, cafes, galleries and shops. Despite being the administrative hub of the Cyclades islands, Syros remains relatively undiscovered by tourists making it an ideal destination for a quiet and peaceful getaway.
Location - The Cyclades
Closest Airport - Syros Island National Airport
Ferry from Athens - 3 hours
5 - Naxos
Naxos is the largest of the Cyclades islands, but still has significantly less tourists than other islands in the Aegean Sea.
The island is known for its 'Chora', a quaint town filled with neoclassical buildings, dozens of churches and monasteries, narrow cobblestone streets, and an impressive Venetian castle.
You can also admire the ruins of the Apollo Temple and the Byzantine Footpath. Since this is a big island, most people find that renting a car in Naxos is the best way to get around. 
If you are not an experienced driver, you can always opt for a bus tour of Naxos.
Location - The Cyclades
Closest Airport - Naxos Airport Apollon
Ferry from Athens - 4 hours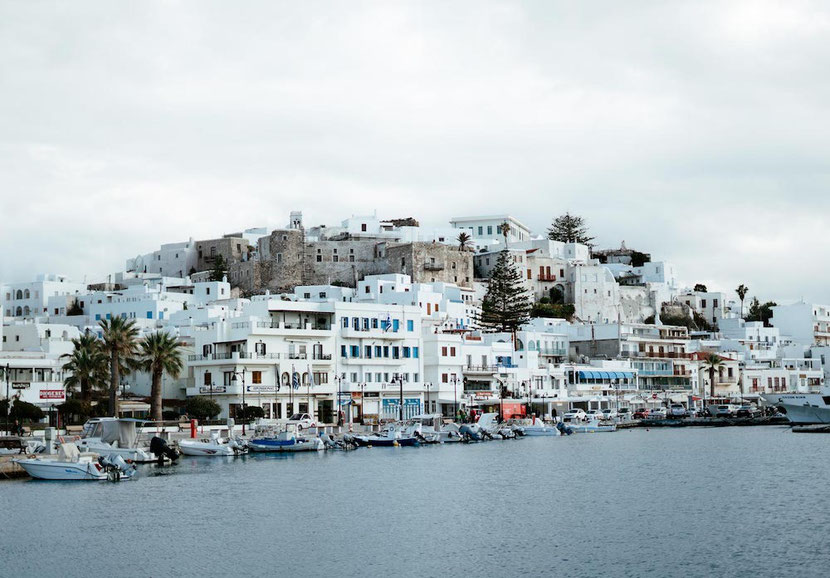 6 - Folegandros
Folegandros is a small and quiet island that remains relatively undiscovered by mainstream travel. The highlight here is the beautiful Chora (which remains pedestrian only) and the iconic Church of Panagia, which sits on top of an epic cliff stretching out over the ocean. Staying true to its Cycladic geography, you will also find Venetian churches, whitewashed alleys, and great beaches in Folegandros.
Location - The Cyclades
Closest Airport - Paros National Airport
Ferry from Athens - 4.5 hours 
7 - Samothraki
Samothraki is a somewhat untraditional island in the northern part of the Aegean Sea. The island's natural landscape includes breathtaking mountains, gorges, waterfalls, and beaches. The most popular thing to do here is hiking and camping, but you can also explore ancient Greek ruins and the port of Kamariotissa, which has lots of tavernas and guesthouses. 
Location - The North Aegean Islands
Closest Airport - Samothraki National Airport
Ferry from Athens - *Not Available* - You much take a 2 hour ferry from Alexandroupoli
8 - Kythira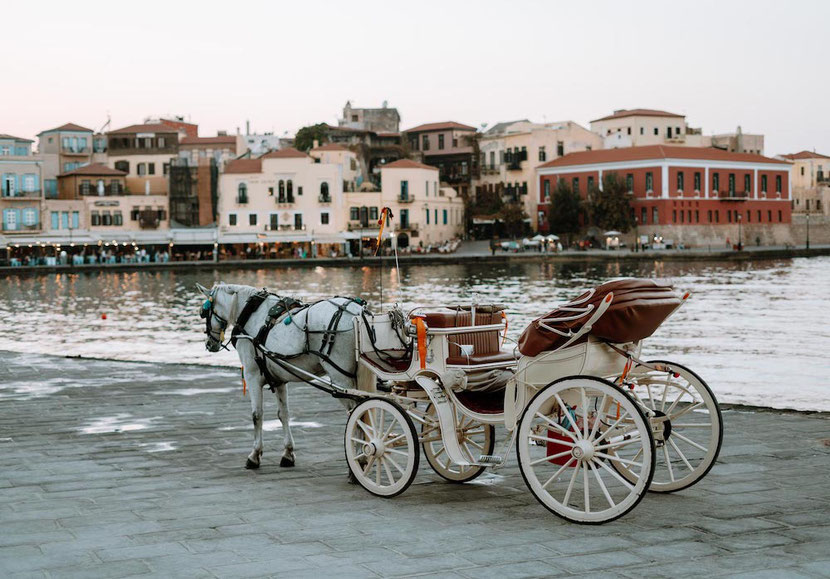 With pristine natural landscapes, tons of monasteries, and charming traditional villages, Kythira is a great choice if you are looking for a quiet and secluded island in Greece. This island is located just off the coast of the Peloponese Peninsula, and is an exceptionally lush island to visit for hiking, and has a rich history to learn about. Be sure to explore some of the islands hidden gems such as the Byzantine Chapel of Agia Moni and the Venetian Castle of Chora.
Location - The Ionian Islands
Closest Airport - Kythira Airport Alexandros Onasis
Ferry from Athens - 6.5 hours 
9 - Paros
Paros is a great place for a tranquil getaway in Greece. It's a little more lively than the rest of the islands on this list, and mimics the cosmopolitan feel of Mykonos, but doesn't feel oversaturated by tourists.
This is a great 'in-between' island for travelers who like to have a bit of structure for tourism, but without the insane crowds.
Paros in Greece is an absolute gem waiting to be explored. Whether you're looking to relax and unwind or go on an adventure, there are tons of amazing things to do in Paros. Take a stroll through the streets of Naoussa and soak up the lively atmosphere, or visit the ancient temple of Asclepius and learn about the island's rich history.
And of course, no visit to Paros would be complete without experiencing the crystal-clear waters of Kolymbithres beach, near the seaside village of Naoussa.  There are also plenty other beaches around the island with mesmerizing turquoise waters. Since you can rent a car in Paros and circumnavigate this island in about an hour, it's easy to see the whole island in just a couple of days! 
So what are you waiting for? Pack your bags and get ready to fall in love with Paros.
Location - The Cyclades
Closest Airport - Paros National Airport
Ferry from Athens - 4 hours
10 - Ithaca
Ithaca is a small and tranquil island in the Ionian Sea and is home to some of Greece's most stunning bays and beaches. It's widely known as the home of Odysseus from Homer's Odyssey and even has the ruins of a Mycenean Palace that some believe to be the ancient site of Homer's School. You should also take the time to indulge in the local taverns and shops of Vathy (main town) as well as visit the island's hidden gems, such as the Monastery of Katharon or the nearby islet of Lazaretto.
Location - The Ionian Islands
Closest Airport - Kefalonia National Airport
Ferry from Patras -  4 hours (3.5 hours to Kefalonia, then 30 minutes to Ithaca
11 - Karaphthos
Karaphthos is a remote island in the Dodecanese archipelago, known for its pristine beaches, crystal-clear waters and traditional architecture. The islands is also full of bar mountains with small traditional villages, similar to the more remote areas of Crete. The best village to visit is Olympos, where you can experience local Greek life and see the church of the Holy Virgin (Panagia). The best beaches in Karaphthose are Apella Beach, Kyra Panagia, and Agios Minas.
Location - The Dodecanese Islands
Closest Airport - Karpathos National Airport
Ferry from Athens - 13-16 hours
12 - Tilos
Tilos is a small and tranquil island located in the Dodecanese archipelago between Kos and Rhodes and home to just 750 people. The island is a slow, charming place to spend a few days off the beacten path in Greece. Similar to most greek islands, you will find untouched beauty with its rugged mountains, lush vegetation, crystal-clear waters, and stunning beaches. Highlights here include wandering through Megalo Chorio village, exploring the deserted village of Mikro Chorio, and the Monastery of Agios Panteleimon.
Location - The Dodecanese Islands
Closest Airport - Rhodes International Airport Diagoras
Ferry from Rhodes - 2 hours 
13 - Schrnoussa
Schrnoussa is another quiet island, located in the Cyclades region of Greece just south of Naxos. The island has wonderful beaches to visit and traditional architecture throughout its villages. Some of the best things to do in Schrnoussa include snorkeling, sunbathing at Tsigouri Beach, hiking, and tasting the famous 'Fava beans.'
Location - The Cyclades
Closest Airport - Naxos National Airport Apollon
Ferry from Athens - 7.5 hours
14 - Kefalonia
Kefalonia is probably the most well-known island on this list, but has just a fraction of th etourists that other islands see. Plus, the island is so large that it's easy to escape the crowds.
Located in the Ionian Sea, Kefalonia is known for its stunning beaches, traditional villages, and lush mountains with dramatic cliffs. Be sure to explore the Melissni Cave Lake, Myrtos BEach, Assos Village, and the seafood restaurants in Fiskardo.
Kefalonia is a treasure trove of natural attractions, and there are tons of exciting things to do in Kefalonia. The Melissani Cave, shrouded in myth and mystery, is an absolute must-visit. Take a trip to the highest peak, Mount Aenos, for breathtaking views of the island. Another spot worth checking out is Assos Village, a picturesque hamlet nestled in the midst of towering hills. And if you're in the mood for some beach time, head over to Myrtos Beach, touted as one of the best beaches in Greece. The beach is flanked by two mountains, Kalon Oros and Agia Dynati, and is a feast for the eyes with its lush green slopes cascading down to the marble pebble beach. Sun loungers are available for rent, so you can soak up the sun in comfort.
Location - The Ionian Islands
Closest Airport - Kefalonia International Airport Anna Pollatou
Ferry from Patra  - 3.5 hours 
15 - Amorgos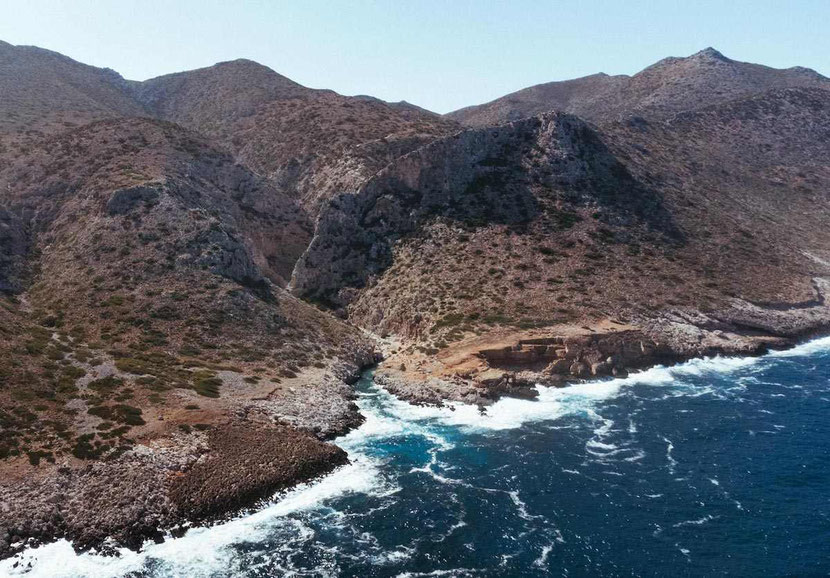 Amorgos is located in the Cyclades archipelago and is not necessarily the most awe-inspiring island, but rather a quaint charming Greek island with a lot of local culture and rich history to enjoy. There are a number of beaches worth visiting, whitewashed alleys, and delicious tavernas, and easygoing villages to see.  And be sure to hike up to the Monastery of Panagia Hozoviotissa. 
Location - The Cyclades
Closest Airport - Naxos National Airport Apollon
Ferry from Athens - 7 hours
16 - Skiathos
Skiathos is a small and vibrant island located in the Sporades archipelago.
There are tons of amazing places to see on Skiathos Island: Lalaria Beach and Koukounaries Beach are one of the most stunning coastlines in all of Greece, and hiking in Kastro is magical.
The island is very easy to get to because it has its own International Airport, and its alos a great plae to rent a boat or a jeep for the day and explore the rugged natural landscape.
Location - The Sporades Islands
Closest Airport - Skiathos National Airport
Ferry from Volos - 2 hours
17 - Halki
Just a few kilometers from the larger, more touristy island of Rhodes is the tiny island of Halki. Halki has a similar landscape and feel to Tilos Island, but is even more secluded and peaceful. As you might expect, the best things to do are meander through traditional villages, boat rides to secluded coves, and great food, but you should also check out the midieval castle of Meseoniko Kastro.
Location - The Dodecanese Islands
Closest Airport - Rhodes National Airport
Ferry from Athens - 19 hours (Ferry from Rhodes is just 1 hour) 
18 - Kimilos
Kimilos is the small, untouched neighbor island of Milos in the western Cycladic region of the Aegean Sea. It's known for its wild volcanic landscapes with bizarre rock formations and jagged cliffs. If you're spending a couple of days on Kimilos, makes sure to visit the Rema Beach, Therma Beach, and the town even has a small Archaeological Musuen and a Folk and Maritime Museum. Travelers and locals also love taking a boat ride to the nearby islet of Polyaigos to see more beautiful coves and coastal caves.
Location - The Cyclades Islands
Closest Airport - Milos Airport
Ferry from Athens - 7 hours
19 - Lemnos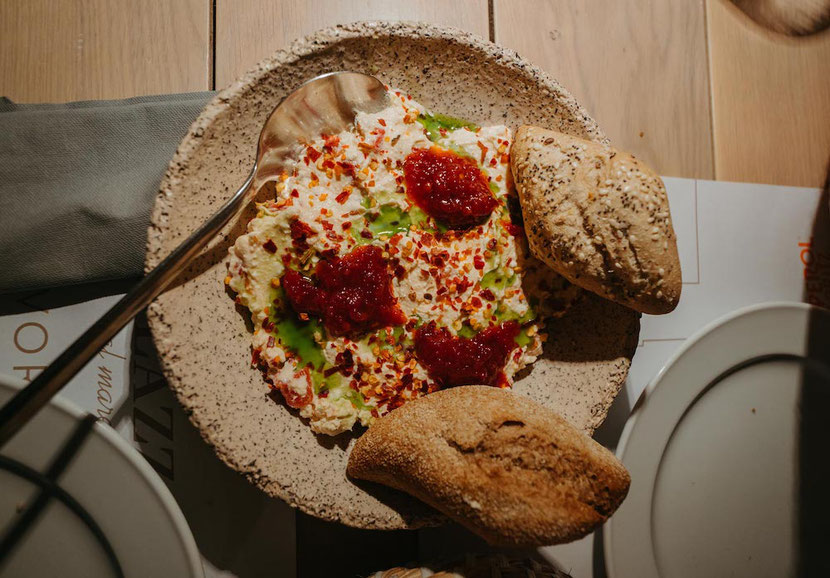 Lemnos is known in Greek Mythology as Hephaestus Island (the God of Fire), reflecting is rocky volcanic landscape.
Three are lots of cool archaeological sits in Lemnos, including the Ancient Ifestia, Temple of Kavirio, and the Kastro van Myrina. Of course, you can also find great greek food and stunning beaches in Lemnos. 
If you're looking for authentic Greek cuisine, Lemnos is definitely worth a visit. The local food there is truly delicious and will give you a taste of the authentic flavors of Greece. 
In Lemnos, there are plenty of traditional Greek taverns such as Opos Palia or Kosmos Taverna where you can indulge in delicious local cuisine that predominantly features fish and seafood. However, even if you are a vegan in Greece, you need not worry as there are plenty of options available to cater to your dietary preferences. You can enjoy a variety of healthy and flavorful options such as salads, hummus, beans, and pasta.
Location - The Sporades Islands
Closest Airport - Lemnos International Airport "Hephaestus"
Ferry from Athens - 22 hours (Ferry from Thessaloniki is 5.5 hours)
20 - Anafi
The final quiet and non-touristy island on this list is the small, arid island of Anafi in the Cycladic region, just west of the ever-popular, Santorini. Anafi offers travelers a nearly untouched atmosphere with crystal-clear waters, traditional architecture, and stunning beaches (some are even sandy beaches). Other highlights to see include the Monastery of Panagia Kalamiotissa, the Ancient city of Anafi and Drakontospito Cave. 
Location - The Cyclades Islands
Closest Airport - Santorini National Airport
Ferry from Athens - 7.5 hours (6 hours to Santorini, then 1.5 hours from Santorini to Anafi)
Final Thoughts: Best Non-Touristy Greek Islands
With its wealth of secluded coves, traditional villages, vibrant nightlife scenes, and stunning beaches; these 22 Best Non-Touristy Greek Islands offer something for everyone. Whether you're looking for an untouched paradise or a vibrant destination; make sure to check out one (or all!) of these islands during
Pin It on Pinterest: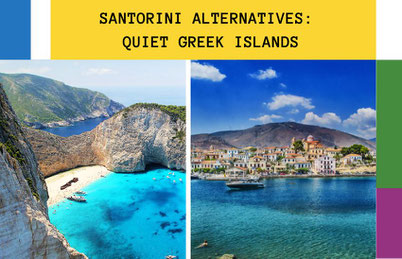 About the Author