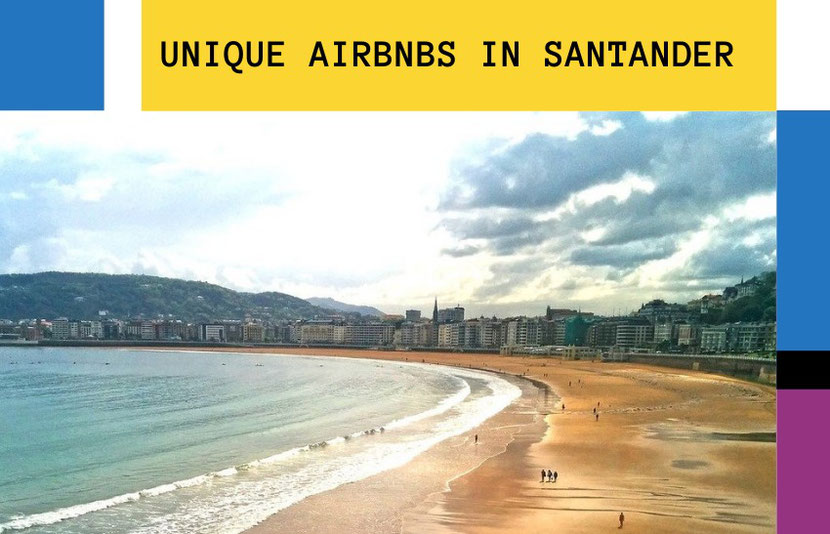 Santander, known worldwide for its Santander Bank, is an underrated star among the Spanish cities. Situated on a huge peninsula, cutting into the Atlantic Ocean, the city is washed on one side by the raging waves of the Atlantic, and on the other side is caressed by the calm waves of the bay. From the south, the city is protected by the stunning beauty of the Peña Cabarga mountains. 
While Santander is not a hugely popular destination, it can be a perfect vacation place for any traveler. Here you can enjoy the nature of northern Spain, kilometers of clean, golden and sandy beaches, historical sites, elegant architecture, and of course, local cuisine. Compared to the Mediterranean Spanish resorts, the beaches of Santander are not too crowded even in high season, which is an important advantage for many travelers. You will not find thousands of hotels here, as in popular resorts, but there are lots of charming and cozy apartments on Airbnb.
To help make your trip a memorable one, I have prepared a selection of unique Airbnb Santander rentals. These are apartments with an unusual design, lofts with a magical atmosphere, and penthouses with incredible ocean views. Get inspired! 
Disclaimer: some links in this article are affiliate links. As an Airbnb Associate, I earn when you book through these links at no cost for you. For more information, please read our disclaimer page.
A Gorgeous Place for a Retreat By The Arnía Cliffs
Best Parts?
This property has a fantastic location on the Arnía beach and near sculptural rocks Urros.  Here you can enjoy breakfast, lunch, and dinner with panoramic views every day: the apartment offers magical views of the Cantabrian Sea. 
Five minutes walk - and you are already on the magnificent beach Playa de la Arnía. You can also quickly reach other beaches on foot: Portio and Covachos. There is a wonderful El Cazurro restaurant not far from the house, which received 1500 positive reviews on Google. You can come here for dinner to taste the local cuisine, seafood and fish dishes.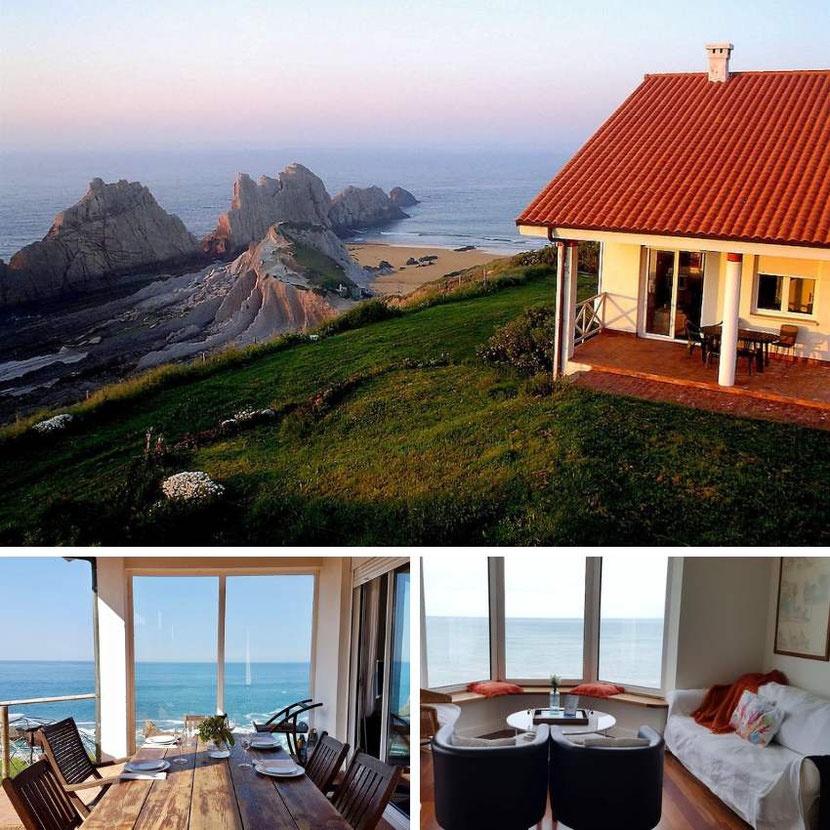 Worst Parts? 
As this house is located in the Costa Quebrada Geological Park, you will need 20 minutes to reach Santander city center. Therefore, if you want to explore the sights of Santander and the city's nightlife, you will have to spend at least 40 minutes a day driving a car or on a bus.
Summary: Is this Airbnb apartment right for you?
This accommodation is suitable for travelers who want to spend most of their vacation in nature and on the beach. 
Besides, if you like active recreation - cycling, snorkeling, surfing - this area will be perfect for you.
Here you can meet sunrises and sunsets on the beach and enjoy the sea to the fullest. It's also an ideal place to host your family or romantic getaway, or group travel as it can accommodate up to 10 people.
Moody Masculine Airbnb Apartment in Santander
Best parts?
It is a unique apartment in its style and design, where the interior is thought out to the smallest detail. Each design element carries its meaning and creates a magical atmosphere.
Besides the unique design, the main advantage of this accommodation is its spaciousness. It is a 110 square meter apartment with two bathrooms, an indoor terrace, three bedrooms, five beds, and a spacious living room with a dining room. 
If you come to Santander in the fall, winter, or spring, it's important to know that this apartment has heating. 
The apartment is located in the best area of Santander, in the heart of the city. You will find all kinds of services and entertainment as soon as you leave the apartment: supermarkets, shops, bars, restaurants, attractions, and a bus stop. Don't worry about the noise from bars and restaurants: although the apartment is central, it is located on a quiet street. You can walk to the apartment from the train and bus stations, as they are only 300 meters away.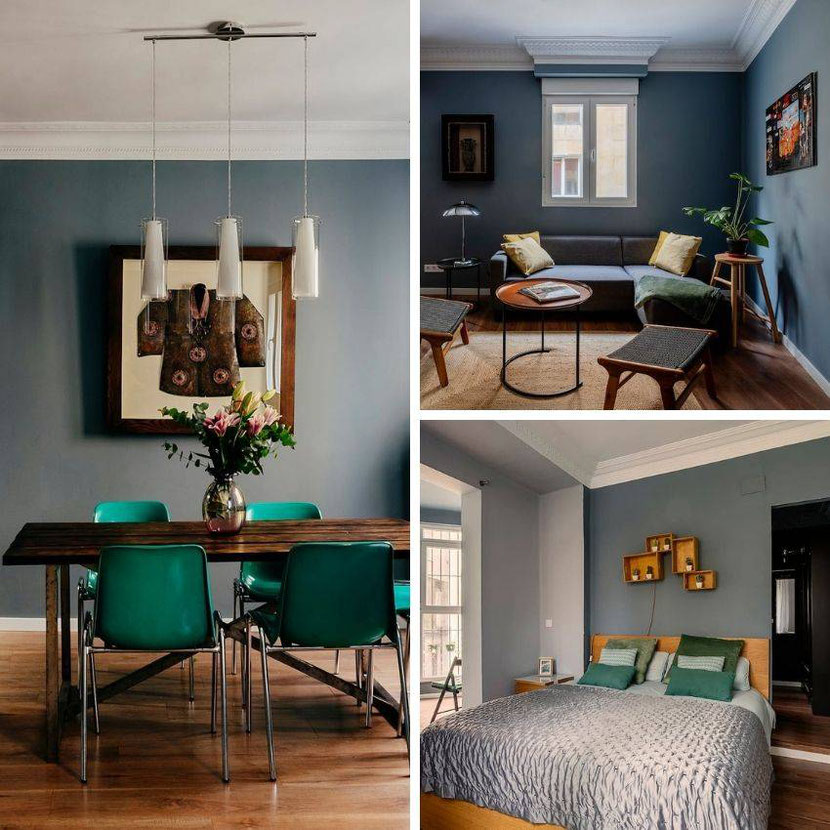 Worst Parts? 
The only negative you may encounter if you are traveling by car is the difficulty with parking. There is a public parking lot near the house where you can park for free. But since this is the city center, it can be full during the high season, and you will have to look for a free space for a long time. In addition, the apartment is located on the third floor in a building without an elevator. Therefore, it is not suitable for people with reduced mobility and family travelers with babies and strollers. 
Summary: Is this Airbnb apartment right for you? 
Whether you are traveling with a large family (with kids who can already walk on their own) or with a group of friends, the size and functionality of this apartment will be perfect for you. 
It can accommodate up to 8 guests. 
This accommodation would be ideal for travelers who like to be in the center and close to everything with maximum comfort. 
Traditional Stone House With All the Modern Amenities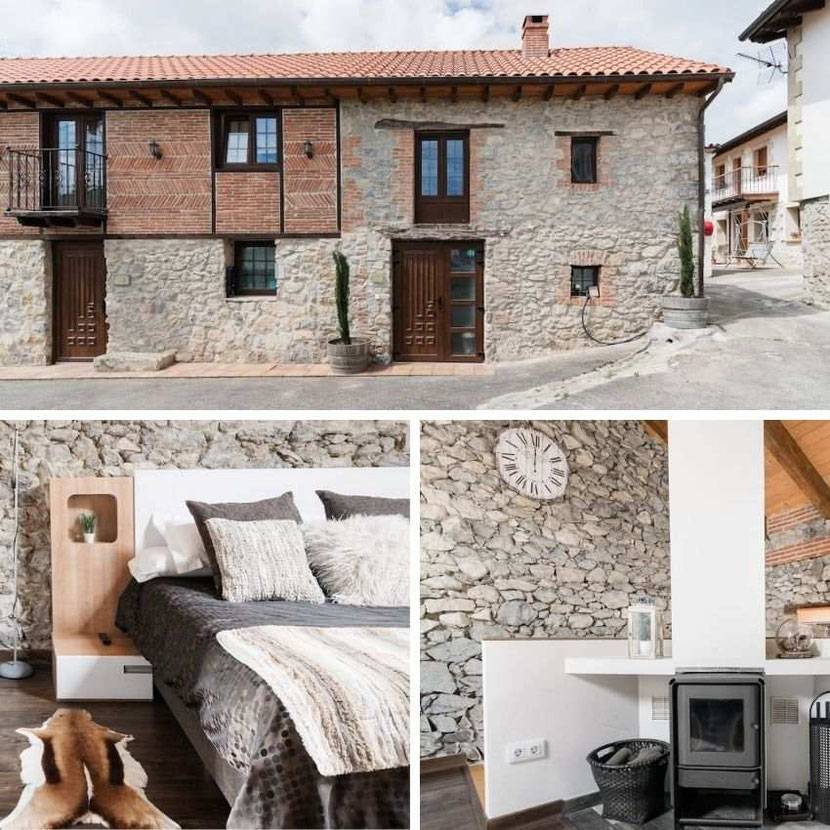 Best Parts? 
This wonderful cozy studio located in a white stone house has everything for a relaxing vacation. The house is decorated with stones outside and inside, giving the accommodation an unusual atmosphere. 
This housing feature is a fireplace and a hot tube with a jacuzzi right next to the bed! 
Here you can spend unforgettable romantic evenings with your loved one. 
Worst Parts? 
The house is located in Peña Castillo, a neighborhood of Santander 6 km from the center. You can reach the downtown by car in 10 minutes and by bus in 20-30 minutes. If you do not want to waste time driving or on a bus, this apartment is not for you. 
Besides, the kitchen in this studio is not suitable for cooking elaborate dishes. You can use a portable hob for cooking simple meaks or reheating food in the microwave, but don't plan to cook anything more complicated than scrambled eggs, noodles, or a steak. Nevertheless, the kitchen is equipped with a refrigerator with a freezer, a blender, a toaster, a coffee maker, and a juicer, so you can easily prepare a full breakfast. 
Summary: Is this Airbnb apartment right for you? 
This apartment is perfect for couples and romantic vacations.
It's a special and unique place in a quiet area where you can disconnect from the bustle, relax in the jacuzzi and near the fireplace, and enjoy time with your partner.
It's also ideal for people traveling by car as it's faster to reach the city center and there is a free parking lot in front of the house. 
Cosy Apartment with a Swimming Pool By The Beach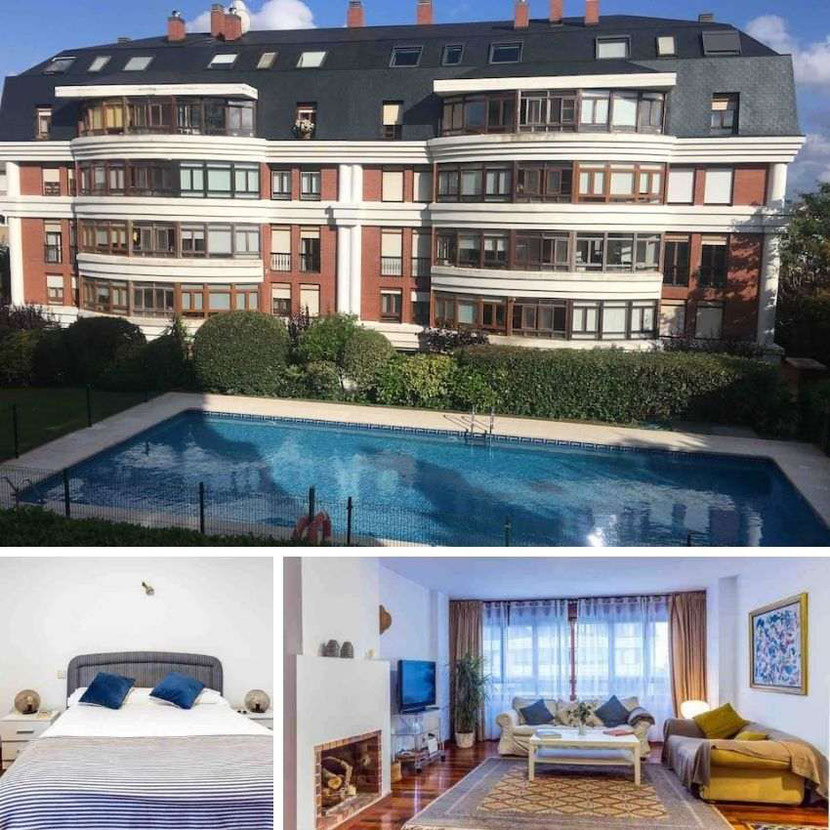 Best Parts? 
It is one of the few Airbnb apartments in Santander that features a swimming pool, which makes it unique.
It is ideally located near the best beaches in Santander - Mataleñas, Molinucos, and El Sardinero. This spacious apartment with a surface of 120m2, with three bedrooms, 4 beds, and 2 bathrooms, is an excellent alternative to hotels. Near the apartment, you will find shops and supermarkets. 
Ten minutes' walk will bring you to the parks, quiet beaches, coves, and the Cabo Mayor lighthouse. If you travel by car, you won't have a parking problem, as there is a garage in the building for guests. The apartment is located on the first floor with an elevator, which is important for families with strollers and people with limited mobility.
You can easily and quickly reach the city center of Santander by foot, bicycle or bus. 
Worst Parts? 
There is no air conditioning in the apartment, but at the same time, it's never scorching in Santander. 
Summary: Is this Airbnb apartment right for you? 
This apartment is perfect for family holidays, and especially for families with several kids.
With three independent rooms and a capacity of up to six people, you can be sure to have enough space. If you want to enjoy the sea and the beach, then this apartment will be ideal for a beach holiday. 
---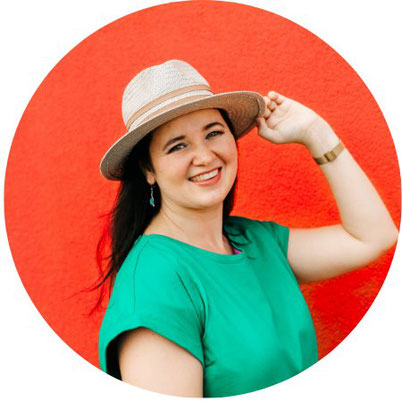 ABOUT THE AUTHOR
Hi, nice to meet you! I'm Sasha Naslin, a founder of The Alternative Travel Guide and a world citizen at heart.  
I traveled to 60+ countries on different continents and stopped counting cities after two hundred. 
I am Russian-French and write in Globish, as English is not my native language, so feel free to correct me or make fun of me :).
---