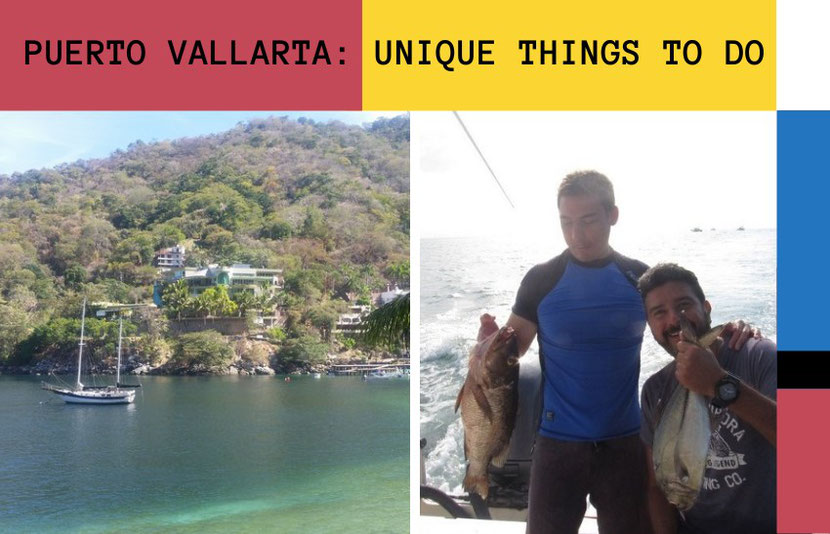 Puerto Vallarta is one of the most looked after Mexican destination for tourists from North America, be it for retirement or for holidays during the winter time. While a lot of tourists stay on the beach of their all-inclusive resort during their stay, they are missing the best part of the town and the magic of the mountains surrounding it.
With a lot of hidden beaches, unique restaurants, incredible views through the jungle, Puerto Vallarta has a lot to offer for anyone looking for adventure, heavenly natural places or looking for peace of mind far from technology and modernity.
As I have been living for 10 years in Puerto Vallarta, I will show you 30 unusual things to do in Puerto Vallarta that will certainly spice up your next stay in town.

View of the Bay and Los Arcos
1. Have Breakfast in the Jungle
So, you're looking for unusual things to do in Puerto Vallarta. What do you think of the idea of going to the jungle for breakfast? A few kilometers away from Vallarta, Canopy River proposes an incredible breakfast under a huge Palapa hidden in the jungle.
It's an authentic Mexican breakfast with omelettes and tortillas handmade right in front of you.
 You will find here any kind of typical Mexican foods. You will require a taxi to get there in 20 minutes from the center.
More information about the breakfast in the jungle in Puerto Vallarta. 
2. Enjoy the Acrobatic Dinner Show 'Rhythms of the Night'
It is difficult not to mention the show Rhythms of the night, as it is simply incredible! 
It's a sight worth experiencing, and there's no other show like it in Mexico. Rhythms of the Night Cruise & Dinner Show is one of the best things to do in Puerto Vallarta. 
Start sailing on a boat, then have a nice dinner on the beach under the stars with a fire show on a pyramid. 
Click here to see photos and read reviews. 
3. Participate in a Mayan Ceremony Voladores de Papantla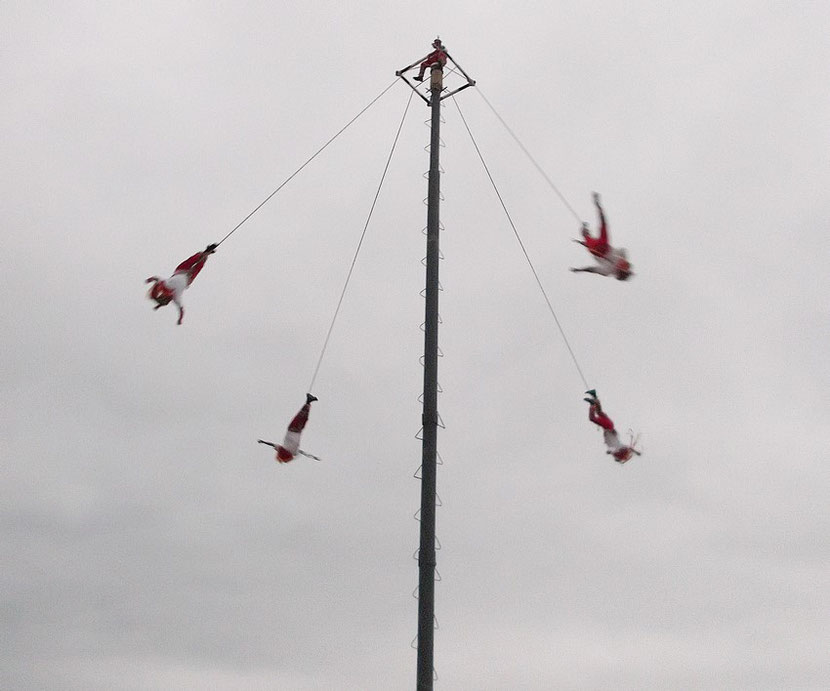 Voladores de Papantla is a Mayan ceremony to salute the sun set that is performed on the Malecón every evening during the touristic season.
Four men let them fall from a poll, attached to a cord flying over the beach, while a fifth man is playing traditional music on his flute on top of the pole. 
The Danza de los Voladores, also called the Dance of the Flyers, is an ancient Mexican tradition. Centuries ago, it was practiced by the indigenous peoples of Mexico and other countries such as Guatemala and Nicaragua. The ceremony's purpose was to communicate with the gods and ask them to end the severe drought.
4. Stay at an Unusual Hotel: Unique Stays Puerto Vallarta
If you want to experience unique places to stay in Puerto Vallarta during your trip, I recommend staying in a hacienda. All travelers I know who have been to Mexico before recommend staying in a hacienda at least once in your life and connecting with the history of Mexico. 
A surprise awaits you if you decide to stay at the San Angel Hacienda.
When you open the door of the Hacienda, you enter a completely different, parallel world with harmony and beauty in everything! This hacienda is unique, original, and fascinating. Many unusual details will delight you. The staff is wonderful and ready to make your stay in this hotel unforgettable.  
It is a historic hacienda, very well maintained and tranquil, like an oasis of paradise in the middle of the city.
View Photos, Read Reviews & Check Availability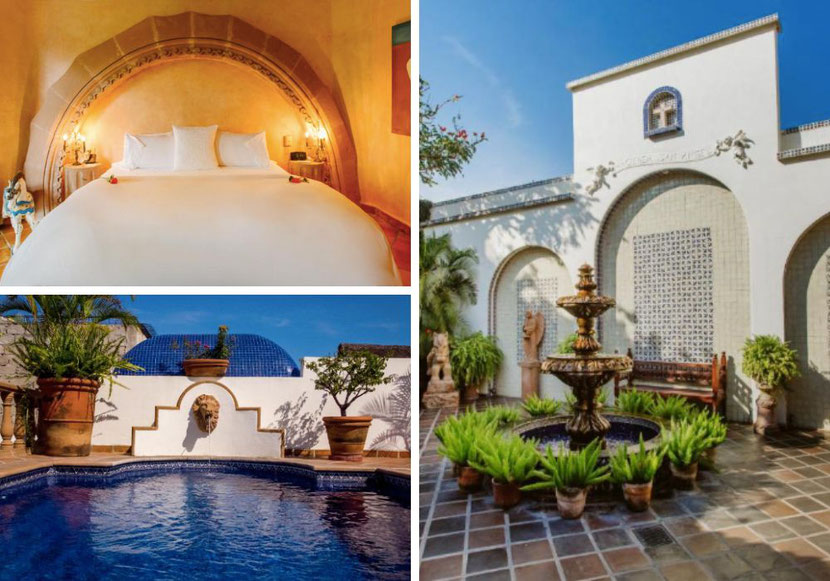 Another Hacienda that will surely please you if you want to discover one of the unique places to stay in Puerto Vallarta  is Hacienda Escondida. It is away from the noise and the crowds, but at the same time, it takes only a few minutes to get to the restaurant or the beach. 
The hacienda is located a few hundred meters from the party zone and the beach. 
In Hacienda Escondida, you will enter a real oasis of tranquility. You can relax in the well-maintained exotic garden with a swimming pool and jacuzzi. 
You can stay in a spacious, stylish studio with a living room and kitchenette. Travelers looking for an authentic experience will love this place.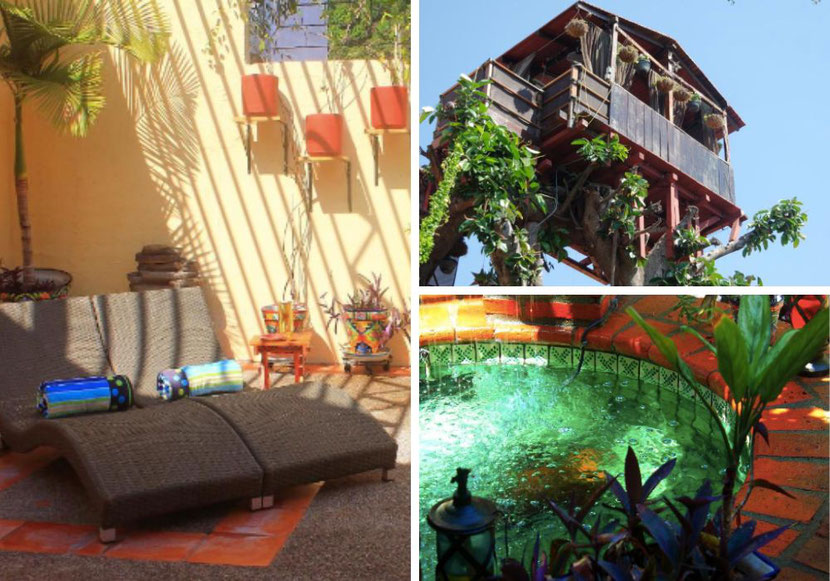 5. Heal Your Body And Soul During a Traditional Mexican Healing Ceremony
Temazcal is a traditional body and soul healing ceremony known for centuries in Mexico and typical of Mesoamerican cultures.
You will go underground in a small hut heated by hot stones. The shaman, "temazcalero" in Spanish, will burn essential oils and lead you in your spiritual trip.
6. See the Whales
One of the main natural attraction of Puerto Vallarat is the show displayed by the gray whales in the bay, coming from Canada to give birth to their calf.
From November to April, you can easily see them pass by, sometimes 100 meters from the shore and jump out of the ocean of slapping the water with their tail showing their happiness.
You can spot them from the beach or go on a tour to see them closer in the ocean.
Click here for more information about the whale watching tour in Puerto Vallarta.
7. Free the Sea Turtles
At the coast of Jalisco, Nayarit (north) and Colima (south), you can see sea turtles nesting to reproduce.
For years the Mexican government has been protecting these sea turtle species, and many NGO operate to collect and count the eggs, protect them and release them safely once the baby turtles are born.
There are many opportunities to participate in such events in Vallarta and the beaches surrounding the town. This activity is incredible for kids.
8. Camp in Mayto
Mayto is not even a village, but a hamlet 2 hours and 30 minutes south of Puerto Vallarta. You will find just a huge wild beach, nature and few tourists here.
There are 2 hotels, one hostel and one campsite, as well as a sea turtle protection camp.
You can eat fresh food, fish from the shore, snorkel and relax away from the problems of civilization. You don't need to worry about safety there, it's just as safe as it is in Puerto Vallarta. 
9. Visit Islas Marietas

These islands are renown for the famous beach enclosed inside one of the two islands. 
The best experience is to get there on boat (you might sea whales on your trip), to  scuba dive through a flooded tunnel to get to this hidden beach is an incredible experience that worth the effort to get there.
10. Ship wreck diving exploration
While divers enjoy puerto vallarta with several places to dive, from Los Arcos to El Morro, one diving spot is quite new as some private shipowners got the authorizacion to wreck 4 boats in the bay to create and artificial reef in front of the hotel Garza Blanca. They lay by 25 meters deep, already being colonized by reef and fishes which is a new diving attraction for locals and tourists.
11. Hike to Colomitos beach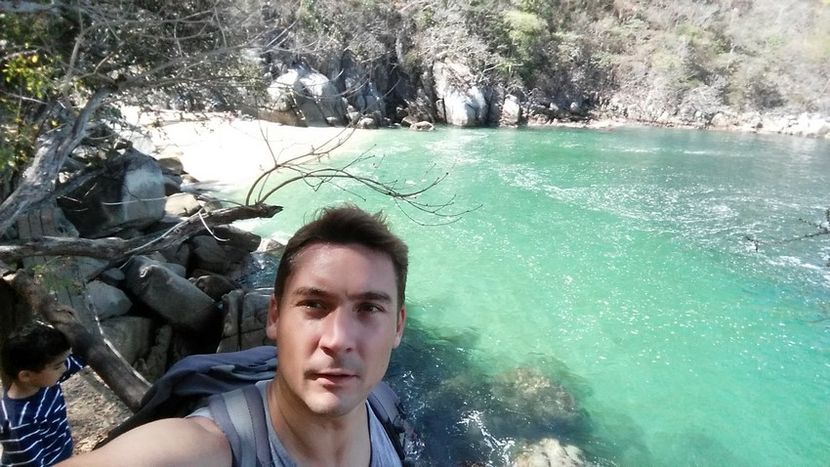 Colomitos his a tiny hidden beach you can reach hiking from Boca de Tomatlán in 1 hour or less. The trail is very rocky and slippy but this heavenly beach worth the effort. You will prefer to avoid getting there on weekends as the beach is very small and packed with people on weekends. This place is great to scuba dive. Passing this beach, you can reach playa Maraica 1 kilometer away where you will find two luxurious restaurants hidden in the jungle on the beach with an incredible view.
12. Airplane tour over the bay
Banderas bay is 40 kilometers wide, with dozens of beaches, mountains, several islands and hidden spots that worth to be discovered by air. This tour operator offers the opportunity to make 30 minutes or 50 minutes airplane tour to discover almost all the coast of the bay.
13. Spear fishing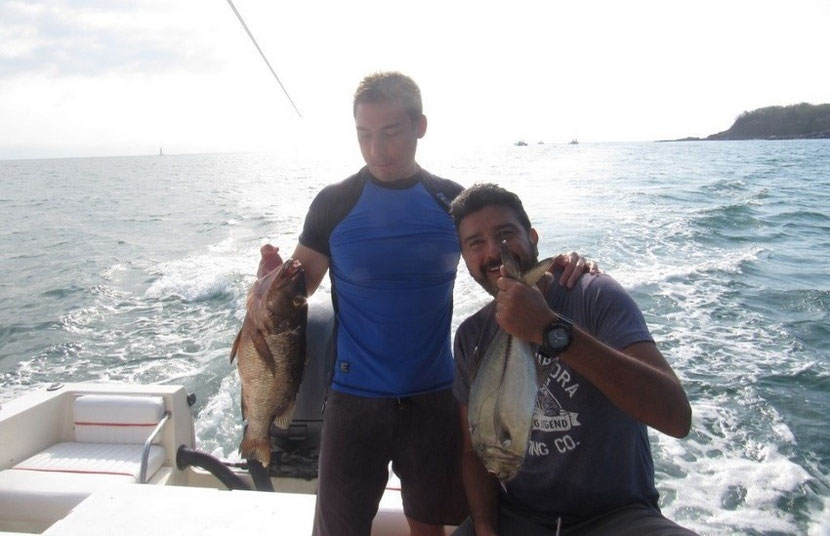 Spear fishing is quite common in puerto vallarta. With so many reefs on-shore and off-shore you will have many opportunities to go fishing depending on if you are a beginner of experienced hunter. Spearmex is the most trendy company to spearfish off-shore in the bay, it is located in Punta de Mita, 1 hour north of Puerto Vallarta.
14. Breakfast on the beach
When you get tired and want to rest and contemplate the ocean, you will find various options of restaurants on Los Muertos Beach to have your breakfast 7 yards from the water. Under your palapa you can have your coffee watching the pelicans flying low and fishing. Another option is El Mango restaurant with better foods and service with a nice terrace in front of the beach with a very nice view on the horizon
15. Go surfing to Quimixto
Surf is a common sport in Vallarta, although there is no swell in town usually. Only when Hurricanes pass in front of the bay, the swell builds up in the center creating several breaks in El Holly (located behing La Isla Shopping Village).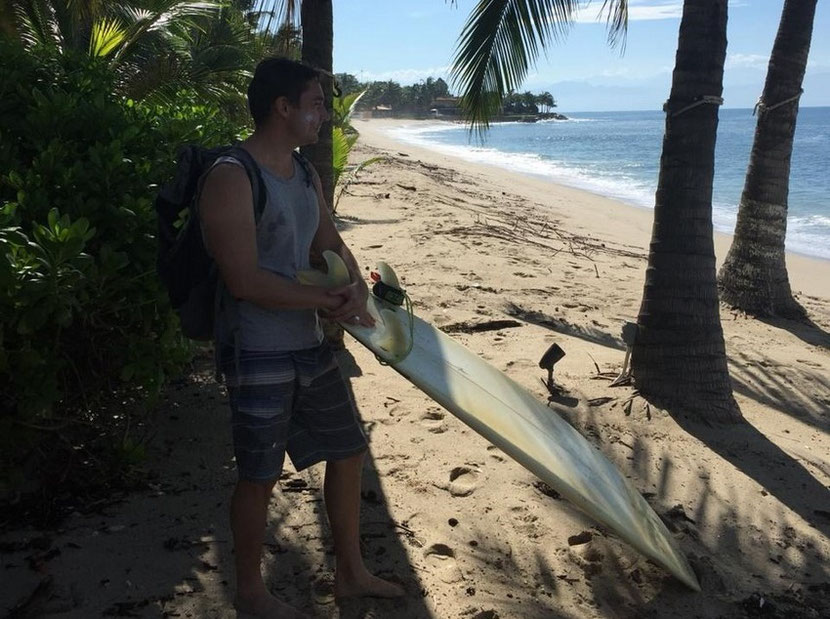 Most of the surf spots are located north vallarta between La Cruz de Huanacaxtle and Punta de Mita. Quimixto is the only surf sport south vallarta, this small beach is accessible only by boat, and you will need to rent a boat from Boca de Tomatlán to get there with your board to be able to surf there.
16. Diner with view on the bay
many places will offer you the possibility of dining with an incredible view on the bay. During winter time, it is obvious that you will see whale jumping out of the water while having your diner. Barcelonas tapas offers a nice view on the bay down town, while being far from the beach (well this is relative) while the Top Sky Bar might offers the best view over the bay downtown.
17. Deep sea fishing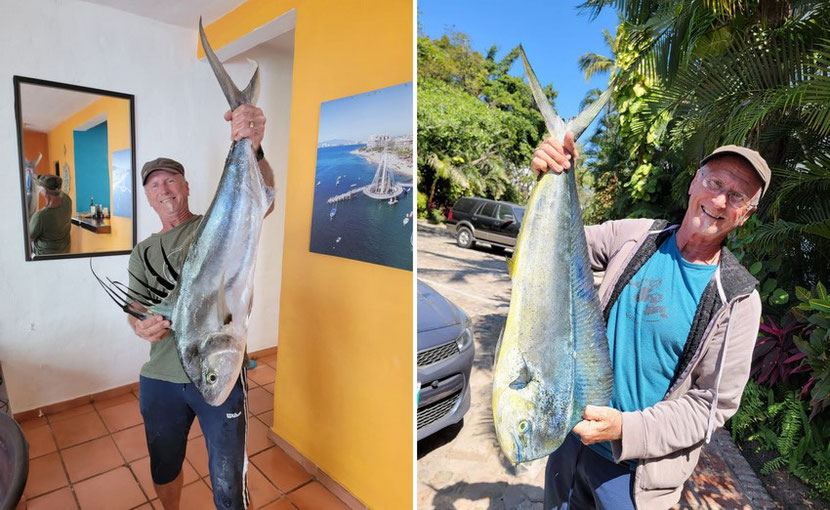 each year takes place and International fishing contest to catch the largest sail fish. You can also rent your own yacht anytime to go on a fishing tour in the bay. You will be able to find red snappers, dorados, sail fish, marlin and swordfish or roosterfish.
18. Lo de Marcos Beach
located 1h30 north to puerto vallarta, this little village has a huge beachfront will few tourists and few restaurants, and is perfect to have a rest from Puerto Vallarta. A huge cliff over the beach makes an incredible set.
19. Tehuamixtle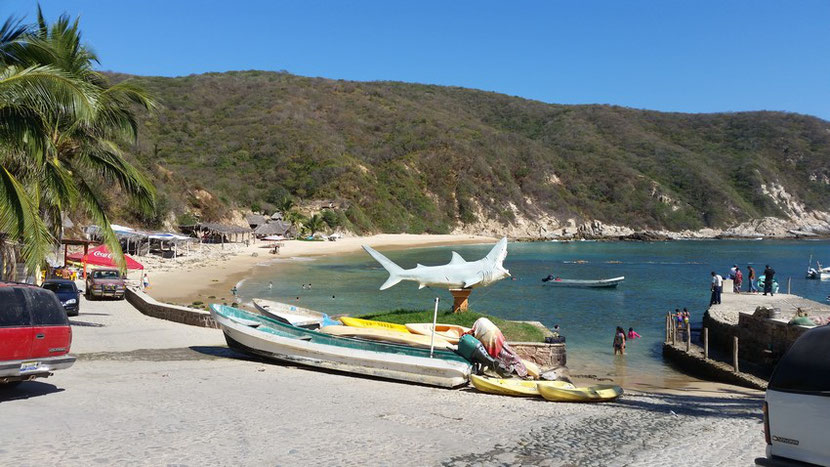 Tehua as it is named here is a very, very small fishermen village with a very little beach with almost no tourists, and an incredible view on the ocean. There is almost no hotels or only rustic hotels to stay there. You can go for a day trip. You will appreciate the view, the fresh seafood, Tehua is renowned for its oysters, and you will be able to snorkeling as the water can get very clean and transparent.
20. San Sebastian del Oeste
this old colonial village lost in the mountains 1h30 away from Puerto Vallarta is a gate away for locals when heat and humidity makes your stay difficult in Vallarta during summer time. This village has a small down town with few restaurants and shops, you will be able to find activities like horse ridding, ATV in the mountains, hiking or visiting the coffee factory. Two nice hotel restaurants opened a few years ago giving the place more cozy options for your stay.
21. Discover Mexican Opals

Vivalatina Jewelry's rings
Opal is an emblematic fine stone of Mexico. You will find opal mines in Magdalena de los Opalos (jalisco) 4 hours from Puerto Vallarta and in the state of Querétaro. Vallarta is full of jewelry artisans making opal jewelry from local opal mines, you can also buy large opal specimen for your own collection. The Mexican opal is orange or orange red, while the fire opal is translucent and shows a large spectrum of colors to the natural light. Do not buy opal roughs in water as these are low quality opals loosing their colors once dried.
22. Discover the butterfly sanctuary
As you may know, Mexico is part of the countries with the most biodiversity in the world.
Puerto Vallarta is the perfect place to experience the rich world of butterflies. There is a unique garden with a huge number of different species of butterflies - Mariposario Jardin Magico. This sanctuary focuses on butterflies but also on sustainable development in general.
They invite you into a paradise garden full of colors, and you can watch how a caterpillar turns into a butterfly. You may also have the opportunity to release just-born butterflies.This activity is especially enjoyed by children.
23. Mountain bike tour
The mountains surrouding Puerto Vallarta offer a large choice of trails for you to choose from to go mountain biking. It will be easy for you to find a tour operator to organise a tour with a local guide to go up in the jungle and find incredible views over the trees and the bay. Be aware that the climate is quite hot in Vallarta and some slope can be quite steep.
24. La Cruz de Huanacaxtle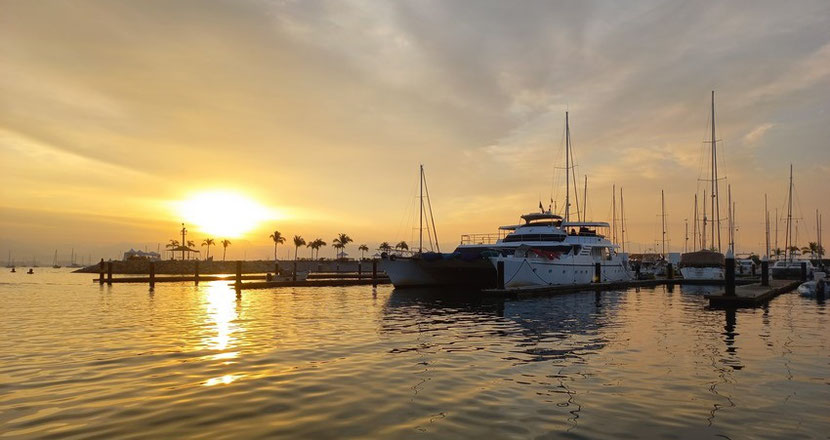 La Cruz de Huanacaxtle is a small Mexican village 40 minutes north from Puerto Vallarta with a free market on Sundays with a large choice of fresh foods and renown for its fish market. The market is on the pier, so you will be able to see all the sailing boat and yachts in the harbor in the morning.
25. Old Town Market Farmers
The free market down town vallarta in Olas Altas is every Saturday during winter time. You will find unique food, and artisans offering their own makings. This market is very well known and you will find a lot of people in this market since early in the morning.
26. Discover Boca de Tomatlan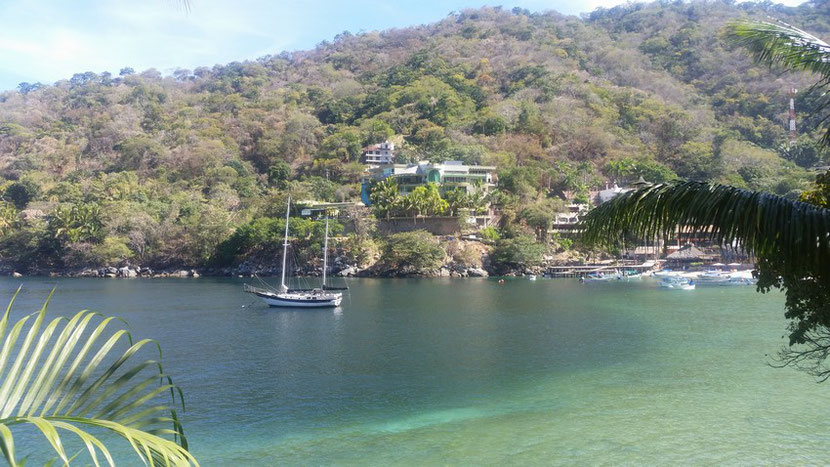 Boca is a tiny fishermen village with a small beach where you can relax, you will find some restaurants there. You can stay at Boca or start your hike to Colomitos from there or catch a boat to bring you to Las Animas beach, Yelapa or Quimixto.
27. Food and Mezcal Tour
there is various tour operator offering food & Mixology tours. Whether you want to taste different styles of tacos, traditional Mexican foods (not tacos) or taste local beers or artisanal Mezcal you will be amazed by the variety of food and restaurant available to you in Vallarta.
28. Diner with view at La Marina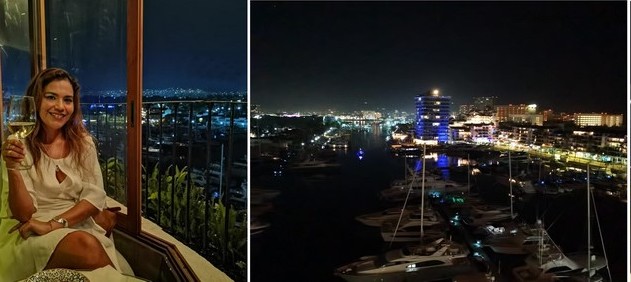 La Marina is a fancy place to chill and try new restaurants. You will be able to diner over the Marina at the newly open restaurant located in the beacon: 36 Restaurant & Lounge which offers a small list of nice plates, and a large choice of cocktails. Claude the manager is French and left everyting in London to set up his own restaurant.
29. Pirate Ship Marigalante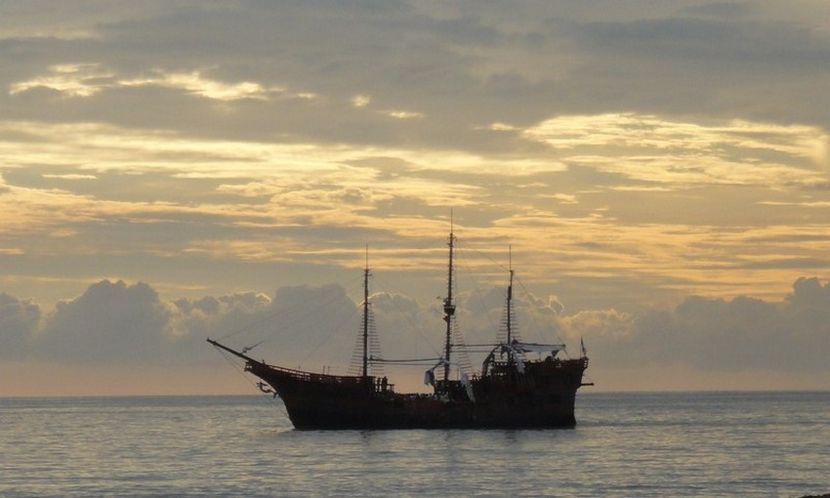 Speaking about adventure, this one is quite unique and worth speaking about. The Marigalante is a real wooden ship, exact replica of La Santa María used by Christopher Columbus when he discovered America. The ship is 700 tons and offer a sailing trip on the bay with a pirate show and restaurant as the sailing last all day long.
30. Hacienda Tour
Haciendas are very typical of Mexico. Located in the countryside, you will generally find horses, and Tequila, and sometimes local fresh foods. Local tour operators will propose such activity, or you can directly contact Hacienda Doña Engracia.
 You will find 100 more things to do in Puerto Vallarta here.
Author: Nicolas Tranchant 
About The Author: After finishing his engineering studies in 2005, Nicolas decided to travel the world leading him to Mexico, Brazil, Australia, and a few countries in Latin America. He settled in France in 2008 where he got married to his Mexican girlfriend: Reyna. In 2012, they decided to go back to Mexico and settled in Puerto Vallarta, Mexico. There, Nicolas set up his own online jewelry business: Vivalatina, which he still manages today.