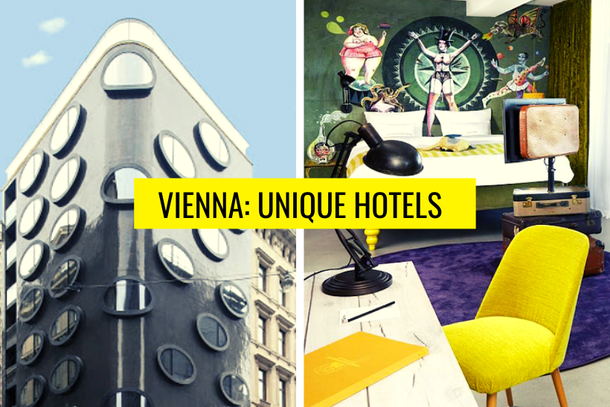 Vienna is a temperamental city, so why on your visit not to stay in a hotel with a character?  In Vienna, there are some unique hotels for every taste.
Do you want to spend the night in a coworking hotel, in a social hotel, or a hotel in a vinegar factory?  Or how about a hotel where a fashion show takes place or a hotel in a store window? It will be something different from your ordinary chain hotel. 
Here is my selection of hotels in Vienna in the style of The Alternative Travel Guide: unusual and unique hotels with the history that will make you remember your trip to Vienna for life. The choice is yours.
UNIQUE & QUIRKY HOTELS IN VIENNA THAT WILL SURPRISE YOU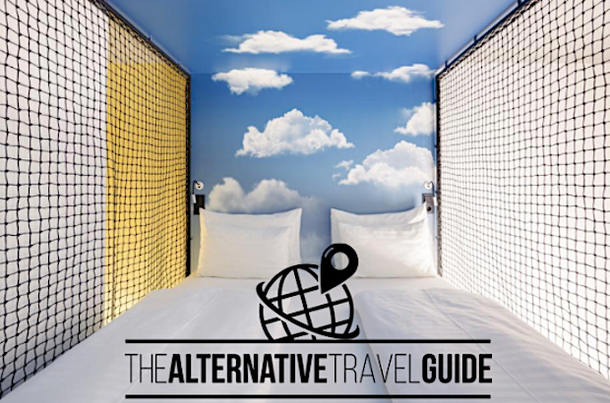 1 | COWORKING HOTEL IN VIENNA: HOTEL SCHANI WIEN
Whether you are traveling or visiting Vienna on a business trip, the quirky Schani Wien coworking hotel is an excellent choice of accommodation.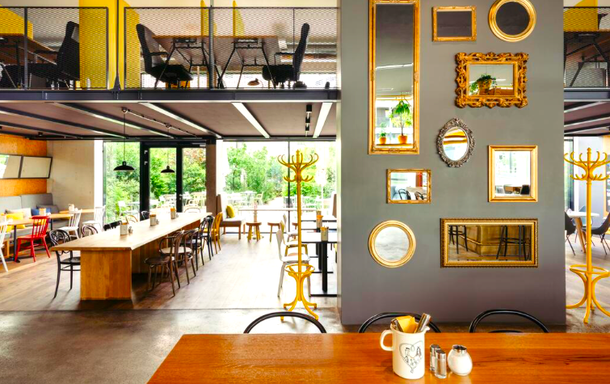 Here you can relax AND GET YOUR WORK DONE IN A QUIET ENVIRONMENT. Guests are provided with 20 equipped and ergonomic workspaces in a separate lobby area!! 
You can use their fast internet, printers, scanners, and conference rooms. 
It's super-easy to check in as you can register at the hotel without a reception. Just enter a booking code into your smartphone!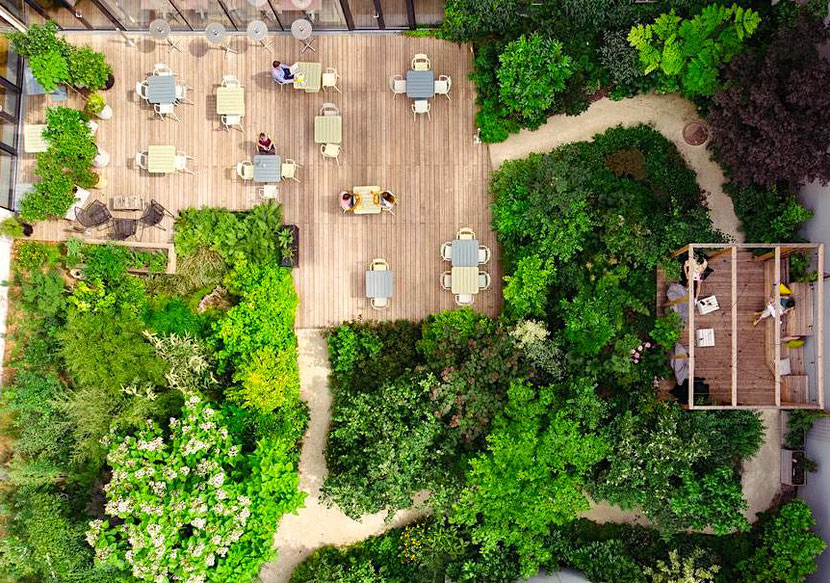 The hotel will delight you with a rooftop garden terrace, a room with a bright and modern design, and a sumptuous buffet breakfast.
The Schani Hotel Wien has an excellent location, next to the train station, and the D tram stop that provides quick connections to the center of Vienna! If you like walking, you can reach the Old town of Vienna within 30 minutes exploring interesting sights on the way. 
More information about Schani Wien coworking hotel 
Hotel Schani Wein on the map:
2 | SLEEPING IN A STORE WINDOW: UNUSUAL HOTEL IN VIENNA
Do you remember the guy Mark Malkoff who became famous for living in an IKEA store for a few days?
Find out what it is like living in the shop in the unique hotel Graetzlhotel in Vienna. There you will literally sleep in a former display window. 
What were once shops, workshops and stores are now stylish living spaces. They are known in Vienna as street lofts or boutique lofts.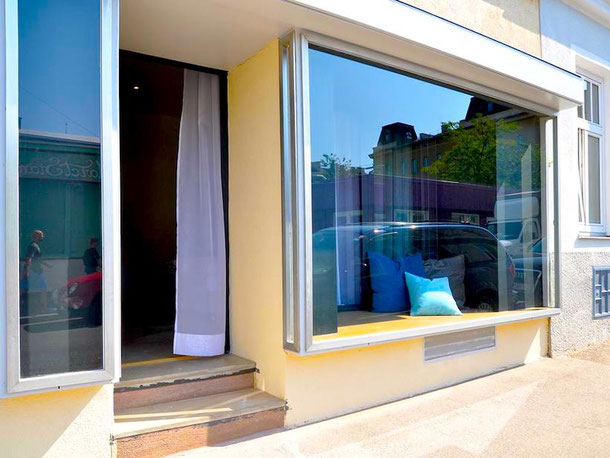 Photo: Graetzhotel Meidlinger Markt 
These spaces tell the story of the people of Vienna.
In this workshop, haute couture dressmaker Liane Lerner worked on her creations. 
In another loft of Graetzlhotel, the actual hotel room was a studio and center for aspiring artists from the 1960s.
One more room is located in the former 100-year-old smithy.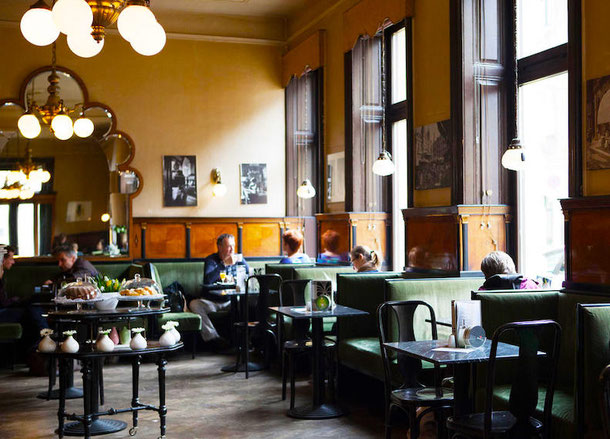 Photo: Graetzhotel Belvedere 
The concept of this hotel is to provide travelers with independence and an authentic Vienna experience. There is no front desk or fixed breakfast time, but instead, you get a healthy dose of freedom.
Instead of a lobby, all services are provided in the neighborhood. A well-chosen chain welcomes guests with special offers and room service.
The café nearby serves as a breakfast room, the hammam is converted into a hotel wellness center, and the bar around the corner will be your hotel bar.
Each traveler chooses an individual mix of services he needs. 
So in terms of accommodation format, the Graetzlhotel is more of a concept apartment than a hotel.
To give you even more freedom, it offers free bike rental. 
Graetzhotel Belvedere on the map:
The Graetzlhotel has several locations: Graetzlhotel Belvedere and Graetzlhotel Meidlinger Markt.
The Graetzlhotel Belvedere is located in the stylish 4th district next to the Belvedere Palace. 
Graetzhotel Meidlinger Markt on the map:
The Graetzlhotel Meidlinger Markt is located next to the Meidlinger market and close to the Raimund Theater.
See more photos and current prices of the Graetzhotel here. 
3 | INDUSTRIAL HOTEL IN A VINEGAR FACTORY IN VIENNA: WIENER GASTE ZIMMER
The next hotel on my list of quirky hotels in Vienna is the Wiener Gäste Zimmer. It is an industrial hotel in a traditional Viennese vinegar and beer factory.
Moreover, it's not in a former plant, but in an existing one!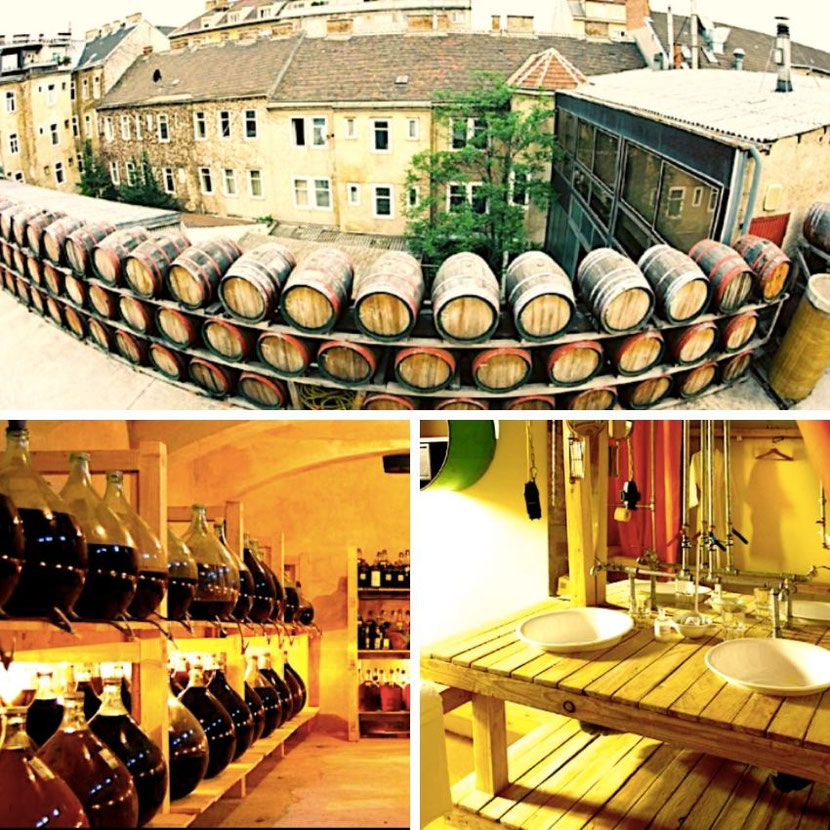 The owners of the plant allocated the first floor for guest rooms.
In the rest of the building, the manufactory has been producing more than 60 types of high-quality vinegar since 1929.
In the neighboring Gegenbauer brewery, they manufacture organic-quality Viennese Wiener Bier. 
By the way, you can buy branded balsamic vinegar on the spot. For its production, they use various fruit juices. The vinegar is stored in barrels on the roof of the plant for at least five years. Therefore, it develops a unique typical flavor. 
The Wiener Gäste Zimmer hotel is worth choosing if you are a fan of industrial design.
Here you will find not only brick walls but also wooden floors, sockets, and cables hanging from the ceiling, plumbing pipes that run freely through the rooms, and unusual wooden beds.
The hotel also features an indoor pool and sauna that you can use free of charge.
The Wiener Gäste Zimmer is located in Vienna's 10th district.
The metro takes you to the State Opera House in 10 minutes and St. Stephen's Cathedral in 15 minutes.
Get more information and see more photos of The Wiener Gäste Zimmer 
Wiener Gaste Zimmer on the map:
4 | FUTURISTIC & UNIQUE HOTEL IN VIENNA: TOPAZZ & LAMEE
For futuristic vibes, take a look at Vienna's most extraordinary modern building: the Topazz & Lamee Hotel.
The façade of the hotel is a striking example of futuristic architecture with original oval windows.
By the way, these windows were not made just for beauty.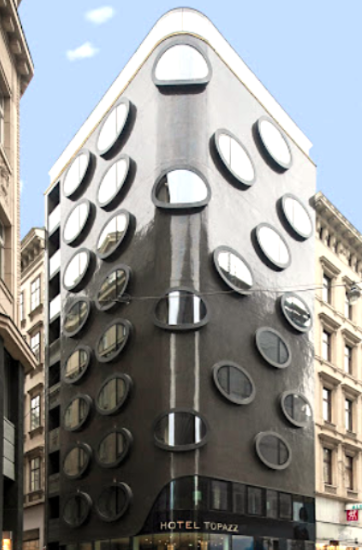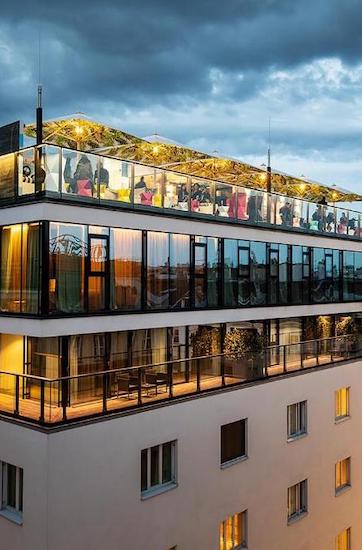 It is a product of functional design.
The wide oval window sills are equipped with loungers-sofas where you can lie down while enjoying the view of central Vienna.
Check availability and current prices of Topazz & Lamee Hotel
Hotel Topaz & Lamee on the map:
5 | UNIQUE SOCIAL HOTEL IN VIENNA: MAGDAS
The whole concept of the Magdas Hotel is original and inspiring.
It is a hotel that truly differs in format from all other hotels in Vienna.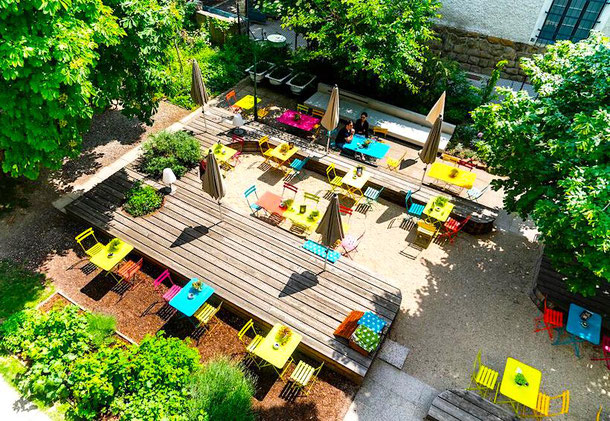 Magdas Hotel is a social business created by the Caritas charity. Its main goal is to look for work for refugees in the city.
Caritas converted the former home for the elderly and homeless into a hotel. It was possible thanks to the help of the local community: donations for the renovation came from citizens and businesses.
The hotel now hosts 20 refugees from Iraq, Afghanistan, Iran, and Nigeria.
Having a permanent job is very important for their status of residence in Austria.
The Magdas Hotel is worth staying not only for its social function.
The hotel itself also deserves attention for its original design.
It features colorful interiors, a spacious garden with plants and tables, creatively designed rooms for families and solo travelers. 
Get more information about Magdas hotel 
Hotel Magdas on the map:
6 | CIRCUS-THEMED UNUSUAL HOTEL IN VIENNA: 25 HOURS
As soon as you step into the 25hours Hotel, you will find yourself in a semi-fairytale circus world.
The interior of the hotel looks like a museum. 
Be ready for its unusual design solutions and uncommon furniture: swings instead of chairs, a saucepan instead of a washbasin, drums on the ceiling, a bicycle on the wall, and a bath on the balcony.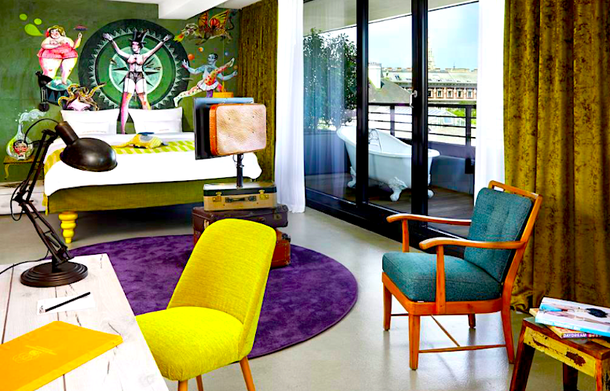 The surreal decor of each room invites you to play with dreams and fantasies. 
It blurs  the boundaries between imagination and reality.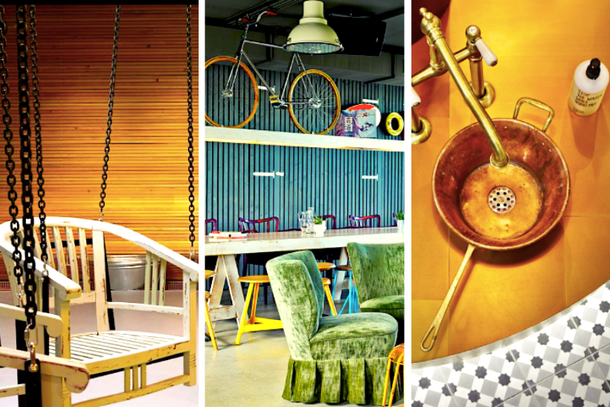 The hotel has a stunning rooftop bar and a terrace on the 8th floor overlooking the city center. It's a perfect place to relax at sunset after an intense stroll through Vienna.
See more photos and current prices. 
25Hours Hotel Vienna on the map:
7 | UNIQUE ART-HOTEL IN VIENNA: AM BRILLANTENGRUND
For art, creativity, inspiration, and design, head to Hotel Am Brilliantengrund.
I love hotels that are more than simply a place to sleep and combines different unexpected functions. Am Brilliantengrund completes today's list of unique hotels in Vienna in the style of The Alternative Travel Guide.
This is a small, family-run hotel in Vienna's 7th district, next to Mariahilfer Straße, between the Museum Quarter and the Westbahnhof.
It is surrounded by countless museums, galleries, shops, and historical sites.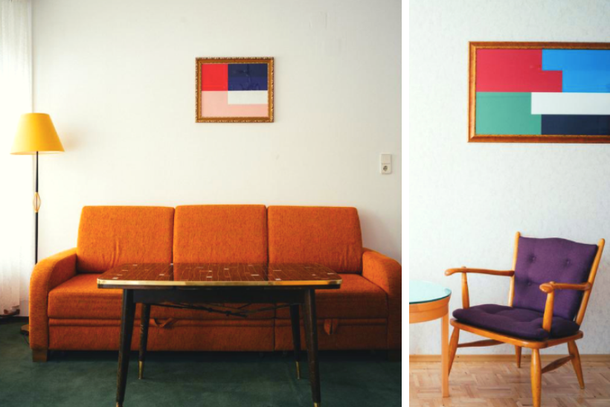 Its concept is to take a unique look at the hotel industry, gastronomy, art, design, fashion, and cycling and bring it all together under the roof of Am Brilliantengrund. 
This unconventional hotel immediately catches your heart.
The hotel has become a platform for art, design, fashion, music, and cycling.
It hosts exhibitions, fashion shows, music events, and seminars. Workshops focus on graphic design, photography, illustration, and other creative fields.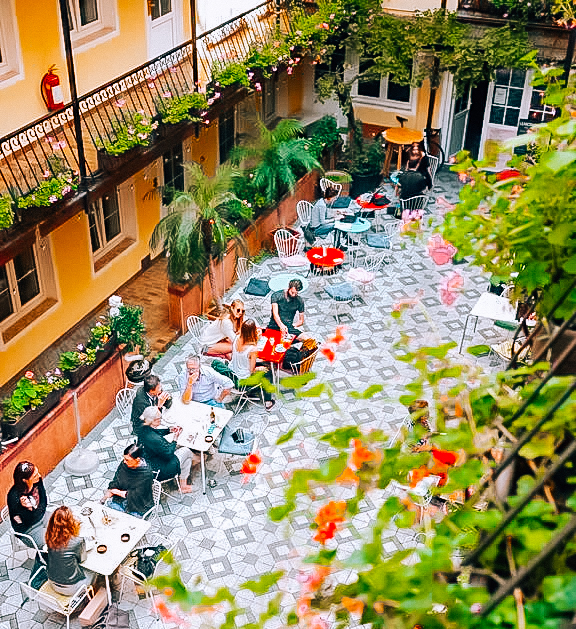 Each room in the hotel has its own individual character, with the 50s and 70s pieces, retro furniture, floor lamps, vintage prints, and vibrant modernist paintings.
And a place you will definitely fall in love with is a Mediterranean courtyard with palm trees and flowers serving Filipino food from the family recipes of the owner's mom.
I love the motto of the Hotel Am Brilliantengrund that says: "Come as a guest - leave as a friend". Here you can feel this special atmosphere of a family hotel.
Get more info and see more photos of the hotel Am Brilliantengrund here
So, what is your favorite unusual hotel in Vienna? Where would you stay? 
With love,
Sasha & The Alternative Travel Guide 
TO SHARE THIS BLOG POST WITH A FRIEND, CLICK HERE: 
ОБ АВТОРЕ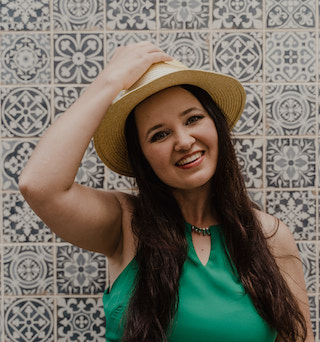 Привет, дружочки! Улыбающееся лицо на фотографиях в блоге - это я, Саша Наслин. Я уехала из своего родного города Тирасполь (Приднестровье) 11 лет назад. С тех пор 15 раз переехала. Побывала в более 50 странах на разных континентах. Жила в Венгрии, Польше, Бельгии, Франции, Таиланде и Испании. За эти годы я успела поработать в разных секторах - в журналистике, в социологии, в органе государственной власти, в общественных организациях и в топовой IT корпорации из списка Fortune 100. Но моей самой большой страстью всегда были путешествия, страны и разные культуры.
Поэтому теперь я - travel-блоггер! 
Зачем этот блог? - Читайте здесь