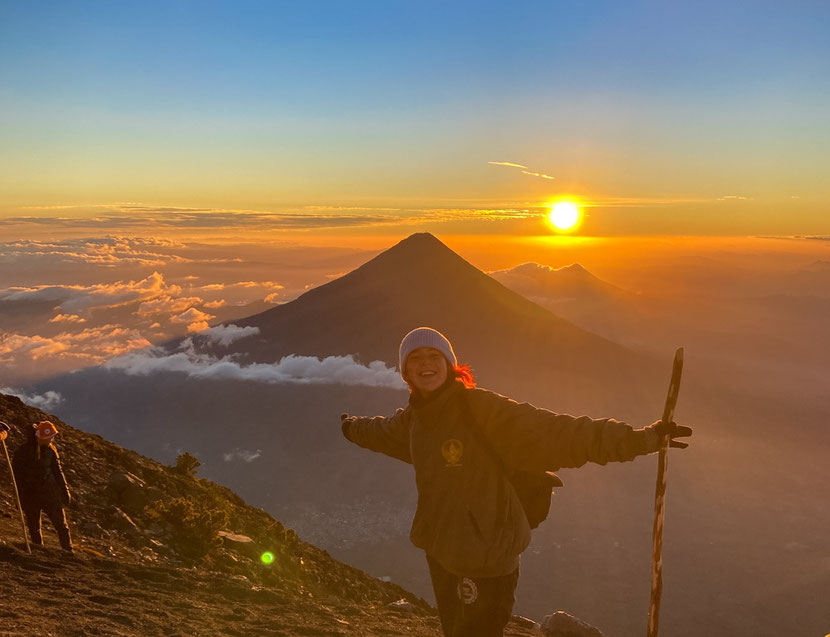 Here is my story about being a volunteer in Guatemala. If you are looking for information on how to volunteer in Guatemala and if it would be worth going to Guatemala at all, I believe you will find my story helpful. 
During my trip to Central America, I happened to stumble upon Guatemala and completely fall in love with the country. From Mayan ruins and jungles in the north to beautiful black beaches in the south, and a scattering of volcanoes, mountains and lakes in the middle, Guatemala never falls short, whatever you're looking for. It has the quaint colonial city Antigua, Central America's largest market, the majestic Mayan capital, Tikal, and many hidden gems along the way, too. You could spend a lifetime here and not get bored.
So I decided, instead of spending a lifetime, I would just stay as long as I possibly could. If, like me, you're on a tight budget and want to fully immerse yourself in a culture for a long period of time but don't know exactly how, here's the secret: Volunteering.
When a friend got me a gig volunteering at a hostel on Lake Atitlan, Guatemala, for free accommodation and drinks, (yes, volunteer in Guatemala for free is possible), I jumped at the chance. In the month I lived on one of the most beautiful lakes in the world, I also got to completely experience local Guatemalan culture, meet a lot of new people, travel around the country, party a fair amount, and all without breaking the bank. 
Interested? Got more questions? Let me explain everything:
What is cultural exchange volunteering?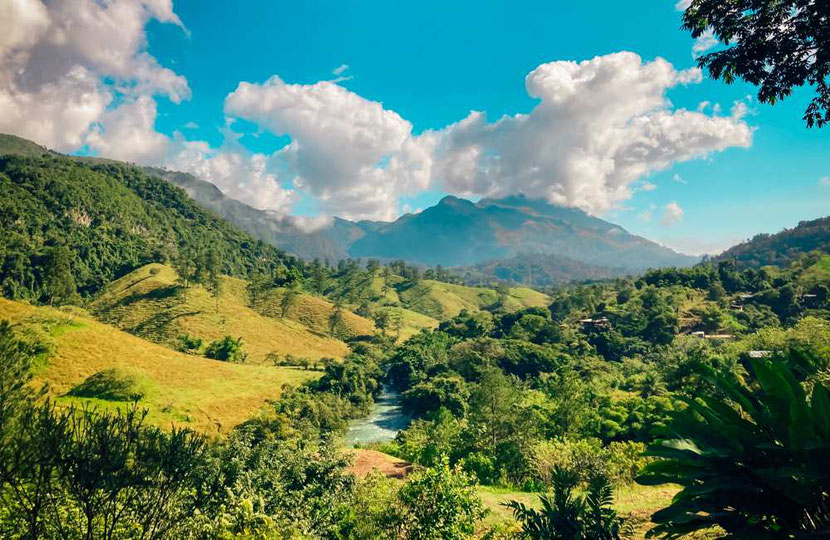 The main premise of cultural exchange volunteering is that travellers and locals both get something out of it, like a fair trade. This usually means providing your skills and labour for free accommodation, often with meals too.
You can volunteer in more popular tourist destinations at backpacker hostels, but you can also join more rural projects on farms or in schools for a more authentic cultural experience. Participating in a volunteer program is an excellent idea, especially if you are traveling solo.
There are many volunteer opportunities in Guatemala and other countries. You may have heard of Workaway or Worldpackers, two leading sites offering these homestay and cultural exchange volunteering opportunities. They are excellent resources if you have a location in mind of where you'd want to volunteer, and let you develop a personal profile for future endeavours if this is a way you want to travel long-term. There are also several less known Workaway alternatives such as Helpx that is great for budget backpackers and HippoHelp, a free work exchange resource for travelers. 
Otherwise, you can often find cultural exchange volunteering opportunities along the way on your travels, as I did.
Sometimes if you stay in a hostel that particularly fits your vibe, or meet a local who needs some help on their property, opportunities spring up, free for you to grab as and when. And, in my humble opinion, they're invaluable.
What are the benefits of volunteering exchanges?
There are tons of benefits to being involved in these cultural exchanges, depending on what type of volunteering you choose to do. In general, you'll definitely save a lot of money by not having to pay for accommodation (and sometimes food) around the world as you travel, and it's a very ethical and slow method of making your way around countries. Instead of zooming from location to location and often not seeing much of their genuine cultures, staying for a longer period of time in a hostel or other homestay can give you that rich experience you wouldn't have otherwise.
Working on farms and local community projects means you're doing your bit for the environment and for the sustainable development of local people, while getting to know them, getting to know their language, and experiencing a side to countries that travellers don't usually see. Doing these volunteer projects with a group of friends is fun, rewarding, and a shared great time.
On the other end of the spectrum, working for hostels means you can meet loads more new backpackers, which is an amazing option for solo travellers who want some buddies. There are often a lot of perks to working in a hostel, like free drinks and free stays at partner hostels, and you can also get to know the local area and language a lot better.
What can you see and do while volunteering in Guatemala?
1 - Hike the Acatenango Volcano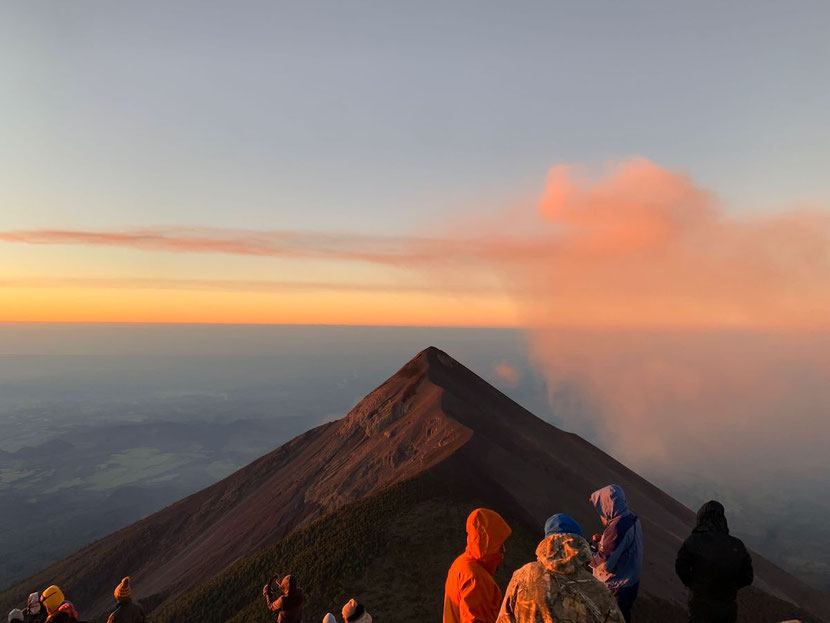 On every Guatemala backpacker guide you will see 'HIKE THE ACATENANGO VOLCANO' in greatly emphasised letters, and they're absolutely right.
Overnight tours of the twin volcanoes Acatenango and Fuego leave from Antigua and involve a base camp hike, followed by an optional hike to watch lava erupt from Fuego, and then another optional sunrise summit in the morning.
And when I tell you it's the best thing I've ever done, I mean it - nothing can prepare you for being 4000 metres in the air watching a volcano erupt on one side and the sun rising over the world on the other. It's breathtaking.
2 - Cliff jump from 12 metres on Lake Atitlan
Cliff jump from 12 metres on Lake Atitlan. In the hippie-crazy lakeside town San Marcos, which in itself is beautiful to have a wander around, you'll find a nature reserve home to the Trampolin, a 12-metre high platform on a cliff.
And there's only one way down. You can sit in the sun with a beer, take a swim and admire the incredible mountainous lake views if you're not feeling it, or you can give in to the adrenaline and jump off. 
3 - Go on an adventure tour of Semuc Champey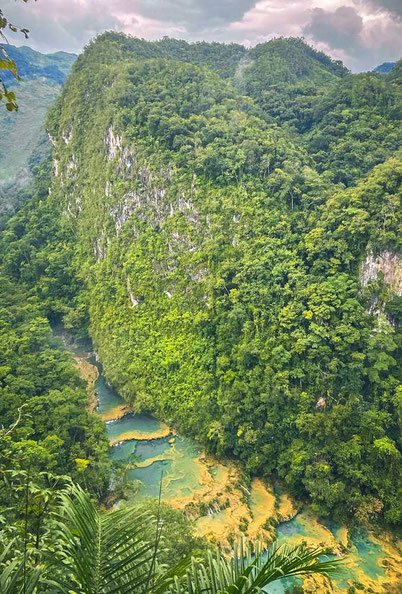 Go on an adventure tour of Semuc Champey. In the middle of the country, a pain to get to by bus but absolutely worth a stop, Semuc Champey is a series of natural rock pools sandwiched between sheer cliffs, like something out of Avatar.
It's visually stunning, and so much fun to explore.
A lot of companies do full-day tours that include caving, jumping, hiking up to a viewpoint and swimming in the pools themselves, and considering what they offer they're very cheap (around Q160, depending on where you buy).
4 - Find howler monkeys and climb ruins at Tikal, the old Mayan capital
Find howler monkeys and climb ruins at Tikal, the old Mayan capital. Sunrise tours of the most famous and impressive Mayan ruins in the world will give you a better chance of seeing and hearing howler monkeys in the northern Guatemalan jungle, and you can also climb a lot of the pyramids.
You'll even see the view from that famous Star Wars scene, with the tops of the ruins peeking through trees and jungle that spreads as far as the eye can see.
5 - Learn to surf in El Paredon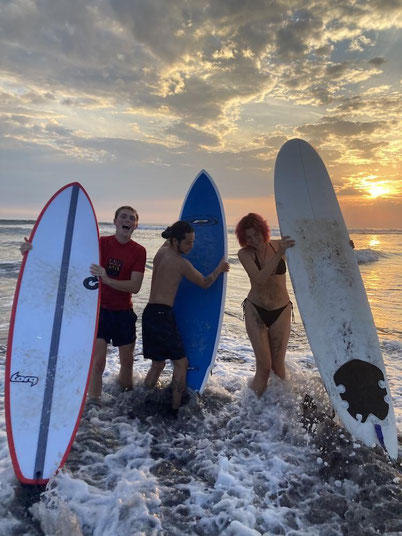 Learn to surf in El Paredon, the small but up-and-coming Pacific beach town with black volcanic beaches.
Sunset beach volleyball matches, surf sessions and pool day-drinking are all everyday activities here, and it's bliss.
There isn't a care in the world when you're in paradise with consistently good waves and a great backpacker scene, so it's a perfect mini holiday from your travels.
6 - Eat and drink your way around Antigua
Eat and drink your way around Antigua. The old capital of Guatemala and now the most popular colonial city is an adorable setting of brightly coloured houses, cobblestone streets and with a backdrop of surrounding volcanoes.
Spend your hard-earned dosh in the vast central markets and top tier restaurants, cafes and bars on every corner.
There's a cheese and wine restaurant, amazing bakeries, and hipster coffee shops selling delicious Guatemalan blends. I'm glad to inform you that Antigua is very affordable, allowing you to indulge in all the delectable dishes without breaking the bank.
Is it worth volunteering in Guatemala?
So why should I go to Guatemala to volunteer? The real question here, my friend, is why on earth not? Aside from being one of my favourite countries in the world and with hundreds of things to do, Guatemala has an amazing volunteering scene that'll leave you dying to get involved.
A lot of hostels in Guatemala are partners or friends with one another, so if they like you in one hostel, you'll usually be able to find a job in a lot of other ones too. Because the backpacker trails in Guatemala mostly cover the same places, there are a few very popular hostels in each location that all know of each other and will be your best chance at getting into the network.
Los Amigos in Flores, Zephyr Lodge in Semuc Champey, Mr Mullet's, Free Cerveza and Dreamboat on Lake Atitlan, Driftwood Surfer in El Paredon, and Somos, Tropicana and Maya Papaya in Antigua are the big names and locations to watch out for, and they're all super fun to volunteer at for the backpacker scene.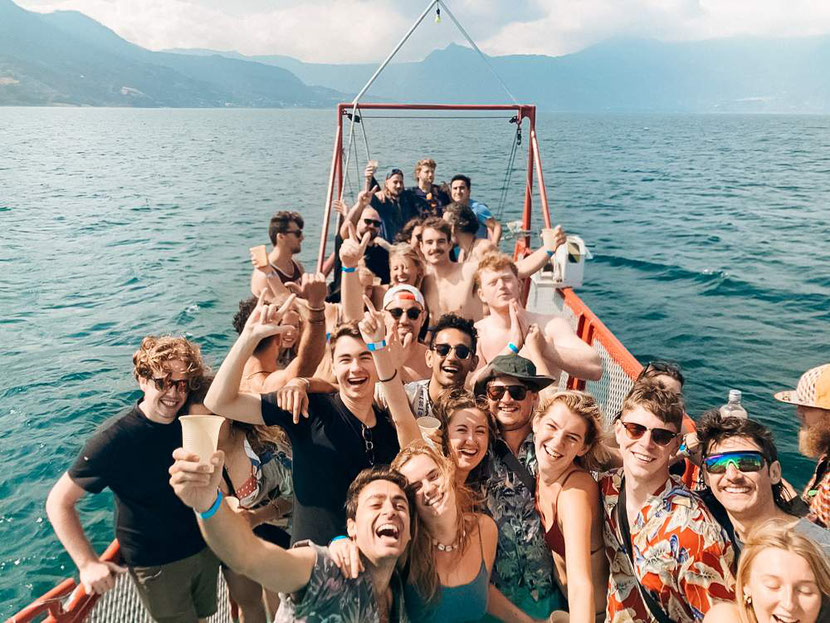 The best part about this network of hostels is that when you volunteer for one of them, you get two free nights' stay at some of the other hostels, meaning that on your time off from work you can literally go on free holidays around Guatemala. Whether it's to the beach for some paradise sunsets and surfing, Antigua for some colonial cafe-hopping, or rural Semuc Champey to have a caving, hiking, jumping adventure, Guatemala is quite literally your oyster as a hostel volunteer.
In terms of other types of volunteering exchanges, Guatemala also has rich countryside, mountains, Mayan culture, and an abundance of things to learn from locals. Its Spanish dialect is very easy to understand, so you'll have a blast learning it if that's how you choose to spend your long-term stay in Guatemala, and most of the country is very poor so your time and help can really create a big impact on communities.
What was my personal experience volunteering in Guatemala?
I met a volunteer who'd previously worked at a hostel on Lake Atitlan and was going back over Christmas and New Year while I was travelling down from Mexico, and he got me a job doing the same thing, working on the bar. It was Mr Mullet's, which I didn't realise at the time was the self-proclaimed biggest party hostel in Central America, but it soon became clear to me.
Obviously, given the nature of the hostel, I met bundles of new backpacker friends who were either volunteering or staying at Mr Mullet's, and partied a lot. I got massive discounts on my drinks, which saved an awful lot of money while I was volunteering, and I went to their legendary boat parties and pub crawls for free. We also sold tickets and got big discounts for Wizards' festivals, a mysterious group of DJs who held amazing raves in secret locations around Lake Atitlan.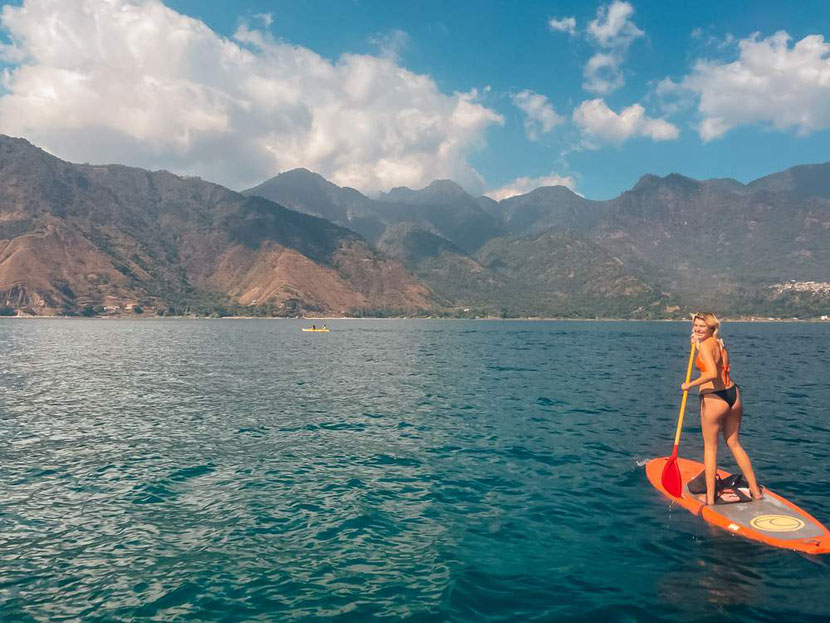 Obviously, given the nature of the hostel, I met bundles of new backpacker friends who were either volunteering or staying at Mr Mullet's, and partied a lot. I got massive discounts on my drinks, which saved an awful lot of money while I was volunteering, and I went to their legendary boat parties and pub crawls for free. We also sold tickets and got big discounts for Wizards' festivals, a mysterious group of DJs who held amazing raves in secret locations around Lake Atitlan. So, as you can see, volunteer work in Guatemala, especially if it involves working in hostels, can be a lot of fun. 
When I wasn't partying, I was exploring the lake and the town I was staying in, San Pedro la Laguna. Rumour has it that Lake Atitlan is a natural energy vortex that has a spiritual pull, meaning that you'll never want to leave, and I can confirm it from personal experience. There's something so magical about the views, the water, and the local towns that I just can't describe. It really does have to be seen to be believed.
On my time off, I visited other hostels around the lake, Driftwood Surfer in El Paredon and Somos in Antigua for free, meaning I was able to see a lot more of Guatemala than I thought I would after travelling south from Flores and Semuc Champey. In total, I spent around two months in Guatemala, and was so proud to call it my home for that time.
There are many volunteer programs in Guatemala, and I'm sure you can find one that fits your values and lifestyle - working with children, with animals, working in the farm or renovating a school . Or maybe with a volunteer project you can try to lead a completely different lifestyle? 
Guatemala is a truly beautiful country with some really amazing volunteering opportunities; a perfect place to go slower and embrace a more alternative way of travelling.
About The Author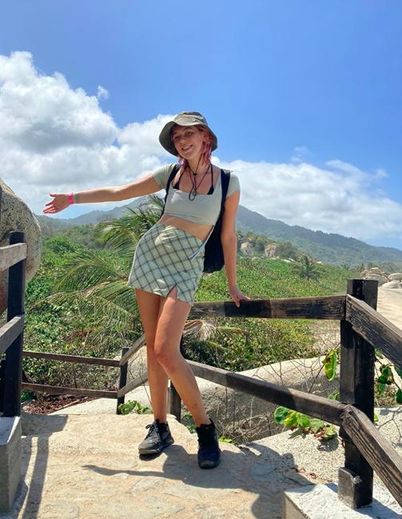 Cerys, 21, solo female
budget-backpacker from the UK. 
I've recently returned from my biggest solo adventure to date, a 5 month trip to Central and Latin America, and have found joy in jumping off cliffs and trying to be brave.
I like things to be raw and real while I'm on the road, so I'm always up for a challenge and the chance to explore off-the-grid places around the world.
I've volunteered along the way and travelled slowly, mainly using bus travel instead of flights.