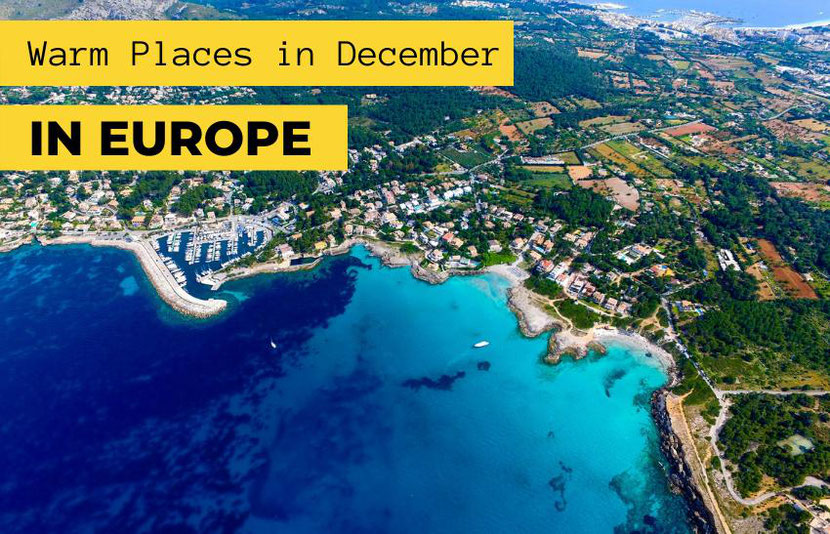 As winter sets in, you're dreaming of sun and escape...but without going too far. Discover the warmest destinations in Europe for end-of-year celebrations in the sun! 
Christmas markets and snowshoes, that's not exactly your thing! This winter, you dream of sun, light, and warmth. We often think, wrongly, that in order to get the sun in winter, it is necessary to cross the globe.
But Europe actually offers many destinations where it is warm in winter, so a New Year's Eve in a t-shirt is entirely possible. Keep reading and find the warmest place in Europe in December! 
Tenerife, Canary Islands, Spain
Weather in December in Tenerife
If you're bored with the gray and slushy European autumn, and the coming winter generally lowers your mood, it's time to go on a trip, at least for a week. In this case, the Spanish island of Tenerife (Canary Islands) in the Atlantic Ocean welcomes you on board. 
December is a great time to visit Tenerife. During the day, the thermometer ranges from 20 to 25 degrees. At night, the minimum temperature is +16-17 degrees; the maximum temperature is +22. 
Can you swim or sunbathe in Tenerife in December?
December is a great month to sunbathe on the beaches of Tenerife. Water in Tenerife in December has an average temperature of +20-21 degrees, which is often warmer than night air temperatures by 1-2 degrees. In general, this is a comfortable enough temperature for swimming in the ocean. If you find the water cool, it makes sense to stay at a hotel with a heated pool. Consider the pools filled with seawater. 
What are the best things to do in Tenerife in December?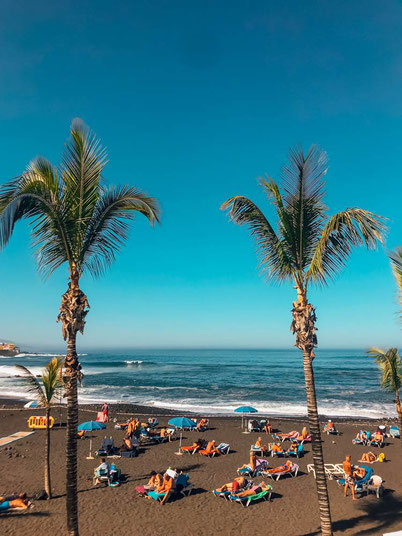 In addition to sunbathing on the beach, you can go on a variety of excursions around the island as there tons of awesome places to visit in Tenerife.
Tenerife's landmark is the volcano Teide together with Teide National Park. 
The national park is located in the center of Tenerife and is the largest in the Canary archipelago. Teide is the highest volcano in the Canary Islands, and we are sure that its visit will be the highlight of your trip to Tenerife.
The park offers incredible views of craters, frozen lava and other small volcanoes. Teide rises at 3,718 meters above sea level and is the highest point in Spain.
The second must-see town on the island is Garachico, the first port town of Tenerife. Many consider it the most beautiful and picturesque town on the island. It was founded in 1496 by the Genoese merchant Cristobal de Ponte. 
Garachico has many lovely churches and small fairy-tale palaces that have preserved their distinctive aesthetic to this day. The chapel of San Roque, the former convent of Santo Domingo de Guzmán, the old monastery of San Francisco, the castle of San Miguel, and the estate of El Lamero are some of the sights you should visit.  
What to wear in Tenerife in December?
The weather in Tenerife in December is comfortable enough, so be sure to bring your swimsuit and summer clothes. However, it gets pretty chilly when the sun goes down, and you'll need a sweatshirt, pants, sneakers, and a lightweight down jacket. 
Mallorca, Balearic Islands, Spain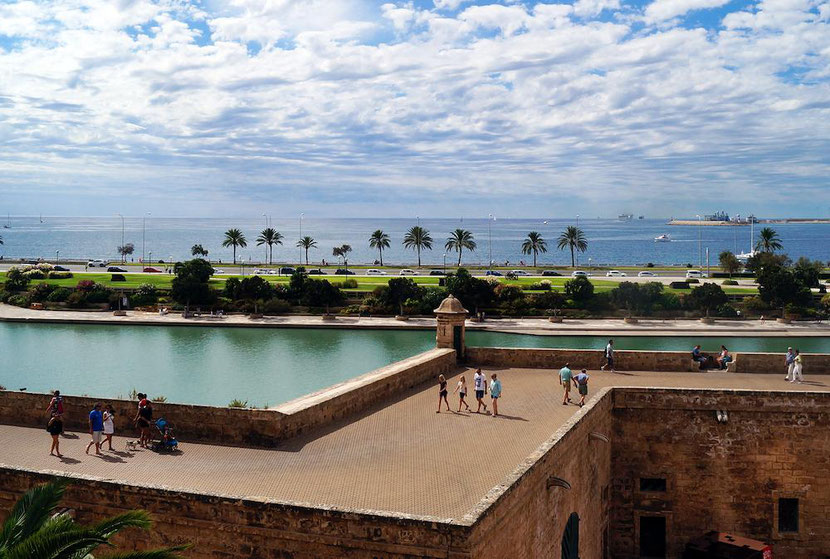 Weather in December in Mallorca
If you want to spend Christmas in a warm place, look no further than Mallorca. Weather in December in Mallorca that reaches 17°C (62.6°F) during the day will allow you to explore the island with pleasant temperatures.
Can you swim or sunbathe in Mallorca in December?
It might be a bit cold to swim in December with an average sea temperature of 16.2°C (61.16°F). However, you can still go to the beach and enjoy sunbathing. Some of the best beaches to visit on the island include Cala Formentor or Es Trenc.
What are the best things to do in Mallorca in December?
There are many amazing things to do in Mallorca regardless of the season. However, winter time can be truly magical in one of the Balearic Islands.
When the Christmas lights switch on in the Palma de Mallorca, the capital of the island looks really beautiful. You will find plenty of Christmas markets or winter activities such as ice skating. Also, celebrating New Year's Eve in Mallorca will be an unforgettable experience.
There are many amazing activities on the island that you can do in the evening. You can visit the Astronomical Observatory of Mallorca and admire stars or watch the sunset at the beach. With plenty of beach bars on the island, you will enjoy the vibrant nightlife in Mallorca.
The best place to stay on the island in December is Palma de Mallorca. The capital of the island offers many amazing activities. On the 24th of December, you can see a spectacular light show on the facade of La Seu Cathedral. This masterpiece of architecture is a must see attraction in Mallorca.
Winter is also a perfect season for Christmas shopping in Palma de Mallorca. There are many luxury stores in the capital of the island such as Louis Vuitton or Escada. The most famous shopping street is Passeig del Born where you can find amazing stores and good restaurants. You can also wander around the narrow streets of Palma de Mallorca and admire this beautiful town.
What to wear in Mallorca in December?
During the day you can wear light clothes such as t-shirts. However, make sure to pack with you some warmer clothes for the evening. The temperature at the end of the day can be as low as 8°C (46.4°F). 
Recommended by Paulina | Ukeveryday 
Funchal, Madeira, Portugal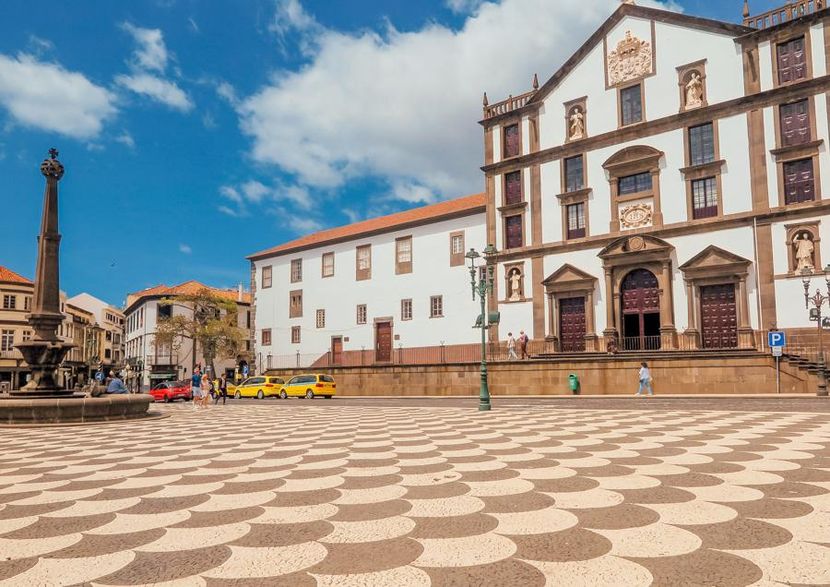 Weather in December in Funchal, Madeira
The Portuguese island of Madeira enjoys a temperate climate all year round. This is evidenced by the lush, tropical vegetation on the island. The capital of Madeira, Funchal, is an ideal destination for a warm and sunny December trip. In fact, it is one of the busiest times for the island's tourist industry. 
The weather will also allow you to explore Madeira's scenic interior or to attempt one of the island's famous levada hiking trails, some of which start on the outskirts of Funchal.
The average December temperatures in Funcal, Madeira are around 19 degrees but pack a jumper for cooler evenings and a raincoat for rainy days.
Can you swim or sunbathe in Funcal, Madeira in December?
You can sunbathe in December but swimming in the sea or in unheated saltwater pools may be chilly. 
Sea temperature in Madeira in December, usually stays at 20 degrees. At the beginning of December, the water temperature is about 20 degrees and at the end of December it is 19 degrees. Most people will find bathing in such water cool, however, if you are hardy enough or you are lucky with the weather, swimming in the sea is quite possible.
What are the best things to do in Funcal, Madeira in December?
The weather is good enough to explore the city on foot and to wander the city's black and white mosaic streets or one of its leafy city centre parks.
Visit the Mercado dos Lavradores (Farmers Market), the Se Cathedral, Church of St John the Evangelist or the Santa Clara Convent, all of which will be busy preparing for the Christmas celebrations. 
Tour the Palheiro Gardens or the Botanical Gardens. And take a stroll along Funchal's marina promenade. Take the cable car to Monte to visit Monte Tropical Gardens, returning to the outskirts of Funchal by the traditional wicker toboggans (Carros de Cestos).
If you get a rainy day, visit CR7 (Cristiano Ronaldo's trophy museum) or Sao Lourenco Palace. Enjoy wine tasting at Blandy's wine lodge or try sugar cane juice at the production factory in nearby Calheta.  
Christmas is a big celebration in Madeira. Funchal's Municipal Garden hosts a fun, Children's Winter Village including Santa's Grotto. There is an outdoor Christmas market and live music events on the central Avenida Arriaga. The city is festooned with lights, decorations and decorated trees. 
However, New Year's Eve is an even bigger celebration. Funchal hosts an enormous fireworks display which, in 2006, was recognised as the world's biggest fireworks display by the Guinness Book of Records. Around 60 stations dotted around the city set off fireworks in an impressive co-ordinated display that lasts approximately eight minutes.
What to wear in Funcal, Madeira in December?
Suppose you plan to combine a beach holiday with outdoor activities - engage in hiking and go on excursions in Madeira. In that case, you need to take -  in addition to a bathing suit - comfortable sneakers, shorts, sweatpants, leggings, a lightweight jacket, a fleece jacket, a windbreaker, and a thermal T-shirt. 
Recommended by Sinead | Map Made Memories
Nice, France
Weather in December in Nice, France
In Nice, located on the French Riviera, the sun shines all year round. In winter, Nice is one of the warmest cities in Europe in winter. While in summer Nice is a favorite destination for tourists from all over the world, in winter it is especially pleasant.
The city has a real microclimate and 2,694 hours of sunshine a year. Even in deep winter the temperature rarely drops below 10 degrees, and the rain usually falls in autumn or spring. 
This city is open to the sea and has an ideal micro-climate (mild temperatures with almost 300 days of good weather per year!). Its average annual temperature is 16°C. It is therefore not uncommon to have lunch in a t-shirt in December. 
Can you swim or sunbathe in Nice, France in December?
The water temperature in Nice in December is +17 degrees. So this is not the time for swimming in the sea. But if the temperature during the day warms up to 15 degrees, you can spend time on the beach and bask in the sun. 
What are the best things to do in Nice, France in December?
What can you do in Nice in December?
- stroll in the old town of Nice and enjoy the heated terraces of the cafés/restaurants
- walk on the 7 km long Promenade des Anglais and admire the blue sea
- go shopping in the small streets of the Old Nice or on the Jean-Médecin street (Zara, H&M, Fnac, etc)
- visit museums (Matisse museum, modern and contemporary art, Chagall, Villa Masséna, Château Grimaldi, Renoir museum,...)
- have a coffee on the Place Massena
- but also take the time to visit the surroundings of Nice and the French Riviera. 
- еhere is an excellent Christmas market in Massena Square in December. I suggest buying various handicrafts dedicated to Christmas holidays. By the way, you can see some good theatrical performances or take a ride on the observation wheel.
What to wear in Nice, France in December?
In Nice in December, it is comfortable to walk, wearing a thin down jacket and insulated sneakers.
Limassol, Cyprus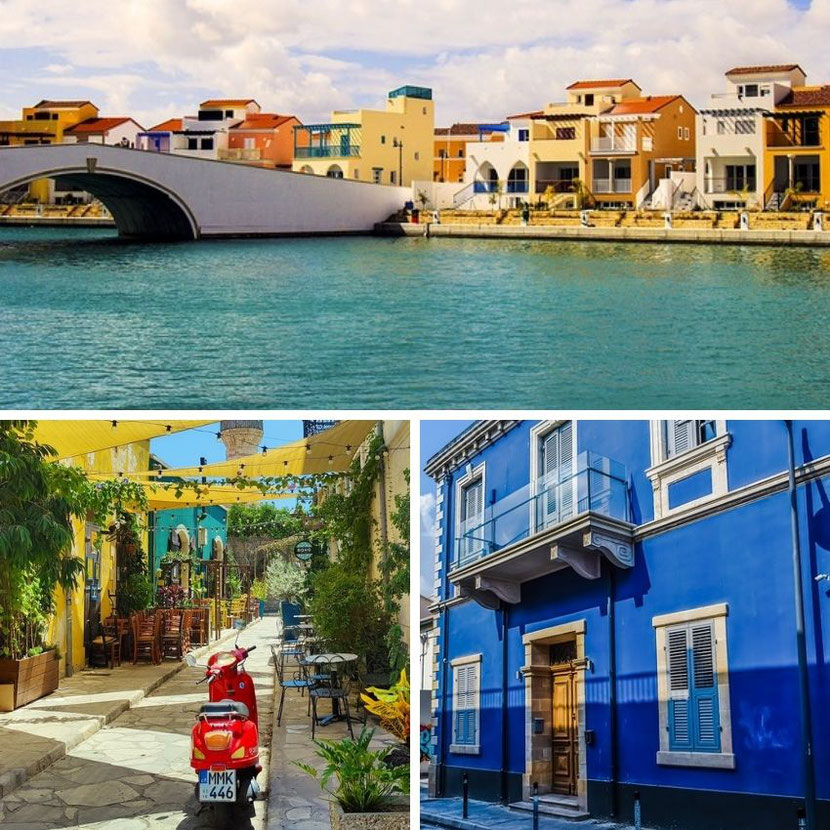 Weather in December in Limassol, Cyprus
Not many countries in Europe stay warm during the winter months; however,  Cyprus  still has pleasant temperatures and is worth visiting if you're looking for a quick getaway that's not too far off and catches some sun in winter.
Cyprus is well connected to most countries in Europe and is quite compact to spend a week or so here.  The best way to get to Cyprus is to fly to the capital Paphos before exploring other parts of the country. 
One of the towns in Cyprus that has perfect weather, delicious traditional food and has some of the best beaches in the country is Limassol. 
In December, Limassol temperatures range from a high of 18 degrees to a low of 9 degrees which is a high of 64 Fahrenheit to a low of 48 Fahrenheit in December.
Can you swim or sunbathe in Limassol, Cyprus in December?
While temperatures may be pleasant during the day, the sea is still quite cold with the temperature of the water around 15 degrees. 
What are the best things to do in Limassol, Cyprus in December?
In December, the town of Limassol hosts a Christmas village and fair in the town. A Christmas wonderland village is also organised from November to January here. 
Most places tend to stay open for visitors in December in Limassol. Some of the things to do here and places to visit are Ancient Kourion, Aphrodite's Rock, Kolossi Castle, Limassol Marina and the promenade. 
Most attractions are free and open throughout the day; however, places like Ancient Kourion are available during a fixed time period and may tend to close early if there aren't many visitors; hence it's best to call and check in advance.
What to wear in Limassol, Cyprus in December?
While it is quite delightful during the day and sometimes may even get a bit warm it is advisable to carry a scarf and a few layers like a cardigan and a light jacket for the evenings as it does tend to get chilly in the evenings, especially when it is windy.  
Recommended by Lavina | Continenthop 
Marbella, Andalucia, Spain
Weather in December in Marbella
Marbella, the city that people around the world know for its beaches and best cocktails, is best to visit in December. The weather in Marbella is sunny around December and has a festive vibe.
If you are looking for sunny and warm places in Europe to visit in December, Marbella makes a great choice.
The city sees an average temperature of 61°- 63°F ( 16℃- 17.2℃) in December and has a nice winter sun that makes it the perfect time to go out. 
Can you swim or sunbathe in Marbella in December?
It is even possible to swim under the warm sun if you have a wet suit. Although the temperatures are around 16℃, the days are sunny enough for a sunbath.
What are the best things to do in Marbella in December?
The city is lively around December as the festive season is around the corner. People celebrate the Christmas holidays and prepare for New Year's eve. The streets are decorated with bright fairy lights and surrounded with choirs of Christmas carols. 
Visitors can enjoy a lot of activities during this time in Marbella. You can start with a golf session at one of Marbella's golf courses. You can enjoy breathtaking views during the activity. After that, you can have a wonderful walk enjoying the promenade. Marbella has around 10 miles of the promenade. You can even relish it while riding a bicycle during the sunset. You might even find a lot of terraces along the way where you can take a break and enjoy the panoramic view. 
Travelers who would like to witness the festive side of the city should not miss exploring Plaza de Los Naranjos. The plaza is filled with orange trees that are loaded with fresh fruits during this time. The next must-do activity to enjoy the Christmas spirit is strolling around the historic center. The area enjoys Christmas lights and traditional chestnuts. 
You can also join the gathering at beaches to sing Christmas carols. 
What to wear in Marbella in December?
You can pack a light jacket or fleece and pants or jeans for bottom wear. Also, pack extra socks as it may get chilly at night. If wondering where to stay in Marbella, you can consider Hotel San Cristobal for a peaceful experience. 
Recommended by Paulina | Visitsouthernspain 
Valletta, Malta
Weather in December in Valletta, Malta
If you're looking for a warm and sunny European city to visit in December, it is difficult to overlook Malta's beautiful capital city of Valletta. 
Valletta is the smallest capital city within the European Union but what it lacks in size, it certainly makes up for in history, culture and truly remarkable architecture. The entire city of Valletta is a UNESCO World Heritage Site, thanks largely in part to the uniqueness of the city's architecture.
Nowadays however, Valletta has become a favourite European destination for those looking to escape the cold and head out for a warm European city break.  
The average temperature in Valletta in December sees a high of 17°/62°F and it regularly exceeds this throughout the winter. This makes it warm enough to explore in December without having to worry about being cold. 
Can you swim or sunbathe in Valletta, Malta in December?
While it is possible to swim directly in the bay of Valletta (this being a popular venture in the summer), there are unfortunately very few typical sandy beaches in Valletta itself. Instead, people often take the short bus ride to Mellieha Bay where there is a beautiful white, sandy beach. 

What are the best things to do in Valletta, Malta in December?
December is also the month when the annual Malta International Christmas Festival is held. A number of international and local folk bands and musicians play in a variety of venues across the city - it contributes to the lovely festive atmosphere of Valletta in December. 
When in Valletta, you have to make sure to see the famous Saluting Battery ceremony. Held twice daily throughout December (Midday and 4pm) in the Upper Barrakka Gardens, the battery is a ceremonial firing of a large cannon across Valletta Harbour and has been used as a traditional welcome to ships and visitors to the city for centuries. 
Visitors to Valletta in December should be sure to pay a visit to the nearby neighbouring island of Gozo, which is home to a number of spectacularly beautiful sandy beaches and some of the best scuba-diving conditions in the world. 
Valletta really does have something for everybody and it is easy to see why it is such a popular European city to visit in December. 
What to wear in Valletta, Malta in December?
It's still pretty warm throughout the day so shorts, t-shirts and summer dresses are appropriate. With that being said, in the evenings it can get a little chillier so when you are considering what to pack when visiting Malta, bringing something to keep yourself warm for the cooler evenings is a good idea.

Recommended by Ben | Ticket4twoplease
Granada, Spain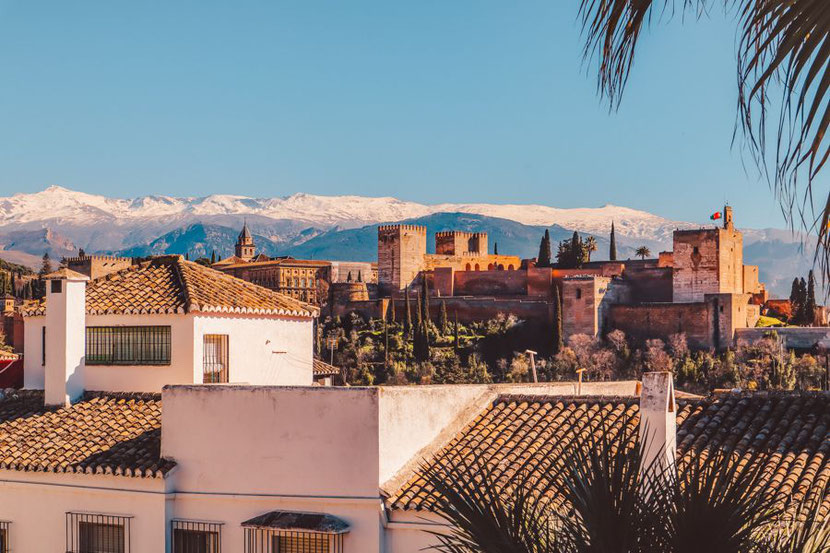 Weather in December in Granada, Spain
If you're looking for a warm-weather destination in December, Granada in the Southern Spain is a great choice. Granada is located in the south of Europe, in the warm and sunny region of Andalusia in the deep south of Spain. Its historical riches and stunning architecture will keep you entertained for days, while the winter weather is mild enough to leave your coat in your hotel room and wander around wearing just a warm sweater. 
The city temperatures average around 14 degrees Celsius (57 degrees Fahrenheit) in December and it feels much warmer during the many sunny days you'll experience in Andalusia, making it perfect weather to explore the city's charming streets and nearby Sierra de Nevada Mountains.
Can you swim or sunbathe in Granada in December?
In Granada itself there is no beach, but you can go to the sea coast, which is 60 km from the city. The weather there is much warmer than in Granada and you can sunbathe even in December. So be sure to bring a swimsuit if you want to relax on the beach. 
What are the best things to do in Granada in December?
There are plenty of things to do in Granada in December or any time of the year. The city's famous UNESCO listed Alhambra Palace is one of the most popular tourist destinations in Spain and is definitely worth a visit.
Other top attractions include the Cathedral of Granada, the Royal Chapel, and the old Arab bathhouse. During the low season, in December, amount of visitors drops significantly and you'll get to enjoy them without the usual crowds.
One of the best things to do in Granada is strolling around the Albacin neighbourhood. It's the oldest part of Granada - even older than the Alhambra palaces - and it has the most charming streets you could wish for. As it is located on a hilltop, you'll have to be prepared for some climbing. But the cobblestoned streets, the charming squares and beautiful monuments are definitely worth it.
Make sure to make a stop at one or two of the viewpoints as well. As Albacin is facing the Alhambra palace complex, this is where you'll have the best view of this famous UNESCO site.
If you don't mind enjoying some snow during your sunny Granada city trip, you might want to consider a one-day ski trip to the Sierra de Nevada. You can see the snowy mountaintops from almost every angle of the city and they are the best-known ski area in Spain.
What to wear in Granada in December?
December in Granada is warm and sunny. At lunchtime you can walk around in a sweater or a hoodie, but in the evening or morning you will need a padded jacket. For a winter vacation in Granada you should also better put in a scarf and comfortable shoes. Those who intend to vacation in a ski resort should take to Granada appropriate clothing for skiing.
Recommended by Maartje & Sebastiaan - The Orange Backpack