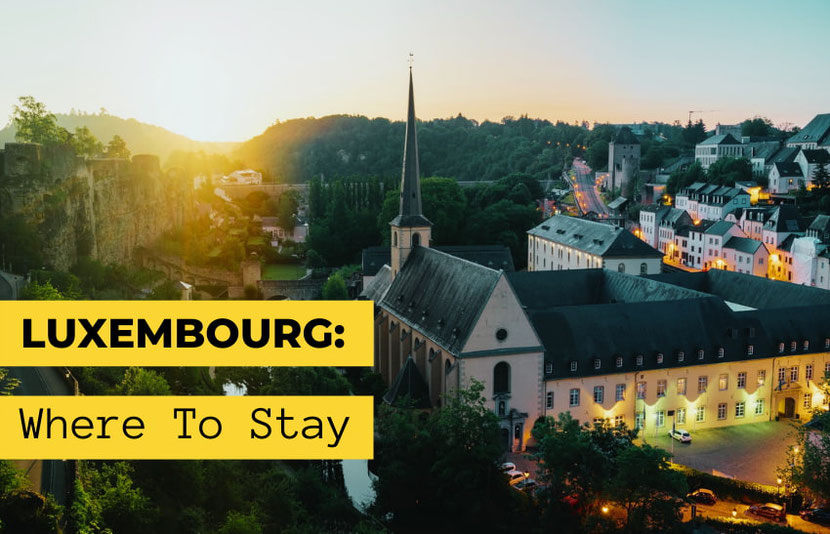 Luxembourg is a tiny country with only 2500 km² and roughly 600.000 residents. But as the saying goes: "size doesn't matter." And that is absolutely true for Luxembourg.
Despite its size, the country has so much to offer in terms of cultural highlights, beautiful landscapes, and fantastic food.
Dive into this underrated holiday destination and find out where to stay in Luxembourg country and city.
1. Where to stay in Luxembourg city?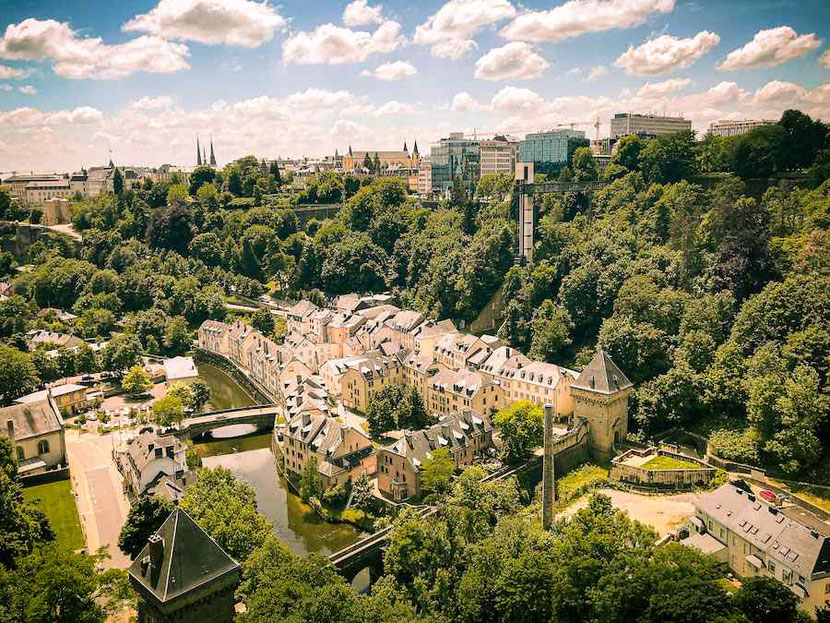 The capital city of Luxembourg, with its approximately 119.000 inhabitants, is officially divided into 24 districts.
But these can be regrouped for the sake of this article into five bigger sections:
● Luxembourg City Center or "Ville Haute"
Luxembourg's city center is at the same time the heart of the historic district. It's one of the most beautiful Luxembourg districts. 
It's here that you will find: 
 - centuries-old buildings, 
 - the Grand Duke's magnificent palace (though it's only for formal things, his residence is elsewhere),
-  an enormous shopping boulevard (for a certain budget-level, think: Gucci, Louboutin, Armani, and such)
- and two squares full of cafés and restaurants.
The main square is the "Place Guillaume II" called "Knuedler" by the locals.
From there, you can easily walk past the Grand Duke's Palace to get to one of the oldest parts of the city with cute-looking facades and narrow streets, all the way down to the ancient fish market where you will now find the National Museum of History and Art. The latter has been renovated a few years ago and holds impressive collections of archaeological artifacts, paintings, and interactive displays of Luxembourg's history.
In my totally unbiased opinion – ok, not unbiased because I'm an archaeologist in Luxembourg and so this museum literally shows the results of our work – it's absolutely worth checking out, whether you're a history-nerd or not.
The "Place Guillaume II" is where the Luxembourg City Hall, built in 1838, is located. The name "Knuedler" comes from the fact that there used to be a Franciscan Monastery on that exact location – "Knuedler" meaning "knot" related to the knot the monks made to tie their robes. 
Place Guillaume II area is the best area to stay in Luxembourg city. 
The second main square, the "Place d'Armes," is located to the Northwest of the Knuedler and is my favourite place to be during the hot summer months. I love quaint cafés and restaurants surrounding the square with a kiosk in its midst where musicians perform on a regular basis, entertaining the numerous visitors.
It's also here you will find the majority of wooden stalls during the Christmas Market – that's a must-do if you visit Luxembourg in December.
The best budget places to stay in the Old town of Luxembourg are City Hotel Luxembourg and Key Inn Appart Hotel Parc de Merl. 
The best mid-range hotel is Mama Shelter Luxembourg. 
The best luxury hotel is Hotel Le Place d'Armes.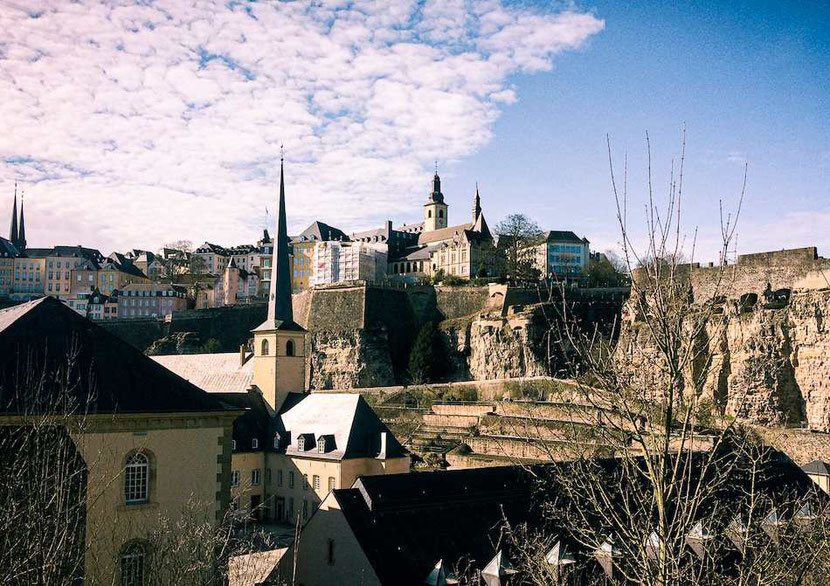 ● The "Unterstadt" and Pétrusse-Valley
The Pétrusse-river flows through what is commonly referred to as the "Unterstadt," the lower part of town.
This is where you will find several public parks with recreational and green areas, perfect for walking tours. Because cars aren't allowed in that valley, it is the perfect area to escape from hectic traffic of busy workers.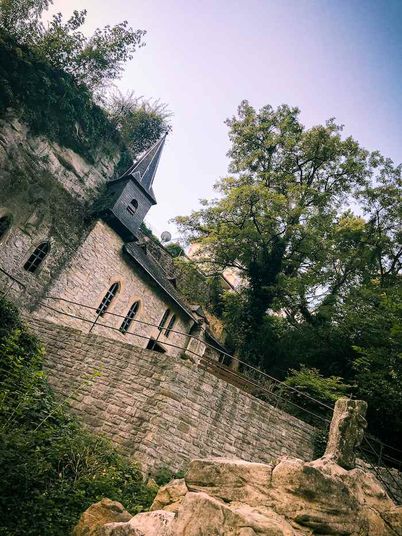 Insider-tip: check out the peculiar and slightly hidden Quirinus-chapel from the 14th century on the left when entering the valley from St Ulric-street. 
● The Alzette-Valley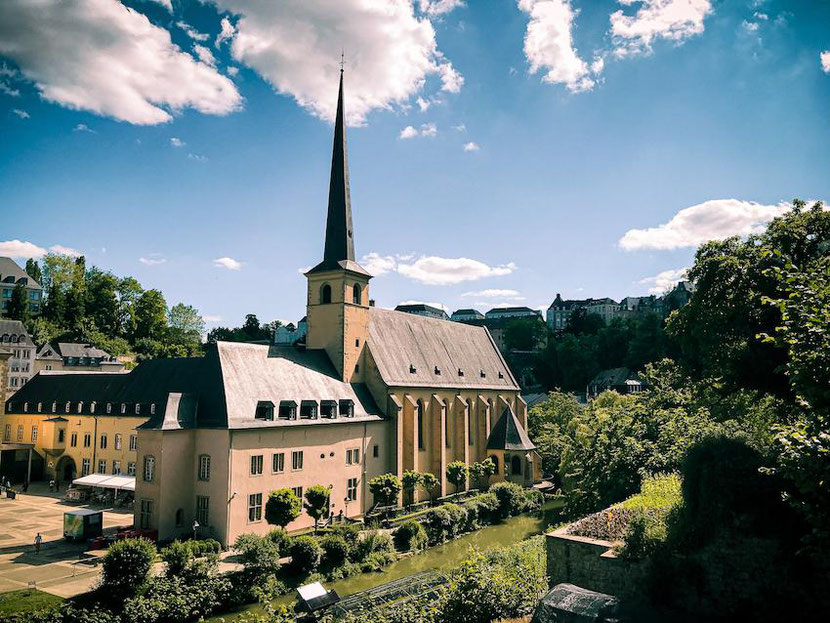 Northeast of the Pétrusse is another valley named after a river: the Alzette.
This is actually my favorite part of Luxembourg city and comprises the districts of Grund, Clausen, and Pfaffenthal.
It is full of beautiful historic buildings, remnants of the old fortress that once surrounded the city, and the coolest restaurants, bars, and pubs if you want to relax and enjoy some good food (check out Scott's Pub with its gorgeous terrace along the Alzette).
In the Northern part of the Alzette-Valley, you will find the impressive Neumünster Abbey built in 1606 that currently houses a cultural center regularly organizing art exhibitions and concerts. Strolling around that abbey is a particular experience as you get the impression of not being anywhere near a city anymore.
For a bit of knowledge and general culture, head to the Museum of Natural History right next to the abbey: the whole setting has been renovated a few years ago, making it a fascinating and didactical museum with lots of fun interactive things to do.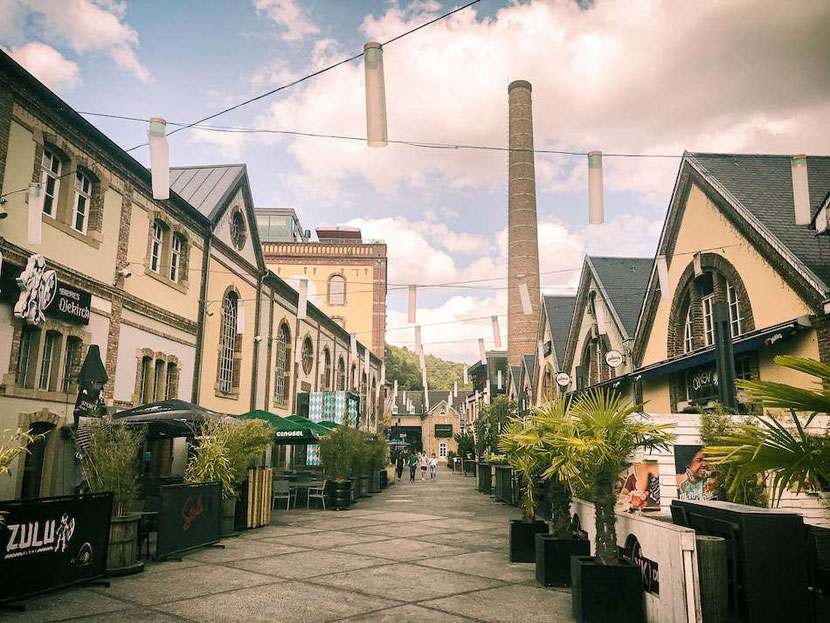 Continuing Northeast of the abbey, the streets will lead you to the "Rives de Clausen," a 19th-century industrial area with buildings from the old Mousel-Bier brewery – a brewery making beer again 2008.
During the day, it's a relaxing area with several restaurants and cafés, but at night, it turns into a rather loud nightclub.
If it's partying you're seeking, you should visit the Rives de Clausen at night.
If you prefer a quiet beer on a terrace in an old-industrial setting: visit during the day.
Both valleys form the lower part of the town. To get there, you can take one of the several elevators that bring you from the upper city down to either the Grund or the Pfaffenthal.
● Kirchberg
It is not so much an area for vacation-style stays in Luxembourg as this is where the business thrives. 
It means that you will find plenty of head offices of big companies, banks, and other financial institutions here.
It is the district you will want to visit if you intend to experience some cultural events, though. Cinemas, concert halls (the Philharmonics), and event centers (the "Coque") are very particular architectural jewels located in this area, surrounded by very modern, trendy, and tasty restaurants.
It is also here that the "European quarter" (with both the EU commission and parliament) is located, and it might be worth checking the area out.
It's quite easy to get here even without a car by using the funicular that takes you from down the Grund up to the Kirchberg. Once you arrive there, the tramway drives up and down all the way. It is thus possible to take a tram from here and continue down to the historic city.
One of the best hotels in Luxembourg Kirchberg area is Novotel Luxembourg Kirchberg.
● "Garer Quartier" – railway station district
Like every bigger city, Luxembourg also has a railway station district, and it's also the area you want to avoid during the night.
During the daytime, it is absolutely possible and even advisable to check out this part of Luxembourg representing the "newer history" of the 18th-19th century, outside of the medieval city.
Many very hip restaurants, cafés, and shops have settled here, and it's also a central point to visit other parts of the country due to the train departing here.
At night, it's not that safe anymore. Still a lot safer than many other cities in Europe, granted, but
the "Garer Quartier" does have many problems linked to drug activity and prostitution (read more about that below).
2. Where to stay in Luxembourg city for your first time?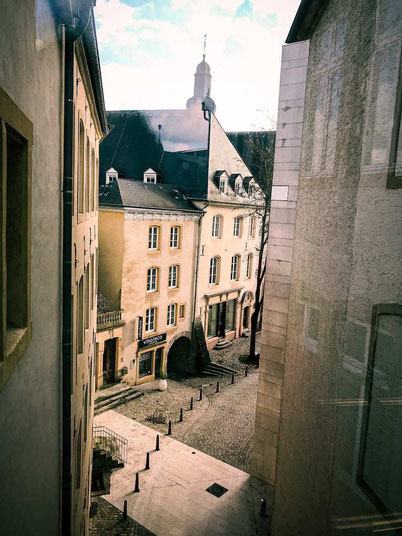 For your very first visit, you should look for accommodations close to Place Guillaume II.
It is the beating heart of the historic city after all and thanks to a good network of bus lines, the perfect starting point to get to other corners of Luxembourg City as well.
The panoramic elevator on the North side of Place Guillaume II brings you down to the Pfaffenthal, and the one located on the St Esprit-plateau will get you to the other side of the lower valley, the Grund.
Both are easily accessible by foot from this central point. 
If your budget is tight, look for accommodations in the district around the "Limpertsberg."
It is still possible to get to the center on foot, and there are several stations of the practically brand-new tramway all around.
3. Luxembourg red light district
The Luxembourg red light area is located in the already mentioned railway station district.
During the day, it's absolutely safe to walk around because all of the 'dark' bars and establishments are closed.
There is actually a bruising shopping mile (with more affordable options than in the historical center) in the street right next to said red-light district and lots of cool cafés and restaurants to check out. 
It's better to avoid this area at night. 
4. Where to stay in Luxembourg country?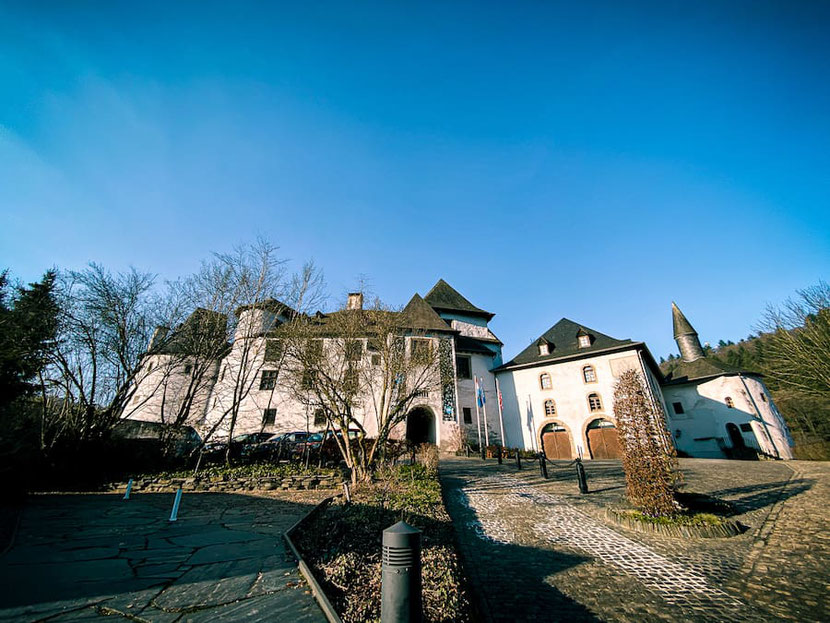 While the country is small and you can easily cross it entirely from the Northernmost point all the way down South in less than two hours by car, it is advisable to choose at least two different points when staying in Luxembourg country.
If you only have time to visit the capital and its surroundings, that's of course where you should stay. Bear in mind, though, that the accommodation prices here are at the highest for the whole country. 
For something more central, if you plan on going on hikes and enjoy nature, the area around Diekirch is where you should look.
On that central part of the country, you could also head further East, towards Germany, for a jump back in time by staying in the charming medieval town of Vianden.
It is also where you will find Luxembourg's national pride, the "Vianden castle." 
The best place to stay in Vianden is Hôtel - Restaurant "Victor Hugo". 
If you plan on checking out the more rural part of Luxembourg with less dense urbanization, Clervaux is my favorite.
And if hiking is your thing (read below), look for accommodations in and around the Mullerthal, also called Luxembourg's "Little Switzerland" due to the green and hilly landscapes.
The best place to stay in Clervaux is Le Clervaux Boutique Hotel & Spa. 
5. What if you look for unique places to stay in Luxembourg?
If you're looking for a memorable experience, book one of the unique places to stay in Luxembourg. One of such places is Péitche Lauer.
How about sleeping in a mushroom? 
Péitche Lauer is a beautiful place where you can spend the night in a truly unique accommodation - a mushroom!
The MushRooms at Péitche Lauer are designed to be both comfortable and impressive, constructed out of wood from the local beech woods. With modern and cozy furnishings, you're sure to have a relaxing and memorable stay. In fact, the MushRooms were even awarded the Luxembourgish Prize of Rural Tourism in 2019!
And the location couldn't be better - nestled in nature and just a stone's throw away from a beautiful river. 
Whether you've spent the day hiking or cycling, Péitche Lauer is the perfect place to spend a restful night on the edge of the river. Click here for more information and photos of this cool place.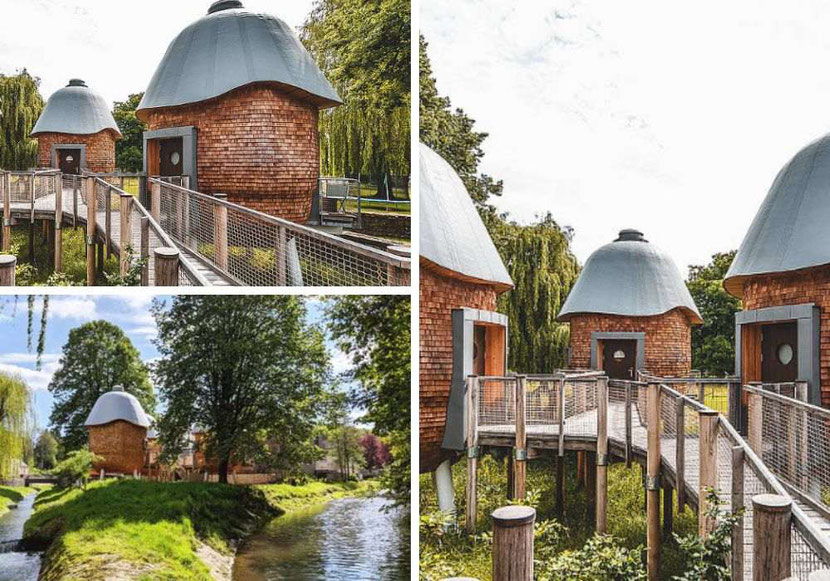 I recently discovered a wonderful place to stay in Luxembourg called Leaf Du Nord. The cozy wooden cabins are shaped like leaves and located in a fairytale-like setting by the river. For those who enjoy camping, Leaf Du Nord provides a variety of camping spots as well.  
The atmosphere is amazing, and the whole family together with children can have fun there. I really appreciate the addition of the food options and the beautiful view - it truly elevates the overall experience!  
Staying in one of the "Leaves" is a unique experience that I highly recommend.
This hidden gem is peaceful and beautiful. 
The park area and river access make it perfect for outdoor activities like paddling and fishing. Click here to view more photos of this amazing accommodation.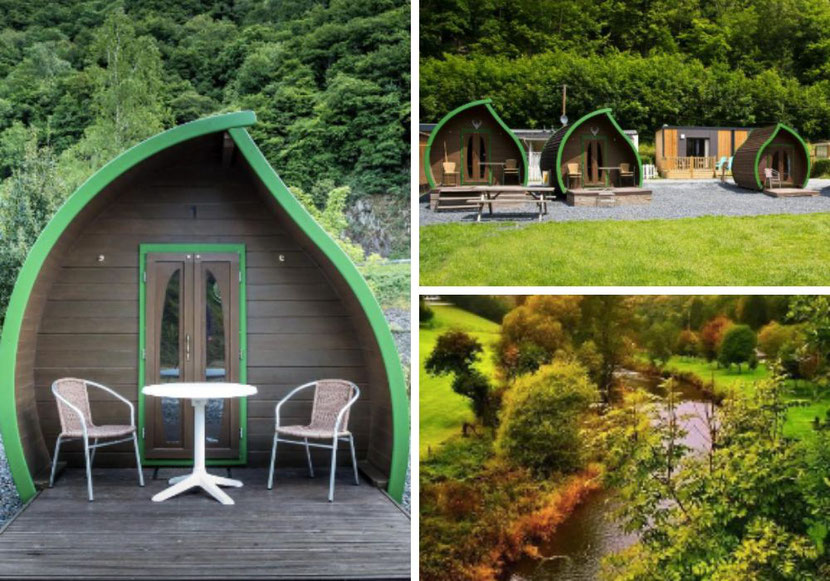 6. Where to stay in Luxembourg if you love culture, museums, shopping, and cool restaurants?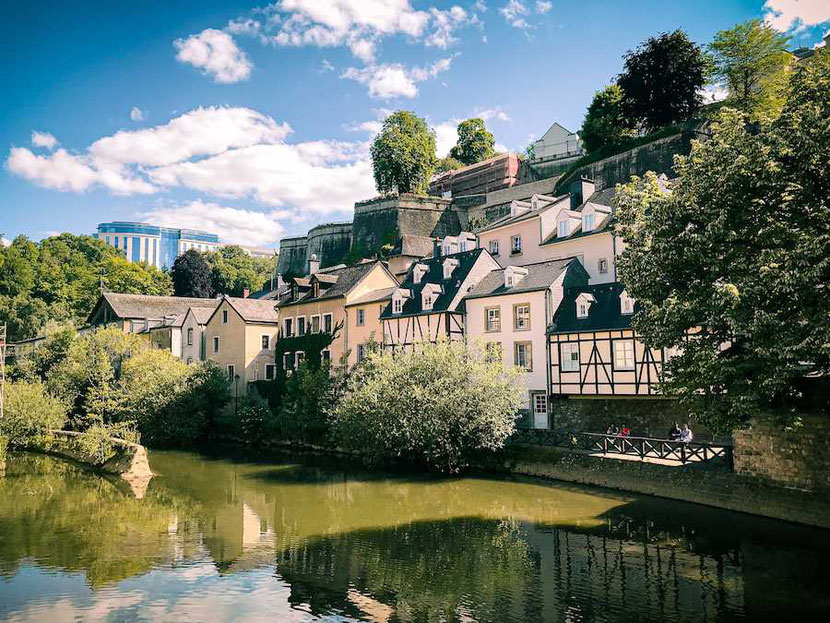 For these kinds of experiences, you obviously want to stay in the capital city. Although the Clervaux, as mentioned above, also offers a few must-see museums like "The Family of Man."
This photographic exhibition started in the MoMa in New York in the 1950s, traveled all around the world before settling definitely in the castle of Clervaux. The photographer Edward Steichen was born in Luxembourg and migrated to the USA, but his legacy lives on in his birth country.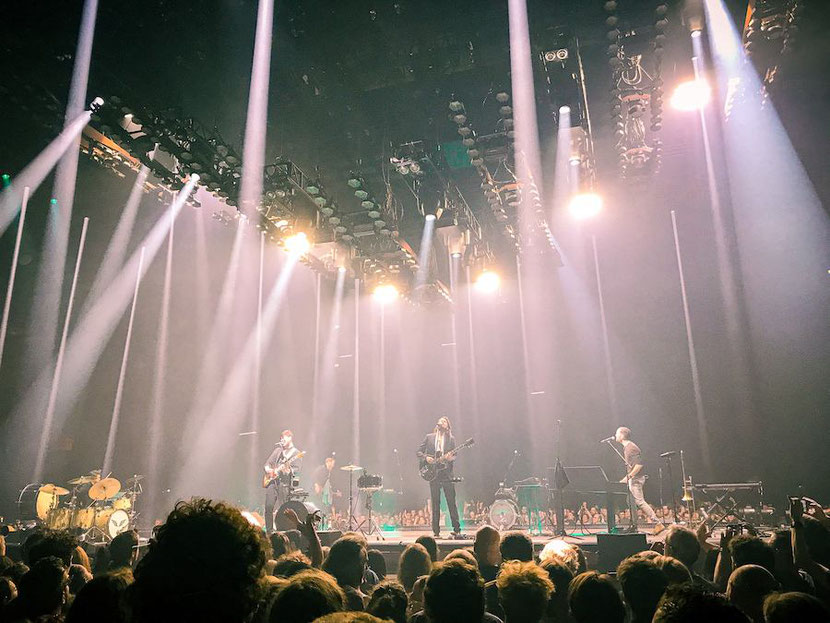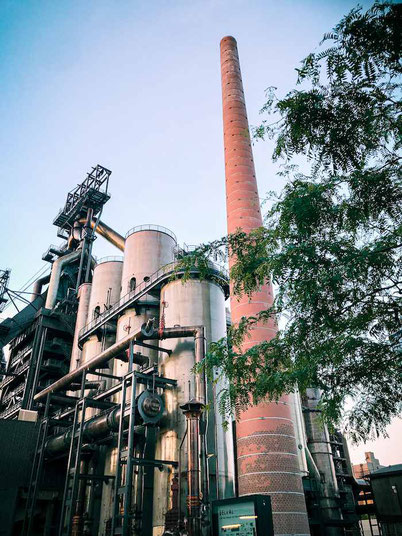 Jumping to the other side of the country, Esch-sur-Alzette in the South is also a pretty exciting place to be.
The second biggest city in Luxembourg, it's the former industrial zone that actually made Luxembourg's wealth (nope, it's not the banks like most people think) through an important metal-extraction activity. 
Where these metal factories once thrived is now the so-called "Belval"-district, THE spot for music-lovers.
When performing in Luxembourg, every artist with name and fame does so in the "Rockhal" in Belval's center.
7. Where to stay in Luxembourg if you travel with kids?
The North of Luxembourg has several open-air museums specially designed for kids, such as the "Robbesschéier" about the rural life in Luxembourg two centuries ago with interactive workshops and surrounded by 6 hectares of nature.
In the same area lies the "Aqua Nat'Our," an adventure swimming park with indoor and outdoor fun.
I already mentioned Vianden to stay at for some medieval flair. It is easily combinable with a holiday with kids: Castle Vianden has a brand-new interactive exhibition that is very well done focusing on the little ones. Vianden also has the only chair-lift in Luxembourg, and I remember adoring riding this thing all the way to a spectacular viewpoint as a kid. 
Still in the North, Clervaux also has a fabulous museum entirely dedicated to toys!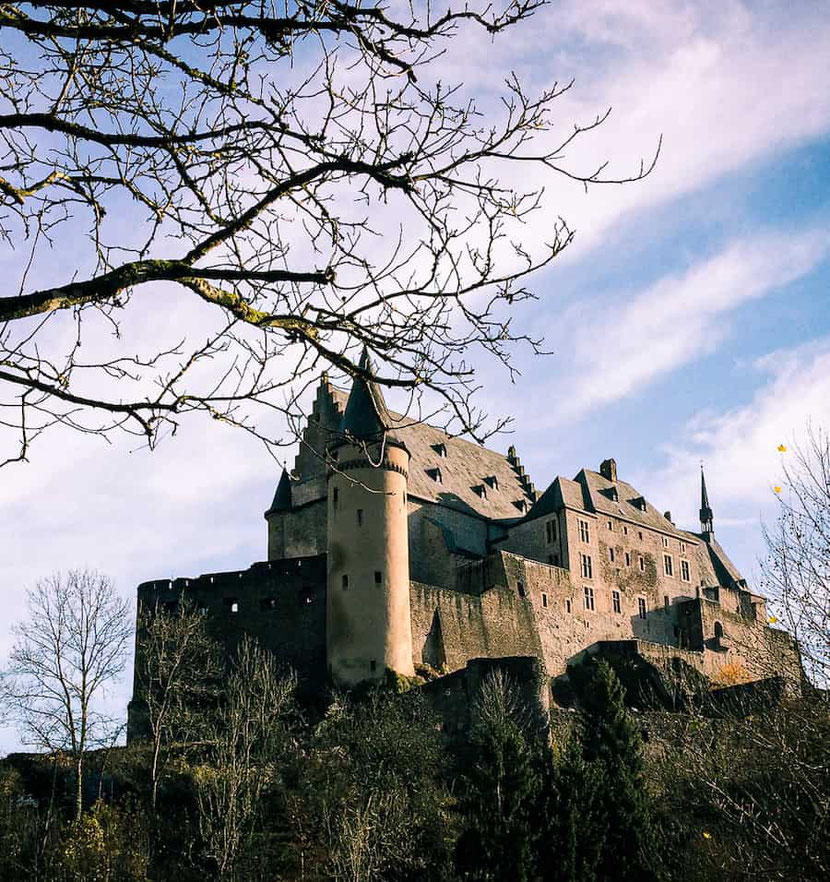 In central Luxembourg, the Mullterthal-region I already mentioned offers several outdoor activities and organized workshops during the summer months at the "Heringer Millen" (btw: one of my favorite restaurants in that area). 
There are also plenty of things to do and visit with little ones in the capital city such as the "Casemates du Bock" (how cool is it to explore underground caves and tunnels underneath a city?) or the Museum of Natural History. 
And for the South, head to the "Parc Merveilleux Bettembourg" which is basically a giant outdoor playground and zoo that kids will love. There are also indoor playgrounds because the weather in Luxembourg during summer can be pretty unpredictable.
8. Where to stay in Luxembourg if you are traveling for business?
The Kirchberg, obviously.
It's here that business is handled. And it's also here that you will find the largest concentration of transportation means to get to other parts of the city. 
It's also very easy and fast (approximately 10 minutes) to get to Luxembourg's international airport "Findel" from this area.
The best place to stay in Luxembourg if you come here for business is Sofitel Luxembourg Europe. 
9. Where to stay in Luxembourg if you love castles?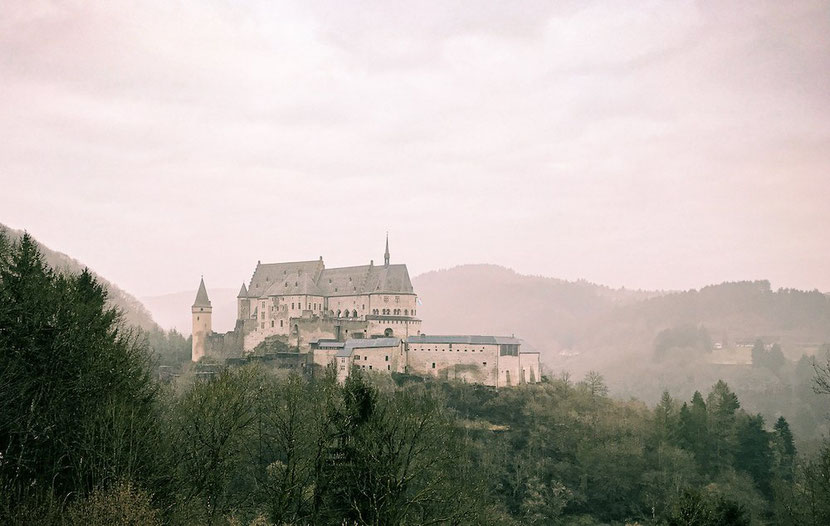 I think I mentioned Vianden quite a few times already. But this is just the most prestigious castle in Luxembourg due to the amount of money that went into its restauration. It's their little jewel.
But there are so many other castles to visit in this small country.
Luxembourg's neutrality during the world wars contributed to so many castles still standing. The country hasn't been bombed as heavily as its neighbors.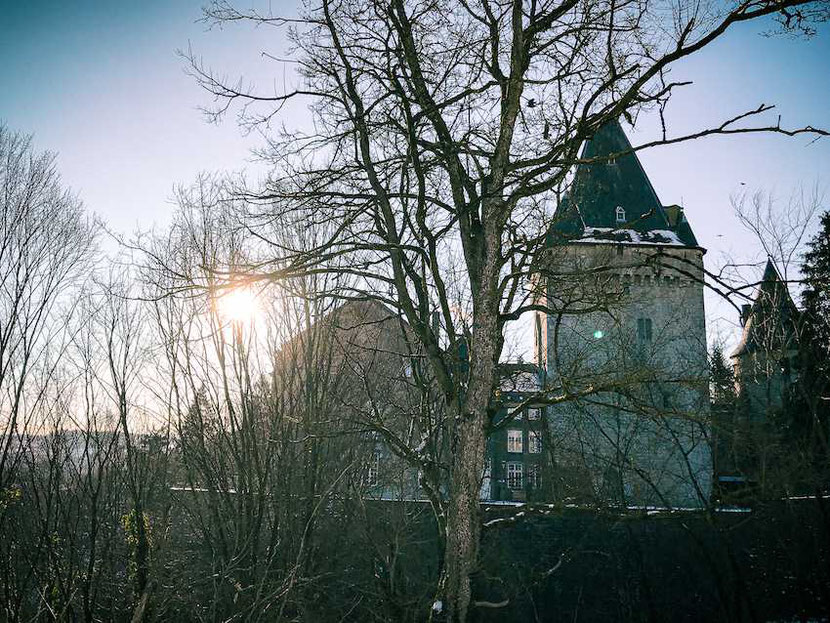 For the highest density of castles, look for accommodation in the area called "la vallée des sept châteaux" – literally meaning "the valley of the seven castles."
Like the name suggests, seven castles lie along the river Eisch on a line of barely 40 km: Koerich, Septfontaines, Ansemboug, Hollenfels, Schoenfels, and Mersch. All of them are surrounded by quaint little towns in the typically Luxembourgish style.
Some of them are regularly used as wedding-setting, and it's easy to see why.
10. Where to stay in Luxembourg if you want to go hiking?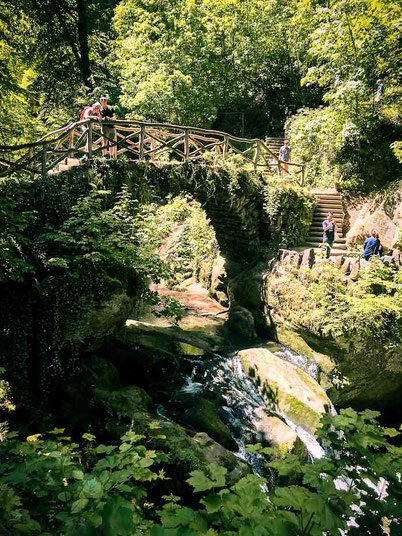 Definitely head towards the Mullerthal; it's here that all avid hikers come to.
The Mullerthal-Region offers a wide range of hiking spots with trails for every level.
But the North can be an option, too, as you are very close to the Belgian Ardennes, known for a bit of up and down hills for more challenging hikes.
11. Where to stay in Luxembourg if you want to relax: Luxembourg Spa Hotels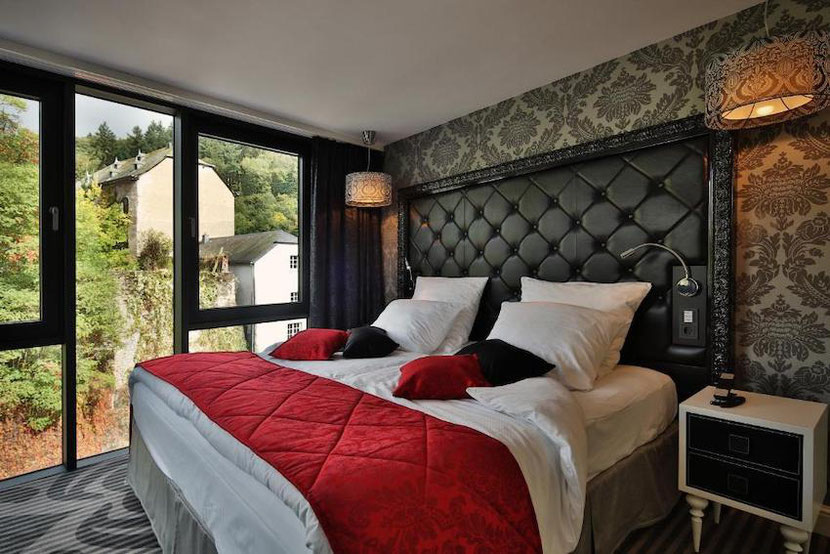 Image courtesy of Le Clervaux
Luxembourg Spa Hotels are fantastic! There are several options for wellness and such in the whole country. In the North, you might want to check out Le Clervaux, a boutique and wellness hotel in the already mentioned medieval town of the same name. 
Le Clervaux is one of the best luxury hotels in Luxembourg. 
If you are looking for a hotel in Luxembourg with SPA, Le Clervaux will delight you. It has everything for a relaxing and romantic stay: luxury bedrooms with sensual beds, a spa and wellness center, an indoor swimming pool, a sauna, and a massage package. 
This hotel is perfect for a date, a romantic getaway, or a marriage anniversary celebration. 
Click here to check the availability of the hotel Le Clervaux and current rates.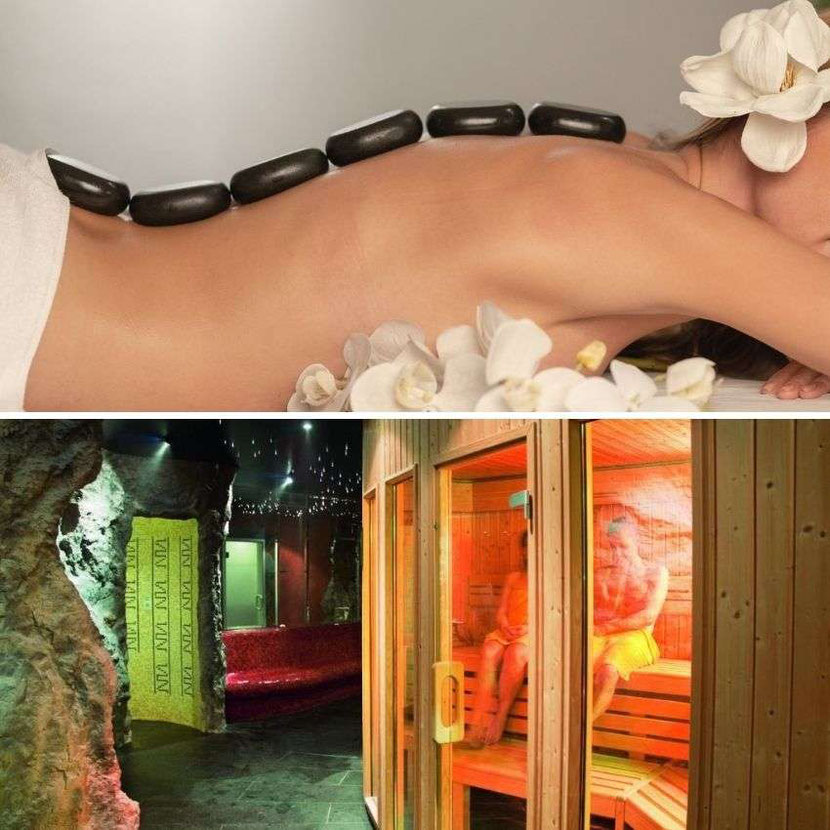 At a stone-throw from Clervaux is another beautifully renovated castle, the Château d'Urspelt, which is also a boutique hotel with wellness options. 
It features a SPA zone with NUXE luxury natural cosmetics, an open-air swimming pool with a lounge zone, a hammam, saunas, a jacuzzi, a fitness center, the magnificent "Red Cavern" pool, a salt wall, and a floatation SPA capsule. Access to the wellness area is only 60 Euros per person. 
Their restaurant is sublime, and the location is just dreamy for weddings. 
Urspelt Castle is an ideal place for a romantic weekend. Your second half will appreciate it for sure, and you are guaranteed to relax here and recharge your batteries. 
Click here for more photos and information about the Urspelt Castle.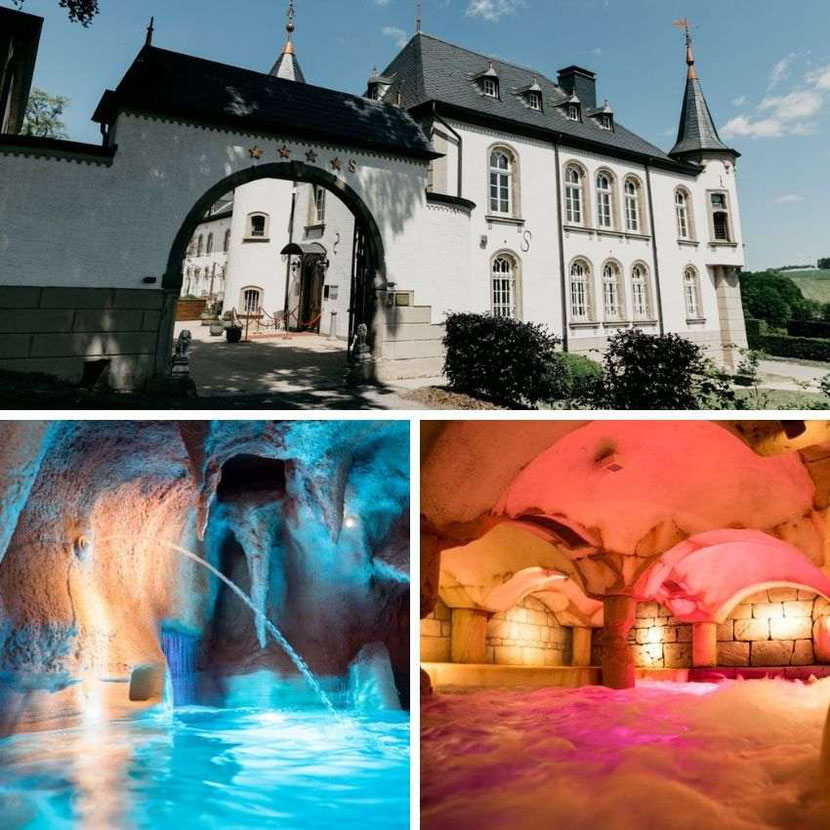 Photo credit: Chateau d'Urspelt
The South is quite famous for the thermal park Mondorf-Les-Bains near the borders with France, a luxurious thermal wellness complex with several hotels built on the location of a natural salt-water source discovered during the 19th century. 
Mondorf Parc Hotel is a top spa hotel in Luxembourg that is a part of Mondorf Domaine Thermal. This wellness center is really huge and is considered one of the largest in Europe. 
It features multiple thermal pools with a pleasant temperature of 36 degrees, 18 types of saunas and steam rooms, hammams, and a jacuzzi. The thermal water of Mondorf Domaine Thermal is famous for its healing properties. It relaxes muscles, improved blood circulation, and gives relief from pain and inflammations.
The large quantity of mineral salts in the water has a positive influence on our wellbeing and health. You can also select a special package for your needs: rheumatism cure, obesity cure, liver & digestion system cure, respiratory cure, and lymph-venous stasis cure. The customized programs were developed by different doctors,  nutritionists, dietitians, physiotherapists.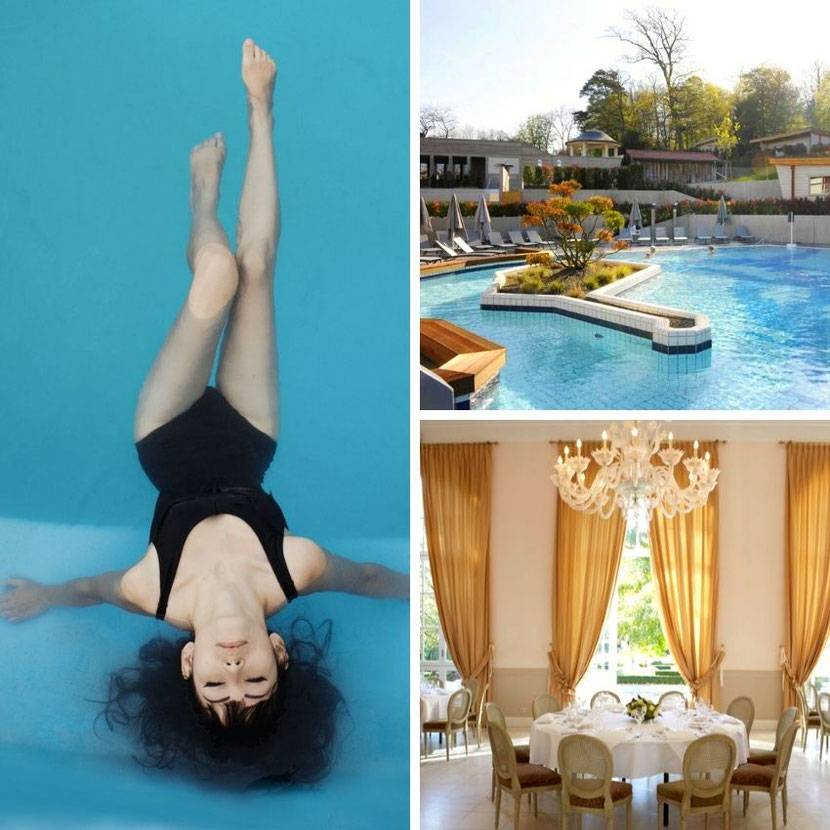 Photo: Mondorf Parc Hotel
Mondorf Parc Hotel is one of the best wellness hotels in Luxembourg, and if you choose to spend your holidays here, you are guaranteed to receive excellent service from true professionals. 
Click here to view more photos and check the prices of Mondorf Parc Hotel. 
Spa in Luxembourg is something unique you need to experience at least once in your life. Villa Welcome will be another great choice for this, as it is also located in Mondorf Thermal Domain Spa but offers a more private, exclusive, and secluded stay. 
From here, to the Southeast, you will find another spa hotel Luxembourg that is quite renowned: Hotel Domaine de la Forêt in Remich, along the Moselle-river, very famous for its excellent white wines.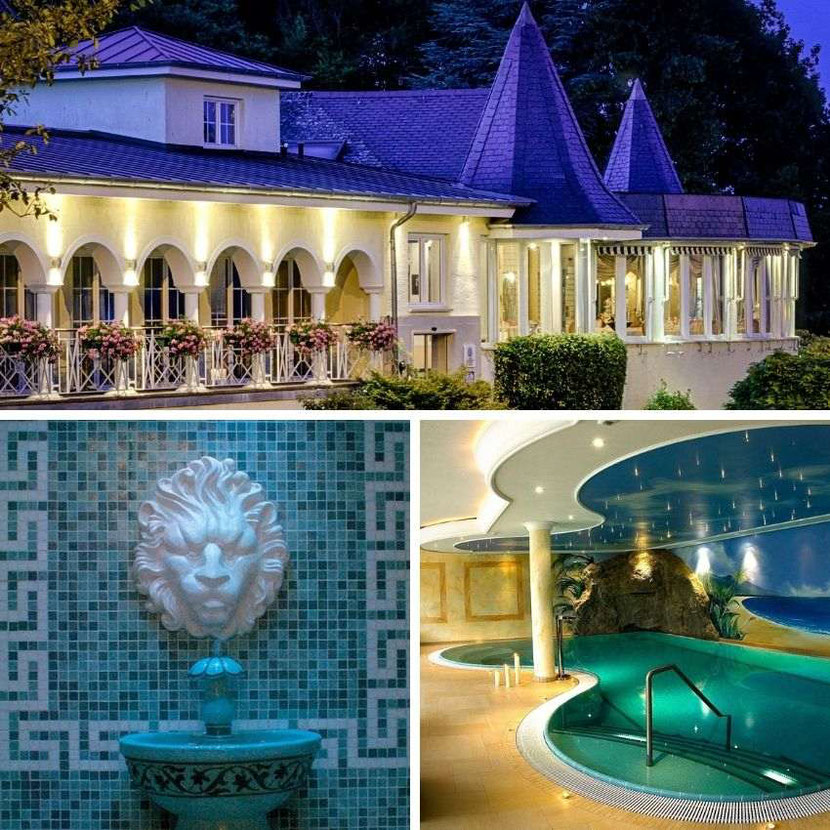 Images courtesy of Domaine de la Forêt
Final words...
You see, despite its smaller size, the country of Luxembourg is multifaceted, and the scenery, culture, and activities change from one side to the other.
As I already indicated, though, accommodation prices, in general, are also very varied.
There is just a huge difference between the more populated and urbanized South versus the country's rural North.
You should definitely check out both sides if you travel to Luxembourg.
It's my second home country, and I can only say good things about it.
---
PIN IT: 
---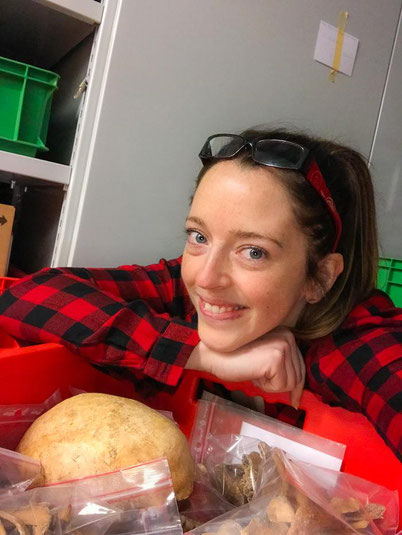 ABOUT THE AUTHOR
Cynthia is a a travel blogger @ The Marvelous Travelers and a 33-year-old archaeologist originally from Belgium living in Luxembourg.
Travelling became a challenge for her when she was diagnosed with Ulcerative Colitis in 2010, an inflammatory bowel disease that requires quite heavy medication. Because of a fighter-spirit (or stubborn head), she never let go of the dream of travelling the earth despite the struggles and in 2020 she did a year-long world trip with her boyfriend. She started a blog that same year in the hope to inspire others who struggle with whatever health issues and show them that there is always a way. 
Follow Cynthia on Instagram @themarveloustravelers
---