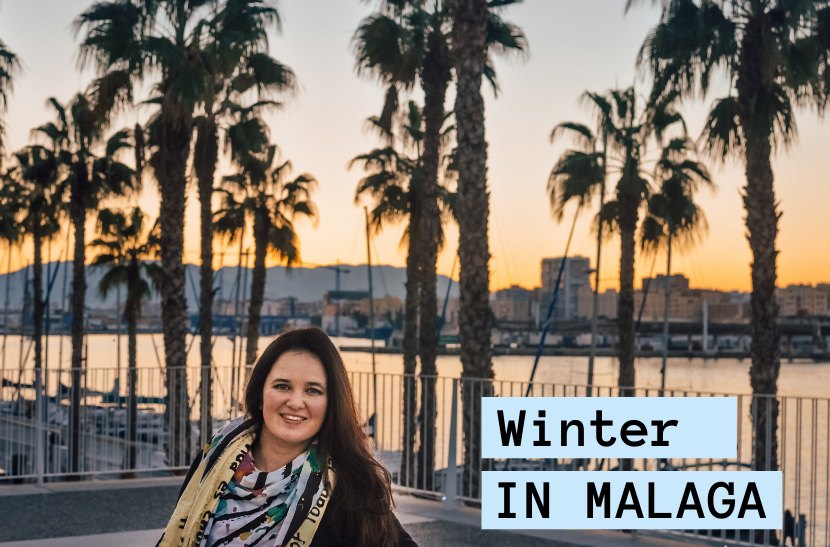 Home to the genius Pablo Picasso and Hollywood star Antonio Banderas, the eclectic city of Malaga attracts people from all over the world all year round. Is Malaga worth visiting in winter? Of course! I visited Malaga two times, and both were in winter. The first time I spent a week in Malaga in February, and the second time I came at the end of December for Christmas and New Year's Eve and spent the whole month till the end of January. So, I experienced a winter in Malaga on maximum. And it was a fantastic vacation! 
It is believed that winter in Malaga is the low season. Yes, there are fewer tourists in winter than in summer, but this does not mean that there is nothing to do in Malaga in winter. Moreover, in my experience, winter is a very comfortable time of the year to explore the city and the Andalusia region. Find why and what to do in Malaga in winter in this blog post. 
Disclosure: some links in this article are affiliate links. As an Airbnb Associate, I earn when you book through this link at no cost for you. For more information, please read our disclaimer page. 
Why Come to Malaga in Winter?
Enjoy wonderful weather and the sunshine
Compared to winter Warsaw, where I live, winter Malaga seemed like paradise and a perfect place for a winter city break in Europe: in December everything bloomed, the sun was shining every day, and green Spanish parrots chirped instead of gray Polish pigeons. 
Before buying plane tickets, I studied the weather forecasts for Malaga in winter. They promised rain, but for a whole month I stayed in Malaga, it didn't rain.
So of course you can pack your umbrella with you, but you may not need it. In fact, the rainy season in Malaga happens in November, the month with the most yearly precipitations. It can also rain in December, but we talk rather about short rains and not showers. 
Due to the mountainous terrain of Malaga, the cold north winds do not reach the city.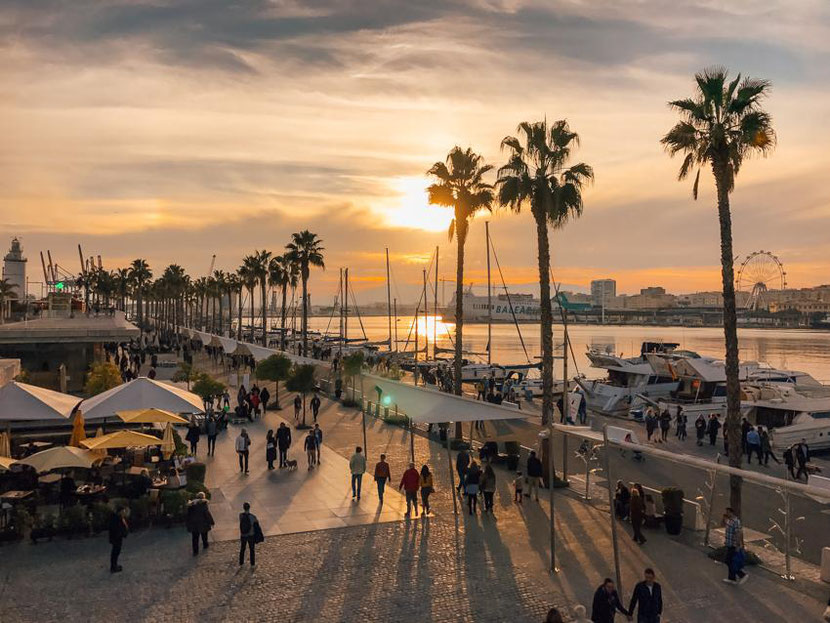 That is why the winter in Malaga is so warm: the average air temperature reaches 17 °C.
During the day, the sun warms up the air, and the thermometer rises to 22-23 °C.
Beautiful weather and guaranteed sunshine even in winter are one of the reasons I keep returning to Spain.
It's cool at night in Malaga in winter: +3-8 °C. Early in the morning I left the house in a puff jacket, and at lunchtime, I undressed to a T-shirt or swimsuit if I was on the beach. 
Winter in Malaga is The Season of Mandarines and Oranges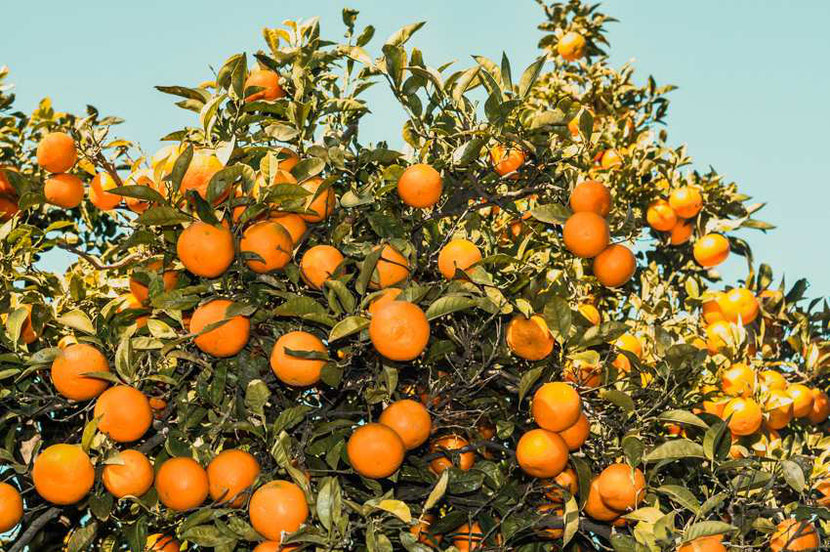 All the main streets and squares in Malaga are lined with mandarine trees that look like they are lit by orange lights. 
December and January in Malaga is the peak season for mandarines, tangerines, clementines, and oranges.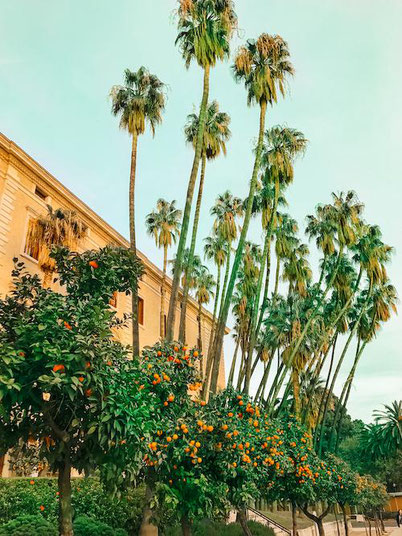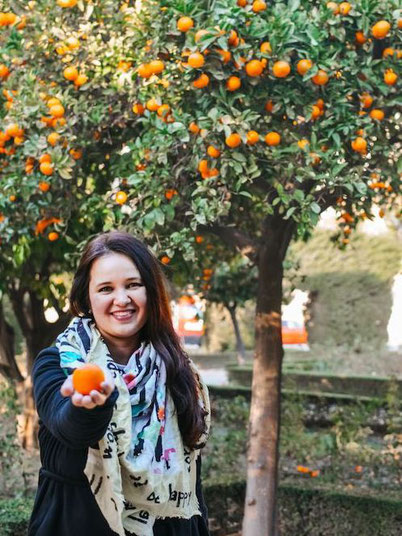 Therefore, seize the moment and eat the best mandarines: they have many health benefits as they are rich in vitamins A, C, B1, K, increase immunity, remove toxins from the body and improve mood. 
A kilogram of oranges costs 1 euro, and often you can even find promotions of 3 kilograms for 1 euro! I have not seen such cheap oranges anywhere else. 
Because of the number of mandarines I've eaten and trees with ripe mandarines I've seen, my Malaga is "mandarine Malaga."
Spend the Whole Day on The Malaga Beach
Yes, winter in Malaga is not an appropriate time for swimming in the sea (although I have seen a few daredevils swimming), but you still can spend the whole day on the beach. 
We came almost every day to the beach to enjoy the gentle and soft sun and clean sea air. 
La Malagueta is the busiest beach in Malaga as it is considered the city's central beach. The main part of the beach, located within the city limits, is well equipped: there are cafes, food stalls, changing cabins, toilets, showers, benches, playgrounds for children, and a beach volleyball court. 
Along the beach, there is a beautiful promenade with palm trees, where locals love to jog, roller-skate, or just walk.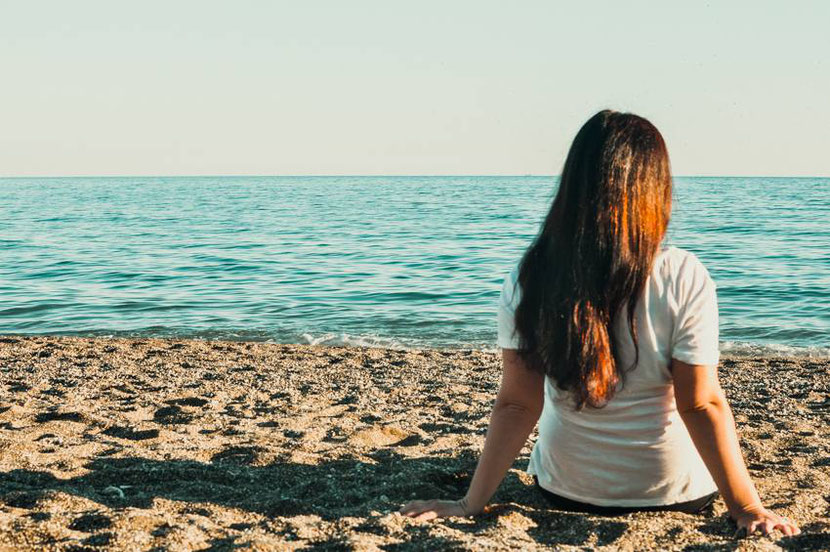 In fact, the Malagueta beach is the meeting place. Here locals and travelers come to play sports, organize picnics and meetings, yoga classes, watch the sunset in the evening and dine in restaurants on the waterfront.
I stayed at an apartment on Airbnb near Malagueta beach, and it was a great choice. The low season bonus is that I could rent an apartment with a sea view much cheaper than it would have cost in summer. 
If you still want to swim in winter, you can stay at a hotel with a swimming pool.
The Festive Magical Atmosphere in The City and Thousands of Lights
Christmas in Malaga is a fabulous time when the streets are resurrected from hibernation and are decorated with millions of lights. 
The Christmas night from December 24 to 25 in the province of Malaga is a quiet family holiday. The streets die out: there are no people, no cars, and almost all shops and restaurants are closed. 
But the whole month of December and the beginning of January is festive and colorful in Malaga. 
The main action takes place on Calle Larios, a central pedestrian street full of shops, restaurants, and cafes. 
The street itself is beautiful, and when the Christmas lights are on, it becomes just magical.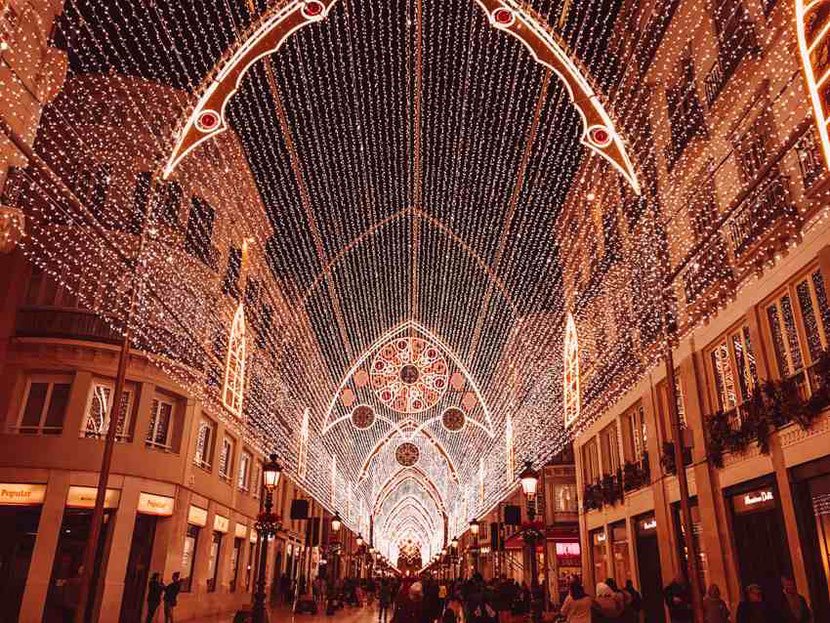 The lights are lit on November 24, and illumination continues until January 6. 
A music show with lights takes place every day on Larios Street at 18:30 and 21:00. Several Christmas songs are played, accompanied by dancing lights. 
This vivid light show attracts many spectators: Spaniards from neighboring cities come to Malaga to see the dressed-up city and the show.
Often it is impossible to get on the street itself, so those who came later watch the show from the Plaza de la Marina near the port or the Plaza de la Constitución. We usually came 30 minutes before the show to make sure we have a spot.  
Relax at the Hammam in Malaga
Malaga is a unique destination because it combines European, Catholic, and Moorish traditions. The Muslim conquerors established the tradition of Arab baths in Malaga, which has not been lost to this day and which enriches the culture of Malaga. 
Not far from the old Medina in the center of Malaga, you can find the ruins of an old Arab well. 
Next to these ruins is the Hammam Al-Andalus that will take you back to  Arabian-era Andalucia. 
Hammam in Malaga will teleport you to mysterious Marrakech.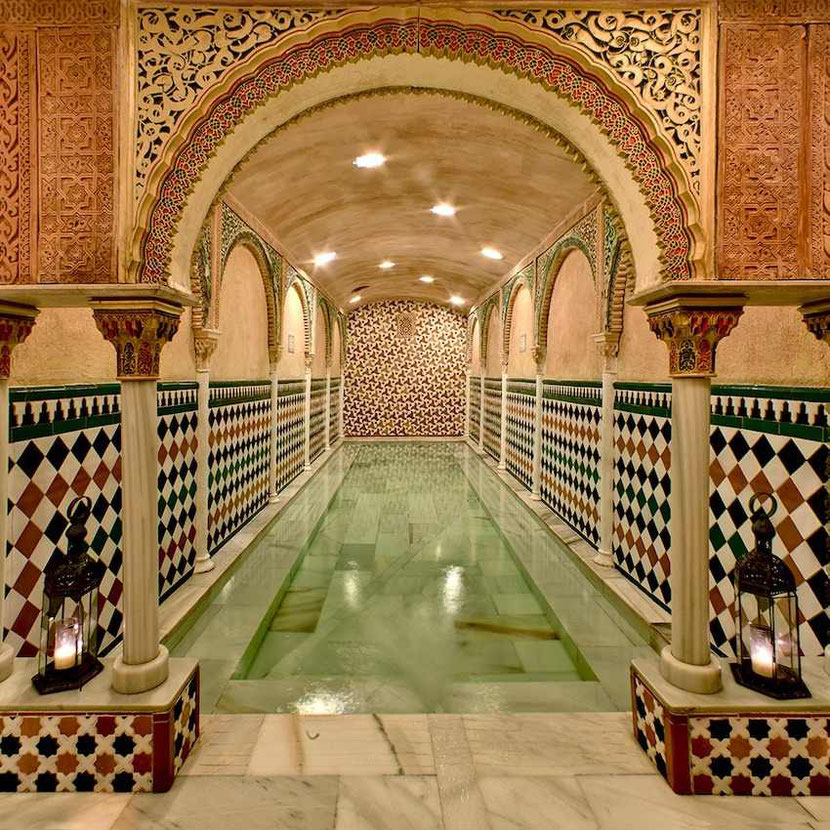 Photos courtesy of Hammam Al Andalus Malaga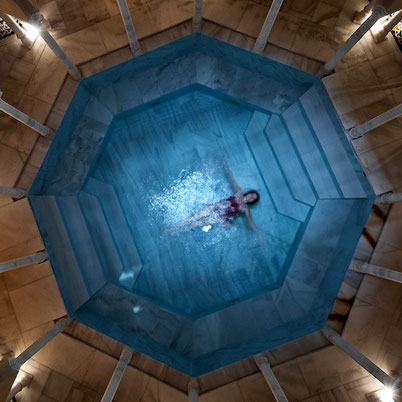 Everything about this bath is great: atmosphere, architecture, and quality of services. Here you will find a luxury spa, thermal baths with magnificent Arabic design, and a steam room. 
Sip a mint tea before heading to Aroma Corner for a massage with an exfoliating or purifying scrub, or a special ritual with a traditional kessa massage.
The best time to go to the hammam in Malaga is in winter when the temperatures drop outside. 
Take a couple of hours to recover and relax between the numerous attractions of your cultural program in Malaga. 
With love,
Sasha & The Alternative Travel Guide 
---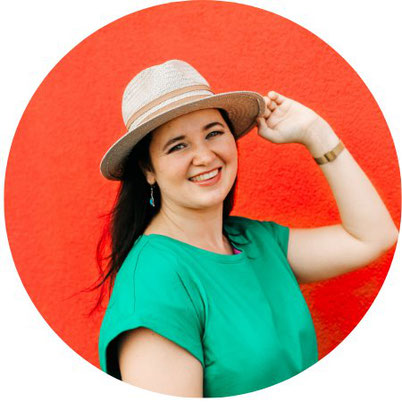 ABOUT THE AUTHOR
Hi, nice to meet you! I'm Sasha Naslin, a founder of The Alternative Travel Guide and a world citizen at heart.  
I traveled to 60+ countries on different continents and stopped counting cities after two hundred. 
I am Russian-French and write in Globish, as English is not my native language, so feel free to correct me or make fun of me :).
---