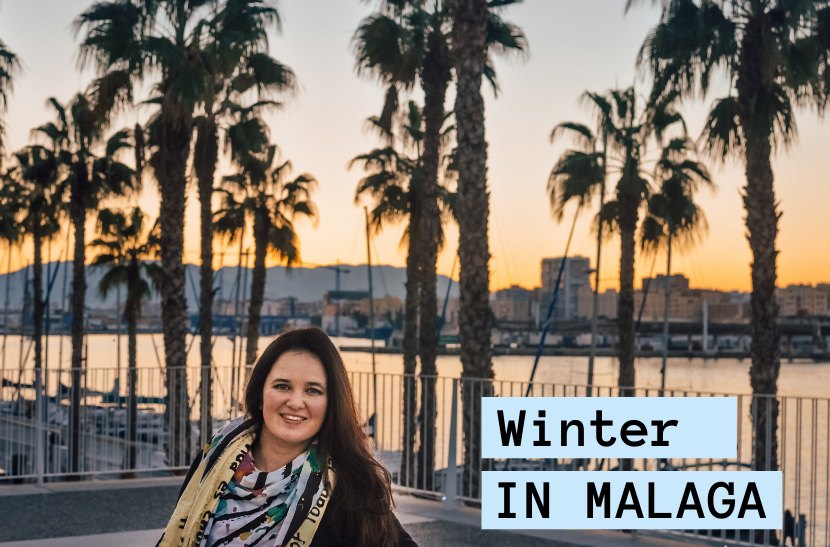 Home to the genius Pablo Picasso and Hollywood star Antonio Banderas, the eclectic city of Malaga attracts people from all over the world all year round. Is Malaga worth visiting in winter? Of course! I visited Malaga two times, and both were in winter. The first time I spent a week in Malaga in February, and the second time I came at the end of December for Christmas and New Year's Eve and spent the whole month till the end of January. So, I experienced a winter in Malaga on maximum. And it was a fantastic vacation! 
It is believed that winter in Malaga is the low season. Yes, there are fewer tourists in winter than in summer, but this does not mean that there is nothing to do in Malaga in winter. Moreover, in my experience, winter is a very comfortable time of the year to explore the city and the Andalusia region. Keep reading to find out what to do in Malaga in winter.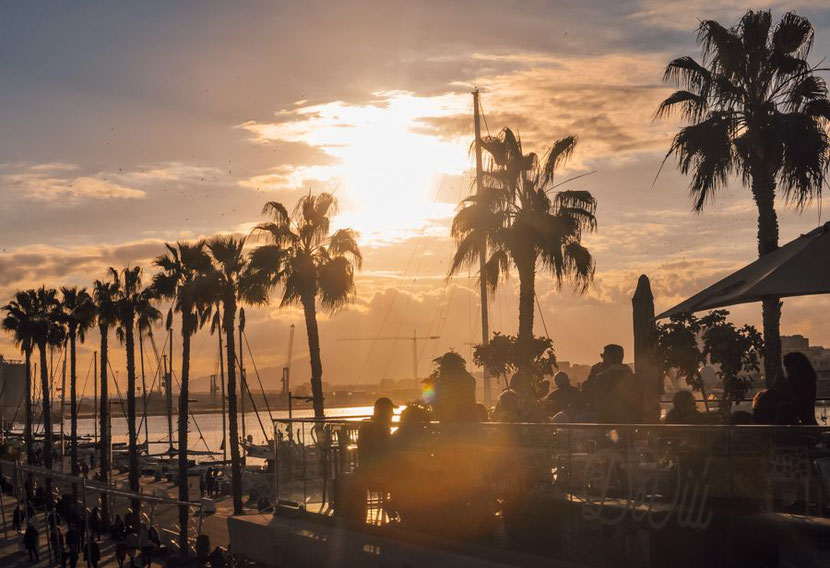 Quick Malaga Travel Tips:
🚗 Cheap Airport Transfer: private transfer from Malaga Airport to ANY place in Malaga AND the whole region of Costa del Sol for 30 euros. This price is PER GROUP UP TO 6 PERSONS. 
💰The Best Affordable Accommodation in Malaga: The Lights Hostel. It's an excellent hostel in the heart of Malaga, with a rooftop terrace, free sangria in the evenings, and fun events for guests. It offers classical dorms, and as well as private rooms. 
❤️️ The Best Romantic Hotel in Malaga: Hotel Brö-Adults Only. It is a stylish, modern hotel, and a great value for money. And yes, it is an adults only hotel. 
👨‍👩‍👦 The Best Family Hotel in Malaga: AluaSun Costa Park. This hotel is excellent for children. It features a large swimming pool with slides, a mini-aquapark for kids, and a shallow pool for very small kids. Your kids can have fun at the hotel's playground and go to mini-disco every evening. The hotel also has a team of animators who will entertain your children, while you can relax. 
👑 The Best UNIQUE Hotel in Malaga: Soho Boutique Castillo de Santa Catalina. This is a hotel you should definitely stay in if you've always dreamed of spending the night in a beautiful castle. 
---
Why Come to Malaga in Winter?
Enjoy wonderful weather and the sunshine
Compared to winter Warsaw, where I live, winter Malaga seemed like paradise and a perfect place for a winter city break in Europe: in December everything bloomed, the sun was shining every day, and green Spanish parrots chirped instead of gray Polish pigeons. 
Before buying plane tickets, I studied the weather forecasts for Malaga in winter. They promised rain, but for a whole month I stayed in Malaga, it didn't rain.
So of course you can pack your umbrella with you, but you may not need it. In fact, the rainy season in Malaga happens in November, the month with the most yearly precipitations. It can also rain in December, but we talk rather about short rains and not showers. 
Due to the mountainous terrain of Malaga, the cold north winds do not reach the city.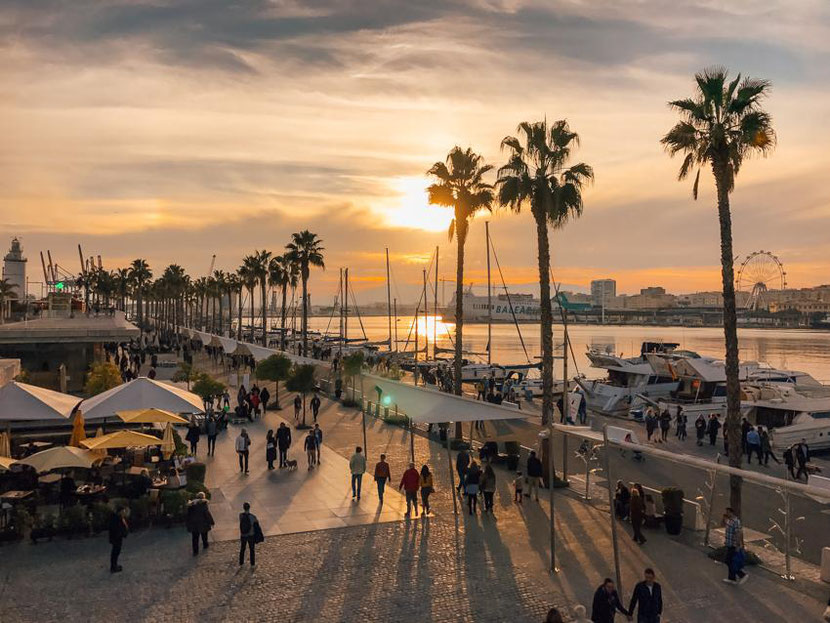 That is why the winter in Malaga is so warm: the average air temperature reaches 17 °C.
During the day, the sun warms up the air, and the thermometer rises to 22-23 °C.
Beautiful weather and guaranteed sunshine even in winter are one of the reasons I keep returning to Spain.
It's cool at night in Malaga in winter: +3-8 °C. Early in the morning I left the house in a puff jacket, and at lunchtime, I undressed to a T-shirt or swimsuit if I was on the beach. 
Winter in Malaga is The Season of Mandarines and Oranges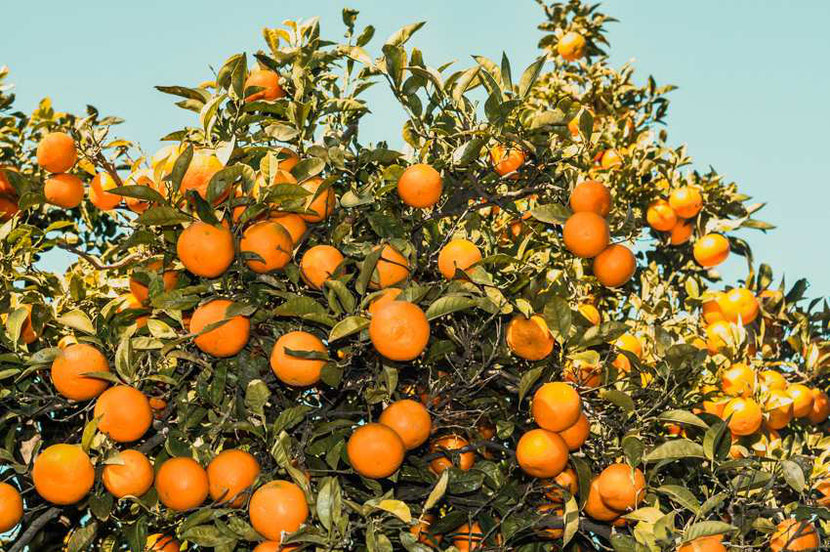 All the main streets and squares in Malaga are lined with mandarine trees that look like they are lit by orange lights. 
December and January in Malaga is the peak season for mandarines, tangerines, clementines, and oranges.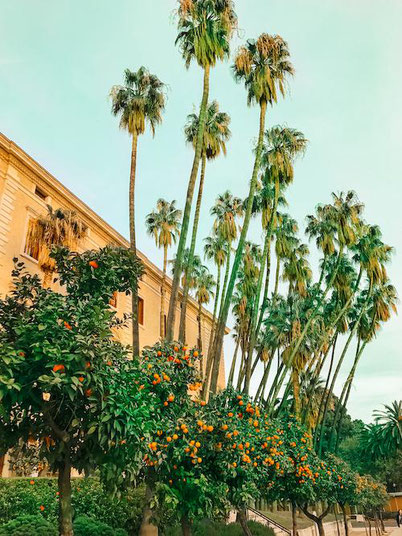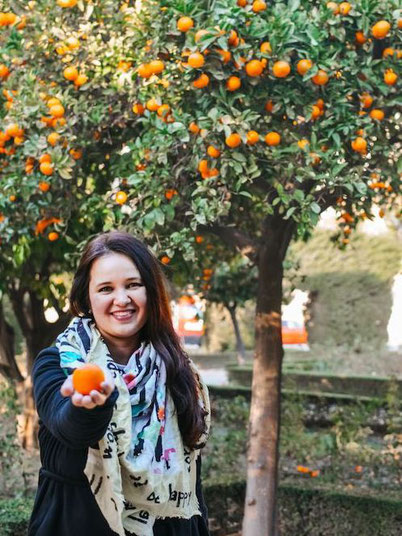 Therefore, seize the moment and eat the best mandarines: they have many health benefits as they are rich in vitamins A, C, B1, K, increase immunity, remove toxins from the body and improve mood. 
A kilogram of oranges costs 1 euro, and often you can even find promotions of 3 kilograms for 1 euro! I have not seen such cheap oranges anywhere else. 
Because of the number of mandarines I've eaten and trees with ripe mandarines I've seen, my Malaga is "mandarine Malaga."
Spend the Whole Day on The Malaga Beach
Malaga encompasses all that Spain is famous for, and its stunning beaches are no exception. Unquestionably, one of the primary motivations for traveling to Malaga is the allure of its coastal paradises.
Yes, winter in Malaga is not an appropriate time for swimming in the sea (although I have seen a few daredevils swimming), but you still can spend the whole day on the beach. 
We came almost every day to the beach to enjoy the gentle and soft sun and clean sea air. A warm and sunny winter is one of the main reasons why lots of people decide to leave their countries and live in Spain.
La Malagueta is the busiest beach in Malaga as it is considered the city's central beach. The main part of the beach, located within the city limits, is well equipped: there are cafes, food stalls, changing cabins, toilets, showers, benches, playgrounds for children, and a beach volleyball court. 
Along the beach, there is a beautiful promenade with palm trees, where locals love to jog, roller-skate, or just walk.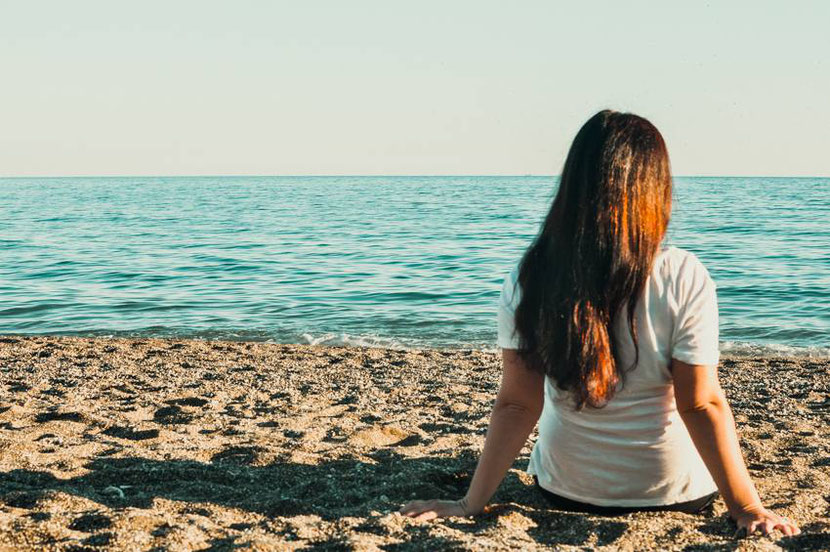 In fact, the Malagueta beach is the meeting place. Here locals and travelers come to play sports, organize picnics and meetings, yoga classes, watch the sunset in the evening and dine in restaurants on the waterfront.
I stayed at an apartment Costa Del Sol near the Malagueta beach, and it was a great choice. This apartment was quite spacious, 70 square meters, with two bedrooms. To describe it briefly, it is bright, clean, cozy, modern, and has everything a traveler may need. And it is located right on the beach. It's perfect you want to combine spending time at the beach and visiting the sights of Malaga. Numerous restaurants, shops, and supermarkets are just around the corner. 
The low season bonus is that I could rent an apartment with a sea view much cheaper than it would have cost in summer. It was a great value for money. Click here to view this apartment. 
If you still want to swim in Malaga in winter, you can stay at a hotel with a swimming pool.
In fact, there are not many hotels in Malaga with indoor pools where you can swim at any time of the year. Most hotels only have outdoor summer pools.
But, for example, the Ilunion Malaga has both an outdoor summer pool and a heated indoor pool that works even in winter. 
This hotel would be a great option if you want to pamper your body: it has a gym and a spa with various pleasant treatments. Prices start at 74 euros per night. 
See photos and reviews of the Ilunion Málaga Hotel here.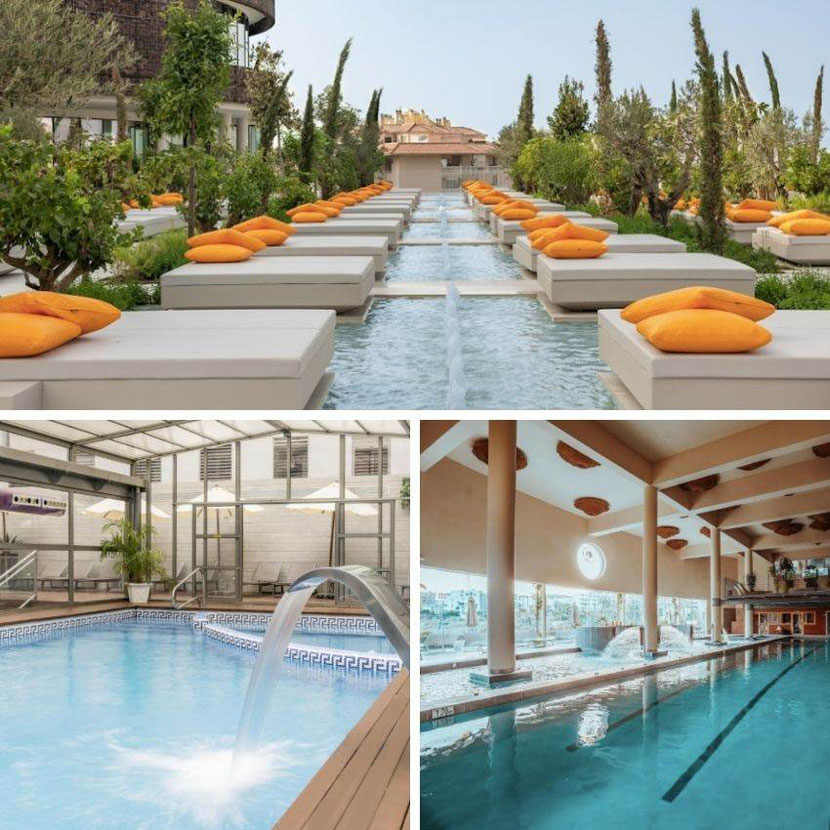 Another great hotel with an indoor pool in Malaga is the Higueron Hotel Malaga.
This hotel is top-notch and will no doubt please even the pickiest traveler. It features several swimming pools, including a huge indoor pool,  an infinity pool, a spa area, saunas, and a gym. All in all, it's the perfect place to recharge your batteries on a winter vacation. Click here to check the price and to read more reviews. 
If the indoor pool is not enough for you, and you want to swim in the heated outdoor pool while enjoying the bright Spanish sun, then go to Don Carlos Resort & Spa Marbella, Malaga hotel with a heated pool.
It is a rare find where even in December, January, and February in Málaga, you can swim in a pool with a pleasant temperature of +28 degrees Celsius! Travelers with children will especially like this hotel because it has a heated children's pool as well, where kids can frolic to their heart's content. View photos, read reviews & check availability of Don Carlos Resort & Spa. 
The Festive Magical Atmosphere in The City and Thousands of Lights
In addition to visiting the beach, there are many things to do in Malaga. After all, Malaga is quite a big city with a unique history and culture.
Christmas in Malaga is a fabulous time when the streets are resurrected from hibernation and are decorated with millions of lights. 
The Christmas night from December 24 to 25 in the province of Malaga is a quiet family holiday. The streets die out: there are no people, no cars, and almost all shops and restaurants are closed. 
But the whole month of December and the beginning of January is festive and colorful in Malaga. 
The main action takes place on Calle Larios, a central pedestrian street full of shops, restaurants, and cafes. 
The street itself is beautiful, and when the Christmas lights are on, it becomes just magical.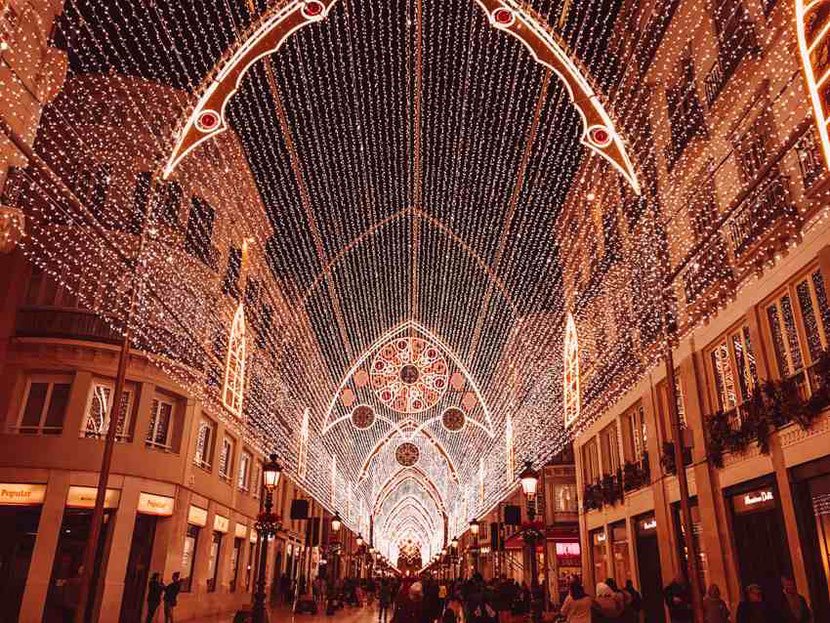 The lights are lit on November 24, and illumination continues until January 6. 
A music show with lights takes place every day on Larios Street at 18:30 and 21:00. Several Christmas songs are played, accompanied by dancing lights. 
This vivid light show attracts many spectators: Spaniards from neighboring cities come to Malaga to see the dressed-up city and the show.
Often it is impossible to get on the street itself, so those who came later watch the show from the Plaza de la Marina near the port or the Plaza de la Constitución. We usually came 30 minutes before the show to make sure we have a spot.  
Relax at the Hammam in Malaga
Malaga is a unique destination because it combines European, Catholic, and Moorish traditions. The Muslim conquerors established the tradition of Arab baths in Malaga, which has not been lost to this day and which enriches the culture of Malaga. 
Not far from the old Medina in the center of Malaga, you can find the ruins of an old Arab well. 
Next to these ruins is the Hammam Al-Andalus that will take you back to  Arabian-era Andalucia. 
Hammam in Malaga will teleport you to mysterious Marrakech.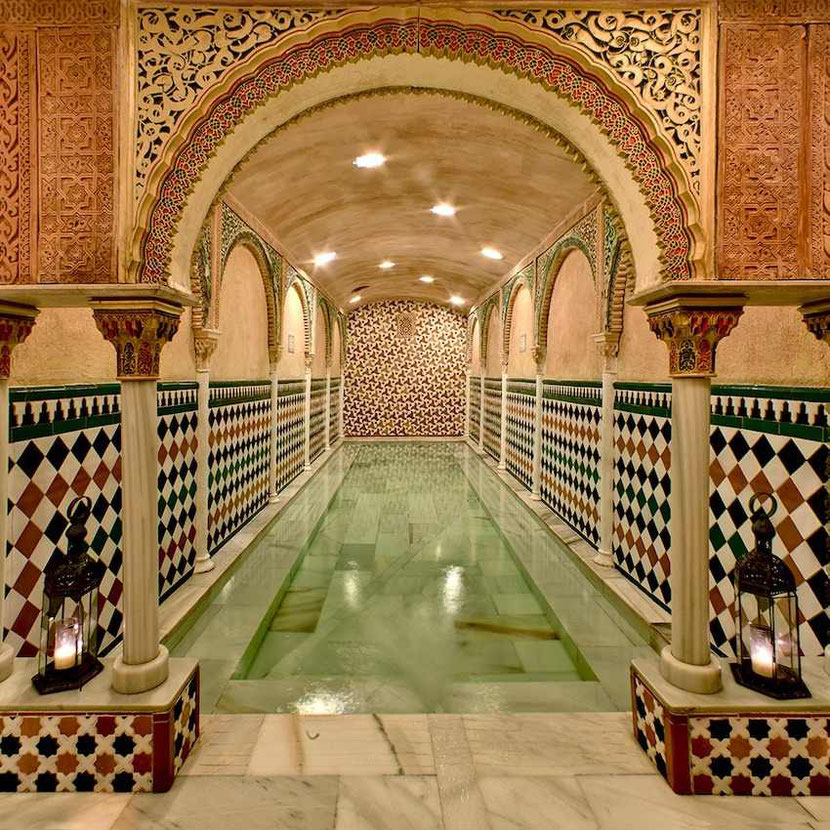 Photos courtesy of Hammam Al Andalus Malaga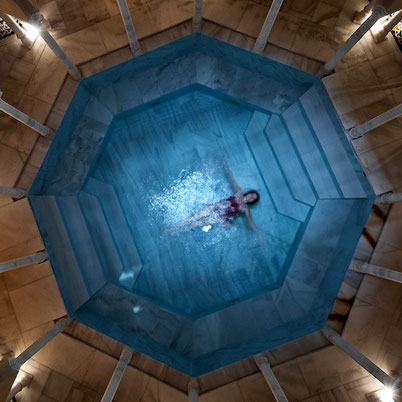 Everything about this bath is great: atmosphere, architecture, and quality of services. Here you will find a luxury spa, thermal baths with magnificent Arabic design, and a steam room. 
Sip a mint tea before heading to Aroma Corner for a massage with an exfoliating or purifying scrub, or a special ritual with a traditional kessa massage.
The best time to go to the hammam in Malaga is in winter when the temperatures drop outside. 
Take a couple of hours to recover and relax between the numerous attractions of your cultural program in Malaga. 
Tickle Your Nerves And Enjoy The Mesmerizing Scenery at El Caminito del Rey
Winter in Málaga is a great time to tour the region. If you want to tickle your nerves, test your willpower, and get rid of your fears, I recommend you to visit El Caminito del Rey. 
This royal trail of Spain is known to be one of the most mystical places in Andalusia and the top extreme attraction in the world. You should definitely add El Caminito del Rey to your Spain Bucket List. By the way, thousands of travelers come to Málaga just to get to this unique place (and not to the beaches of Málaga)!
This experience is not for the faint of heart. There is actually something to be afraid of: the trail is a narrow path made of wooden planks; they are attached to piles and rails nailed to a rocky base. This structure overhangs the formidable and deep El Chorro mountain gorge (La Garganta del Chorro).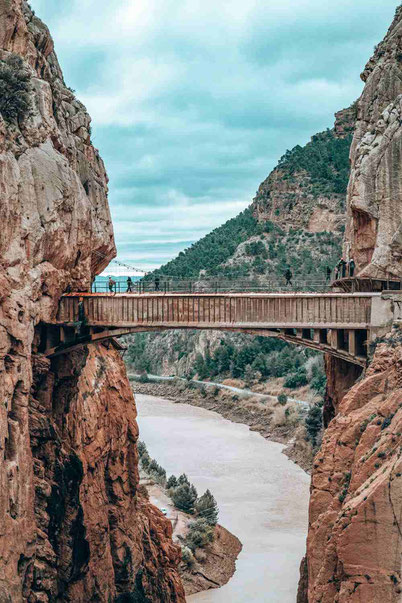 The El Caminito del Rey Trail was not originally built as an extreme attraction for adventurous hikers. It was a necessity that arose to transport materials for the construction of two power plants and a dam. 
Until relatively recently, El Caminito del Rey was considered the most dangerous hiking trail in the world. Its condition had been deteriorating each year. But in 2001, after five tourists died there within two years, the Spanish authorities decided to close the Royal Route to visitors.
But despite the ban, the place continued to attract nerve-racking hikers. For many of them, it ended badly. The authorities decided to reconstruct the trail. In 2015, the Caminito del Rey was reopened to visitors.
Many adventurous people want to get here, but only 400 visitors are allowed on the trail at a time. Often the places are booked several days and even a week in advance. Therefore, I highly recommend booking a tour to El Caminito del Rey in advance online. 
Dive Into Art and Culture at the Pompidou Center
Winter in Malaga is also a great time to visit museums. If you love 20th and 21st-century art, go to the Pompidou Museum. It opened in March 2015 and is the first branch of the Parisian Center outside France. The Center is housed in the original Cube de Malaga building, located in Muelle Uno, a commercial area in Porto Malaga.
At the Centre Pompidou in Malaga, you can see works from the stunning collection of the Centre Pompidou in Paris. Discover the masterpieces of such artists as Frida Kahlo, Magritte, Pablo Picasso, Marc Chagall, Francis Bacon, Frank Stella, and Giacometti.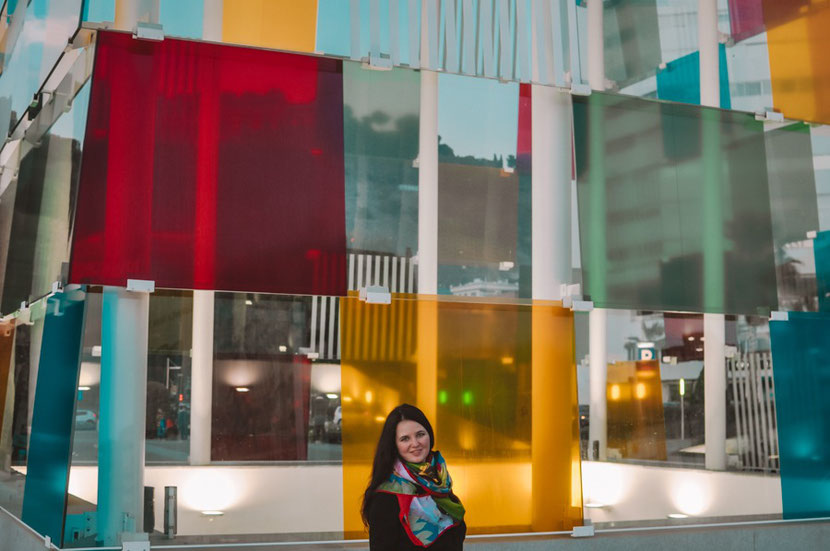 In addition to the permanent exhibit, the Center also offers temporary exhibitions covering various areas of art - photography, design, architecture, and video. I was wildly fascinated by this museum in Malaga despite visiting The Pompidou Museum in Paris many times. It's an excellent museum by world standards.
The collection is impressive. It is a fantastic place for anyone who wants to learn more about art and soak in beauty. 
Moreover, if you are traveling to Malaga with children, they will also love this museum - it has interactive exhibits for children. And fans of stylish and unique items will appreciate a nice designer store at the museum. 
Click here to pre-book your ticket to the world of art. 
With love,
Sasha & The Alternative Travel Guide 
---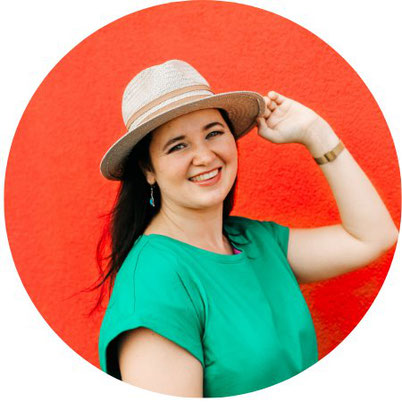 ABOUT THE AUTHOR
Hi, nice to meet you! I'm Sasha Naslin, a founder of The Alternative Travel Guide and a world citizen at heart.  
I traveled to 60+ countries on different continents and stopped counting cities after two hundred. 
I am Russian-French and write in Globish, as English is not my native language, so feel free to correct me or make fun of me :).
---