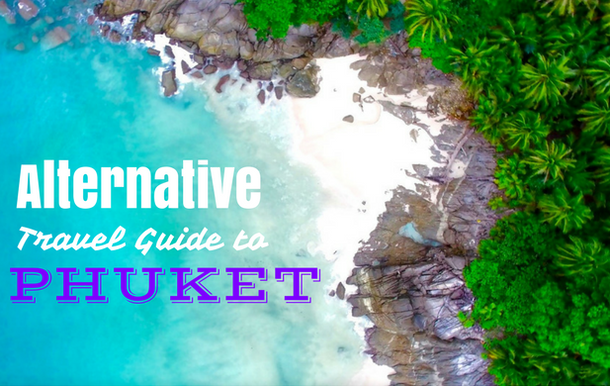 Is there anything more fun than discovering the secret, alternative, and hidden attractions during your trip to Phuket?! Check out Phuket off the beaten track and find non-touristic places that will charm you and will make you see Phuket from a different angle.Phuket is famous or rather infamous for its crazy nightlife, go-go clubs, ping pong shows 'not for children', and Bangla road that is like something out of a deranged fantasy. But it's just one of the many sides of Phuket. 
This type of entertainment is mainly located in Patong area, and if you take a motorbike and go around the island, you will be amazed by the number of peaceful, green, serene and spiritual places you will find. Phuket is a perfect place for nature lovers, couples, and independent travelers. There is a special vibe on the island. Once you feel it, you would want to return to Phuket again and again. 
Keep reading to find out 
about the alternative, off the beaten track and fun things to do in Phuket!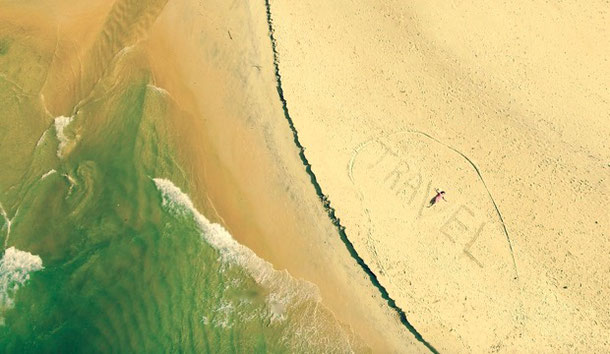 1 | Discover Phuket's secret beaches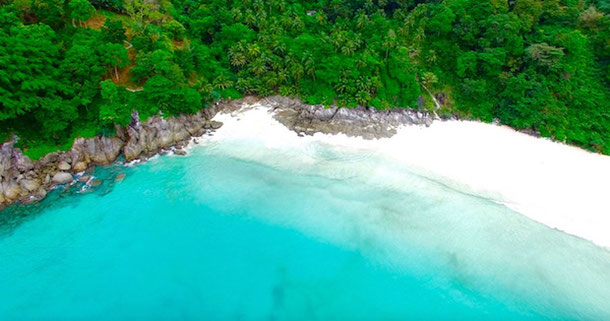 Phuket is one of the most popular destinations in Thailand, primarily because of its magnificent beaches. But where the popularity comes in, thousands and thousands of people come. If you want to enjoy the wonderful beaches of Phuket without the crowds, then go to the secret beaches. These beaches are secret for a reason. Many of them are quite difficult to access, or they are located far from the tourist areas. Don't be lazy, and you will be rewarded with quiet and tranquil beaches where you will have the whole beach just for yourself. 
Patong, Kata and Karon beaches are the most touristic and crowded areas of Phuket. While I could find there civilization in the form of sun beds, umbrellas, entertainment and water sports, I was bored quite quickly by it and was looking for some alternative beaches. 
The first secret beach that I found was a Freedom beach (the one on the photo above). It is around 15 minutes of adventurous motorbike ride through the hills from Patong. After you park your bike, you have to walk to the beach by the narrow stairs among the tropical trees and brushing mosquitos off. My Mr. and I came there in the morning, and there was nobody except us. Just seclusion. White sand. Clean turquoise water. And the whisper of the ocean waves.  
Other fantastic secret beaches in Phuket are Paradise Beach, Laem Sing Beach, Ya Nui Beach, Yae Beach, Haad Sai Kaew Beach, Ao Yon Beach, and Panwa Beach. 
2 | Feed wild monkeys at the Monkey Mountain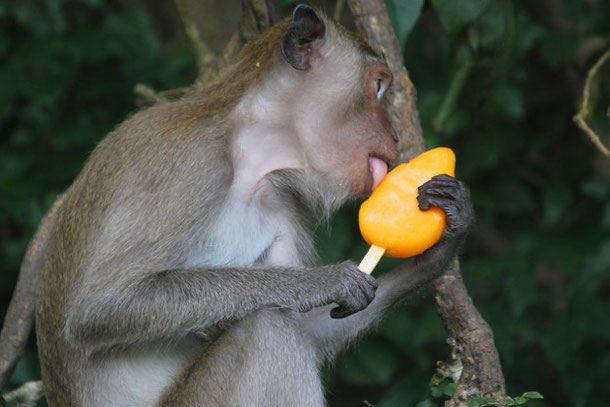 Don't like zoos? Me neither!
Then come to the Monkey Hill to see and interact with monkeys in the wild.
The Monkey Hill is a natural attraction of Phuket. Not many people know about it. Mostly locals and foreigners living in Phuket come here. When you go up the hill, it is enough to see just one monkey and give her something tasty like a banana or an apple, then all her tribe will show up and will ask you for a banana. It is fascinating to observe their monkey society, their hierarchy and the way they communicate with each other. 
When you come here, remember that even the monkeys got used to seeing humans, they are the wild animals. Please behave with a maximum calm and respect. Otherwise, these cute little animals can become aggressive. Besides, keep your belongings secure: they can quickly take your hat, glasses or a camera to play with and never give back :) 
You can reach the Monkey Hill with any transport; however, you will not be able to drive up to the top. Stomping for about 700 meters up the spiral walkway is inevitable. So I advise you to come here closer to the sunset time.
Firstly, it is less hot. Secondly, the monkeys are more frisky and agile at this period of the day, and they will not hide in the woods languishing in the heat. Thirdly, you can enjoy a beautiful sunset from the observation deck at the top of the hill and take great photos with a perfect light. 
3 | Hunt for street art in Phuket Town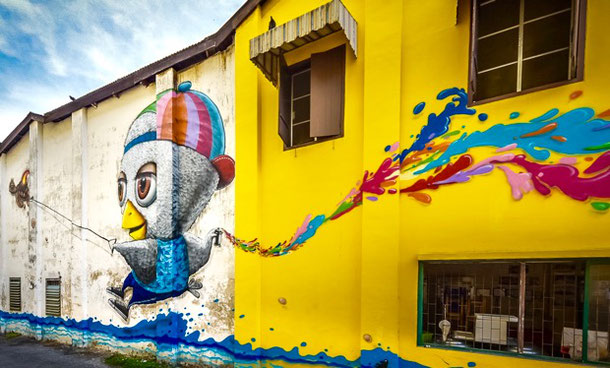 Phuket is not only the beaches. It is also art and culture.  To discover it, get lost in the streets of Phuket Town with colorful Sino-Portuguese shophouses, art galleries, and stylish cafes. 
Since last six years, Phuket became even more colorful as street art masterpieces keep popping up on the walls of the atmospheric old buildings. Don't think it's just graffiti sprayed by young kids. These are truly innovative artistic creations. You will be surprised. 
Drawings and murals are scattered in various places throughout the town. Head to these main roads and explore the intersecting small streets to get inspired: 
Thalang Road, Krabi Road, Phang Nga Road, Dibuk Road.
You can't miss it! 
4 | See Phuket from the viewpoints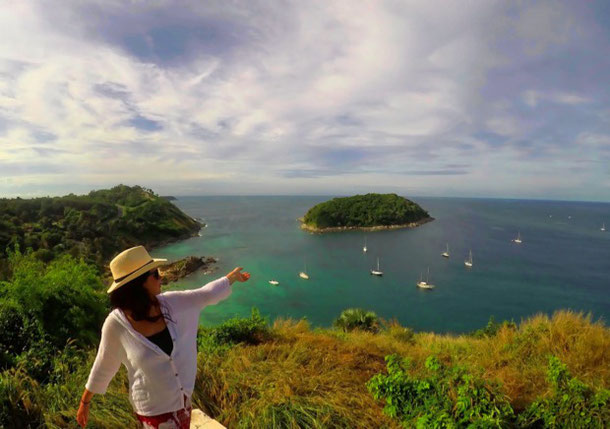 Did I tell you that I love the viewpoints? Yes, I L-O-V-E it!  By the way, If you need advice for the viewpoints, I am the right person to ask (for any destination I've been). The first thing I do when arriving in a new city is to find a viewpoint. The more, the better! :) 
So, obviously, on my trip to Phuket, I was on the quest to find the best views on the island and to see the most amazing sunsets. Reaching the viewpoints is the same as reaching the secret beaches: you need a motorbike. I must say driving motorbike in Phuket can be a bit dangerous: there are many hills, and the way people drive is rather disorderly. However, the reward is worth the effort.  
Some of the best viewpoints are Phromthep Cape, Windmill Viewpoint, Samet Nangshe, Radar Hill, Plub Pla, Karon viewpoint, Rang Hill and Laem Sing. 
Check the map below for the viewpoints locations:
5 | Go surfing in a bar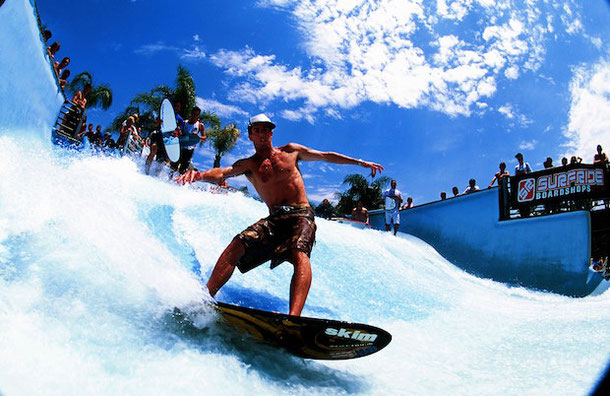 To compensate for the lack of big waves necessary for surfing, Phuket offers to the lovers of this water sport to practice in the surfing bars. Currently, there are two such places on the island, and they are located in Patong and Kata. 
If you were always dreaming of surfing but never dared to try, it's a perfect place to take a chance.
One hour of surfing session costs 1,000 THB or around 28 USD. 
In addition to surfing classes, these surfing bars host great parties and events. 
If you don't want to surf, it's just fun to come here for a drink and observe people who try surfing for the first time )) 
Enjoy! 
6 | Swim with elephants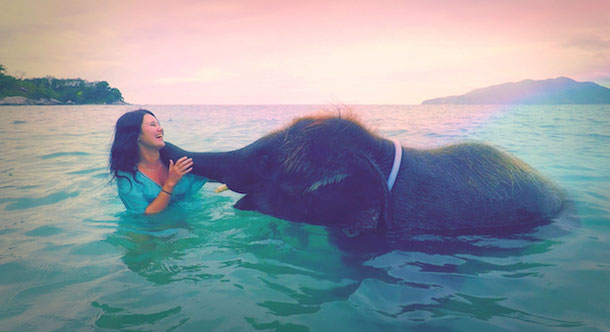 What I love the most about Thailand is that I can get close and play with animals that previously I saw only in the zoo. In Phuket, there are several elephant villages where you can spend a half of the day or longer to interact personally with these adorable animals in a safe and sustainable environment.
For me, playing with elephants was one of the happiest moments of my trip to Phuket! Elephants are just a pure love! 
Be aware that there are many companies on Phuket offering unethical elephant riding tours and circus performances. Elephants are not treated well in such places. 
Make sure to support ethical organizations and book ethical elephant experiences in Phuket: 
Half-Day Ethical Elephant Jungle Sanctuary - spend quality time with elephants at an ethically-run elephant jungle sanctuary
Elephant Care Tour -  get a chance to help with feeding, bathing the elephants, overall spending a unique full-day with the gentle giants.
7 | Spend an evening with Thai live Reggae music
I don't know why Reggae music is hugely popular in Thailand, but it definitely suits to the vibe of Phuket. Have you heard of "sanuk"?
The word "sanuk" in Thai means "to have a good time, to have fun, to enjoy oneself and to derive pleasure and joy from something." It is almost a rule of living for Thai people that whatever they do, it has to be "sanuk". If you would like to develop a "sanuk" attitude to life and if you enjoy reggae, you will find many clubs with live music to spend a perfectly relaxing evening.
Here are some addresses for you: 
Roots Rock Reggae Bar 140/21 Nanai Road, Patong Beach
Green Leaf Bar, 43-49 Moo7 | Soi Saiyuan 1, Ravai 
Ska Bar, Kata Beach 186/12 (from Kata beach main entrance, turn left and 5 minutes walk)
75 Stang Art and Reggae Bar
8 | Shop for Thai natural cosmetics and remedies

Shopping for Thai natural cosmetics and treatments is a must if you are in Thailand! Thai natural cosmetics is a gift of the gods. I became such a huge fan of it. 
If you are a man, don't hurry to scroll down!! :) There is something for you as well. 
Thai medicines are known to be very multifunctional! It means they can make your travel kit many times smaller and lighter! 
It's all natural, very efficient and very cheap. You can find these natural remedies in any 7/11 shop or the pharmacies. So here is what you have to buy: 
- Natural Citronella anti-mosquito spray (no DEET, no chemicals, only essential oil and Thai herbs)
- Natural Alum Stone Deo crystal for men and women 
- Natural inhaler (relieves car sickness, dizziness, nose congestion, and headache)
- Thai Balm or Tiger Balm (relieves muscle and joint pain, treat colds and relieves headaches) 
- Ginger drink (perfect against jet lag, motion sickness, and any problem related to digestive system)
- Zam-Buk balm (a remedy after mosquito and other insect bites, relieves swelling and inflammation, eliminates itching; it can also be applied for herpes, acne, and cuts). 
In addition, these Thai natural treatments are suitable for children of any age, for pregnant women, and lactating mothers. Keep these products in your travel bag. They take so little space, and they have a very broad scope of application. 
9 | Have a dinner with a view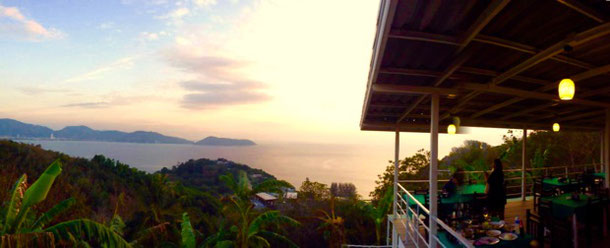 An observation deck with an amazing panorama of the island is good. But a viewpoint with a heavenly dinner is even better! 
One of the restaurants in Phuket where you can have it all is Pha Chom Tawan Kamala. I found this place by chance. And it was a treasure trove! It's hidden in the lush greenery on the hill between Patong and Kamala.  As it is hidden and not easy to reach, it's not touristy and is frequented with the Thais. Of course, needless to say, the food is delicious there. They serve an extensive choice of Thai food and seafood. And the view from the restaurant is just breathtaking. What can you wish more? 
There is even a more pleasant option: you can combine your visit to this restaurant together with spending your afternoon in the small hidden beaches Nakalay and Yae that are situated just down the hill! YAY! 
10 | Find inner peace in the spiritual places of Phuket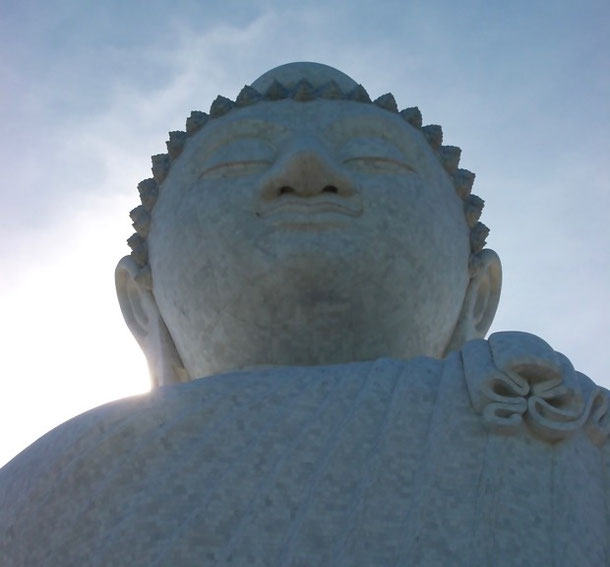 In spite of its reputation as a party paradise, Phuket is a home of many temples and holy places.
Since several years I am interested in Buddhism (for those who don't know, Buddhism is not religion, it's a way of life). I like going to the Buddhist temples and simply spending time there, just trying to feel the place. Usually, Buddhist temples are built in "strong" places, at the intersection of the natural energy flows. The Big Buddha is one of the places where I felt very special: I felt inspiration, endless love, and gratitude. Just come here with an open heart to let good energies in. 
Other temples I recommend visiting in Phuket are Wat Khao Rang, Wat Chalong, Wat Srisoonthorn, and Wat Phra Thong. 
Where to stay in Phuket?
Phuket offers a wide choice of accommodation for any budget. In Patong, Karon, Kamala and Kata you will find hotels with all possible stars, as well as guest houses, and hostels. If you head down South to Nai Harn or South-East to Chalong, you can get a good deal with renting a villa or an apartment. 
Prices obviously vary from high season to low season. A low tourist season in Phuket starts together with rain season in May and lasts till October. A high season is from November to April. 
There are many budget accommodation options starting as low as 6 USD per night. Check, for example, the Little Moon Residence, ME Hotel & Hostel Beach View, and Paradise Beach Backpackers Hostel.
Budget hotels and hostels sell out fast, so make sure you book your accommodation in advance.
What is great about Phuket is that you can find fantastic bargains on luxury hotels and resorts as there are often a big discounts. 
You can stay in a luxury and comfortable hotel without spending a fortune.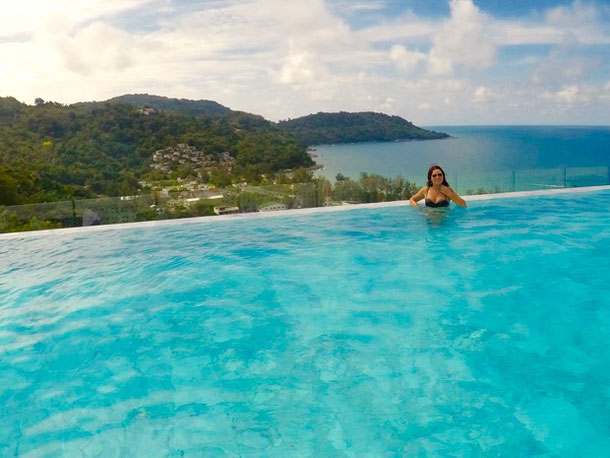 [enjoying the infinity pool...]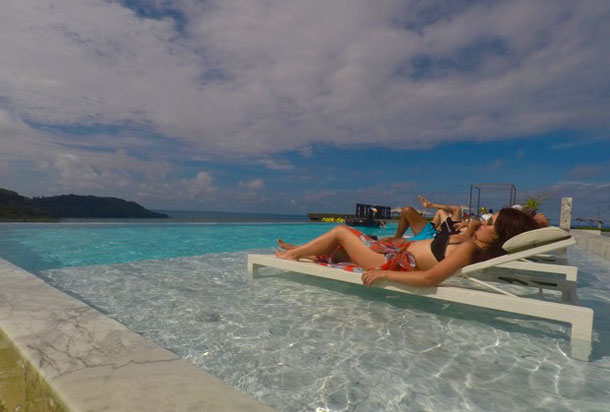 I recommend The Galleri by Katathani (former Foto Hotel) in Kata Beach. It's simply amazing!!
Why? It's a very stylish hotel with an amazing infinity pool on the roof and the view over the ocean. All the interior and design is well thought and is photography-themed. The view from the rooms is awesome, too, and moreover, there are fabulous bathtubs on the balcony.
And a bonus, if you are a solo traveler, - you can sleep with a cute teddy bear :-)
And here is our drone video of Phuket and neighbouring Khao Lak area. 
I hope it will inspire you to explore this beautiful part of Thailand! 
ENJOY PHUKET !!! It's a magic island. 
Thank you for reading, my friend! 
I hope you found something useful in this blog post! 
Feel free to like, pin and share it :)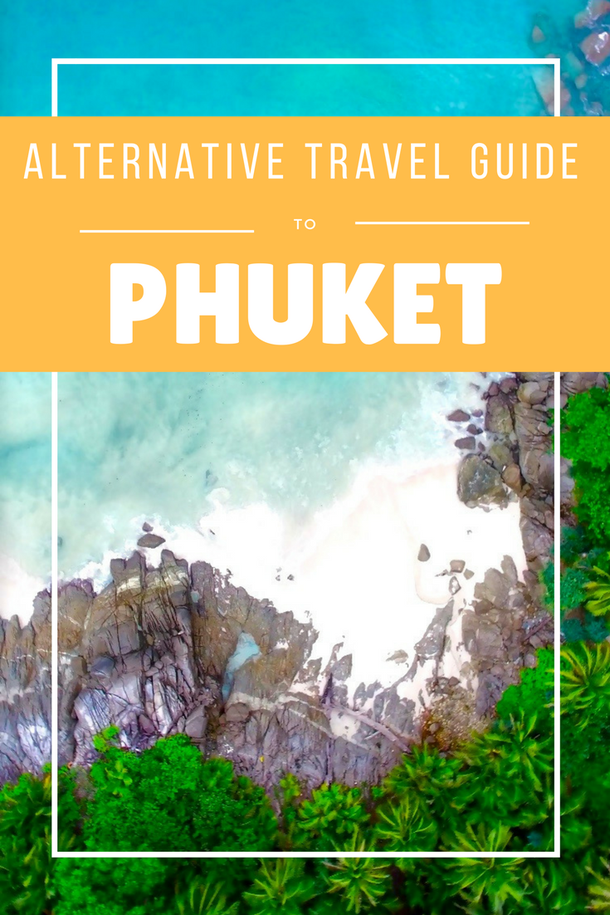 ABOUT THE AUTHOR

 

Hi, nice to meet you! I'm Sasha, a "free spirit" and a world citizen at heart who was born in the country that does not exist: Transnistria. I am on my adventurous journey to discover alternative, quirky, unique and unusual things to do and to visit in cool cities around the world. Join me and try something new! I write in Globish, since English is not my native language, so feel free to correct me or to make fun of me :).

 

 

 
 
 
 
 
 

THE MOST UNUSUAL ACCOMMODATION ON AIRBNB THAT WILL BLOW YOUR MIND
Airbnb has changed the way I travel. Why do I love staying on Airbnb? Well, not only because of possibility to meet a genuine local host, or getting the whole apartment for a price of a hotel room, but also because I can stay at truly unique and unusual places that would not be available as accommodation otherwise. Here is a listing of some insane and incredible Airbnb rentals to add to your wish list!