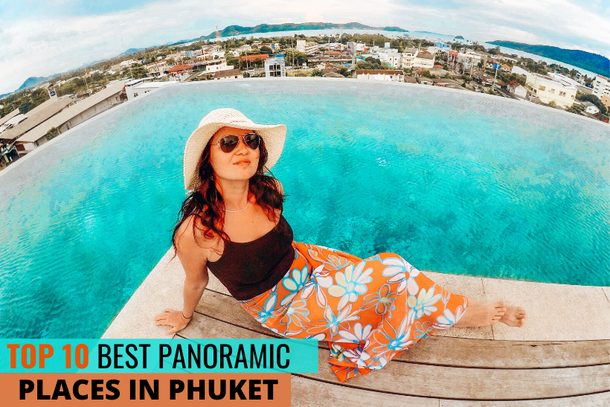 This blog post is dedicated to all the lovers of heights and sunsets! As there are many hills in Phuket, there are also lots of scenic places with breathtaking views. 
I love the height and observation decks, and so during my trip to Phuket, I tried to find the best panoramas of the island and enjoy magnificent sunsets. I found not only viewing platforms created by nature, but also atmospheric rooftop restaurants and sky bars.
So, here is where to go in Phuket to find the coolest places with observation decks and unique views of Phuket.
Windmill Viewpoint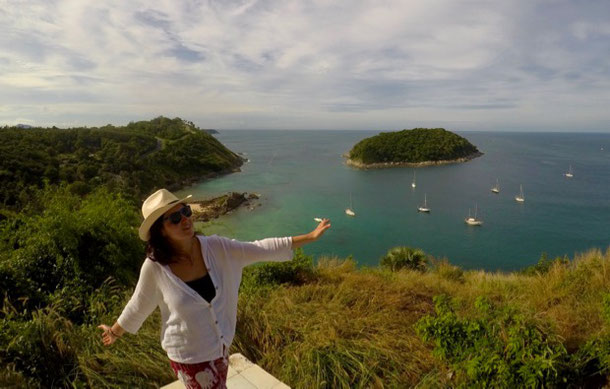 On a hill between the beaches of Ya Nui and Nai Harn in Phuket, there is a white wind turbine that uses wind energy to generate electricity in the area.
From far away, the turbine looks like a mill. Therefore, locals called the observation deck located nearby the Windmill Viewpoint.
At the top of the observation deck, there is a small pavilion without walls, where you can sit and enjoy the stunning views of the Andaman Sea. There is no civilization around in terms of shops and cafes. Only occasionally, a seller of the drinks can pass by.

This site offers a unique view of the snow-white Ya Nui beach below and a small uninhabited island called Ko Man. Not only lovers of panoramic views and beautiful photographs come to this hill, but also those who fly with a paraglider.
I enjoyed this place very much, and we even shot a video with a drone here. (I placed the video at the end of the article).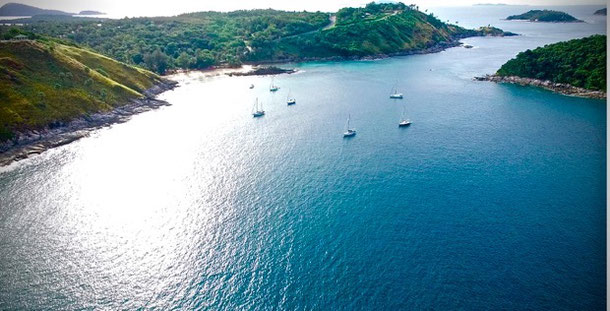 Pha Chom Tawan Camala Phuket: a cozy family restaurant with panoramic views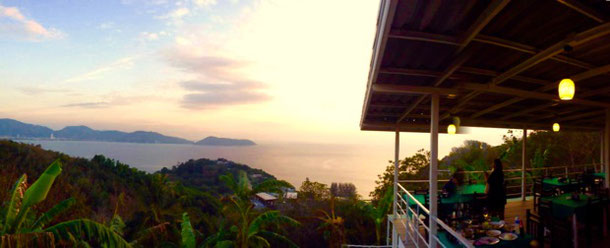 What could be better than panoramic views?
Right!
A Restaurant with panoramic views!
One of the restaurants in Phuket where you can enjoy authentic Thai dishes and views of the beaches, hills, and the turquoise sea is Pha Chom Tawan Camala.
Sadly, when I visited this restaurant, the sea was not at all turquoise, but looked like that: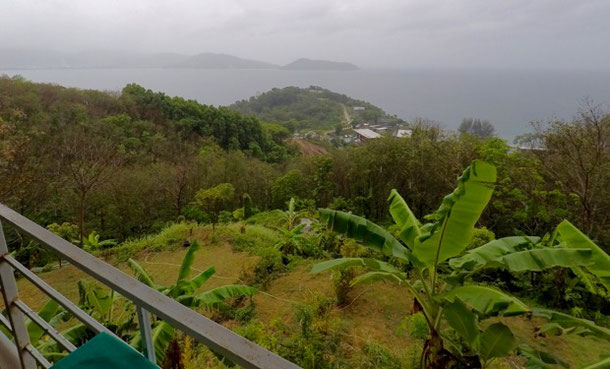 During my stay in Phuket, it often rained, even though it was January and theoretically the dry season. 
So instead of the blue sky and the sun, there was often such grayness.
But the food did not disappoint.
Here I tried super-local Thai cuisine. The choice of dishes and seafood is quite broad.
I ended up at Pha Chom Tawan Camala by accident. I was invited there by one French friend 
who has been living in Phuket for six years and is married to a Thai woman.
The restaurant hides in lush greenery on a hill between Patong and Kamala.
It is very local and unknown among tourists.
Besides us, there were no more foreigners there. But I am gladly sharing this secret place with you.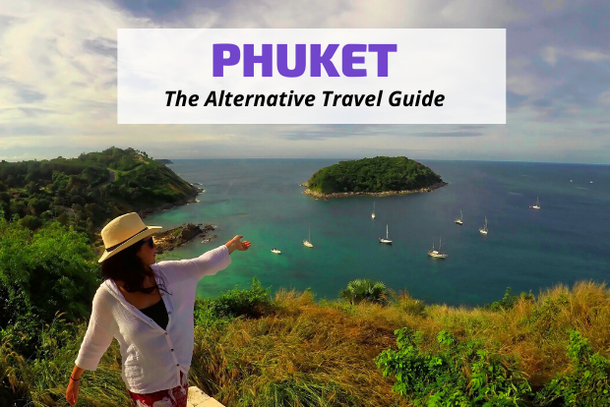 Patong Sunset View Restaurant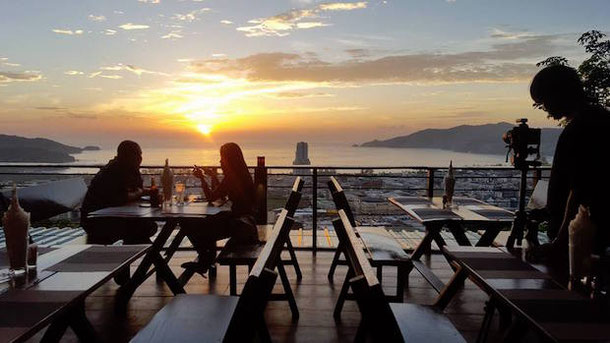 Another great restaurant with panoramic views is Patong Sunset View.
You can come here for dinner or drink something chilling from the Thai heat.
Take tables on the terrace to enjoy the evening breeze from the sea, and of course, the sunset, views of the beach, and the whole Patong.
The popularity of this restaurant is growing.  Therefore, to get a table on the terrace, it's better to reserve a place by phone in advance.
Prices at Patong Sunset View are very affordable. Soft drinks cost 50 baht, beer 80 baht, food 130-350 baht.
It serves not only Thai dishes, but also European ones. So Patong Sunset View will be an excellent option for travelers with children who miss the usual pork chop, beef steak, pancakes, or french fries.

The Galleri by Katathani Phuket: a hotel with panoramic terrace, a rooftop bar and an infinity pool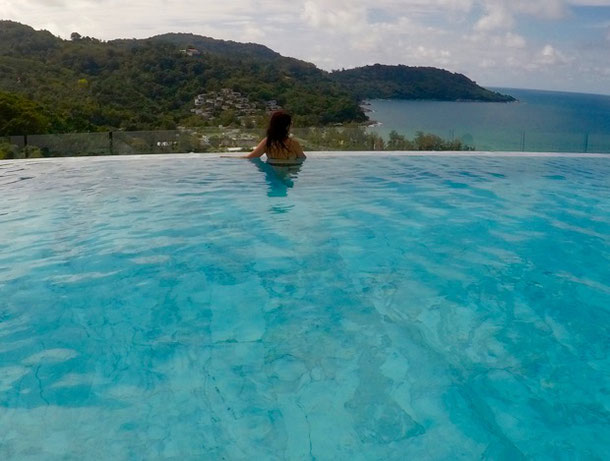 There are also places in Phuket where you can enjoy fantastic views non-stop: from the window of your room, then from the bathroom on the terrace, while having breakfast or swimming in the rooftop pool.
I am crazy about such places, and so I went to the hotel with the Infinity pool - The Galleri by Katathani.
The rooms and the pool offer superb views of Kata Noi beach, the Andaman Sea and the picturesque hills overgrown with dense tropical greenery.
The hotel has a bar and restaurant with modern Thai cuisine, and there is a huge panoramic rooftop terrace with tables and umbrellas. All in all, it's the hotel where you will want to come back again and again. 
Do you also like hotels with infinity pools?
Read my selection of 10 cool hotels in Phuket with rooftop pools.  
Most of them don't cost a fortune: prices start at $ 60 per night. Check it out. 
PHUKET: 10 UNIQUE HOTELS WITH INFINITY POOLS | UNUSUAL AND ATMOSPHERIC HOTELS IN PHUKET
After Beach Bar Phuket: a Reggae-style restaurant and a bar with a view
I noticed that in Thailand, and especially in Phuket, reggae music is trendy among locals.
I think it is due to the peculiarities of the Thai mentality. The base of it is "Sanuk", the pleasure of life, pacification, the absence of negative feelings and tension. It is very in tune with the reggae philosophy. Do you remember the song "Don't worry, be happy"? In fact, it is also very Thai.
So, I was lucky to find not just a restaurant with an observation deck, but a reggae resto-bar!!! 
The After Beach Bar is built on a cliffside, right in front of Kata Noi Beach, on the way to Nai Harn Beach.
It looks rather modest with its simple decor and thatched roofs, but here you will enjoy one of the most beautiful panoramas on the island and excellent views of the turquoise bay of Kata Noi beach. 
The After Beach Bar is not only a bar and a restaurant, but also a shop selling unusual rasta items. You will find here shirts in yellow-red-green rasta color, hats, necklaces, and handmade bracelets.
And of course, here, like nowhere else, you can relax to the cheerful songs of Bob Marley.

Samed Nang She Viewpoint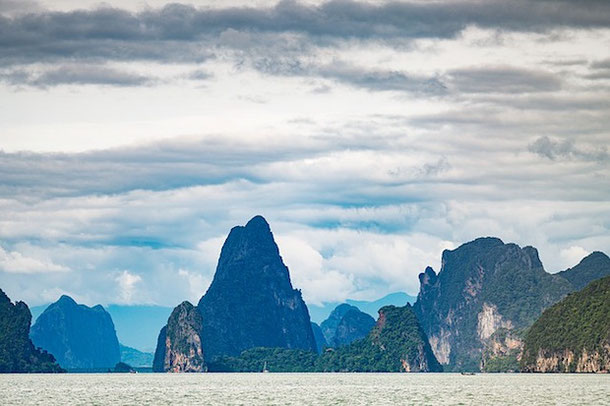 Entirely unknown until 2016, the observation deck Samed Nang She became a popular place in just a few months after it was discovered by a Thai photographer who shared his finding with the Instagram world. 
Samed Nang She is a natural terrace located in the deep countryside of Phang Nga province. It offers stunning east views to the limestone islands of Phang Nga Bay.
The best time to visit Samed Nang She is at dawn.
If you do not drive a car or a scooter, you can get to Samed Nang She with a local English-speaking guide.
More info here:
Phang Nga Bay Sunrise Tour from Phuket
A sky bar KEE Sky Lounge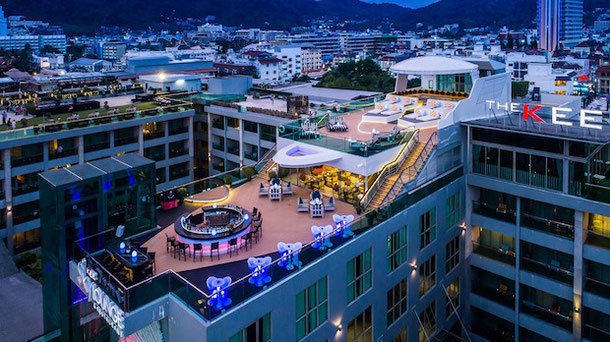 The rooftop bar that impressed me the most was the stylish KEE Sky Lounge with terraces on several levels.
It is located on Patong Beach next to the Beach Road and is part of the Kee Resort & Spa.
Although the bar is located in the center of Patong, on the roof, you can hear only a breeze, the sound of breaking waves and soft music.
Come here for amazing sunsets, creative cocktails, chillout music, and meeting other travelers and ex-pats in Phuket. Be aware that this place is more popular with foreigners than with locals, but that's also great meeting other travelers like you! 

Karon Viewpoint: an observation deck overlooking the three beaches of Phuket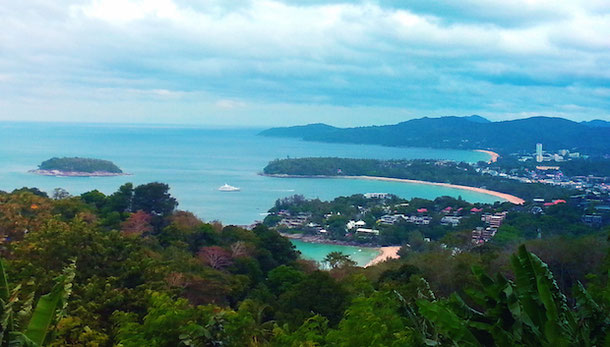 Karon Viewpoint is a magical place situated near the Kata beach. 
Thai people call it Kho Sam Hut, or the Hill of Three Beaches. From there, you can enjoy a soothing view of the three beaches of Kata Noi, Kata Yai, Karon, and the uninhabited island of Pu.
Although I was told that this observation deck is too popular, when we arrived there, there were only three people besides us. So do not be afraid to see crowds here. 
It's nice to sit there in silence or talk heart to heart, sipping coconut water, bought in a nearby shop.
After you recharged your batteries at the Karon Viewpoint, head to the nearby Heaven Rooftop Restaurant to explore Thai cuisine and new horizons.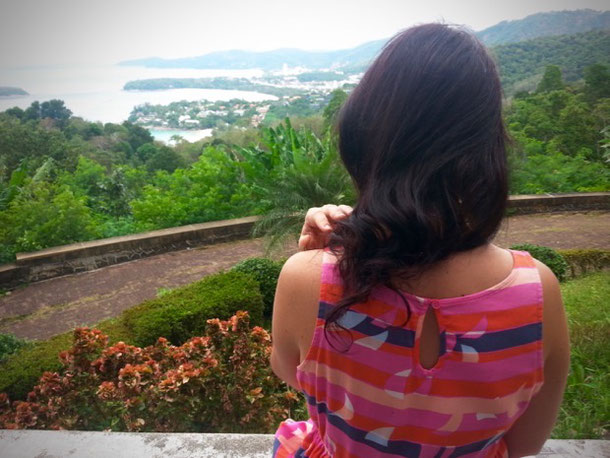 Heaven Rooftop Restaurant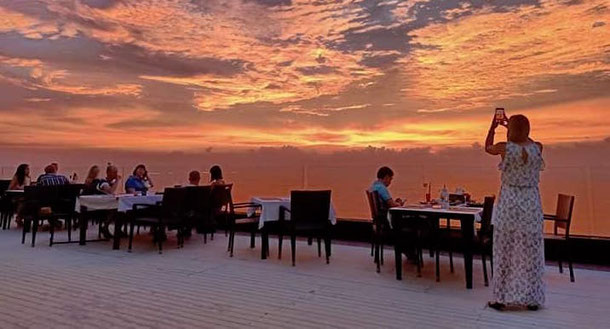 The Heaven Rooftop Restaurant is located near the observation deck mentioned above deck Karon Viewpoint. So you can combine a visit to these two sites.
This restaurant has a relaxed atmosphere, although this does not mean that you can come here dressed in beachwear.
The Heaven Rooftop Terrace offers a magical panorama of the three bays of Kata Noi Beach, Kata Beach and Karon Beach.
The food is a mix of Thai and European. Here you can taste both new Thai dishes, as well as the usual steak with mashed potatoes or grilled salmon.
All dishes cost an average of 230 to 350 baht, soft drinks cost 50 baht.

The Big Buddha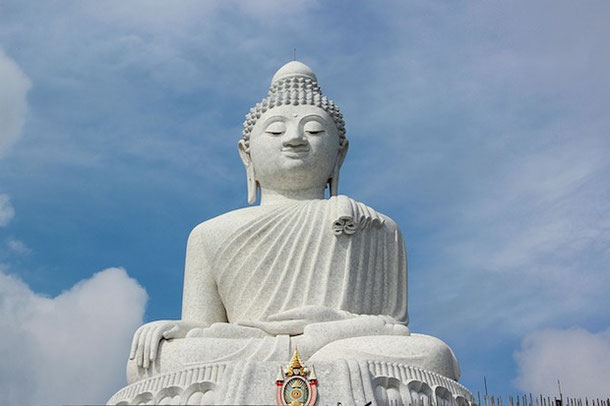 The Big Buddha is the energetic center of Phuket island. 
I started feeling it while climbing the hill. And when I reached the temple on the top, I was filled with peace, calm, inspiration, and bliss. If you have been to holy places, you will understand me.
Therefore, I recommend going here not to take a beautiful photo, but also to think about life, about the eternal, ask for forgiveness, or dream.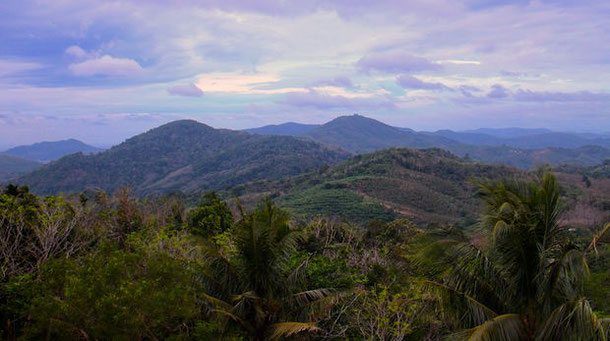 The Buddha statue impresses with its size: its height is 45 meters!
The Big Buddha Temple has not yet been completed, although construction began in 2002.
It's worth to know that the temple and the complex nearby are created exclusively by donations from parishioners. It is genuinely a joint project as the royal family, members of the government, business people, and ordinary locals participate in the construction.
You can also help build a temple if you want. To do this, you need to buy a tile for 300 baht and write what your heart says. This tile will later be used in the construction of the temple.
A 360-degree view opens from the observation deck.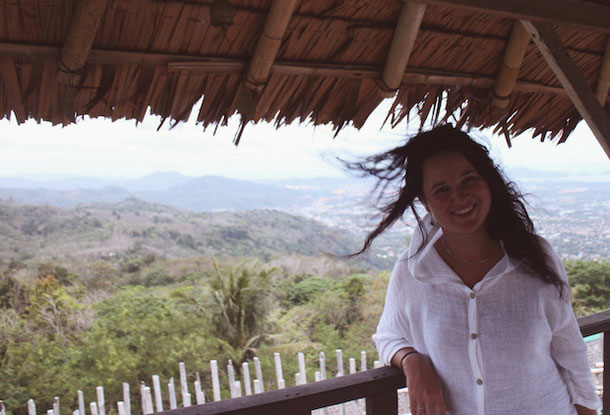 Since it is one of the gigantic hills of the island, you can see all of southern Phuket from it: Chalong Bay, Cape Panva, Rawai, Cape Phromphep, the beaches of Kata and Karon.
If you want to see Phuket from the aerial view, here is our video of the island, filmed by a drone:
Conclusion
Phuket is an amazingly beautiful island, so do not miss the opportunity to admire the magnificent panoramas during your trip.
Even though it is not always easy to get to the observation decks, it is worth it.
In Phuket, there is a variety of viewpoints: natural viewing platforms, hidden at the height of a hill in the density of tropical greenery, and also equipped places and restaurants. 
I hope that you liked at least one place from my list and you will visit it! 
Did you like this article? 
If yes, please give your "LIKE" :-) It's very very important! 
Want to be the first to know when a new interesting article is published? 
Cheers,
Sasha 
 
 
 
 
 
 
 
 

 

ABOUT THE AUTHOR

 

Hi, nice to meet you! I'm Sasha, a "free spirit" and a world citizen at heart who was born in the country that does not exist: Transnistria. I am on my adventurous journey to discover alternative, quirky, unique and unusual things to do and to visit in cool cities around the world. Join me and try something new! I write in Globish, since English is not my native language, so feel free to correct me or to make fun of me :).