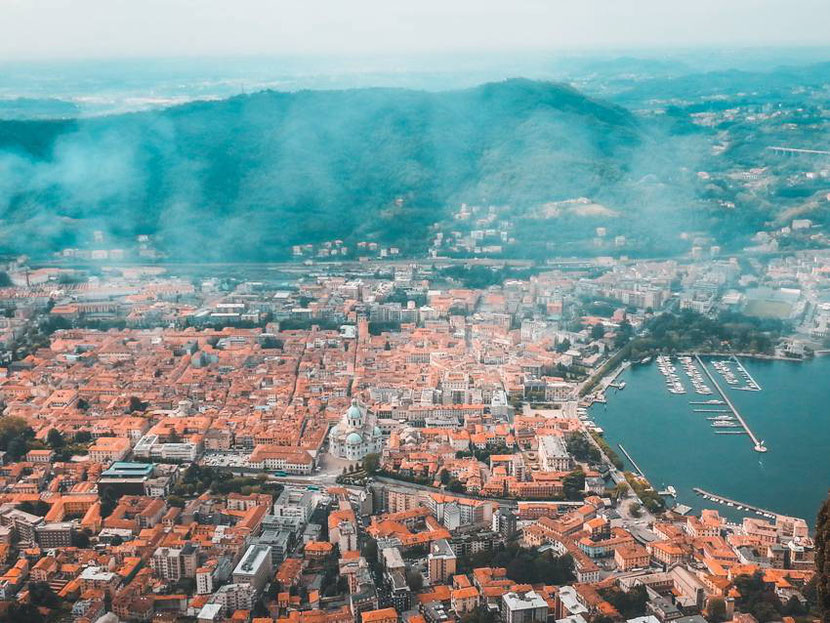 Lake Como has attracted travelers for millennia, but many refer to Como city as just a transit point between Milan and the lake. In fact, the charming town of Como is arguably the best town on Lake Como. It hides many attractions and is well worth a few days' visit. I enjoyed Como city's atmosphere and fell in love with its beautiful nature and city life harmony. It is the place to learn the art of dolce vita, enjoying the moment, and not rushing anywhere.
This blog post is Como city guide, and it covers specifically things to do in Como town. If you want to find inspiration for things to do in Lake Como, read my dedicated blog post Lake Como Travel Guide.
PLANNING YOUR COMO ITINERARY: QUICK TIPS
Where To Stay In Como
● Most Unique Hotel in Como: Suites & Atelier Lake Como. You just have to see it with your eyes. This hotel is a magical combination of historic location, design, art and superb service. 
● Hotel with stunning views: Hotel Paradiso Como. Jacuzzi in the clouds, pool overlooking the mountains and Lake Como. Breakfasts with magnificent views. Sunrises... Sunsets... 
● Luxury pick: Palace Hotel Lake Como. It's a place worthy of hosting the important events of your life - birthdays, wedding anniversaries, or a few honeymoon days. It is, in a word, beautiful, in every sense. 
● Budget pick: Locanda Milano 1873 - It is a small family-run hotel. The hotel is well located, simple and very affordable! 
Best Guided Tours in Como
● Como City Tour on Electric Bikes - This tour has a 5-star rating and only positive reviews. Touring Como on an electric bike in the company of a local knowledgeable guide is a fantastic way to discover the city. 
● 2-Hour Lake Como Private Boat Tour & Sightseeing - What could be better than enjoying the views of Como and the lake from a private boat? Sailing on private yachts is a favorite pastime of the world's celebrities and actors who live on Lake Como. Because it really is a delightful experience.
TOP THINGS TO DO IN COMO CITY, ITALY
1. Explore Como's Old Town
Como is a city where history goes hand in hand with modernity. It is both an industrial and tourist city and the capital of the province of the same name. 
Como is a relatively small town with about 85,000 inhabitants. 
The city of Como exists in symbiosis with its lake and the mountains surrounding it like a jewel. 
Como boasts unrepeated green landscapes and, of course, the romantic scenery of its famous lake that is loved and praised by many poets and writers. 
Even though the area of Lake Como is urbanized, it is a beautiful place to enjoy the unique nature of northern Italy. 
The city of Como continues to be a charming place where travelers from all over the world come to enjoy the mild climate and scenery inspired by the novel by Alessandro Manzoni.
Let's travel together through the narrow streets of the old town to discover the true soul of Como.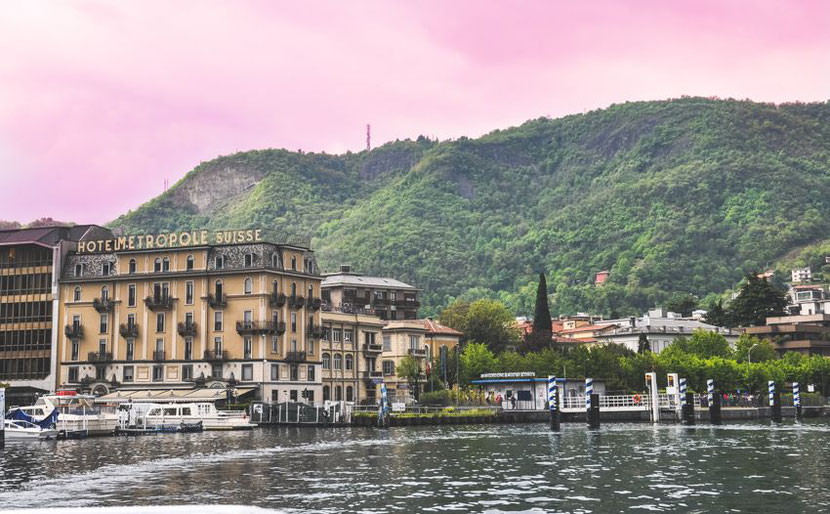 What to see in the city of Como? 
The old town, which is shaped like a quadrangle, is surrounded by fortress walls dating back to the twelfth century. Take a walk through the streets of Via Odescalchi, Adamo del Pero, and Vitani and explore many fascinating buildings that date back to the pre-medieval period. 
Stroll through the old town of Como and feel the charming atmosphere and charm of the city. Life here is unhurried but very beautiful, delicious, and stylish! 
If you get tired of walking alone, you can always join a tour and walk around the city with a local guide. You can be sure that in this case you will have fun and learn a lot of interesting things about Italy and Como. 
Click here for more information about the night tour of Como. 
Behind the medieval buildings hides chic palaces. It's pleasant not only to watch the beauty of this town but also smell. 
The streets are filled with the aroma of pizza from the restaurants, flowers from the many flowerbeds and flowering trees, and the smell of fruits coming from the stalls selling strawberries and melons. But the best thing to do in Como is to try all these delicious delicacies. 
You can walk around the old town and the promenade of Como endlessly, constantly learning something new about its rich history, famous characters, and architectural monuments.
And just eat, drink, repeat. 
2. Visit Porta Torre, An Ancient City Gate from the XII Century
Walking through the old town of Como, my attention was immediately attracted by an unusual tower with arches. As I learned later from my guide during a tour of the old town of Como, this impressive tower is called Porta Torre and is the ancient gateway to the city.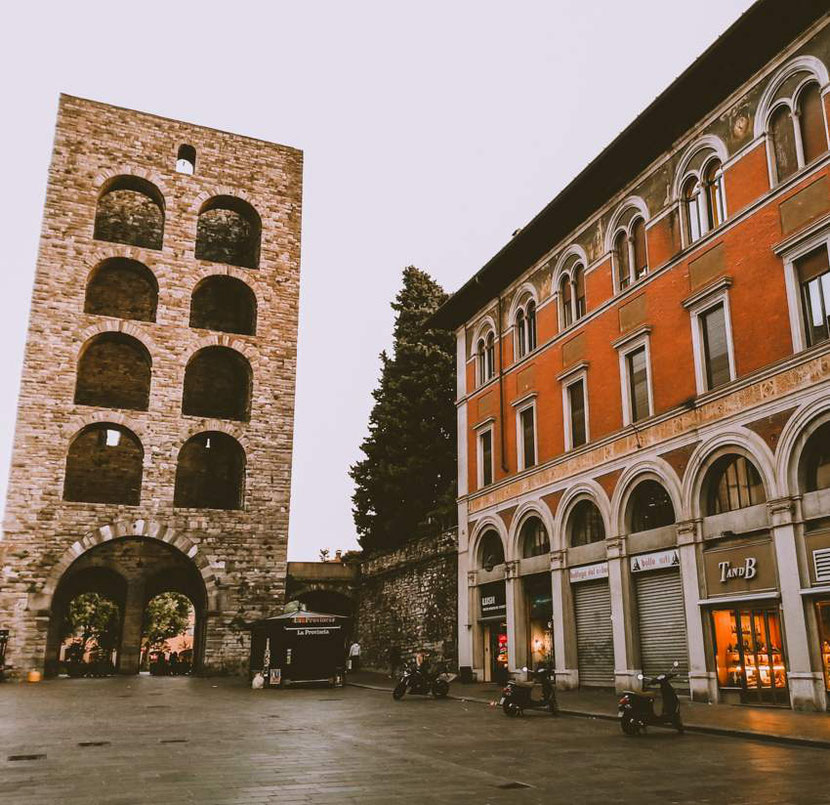 The medieval walls, covering three sides of the old city, were built by Barbarossa in the 12th century. Indeed, after the destruction of Como by the troops of the Duchy of Milan, the emperor rebuilt the city on the ancient Roman model, enclosing it on three sides with walls with massive towers in the corners and gates in the center.
In the south, three towers remain almost entirely: the Porta Torre in the center, the Torre Vitali in the east, and the Torre Gattoni in the west. 


Porta Torre is the largest of the towers. It rises 40 meters and was built in 1192 by Mayor Uberto of Pavia.
The tower symbolized independence from Milan. 
The tower gate is a rare example of Romanesque military architecture: massive, impenetrable on the outside, with four rows of double arches.
Today the gate is named Torre di Porta Vittoria in honor of the victory Garibaldi won at San Fermo in 1859.  To complete the story, a statue of Garibaldi (1859) stands in the square in front of the gate. 
3. Ride a Funicular To The Hilltop Village of Brunate And Go Hiking
One of the most beautiful places on Lake Como is the ascent to Brunate on the famous cable car. When you reach the top, you will be amazed by the breathtaking panorama.
Locals call this small and characteristic town of Brunate "Balcony in the Alps".
And I could not agree more!  It is a stop on your Como itinerary that you can't miss!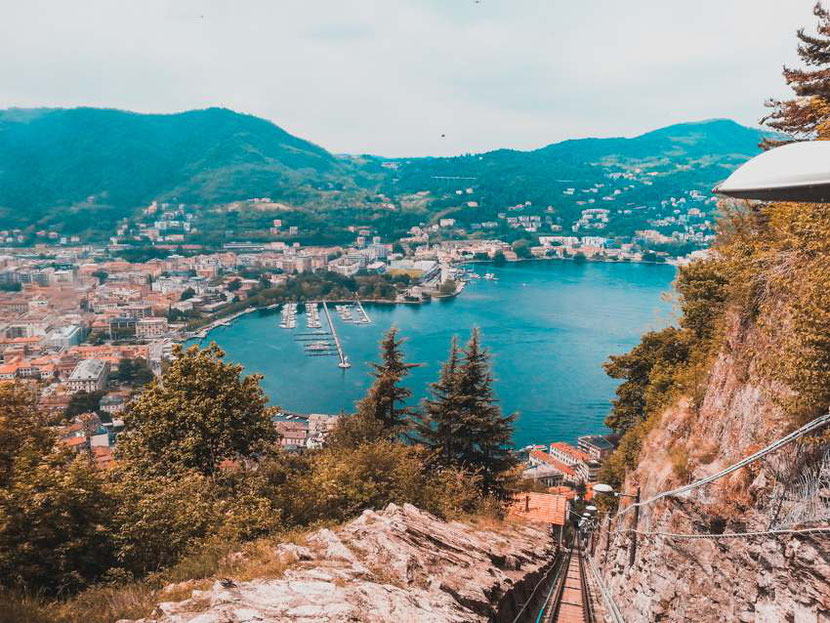 The cable car ride and walk through Brunate was a great part of my Lake Como vacation. I couldn't get enough of the lake and the hills; it was amazing, and I just don't have the words to describe this beauty. You have to see it. 
I really enjoyed the walk in the clouds, and, of course, the lunch and the delicious Italian coffee with such magical views. Brunate has some wonderful restaurants with local delicacies that are worth try. 
The funicular is one of the local attractions and has been operating since the early nineteenth century. 
When you reach Brunate, you will find yourself at an altitude of about 800 meters. I felt the height immediately: the fresh mountain air has lifted my spirit instantly.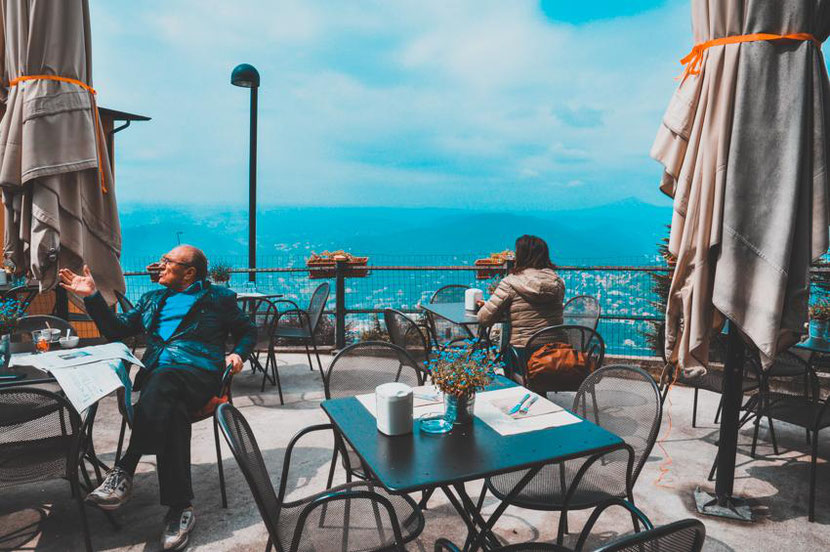 Looking at the city from the top of the mountain, Como is now perceived in a completely different way. From such a height, one can clearly see its structure - an ancient castrum. All cities in ancient Rome were built according to such a plan.
If you want to see even more beauty, it is worth climbing up to the Volta Lighthouse. 
The road will not be easy. You will have to climb the hill on a cobblestone road for about half an hour. And then you have to climb 143 more stairs on your way to the top. But the panorama is absolutely incredible. You will see the snow-capped Alps, Lake Como, surrounded by small towns and lush nature.
It will be a long time before you want to go back down.
If you are in good physical shape and love to hike, you will find many amazing and beautiful places around the town of Como, up in the clouds. There are easier trails, there are trails for more advanced hikers.
Walking in the mountains will allow you to see the town of Como and the lake from a new perspective. You will also visit authentic mountain villages and see divine scenery. 
If you are afraid of getting lost in the mountains of Como or you just don't have time to plan routes, then it is a good idea to join a tour with an experienced guide. 
Click here for more information about an Easy Mountain Trek Around Como. 
4. Go on a boat trip on Lake Como
Lake Como was called Lario in ancient times and was formed during the Ice Age! 
Over time, the lake became a favorite vacation spot of Milan's elite, and the only mode of transportation on the lake was water transport. Although there are now roads around Lake Como, water transport is still the most popular way to get to most of the towns along the shores of Lake Como. 
Small boats and ships depart from the pier of the Como city.
They stop at almost all of the famous towns, moving at a leisurely pace. 
High-speed hydrofoils go much faster but stop only in key towns. In addition, there are car ferries that connect Bellagio, located on the peninsula, to nearby towns in the central part of the lake.
The ticket office at the pier will advise you of the most convenient option. You can buy a roundtrip ticket or just a one-way ticket.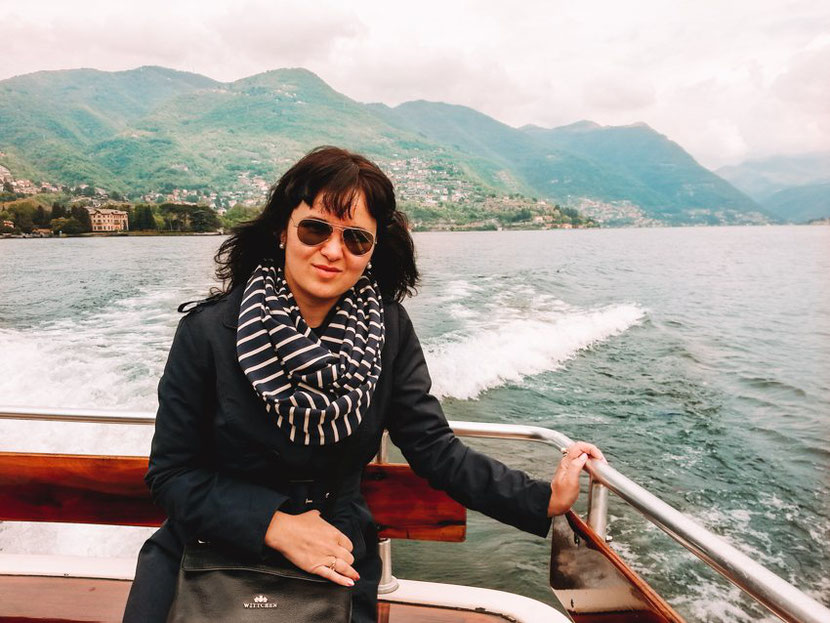 Do not miss the opportunity to take a boat trip on Lake Como! 
Boat excursions on Lake Como are an amazing opportunity to see stunning scenery from the water and relax while watching all this beauty.
Boats are the most convenient way to get around Como.
To get from one end of the Lake Como to the other (for example, from Menaggio to Belaggio) by car, you need half a day, and by boat only 30 minutes. 
Water transportation is very conveniently organized on Como: there are double-decker huge water buses that go in different directions from the port of each town. And besides, almost everywhere you will find comfortable "water taxis" - small boats for 5-10 people. Of course, they are more expensive, but they will take you wherever you want to go.
Another convenient option for sailing on Lake Como - you can rent a boat. The price is very attractive since you pay for the boat and it can seat 5 people! If you are traveling as a family or a group, this can be a cost effective option that will give you the freedom to sail on Lake Como. More information on renting a boat on lake Como. 
5. Marvel at The Duomo of Como
You can't go to Como and not visit its magnificent Cathedral - Duomo Di Como. 
This church is dedicated to Santa Maria Assunta and is the most important religious building in the city.
It is the third-largest church in the whole of Lombardy after the Duomo di Milano and the Certosa di Pavia and is the last Gothic church built in Italy.
The church's architecture is a harmonious blend of Gothic, Renaissance, and Baroque styles: the result is one of the most beautiful monuments in Northern Italy.
How does the Cathedral combine several styles? The facade is very typical of Italian Renaissance cathedrals. It is made in a strict Gothic style. On the other hand, the dome is made in the Rococo style, roughly speaking advanced Baroque.
Why is that?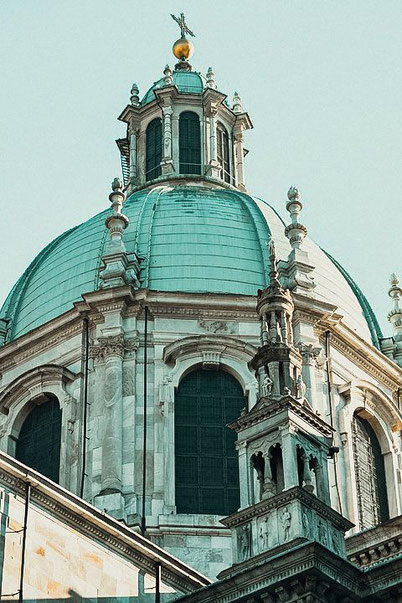 Construction began in 1396 and was not finished until 1770.
Such a long construction period influenced its appearance.
The Cathedral architecture is an excellent example of the different historical periods during which it was built. Subsequent stylistic phases (Gothic, Renaissance, Baroque) are successfully harmonized thanks to the skill of the architects and the craftsmanship of the workers who built this Cathedral. But the dominant style remains the late Gothic Renaissance.
5. Taste Local Delicacies and Go On a Food Tour
Every region of Italy is unique and has its own local specialties. Como is no exception. Here, too, you can taste authentic dishes that you won't find in other regions of Italy. 
Tourists traditionally come to Italy to eat!
And that's exactly what you must do here! 
While vacationing on Lake Como, try the delicious dishes of fresh fish. In local restaurants, they cook all kinds of lake fish. One of the most common species is the perch. They marinate it, make an excellent risotto with perch fillets, and fry it in high-class olive oil. 
If you're a fish lover, you'll love it in the city of Como. 
One of the traditional dishes in Como is Ravioli ripierini di persico al burro e salvia, which is ravioli stuffed with fish. 
In Como's restaurants, fritto misto di lago takes pride of place.
It's an assortment of fried lake fish: bleak and herring crumbled in flour and fried in a cast-iron pan, burbot, whitefish, and pike-perch fillets breaded with egg, cooked in butter with sage.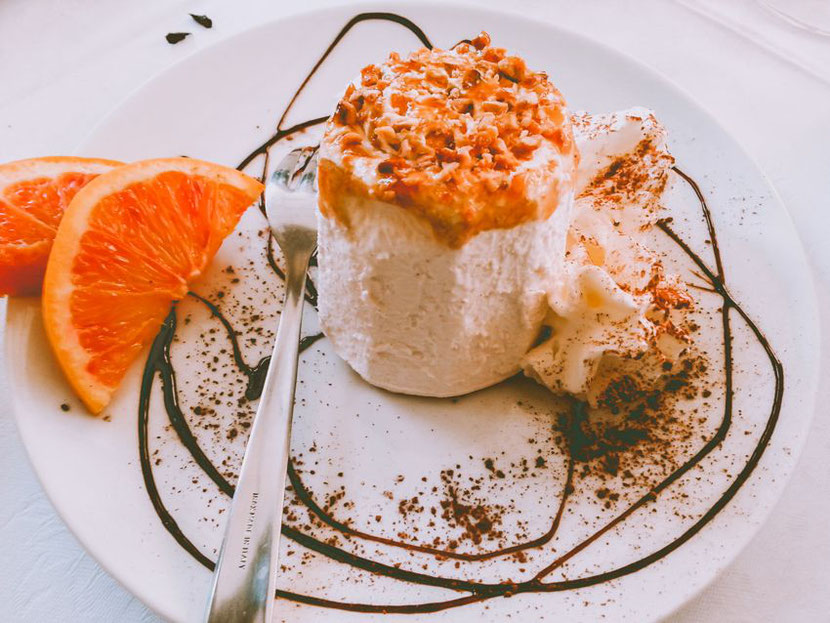 My favorite fish dishes I tried in Como are Pesce in carpione - fried fish, marinated in vinegar with onions and bay leaf, and fish in green sauce, fried and marinated in parsley sauce. 
Be sure to try the traditional dish of Lake Como - missoltini. These are herring caught in May, sun-dried and stored in layers, with a bay leaf. After grilling, the missoltini are served drizzled with oil and vinegar, paired with roasted polenta and red wine.
The lake influence is strong in the local cuisine, but so are the rustic flavors of the mountains. 
Fish in Como is often served with polenta. I tried several kinds of polenta in Como: polenta taragna made from buckwheat or polenta uncia with butter, garlic, and cheese. 
In Como, you can also try all sorts of pasta from Lemon Ricotta Pasta to Carbonara and Pasta Puttanesca, and even learn all secrets about Italian pasta if you go on a cooking class. 
If you're a sweet tooth, you'll find the city of Como to be a paradise.
My recommendation: try everything!
And if you love or want to learn how to cook real Italian pasta and tiramisu from a real Italian, then be sure to take part in a master class on making these dishes.
Not only will you have fun (Italian wine is included), eat what you cook, but you'll take home a unique souvenir - the knowledge and skill to cook legendary Italian dishes. 
More information on Italian pasta and tiramisu cooking class in Como. 
The desserts in Como are unbelievably delicious. In Como, you can try some unique local desserts like miascia and masigott.
Do you know the difference between an Aperitivo and a Digestivo? If not, Como is an ideal place to learn about it and also try different Italian drinks such as the Aperol Spritz, a Negroni Cocktail, a Puccini, a Bombardino, a Rossini or a Garibaldi drink. 
Everything I've eaten and drank in Como has been delicious, both at expensive restaurants and casual eateries. And I'm ready to go to Como again just to eat such devine food again! 
6. Buy Local Silk Products and Visit The Silk Museum in Como - Museo della Seta
When I think of Italy, especially the north of Italy, I think of luxury, beauty in everything, and the art of living beautifully. Part of Italian luxury is stylish Italian clothing, Italian design, and Italian fabrics.
One of the most luxurious fabrics is, of course, silk.
In ancient times, this fabric was worn only by kings and nobles, rulers, and wealthy people. To this day, silk is a fabric that is very highly valued.
So, it turns out that the city of Como was the center of silk production for centuries! 
If you love this luxurious and soft fabric and want to learn more about European silk, go to the silk museum in the city of Como!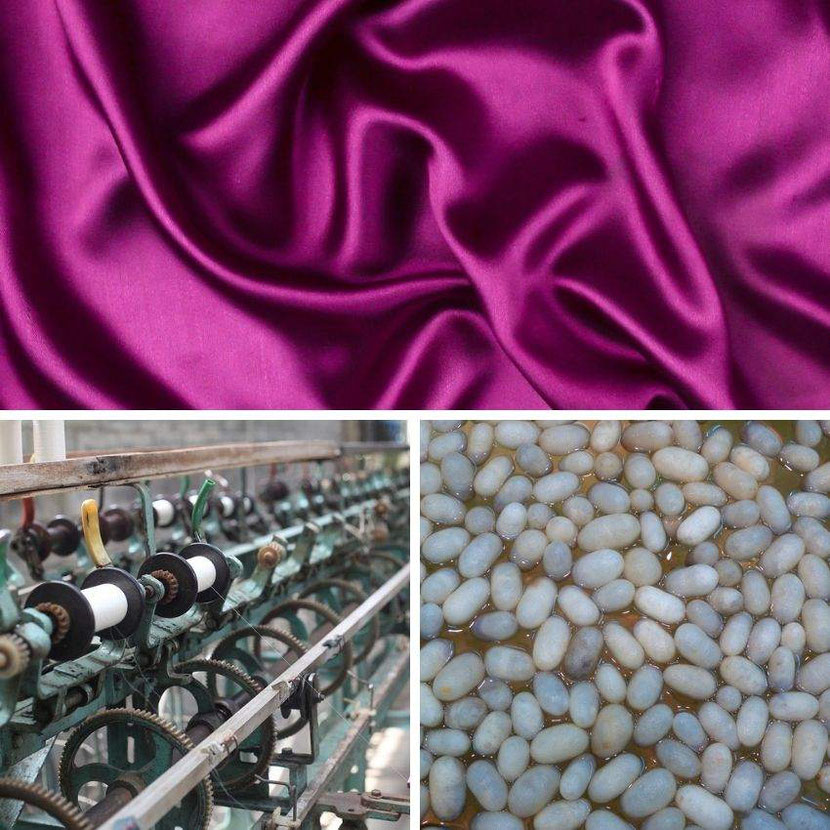 As you know, silk was invented in China. For many centuries, the Chinese did not disclose the great secret - what is silk made of. 
But in the 6th century A.D., Europeans managed to export silkworms to Italy. At the beginning of the 16th century, the production of this fantastic material began on Lake Como. 
In those days, the technology was quite complicated, and the manufacturing process was long.
Silk is the authentic attraction of Como.
Here you can see this magnificent fabric in the windows of local stores almost at every step. This fabric is considered a refined and sophisticated example of classic style. So it's hard to leave Como without buying it. 
In the silk museum, you can learn about the history of the fabric and see how Italian produced silk on the lake Como in the old days. 
Read also: 
Lake Como Travel Guide: Vacation Itinerary, Things To Do & Best Places To Visit 
Traveling to Sardinia, Italy in September and October
20 Ideas For Alternative Traveling
---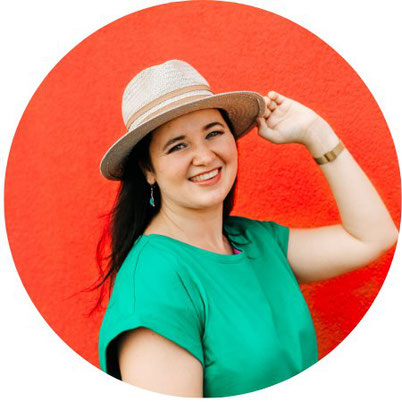 ABOUT THE AUTHOR
Welcome to The Alternative Travel Guide, my name is Sasha. Yes that's me up there, smiling ear to ear.
I guess this is the part where I tell you that I quit my job horrifying desk job to travel the world, right? Can't do that. Instead I performed a 200 IQ level move and started working in the travel industry. This allows me to work and play whilst circumnavigating the globe.
I have travelled extensively - 60+ countries on different continents, 200+ cities (lost count) - and consider myself a world citizen at heart. The authorities refuse to recognise this officially ("you can't have 193 passports", they write in every letter) so I make do with being a visitor. I've also lived in Hungary, Belgium, France, Thailand, Spain, and Poland.
---