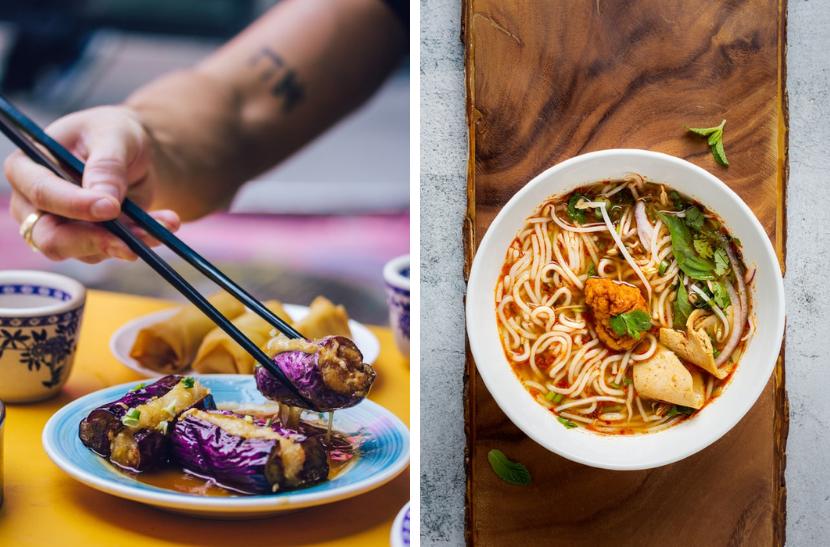 Hong Kong is a city that surprises. A place where the cult of food is akin to religion. Be prepared that every day spent in Hong Kong will be a food tour. If you love trying new things, you won't want to leave this city because there is no end to discovering astonishing dishes.
 In this blog post, I share 17 quirky and unusual foods in Hong Kong that you must try: century eggs, futuristic rainbow toast, bubble waffles, green matcha desserts, and more. Are you ready for a food adventure in Hong Kong?
Looking to save money in Hong Kong?
● If you are a coffee-lover and want to try some of the most unusual coffees in Hong Kong, such as Wellness Latte, Caffe Rosa, or Honey Roasted Latte, enjoy this super deal "Buy 3 & Get 1 Free Coffee" at the best coffee shops of Hong Kong. 
● Get a free entry for Art Central, the main event of Hong Kong Art Week. If you like contemporary art and meeting talented and interesting people, don't miss out this event. 
● Save on traveling around Hong Kong with this inexpensive MTR Tourist Day Pass. With this ticket, you can enjoy unlimited MTR rides all around Hong Kong. It's an excellent bargain if you plan to visit many places in different parts of Hong Kong within one day. Click here to book a discounted MTR Day Pass for Hong Kong.
● If you want to save on accommodation in Hong Kong, check out these hotel rooms offers up to 72% OFF. With this deal, you can book discounted staycations, hotel rooms for day use or selected hours, and even find affordable long-stay hotel offers. Click here to see discounted hotel room offers in Hong Kong. 
● Here you can book a discounted transfer from HKG Airport to Hong Kong. The driver will take you to your hotel in Hong Kong Island, Kowloon, or New Territories. Book it in advance and don't worry about waiting in queue for a taxi or taking a crowded public bus. 
● And if you want to travel with comfort, click here to get a cheap private transfer by car. 
● To stay connected with your family and friends, get a discounted 3G/4G Prepaid SIM Card for Hong Kong. You can pick it up at the airport. This SIM card includes unlimited data for 8 days. 
---
Food Guide Hong Kong: What To Eat in Hong Kong
The first thing that struck me in Hong Kong is that locals love their favorite cartoon characters so much that they are ready to eat them.
Because of this phenomenon, Hong Kong has become home to dozens of cartoon-themed cafes and restaurants: Hello Kitty Chinese Cuisine, Snoopy & Charlie Brown Cafe, Pop-up Cafe Pom Pom Purin, Gudetama Cafe, Ding Dong Restaurant, Moomin Bakery & Cafe, and Kumamoto Cafe among others. 
In these restaurants, you can eat the cutest dim sum in the world in the form of Hello Kitty, a snoopy-looking cheesecake, and a moomin-like latte. How do you like this menu? 
Read about these and other unusual restaurants (a plane-like restaurant, a floating restaurant, a fishing restaurant on a shrimp farm) in a blog post:
"Hong Kong: 5 quirky restaurants and themed cafes to wow you."
Must-Try, Popular, Weird and Street Food in Hong Kong
To start your Hong Kong culinary adventure, head to the Mongkok area. Its streets hiss, squirt, smoke, and smell fierce from the street food being cooked on every corner. 
Popular with local youth and renowned for its authentic vibe, Mongkok is the place to go for some of the most quirky and traditional dishes of this food-obsessed city.
In the evenings, it is crowded and animated. I lost track of time here and spent many hours going from one food stand or restaurant to another.
To taste the iconic Hong Kong food in proven locations and with a Hongkonger, I recommend taking a tour of Mongkok's Night Market with local street food tasting.
The food choices in Mongkok are impressive.
I had an embarrassment of riches from the sight of all this colorful food. My head was spinning from the explosive mixture of aromas. If you stay in Hong Kong only a couple of days, I recommend that you first look into this area in order to feel the atmosphere of the city and try the most astonishing Hong Kong dishes.
What unusual and delicious Hong Kong food have I eaten here?
1. Century Egg Hong Kong
A highlight of my culinary tour in Hong Kong was Century Eggs.
What are centenary eggs? Some people love them, while others feel bad at the mere thought of eating a rotten egg.
Century egg taste
Personally, I cannot pass by unusual food. And although such an egg looks rather unappetizing, I decided to try it. It did not taste as disgusting as I had imagined. The albumen turned to a dark brown jelly, and the yolks became swampy. The century egg has a pungent smell of ammonia and a strong sour taste.
How did the Chinese come up with the idea of eating rotten eggs?
As a legend says, a farmer in the Chinese hinterland found a clutch of duck eggs in a muddy limestone swamp. He wanted to try them. The farmer was so impressed with the taste that he decided to preserve the eggs himself. Since that time, it has been a favorite snack in China, Hong Kong, and some countries of Southeast Asia for many centuries. 
How to make century egg?
To prepare this Chinese delicacy, Hongkongers traditionally use duck eggs. Although, modern century eggs are often made from chicken and quail eggs. 
To make century eggs, a large pot is filled with strong black tea with salt, wood ash, lime, and calcium oxide. Then eggs are soaked in this marinade. They are pickled for 100 days and not 100 years, as the name deceptively suggests.
How to eat century egg?
In Hong Kong, century-old eggs are served as a snack or eaten by themselves. If you love experimenting with taste, don't miss the opportunity to taste the century-old eggs.
Where to eat century egg in Hong Kong?
Yung Kee Restaurant - Address: Yung Kee Building, Wellington St, Central, Hong Kong 
Law Fu Kee Restaurant - Address: 140 Des Voeux Rd Central, Central, Hong Kong 
Mui Kee Congee - Address: Shop 11-12, Cooked Food Centre 3/F Municipal Services Building, 123A Fa Yuen St, Mong Kok, Hong Kong 
Ho Hung Kee Restaurant - Address: 1 Sky Plaza Rd, Chek Lap Kok, Hong Kong
Goose Manor - Address: No.29, Shop C, G/F, Kowloon Centrer, 39 Ashley Rd, Tsim Sha Tsui, Hong Kong 
You can also learn more about century eggs and other weird Hong Kong dishes, and of course, try them on this Hong Kong food tour. 
2. Sweet Tofu Pudding - Douhua
Tofu has long ceased to be an exotic product. Rice noodles with tofu or sushi with tofu don't surprise anyone. But if in a Western world tofu is usually eaten salty and fried, they also like it sweet and make desserts from tofu in Hong Kong.
Douhua is an iconic tofu pudding.
It is also known as soy pudding or tofu brains. Tofu pudding can be found in many restaurants and stands in Mongkok and throughout Hong Kong.
Here are some restaurants serving classic douhua recipes:
Kung Wo Tofu Factory - 118 Pei Ho Street, Sham Shui Po, Hong Kong
Auntie Sweet 13 Tsing Fung St, Causeway Bay
Kung Wo Dou Bun Chong 67 Fuk Lo Tsun Rd, Kowloon City
Dream Tofa - Shop 6, G/D, No.1 Lyndhurst Terrace, Central, Hong Kong 
My favorite one from this list is Dream Tofa: it's a cafe dedicated to EVERYTHING TOFU! The choice of tofu desserts is enormous here.
Click here to get a free 10% Discount Voucher for any tofu dessert or drinks at Dream Tofa. 
3. Stir-Fry Hong Kong Style
Stir-fry is what most people associate with Chinese cuisine.
Stir-fry is also popular in Hong Kong, where almost everything is prepared using this method - from any type of meat to vegetables and complex dishes.
The stir-frying technique itself means what it's called "stir and fry." The cook cuts ingredients into equal-sized pieces and fries them in a wok, stirring quickly and even tossing them a little into the air. The peculiarity of the stir-fry is that it is quickly roasted for about 5 minutes at a very high temperature.
You can find stir-fry dishes in any restaurant in Hong Kong, and the choice is huge.
My favorite stir-fry dishes are:
Beef stir-fry 
Hongkong style rice noodles with chicken and vegetables 
Fried noodle with stir-fried mix seafood and
Stir-fry pork with Chinese kale 
Do you want not only to try local stir-fry food but also to learn how to cook it?
For this, join a Hong Kong Cuisine Cooking Class to learn from a local chef how to cook 3 courses: a starter, a main course (meat or fish dish with fried rice or rice noodles), and a dessert.
The master class includes a trip with the chef to a local food market, where he will explain how to choose the right ingredients. After that, you will go to the cooking studio, where a real culinary adventure begins. You will prepare iconic Hong Kong dishes step by step under the guidance of a chef and then eat them or take them away with you.
4.