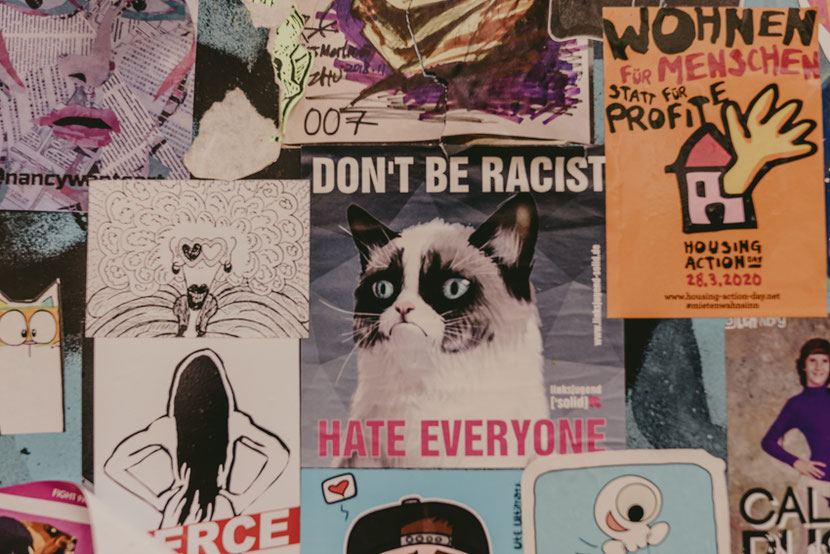 Kreuzberg is Berlin's coolest and hipster neighborhood. If you are going to Berlin for parties until the morning, inexpensive and unusual shopping, street art, and alternative culture, you can't miss Kreuzberg.
In this blog post: what you need to know to understand Kreuzberg, recommendations on where to stay, hotels, what to visit, and safety in the Kreuzberg Berlin district.
Kreuzberg: Hipster and Alternative Berlin
Kreuzberg is one of Berlin's most eclectic neighborhoods with varied and alternative cultural life. An explosive mixture of hipsters, gays, punks, anarchists, young entrepreneurs, artists, and Turkish immigrants live together here.
By the way, almost a third of the population is Turks, so some of the neighborhoods of Kreuzberg are called Little Istanbul.
In Kreuzberg, as in Friedrichshain, the population is quite poor and the unemployment rate is high.
The area has a heterogeneous architecture, where entire blocks of residential buildings from the 19th century are adjacent to functional and not very neat, plastered with streakers and painted with graffiti, houses from the 60s and 70s.
In recent years, Kreuzberg has also experienced gentrification.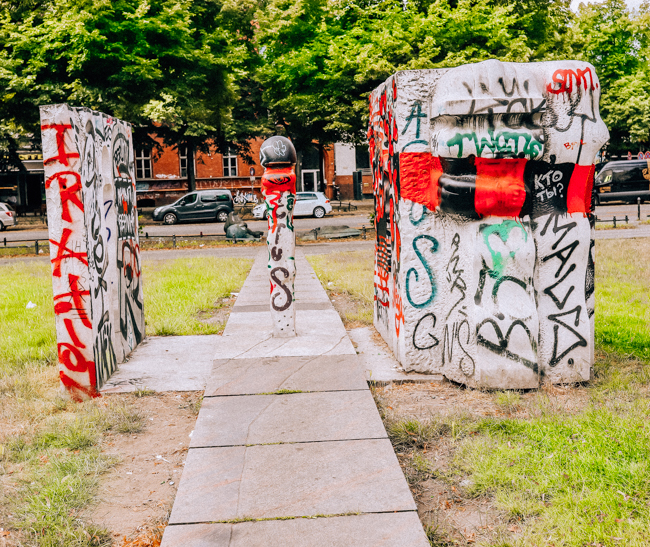 This photo shows a place in Kreuzberg, where the Berlin Wall used to stand, framed by art.
Prices for rent and purchase of real estate increased by 20-30 percent, and new investors converted abandoned houses into stylish lofts, offices for IT companies and designers.
The local population protests against gentrification, as they do not want to repeat the fate of Prenzlauer Berg.
They are so determined to defend their area that they even boycotted Google.
Google planned to open startup campus in Kreuzberg that would become an accelerator for start-up IT companies. But there was a lot of resistance in the area. Residents protested because they knew the campus opening would change the neighborhood and make it more expensive.
Surprisingly, Google did not force the deal and decided not to open a campus in Kreuzberg. Although Google did buy the building, for now a social and cultural institution will function there.
From Kreuzberg, you can easily and quickly get to the center of Berlin, while at the same time plunge into the life of an alternative Berlin.
What to See in Kreuzberg Berlin District
Berlinische Galerie - Museum of Modern Art
Experience German art created in Berlin from 1870 to today in  Berlinische Galerie - Museum of Modern Art. 
In this museum located in Kreuzberg, you can see special exhibitions from classical modernism to contemporary Berlin art.  
Collections include Dada Berlin, New Objectivity, and Eastern European avant-garde. Don't miss the collection of the art of divided and reunified Berlin. 
The exhibitions are very diverse and include paintings, sculptures, multimedia installations, photographs, and architecture. So, everyone can find something exciting and to their taste in The Berlinische Galerie. 
Oranienstraße and Bergmannstraße
Oranienstraße and Bergmannstraße are streets full of independent shops, cafes and restaurants. Go there for a lazy walk, feel the ambiance of Kreuzberg and stay open-minded. 
Landwehrkanal
Stroll a few kilometers along the canal Landwehrkanal that runs right through the heart of Kreuzberg.
It is a pleasant area full of life, especially in summer. Stop at an atmospheric bar or restaurant with a terrace.
Jüdisches Museum Berlin (Berlin Jewish Museum)
Understand Berlin Street Art in Kreuzberg on the Alternative Berlin Tour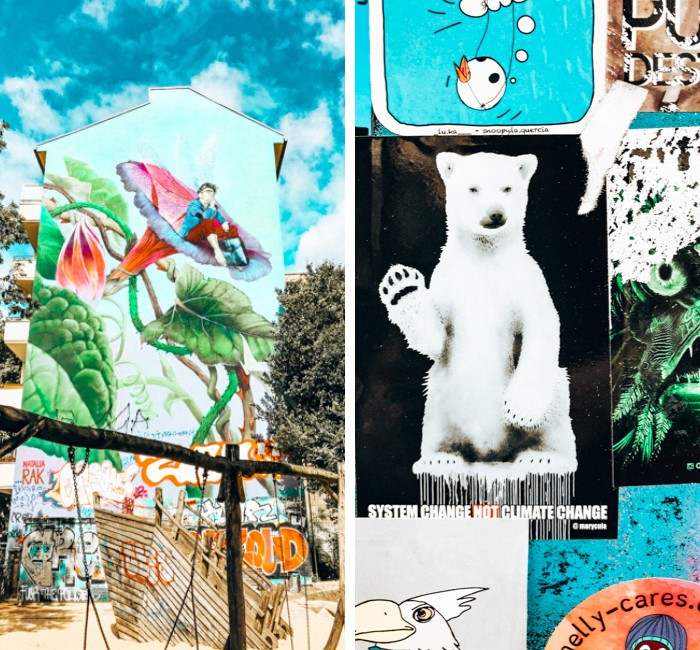 Street art in Kreuzberg is all around, and it's really worth planning some time to just walk in the district and hunt for street art. In many ways, Berlin is a trendsetter, so is local street art scene. 
If you want to understand political and social messages of Berlin artists, join the tour Alternative Berlin Experience. 
During the tour, the local from Berlin will take you to the most electrifying places such as underground galleries, community funded urban farms, and hidden street art locations. You will learn about different cultural movements that developed in Kreuzberg and what local activists fight for.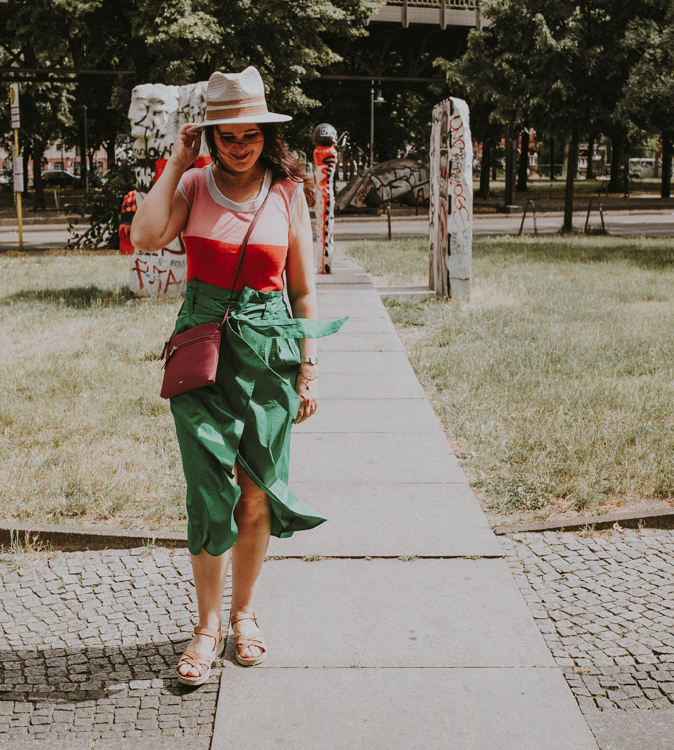 Where to Stay in Kreuzberg Berlin District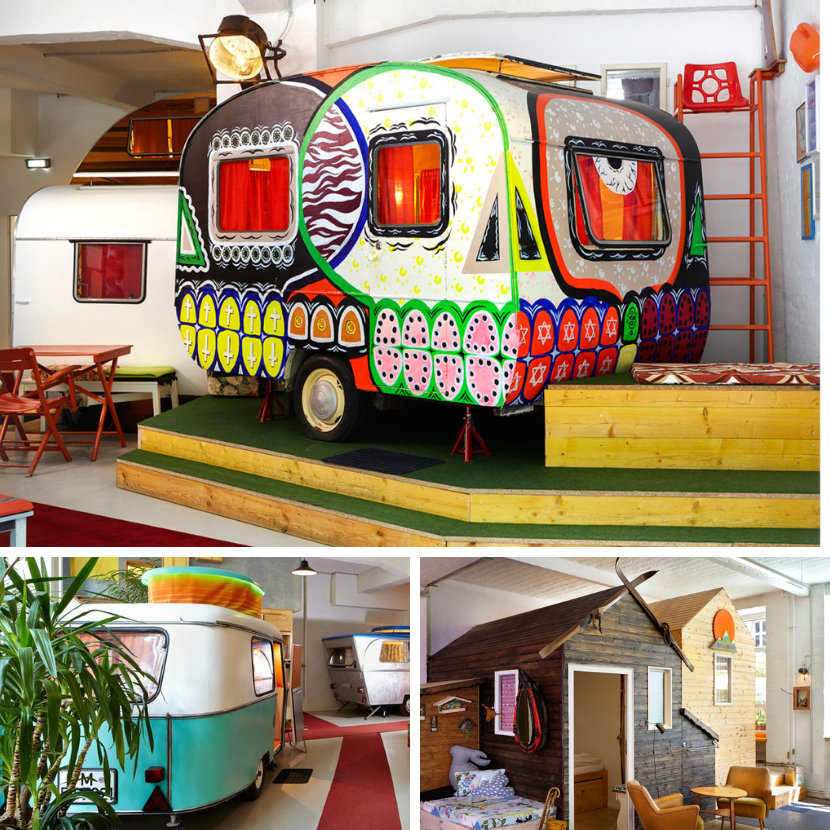 Kreuzberg, like Friedrichshain, is full of budget accommodation.
However, if you are looking for a stay in a hotel that you will remember for a long time, then I recommend staying at the unusual Hüttenpalast hotel.
Unlike standard hotel rooms that are the same everywhere, here you can live in cool vintage caravans and post-industrial factory lofts.
This fun accommodation is located inside of the former vacuum-cleaner factory.
Guests can choose to spend the night in a funky refurbished vintage caravan or a lofty factory room. In Huttenpalast, while sleeping in the wild wooden cabins and caravans, you feel the vibe of real adventure travel, and at some point, you forget that you are actually in Berlin. 
You also catch the back to nature feeling at the open-air cafe of Huttenpalast that is a green oasis with trees and rare plants.
More Hotels in Kreuzberg
Safety in Kreuzberg Berlin District
This photo was taken in Gorlitzer park on a Sunday morning in the Kreuzberg district. At first, it seems that this is an ordinary, cute, and calm Berlin park.
In the center of the park, there is a small zoo - an educational farm for children. Here, children can watch, pet and care for sheep, donkeys, pigs, rabbits, ducks and geese.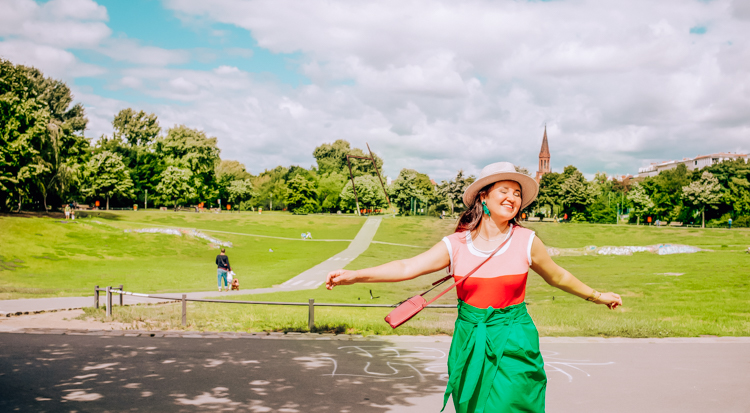 Mothers and children walk in the park in the morning, but in the evenings the park turns into a drug market.
Local authorities know about drug dealers, but so far they could not do anything about it. Or they didn't want to. The police arrest drug dealers, but after a few days new ones appear here.
In 2019, in just 6 months, 1500 crimes were committed in Gorlitser Park.
Attacks and robberies are frequent here. Therefore, stay away from this park in the evenings and even more so at night. And I would not recommend renting apartments in the vicinity of this park. 
Other places that I would not recommend going in Kreuzberg at night are Kottbusser Tor and the surrounding area towards Neukoln. 
1. Berlin Mitte District: All the Must-See Sights of Berlin within the Walking Distance
2. Berlin Charlottenburg-Wilmersdorf District: the Heart of West Berlin
3. Friedrichshain Berlin District: the Center of East Berlin
4. Prenzlauer Berg Berlin District: Post-Industrial Chic & Trendy Lifestyle
 Prenzlauer Berg Berlin District: what to see, where to stay, hotels & safety
5. Berlin Safety Tips for Travelers
With love,
Sasha & The Alternative Travel Guide 
SAVE IT ON PINTEREST FOR LATER: