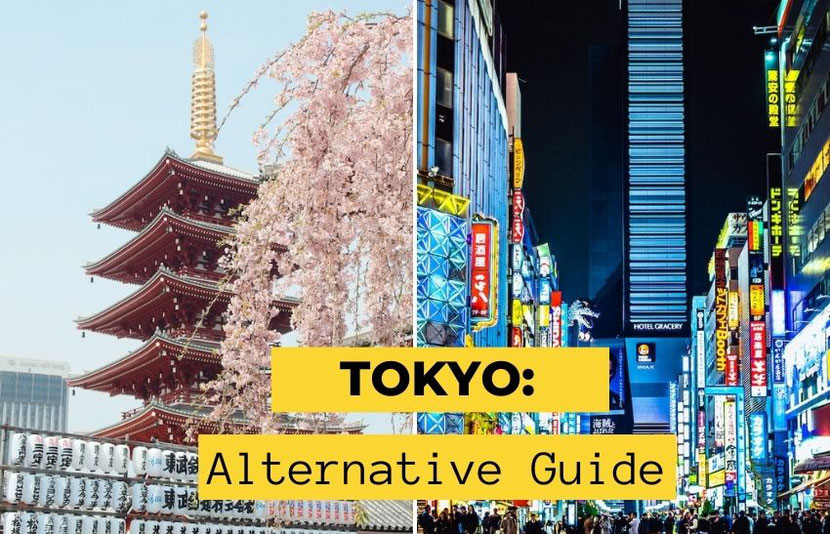 Tokyo, the extraordinary metropolis of Japan is easily one of the coolest, most vibrant and bustling cities you can ever wish to visit! It is such a fascinating place with fascinating people, and there are tons of fascinating and unique things to do in Tokyo! 
Of course, there are many iconic landmarks and popular sightseeing places that you should visit, such as the majestic Imperial Palace, the serene Meji Shrine and very popular Senso-Ji temple.
However, a lot of these top sites can get overcrowded with tourists both international and local throughout the year. Beyond these tourist hotspots, there lies a hidden realm of offbeat experiences that offers a glimpse into Tokyo's extra special charm. 
In this article, I will detail the best unusual things to do in Tokyo. Getting to know an exotic city such as Tokyo can be a challenging task, but discovering lesser known aspects can lead to a more rewarding and enriching travel experience.
These alternative activities give a unique opportunity to immerse yourself into the truer side of Tokyo that is rarely explored. From discovering eccentric neighbourhoods, and encountering the city's unconventional side, you can really get to learn what this city and its inhabitants are all about.
So let's step off the beaten path and uncover some of Tokyo's bizarre delights! 
Pin it: Unique Things To Do in Tokyo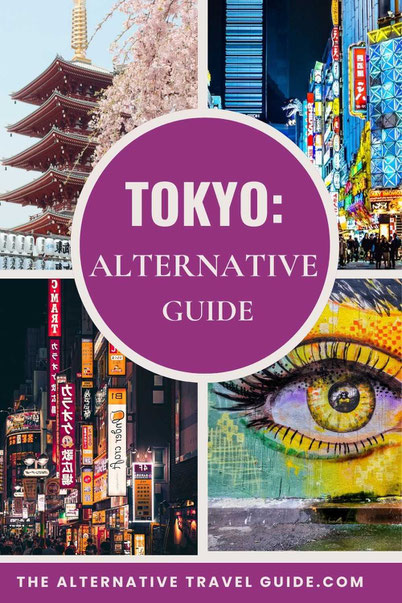 Planning Your Tokyo Itinerary: Quick Tips
♦️ I recently experienced Tokyo like never before! I got my hands on a Tokyo Subway Ticket - Unlimited Rides for 1, 2, or 3 days, and it was a game-changer.
The Tokyo Subway Pass gave me unlimited access to 13 unique routes, connecting me to over 250 metro stops that practically cover the entire city.
No more stressing about buying tickets or calculating fares.
All I had to do was slide my Tokyo Subway Pass at the gate, and I was all set for a seamless and stress-free journey throughout Tokyo. It was a relief to bid goodbye to the hassles and welcome a world of adventure. Trust me, you don't want to miss out on this. Grab your Tokyo Subway Ticket now and let the city's wonders unfold before your eyes!
♦️ I've got another fantastic Tokyo travel tip for you, based on my own experience: get yourself the Klook Pass Greater Tokyo. With this pass, I had access to 7 of Tokyo's top activities, and I couldn't believe the savings – up to 50% off!
The standard pass offers entry to a variety of beloved attractions. You'll get to explore various renowned places with ease.
What's even better is that this pass is valid for a generous 30 days. That means you have the flexibility to pick and choose when and where you'd like to go. Plus, it's incredibly user-friendly.  In a city as pricey as Tokyo, being able to save on visiting attractions is a real blessing.
Explore Tokyo Hidden Gems in the Harajuku Neighborhood
Fascinating blend of an art district and a fashion hotspot
If you look for non touristy things to do in Tokyo, you absolutely can't miss Harajuku (原宿). It's hands down one of my favorite places to explore, and it's easily one of the quirkiest and most unique areas you'll come across in this incredible city.
Harajuku is like the epicenter of Japanese youth culture, and it's this fascinating blend of an art district and a fashion hotspot. If you're up for some off-the-beaten-path Tokyo adventures, this is the place to be.
Now, if you're into the heart of Tokyo's kawaii fashion culture, you'll be in paradise. Harajuku is where it all started. Think Lolita girls, decora, the pancake craze, and the iconic Kyary Pamyu Pamyu. This place has been a fashion mecca for Tokyo's teens (and vintage enthusiasts) for years, and it's still buzzing with unconventional, eye-catching styles. 
Alternative shopping & independent shops 
Since you're hanging out in this awesome alternative fashion hotspot, you've got to indulge in some seriously cool shopping. I've got a couple of hidden gems in mind that you absolutely shouldn't miss.
First up, there's Sou-Sou, and let me tell you, it's a fashion haven with a twist. They take traditional Japanese aesthetics and give them a modern makeover. It's like this beautiful blend of old and new, just like Tokyo itself. They're all about reimagining classic Japanese workwear into contemporary fashion.
From apparel to home goods, everything here is a testament to Japanese craftsmanship. The patterns are vibrant and nature-inspired, and they've even got those urbanized Tabi shoes. Every piece tells a story, and it's a real celebration of this city's history and its future.
But wait, there's more! You've got to check out Mug Pop. This place is a mug lover's dream come true. They've got over 400 different mugs and cups, all crafted by skilled artisans from different corners of Japan. What's cool is that each mug comes with a little description, telling you exactly where it's from and who made it. So you're not just getting a plain old mug; you're getting a work of art with a story.
And here's the real kicker – this neighborhood is a treasure trove of independent shops that keep popping up. Just stroll around, and you'll stumble upon all sorts of unique things created by local artists. Tokyo has this incredible energy of creativity, and you can feel it in every shop you visit.
So, my friend, put on your explorer hat and dive into this district. You're bound to uncover some fantastic finds that you won't see anywhere else. 
If you're eager to discover more of Tokyo hidden gems, I've got a fantastic recommendation for you. How about joining the "Harajuku: Hidden Gems & Highlights Private Tour"? It's such a cool way to explore the secret treasures of Harajuku, and you'll have a guide to show you all the insider spots.
They'll take you to the best-kept secrets in this vibrant neighborhood, sharing the local stories and history that you wouldn't discover on your own.
Nanzuka Underground
For all you art lovers, there's the Nanzuka Underground. This gallery is on a mission to resurrect postwar Japanese artists who've been a bit overlooked or forgotten.
You'll find incredible works from artists like Keiichi Tanaami, who did that psychedelic 'No More War' poster, and Sorayama, whose art features these surreal, super-erotic feminine robots.
Plus, they're all about supporting emerging Japanese artists and giving them a shot on the international art stage. 
Niigata antenna shop
When you're in Harajuku, don't forget to swing by the Niigata antenna shop.
Niigata is famous for its rice and all things rice-related, and these antenna shops are these cool little spots that specialize in selling goodies from specific prefectures in Japan.
It's a fantastic way to get a taste (literally!) of regions in Japan you might not have the chance to visit in person.
Experience Unique and Unusual Culinary Delights in Tokyo
When you're in Tokyo, you're in foodie heaven! This place is like a culinary wonderland, and you can dive into some of the most unique and mouthwatering dishes that you won't find anywhere else in the world. Seriously, Tokyo is a different planet. 
Now, if you want to truly understand and savor the best of local food, taking a food tour in Tokyo is a must, especially in a city with more Michelin-starred restaurants than anywhere else on the planet. Tokyo is basically the ultimate food destination.
But, since we're all about exploring the offbeat and extraordinary, I've got an alternative Tokyo gourmet adventure to suggest. For example, the "Shinjuku Golden Gai Food Tour" takes you to Shinjuku's Golden Gai neighborhood, famous for its unique izakayas, bar stalls, and pub nightlife.
You'll get to taste all sorts of goodies, from sushi to yakitori (those mouthwatering skewers) and a classic bowl of delicious ramen.
Golden Gai is packed with over 200 tiny pubs, stalls, and karaoke bars, most of which can only fit about five to seven people. It's a nightlife hotspot like no other, with each stall measured in inches, not feet. The best part is that this tour covers all the food costs. So, let's dive into a Tokyo food adventure like no other and make some amazing foodie memories!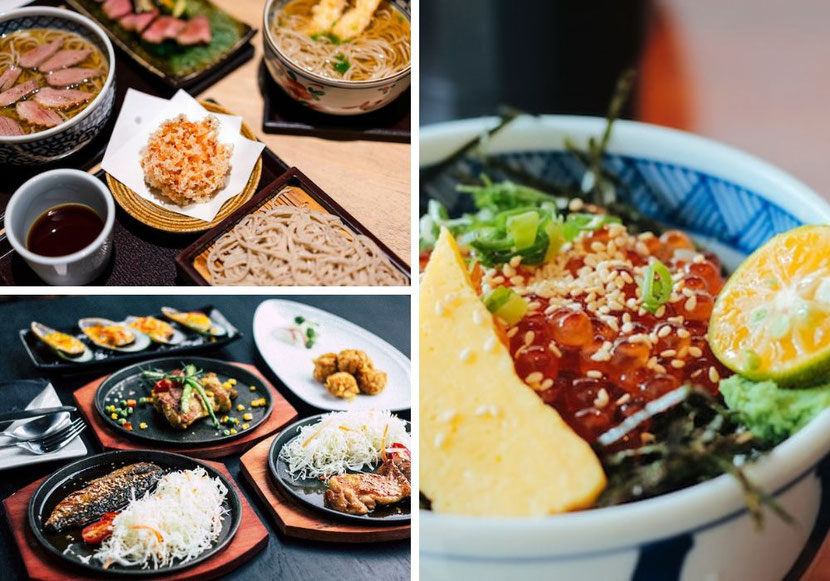 Ride the streets of Tokyo in a Go Kart - One of The Unique Things To Do in Tokyo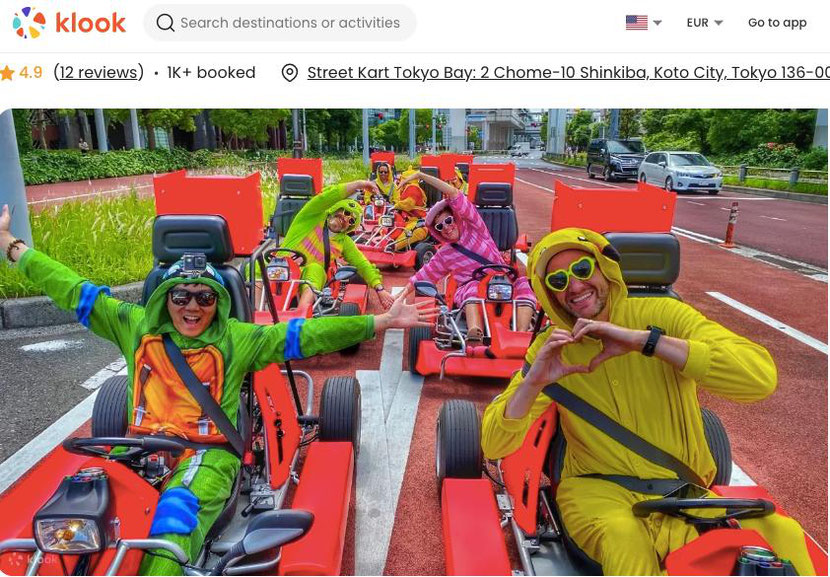 After a few days exploring Tokyo you may notice another peculiarity while walking the city streets; racing karts riding past you with drivers dressed in Super Mario costumes! This is another unusual and bizarre sight of the city but something that has become hugely popular with tourists.
'Street Kart' or 'Japan Kart' is available to any adult with an IDP (international driver's permit), which you can obtain in advance to your trip to Tokyo. And yes, it is legal to drive on the streets of Tokyo in a go kart, as bizarre as that sounds!
There are several different courses you can take on the Tokyo streets, which all last for 1 hour and cost around $97 or 89 Euros. The Mario costumes are no longer provided unfortunately, but you can still dress up as your favourite character if you feel the need to!
Overall, this is one of the unique things to do in Tokyo and such a cool way to experience the busy streets of Tokyo!
Click here to book your Street Go-Kart Experience in Tokyo. 
Stay In One Of The Unique Hotels in Tokyo
If you're thinking about having an amazing time in Tokyo, I've got a fantastic recommendation for you. Tokyo is packed with these super cool and creative-themed hotels that can really make your trip unforgettable. I know, sometimes it's tempting to go for the budget options, but trust me, a unique hotel can take your vacation to a whole new level.
One place I'd absolutely recommend is the BnA Wall Hotel. It's not just a place to crash; it's an experience in itself.
This place is all about fusing Tokyo-based artists' incredible creations with top-notch hospitality.
You get to stay in rooms that are practically works of art, with 26 original art rooms crafted by 14 local artists.
Each room is like stepping into a masterpiece, and the best part is, a portion of your booking fee actually supports these talented artists.
How cool is that? It's a win-win – you get an unforgettable stay, and you're supporting local art at the same time. Definitely, something to consider for your Tokyo adventure! Click here for more information about this amazing BnA Wall Hotel in Tokyo.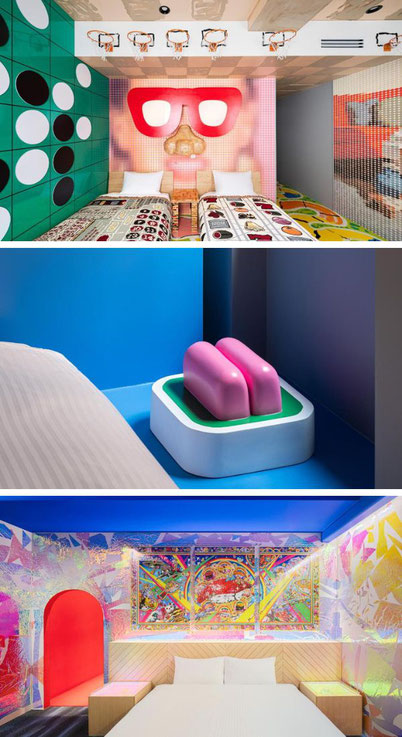 Another amazing unique hotel in tokyo is Toggle Hotel, designed by the folks at Klein Dytham architecture. This hotel elevates the concept of color-blocking to new heights. It's like someone turned up the saturation button on your real-life adventure!
The outside of the hotel is decked out in cheery yellow to match those Chuo-Sobu Line trains chugging by. And to keep it chill with the surroundings, they went for a soft grey that vibes with all the concrete jungle around.
Now, brace yourself for the interior drama. Inside, it's like they played a game of 'How many colors can you fit in one room?' The answer? Two!
Rooms and hallways are all dressed up in just two bold colors from floor to ceiling. The carpet, furniture, soft furnishings – everything's in the same snazzy hue.
And just to keep you on your toes, they switch it up with a bathroom in a completely different color. It's like a visual party in there, trust me!
You've got options, my friend. You can choose from 84 rooms, and they're all rocking five different color combos, from pink-grey to fern green-light beige. You can even pick your room size and the color mashup you want when you check in, as long as they've got it in stock.
This place is so unique and so photogenic, it was made for Instagram. Get those cameras ready because this is like the ultimate photo backdrop waiting to happen! Click here to book your stay at Toggle Hotel!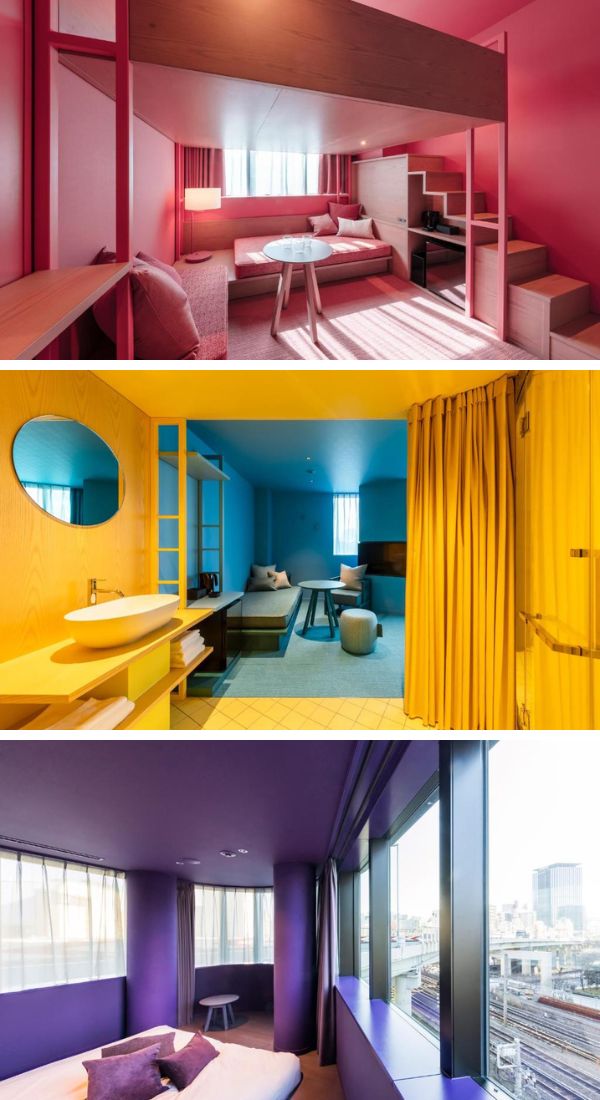 Get your Geek on at Akihabara Electric Town
Known as the mecca of otaku culture, Akihabara is a shopping district in central Tokyo that was made for geeks!
Here you can visit electronic shops, anime stores, and maid cafes where staff members serve you tea in full costume as either maids or butlers.
If you have even a passing interest in video games or comic books (especially Manga!) then this place is a must when in Tokyo.
You can find everything you wish for here. There are many tiny stores as well as huge venues such as the Tokyo Anime Centre and Radio Kaikan, which features ten floors full of collectibles, toys, trading cards and more.
If this is your cup of tea then just remember to budget for having a shopping spree when in Akihabara!
The aforementioned maid cafes in particular are an unusual but memorable experience. Interacting with waitresses who will entertain you with games, songs, and a personalized service is quite something to behold. This is somewhat surreal yet entertaining all at once, which is exactly why I love Tokyo so much! 
Visit some furry friends at an Animal Cafe!
Animal cafes have become hugely popular not only in Tokyo but in many major cities around the world in recent years. But Tokyo is famous for its animal cafes and has some of the best you'll find!
Cat cafes are how it all began and remain the most numerous within the city, but there are also dog cafes, hedgehog cafes, reptile and owl cafes believe it or not! The well being of the animals are of course of high importance at these cafes, so let's look at some of the best that Tokyo has to offer:
Tokyo Snake Center: If you're a fan of snakes, then this place is definitely for you!
Located in Shibuya, you can have an up-close encounter with several amazing snake species, which are all non-venomous you'll be glad to hear!
Harajuku Mame-Shiba Café: This place is full of Mame-Shiba Inu dogs, which are a smaller
breed of the popular Shiba Inu dogs.
These guys are just the cutest and you can spend 30
minutes with them, along with a drink for the cost of 900 Yen.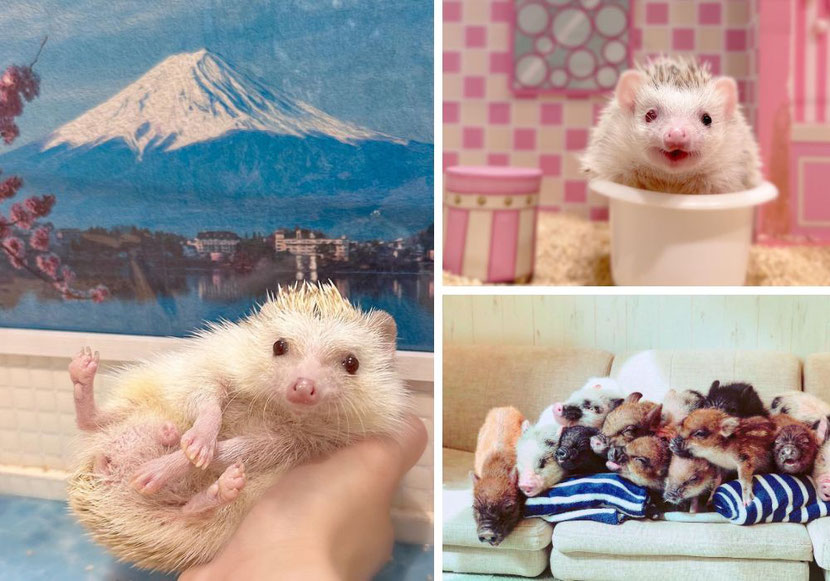 ChikuChiku Cafe: Here you'll experience possibly the cutest and most popular animal cafes in all of Tokyo: hedgehogs!
You can interact with the adorable creatures at this cafe, who are all housed in various themed styled tiny rooms, which are similar to doll houses and very cute!
Mipig cafe: I recently stumbled upon this fantastic little joint known as the "Micro Pig's House." It's essentially the piggy version of a cozy communal hangout, where micro pigs of all ages come together to live it up, and guess what? 
You're invited to join the party!
Now, these micro pigs are as British as tea and crumpets, and let me tell you, they've got more brains and charm than your average swine. 
Not only do they know where the bathroom is (I mean, how many humans can boast that skill?), but they've also mastered the art of understanding verbal commands. You can literally chat with these mini-porkers! 
They're like the Einsteins of the piggy world.
Imagine this: you waltz into the Micro Pig's House, and you're greeted by a squad of pint-sized pigs who are cuter than a basket of puppies. 
You can cozy up for a piggy nap, read a book, munch on some snacks, or just enjoy the company of your new porcine pals. It's like a playdate in pig paradise, seriously.
I first got wind of this place because of how unbelievably adorable the micro pigs looked and the rave reviews they had online. Let me tell you, the hype is real! These little oinkers are beyond charming, and my visit was a hoot and a half.
If you're up for some swine-tastic adventures, I highly recommend swinging by the Mipig Cafe in Harajuku while you're in Tokyo. Sip on a beverage, nibble on a donut specially designed for Mipig enthusiasts, and frolic with these tiny treasures. It's a memory-making experience that you won't forget in a hurry. Go ahead, book your ticket to piggy paradise at the Mipig Cafe here —it's a snortin' good time you won't want to miss! 
Overall, animal cafes are a really cool experience, and certainly unusual! 
Do a bar crawl in Golden Gai
Located in Kabukicho, in the bustling district of Shinjuku, lies Golden Gai, which is a small but vibrant maze of narrow alleys filled with tiny, quirky bars.
Each bar is unique, some seating only a few patrons at a time, making it an ideal spot for an intimate night out with the locals of Tokyo.
This is an authentic opportunity to interact with the city residents and to try the local brews and spirits that give these hidden gems their authentic charm. Of course the language barrier can be an issue, so it's worth learning a few useful phrases before visiting.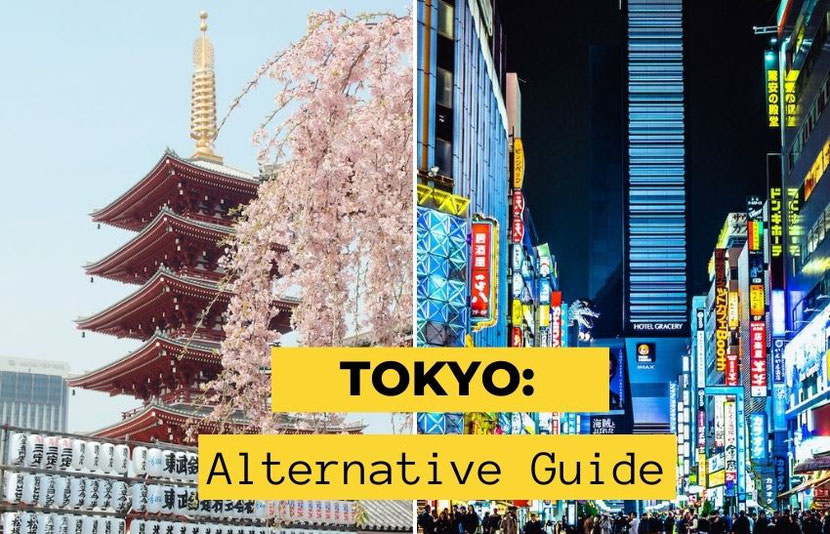 Although these side streets have become well known, it's still an enchanting, eye opening experience.
Usually, these side streets don't become busy until after 8pm until 12am. So make sure you don't head on over there until around these hours otherwise you'll be greeted with almost empty streets. 
Digital Art Museum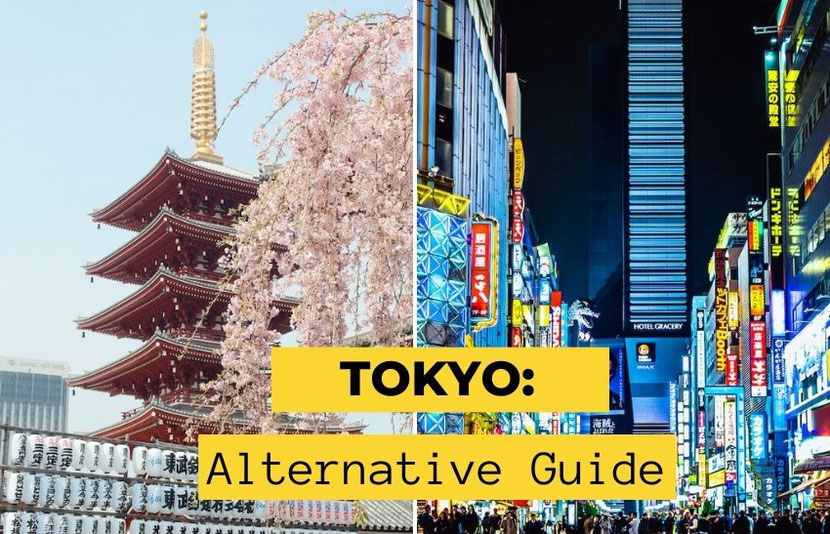 https://www.getyourguide.com/tokyo-l193/tokyo-teamlab-planets-digital-art-museum-entrance-ticket-t260407/ 
Go on a vintage shopping spree in Shimokitazawa
For a taste of Tokyo's bohemian side, head to Shimokitazawa. This is a district teeming with vintage shops, thrift stores, and independent boutiques.
Wander through the narrow alleys adorned with street art, and discover one-of-a-kind fashion pieces, vinyl records, and retro treasures.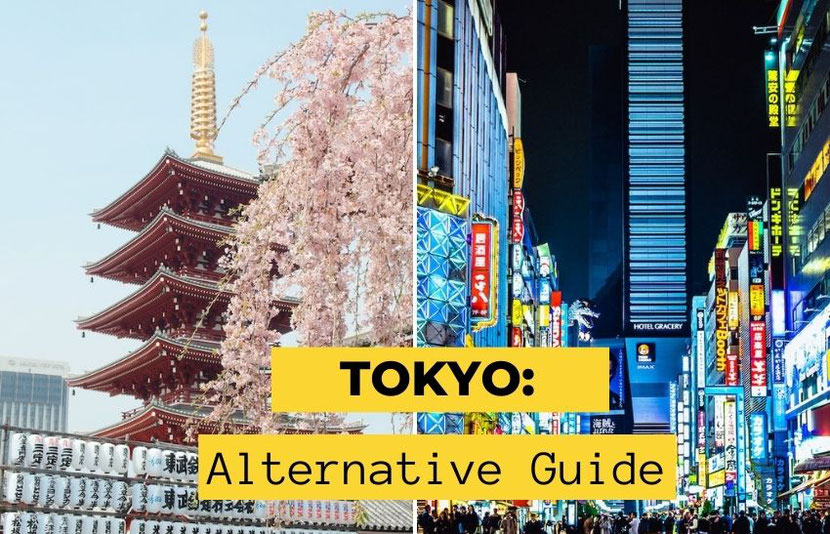 This place has a totally different vibe from the rest of Tokyo.
There are very often live bands playing music in some of the cafes and bars. There's also a strong presence of cinema short films being screened and theatre plays being tested out in the numerous hip bars, cafes and restaurants.
The food options in Shimokitazawa are very varied compared to the typical sushi bars you find in central Tokyo. 
Experience a Ghost Tour, if you're brave enough!
Perhaps not the first activity you think of when visiting Tokyo is to go on a ghost tour. But rather surprisingly, there are several ghost tours that take place throughout the city.
Known as 'Shitamachi Ghost tours', these are fun walking tours that take place after dark and typically last up to three hours.
Your guide will take you through several different haunted spots, from old temples and shrines which are believed to be haunted for the past 1000 years, to abandoned offices and cafes.
These are entertaining experiences and an unusual way to learn more about the spooky history of Tokyo. 
Visit the Ghibli Museum, the enchanted world of Miyazaki
Studio Ghibli fans cannot miss the opportunity to visit the Ghibli Museum. As a big movie geek, this day trip to the museum was a real highlight of my trip to Japan.
The museum is located near a small city called Mitaka which is less than ten miles to the west of Tokyo and is pretty easy to reach thanks to Tokyo's punctual (albeit confusing) metro and train system.
The museum itself is a real treasure trove for any Studio Ghibli fan or anyone with an interest in animation. It's a really enchanting and immersive museum which is a bit of a maze to meander around.
Regardless of that, it is a great insight into the intricate process of how the iconic Studio Ghibli masterpieces are made.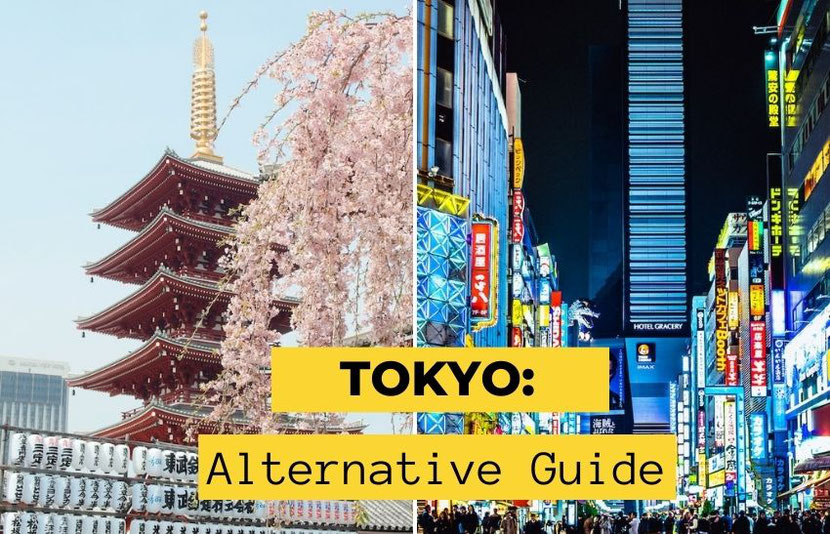 The museum is admittedly aimed more towards young children with lots of interactive games and a theatre showing short animation films. But you'll walk away with a real appreciation and a greater love for Studio Ghibli.
One negative about the museum I experienced was that it was super crowded when I visited. This was in May, so you might want to plan your visit to the museum (and Tokyo/Japan in general) during the off season months when there will be fewer tourists. 
https://www.klook.com/activity/90993-ghibli-walking-tour-tokyo/?spm=SearchResult.SearchResult_LIST&clickId=17ff845a95
Ninja
Ninja Experience Cafe in Asakusa Tokyo
https://www.klook.com/activity/21717-ninja-cosplay-experience-tokyo/?spm=TNA_ActivityList.Activity_LIST&clickId=18da27dff2 
Conclusion: Unique & Unusual Things to do in Tokyo
Tokyo is a city that never ceases to amaze and there are so many unconventional tourist attractions worth visiting!
By venturing off the beaten path, you can immerse yourself in the extraordinary and discover the essence of Tokyo's unique and quite peculiar yet charming character.
From robot extravaganzas to vintage shopping, the city's unusual experiences will leave you with lasting memories of an unforgettable adventure.
So, the next time you find yourself in Tokyo, be sure to explore these hidden gems that showcase the city's offbeat charm. 
About The Author
Mark Jeavons is from Wolverhampton in England and started travel blogging back in August 2022 after deciding to combine his love of writing and travelling.
He has visited over 40 countries, mostly as a solo traveller and his aim with his travel blog www.solotravelman.com is to give expert, up to date and in depth advice on the places he has visited and build connections with fellow travellers. 
Discover These Alternative Guides for Other Exciting Destinations: