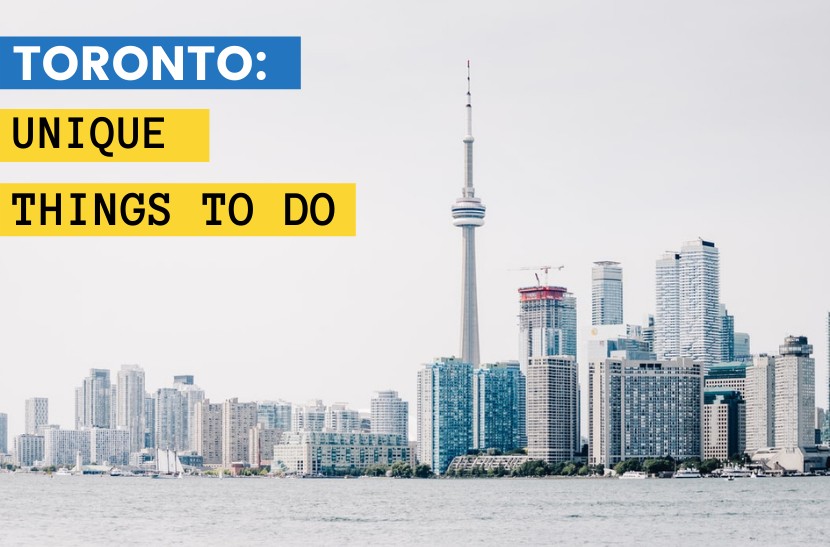 Toronto is Canada's most visited city, attracting 27 million travelers a year. It offers tons of attractions and ways to spend your holidays. So, whether you like adrenaline activities, outdoor adventures or hipster districts, urban beaches, gothic castles, Toronto prepared something for you.
To help you turn your Toronto trip into an unforgettable adventure, I asked my blogging friends to share their favorite locations in the city. 
So here are the best unique things to do in Toronto to add to your Toronto bucket list. 
Relax at the Unique Urban Beach in Toronto: Sugar Beach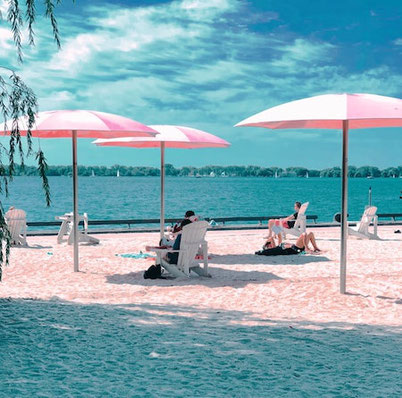 Faith | Xyuanbeyond travel blog
Sugar Beach in Toronto is a former parking lot in an industrial area of Toronto that was transformed into a delicious waterfront space. It got its name after the Redpath Sugar Refinery located nearby. 
Sugar Beach on the waterfront is my favorite unique spot in Toronto. It's a haven of peace and relaxation in a city that can get overwhelming at times. 
Sugar Beach is an "urban beach" that was created in a parking lot in 2010, which means it is near water but not a lake or area you can swim in. You can find the beach at the end of Jarvis Street. The park is 2 acres and is furnished with Muskoka chairs, tables, and of course bright pink umbrellas and is fully accessible.
Within the Beach are a plaza space and a tree-lined walkway that runs diagonally through the park. The granite rocks and mounds surround the public space which is used for large and small events that take place regularly throughout the summer months.
The rocks were brought in from a quarry in Quebec and carefully cut to add thermoplastic candy-colored stripes within the pieces. The rocks serve as informal seating and public gathering spaces.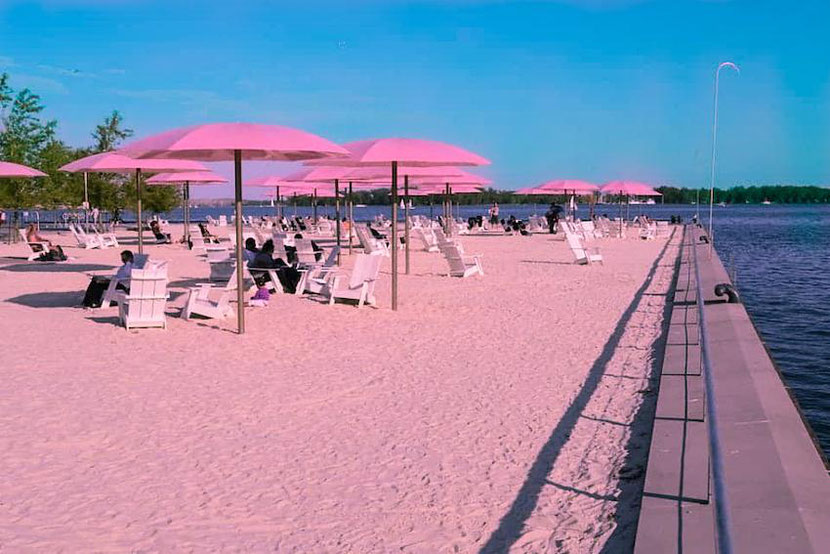 Beside the beach is a water feature that provides a cooling place to get wet – all embedded in a giant maple leaf. 
Sugar Beach hosts a ton of events free throughout the year that make for a great day out. 
In March it's Sugar Shack time when the beach is set up with food trucks, street vendors, and of course the famous Canadian sugar shacks where you can taste fresh maple sugar. 
There are also summer concerts and the Toronto Wine Festival.  
In August, a Sail In Cinema is set up which is completely free and designed for the whole family. A floating dock is set up on the water, and over 3 days families bring their blankets and picnics and enjoy the evening entertainment. 
If you want to experience Canadian summer culture at its best, come hang out on Sugar Beach and watch the world go by on the water. 
Get Your Adrenaline Kick @ The CN Tower Edgewalk
Kat | Wandering Bird
If you're looking for unique things to do in Toronto, you need to head to the CN Tower. Well, actually, you need to head outside of it and do the CN Tower Edgewalk.
Yep, you can dangle yourself over the edge of one of the tallest towers IN THE WORLD and walk around on a 1.5m wide ledge at over 350m high (116 stories), held on by a couple of ropes on a rail. 
I'll be honest, when we visited the CN Tower, I did not expect to do the Edgewalk. For one, we hadn't booked in advance. For another, I was with my husband, who HATES heights (although he'll deny it until his dying breath).
So there I was, in a mini skirt and flip flops, staring in awe at a group of people doing the Edgewalk. (TOP TIP: Don't wear a mini skirt and flip flops if you're going to do this- it was NOT easy to put on the jumpsuit and I had to borrow shoes and socks. Ick.)
Anyway, there we were, staring at the people on the ledge outside, and I think my face showed how much I wanted to do it, because my poor husband sighed loudly and pulled us to the desk. Luckily, there were spaces within an hour (I think he may have chickened out otherwise!)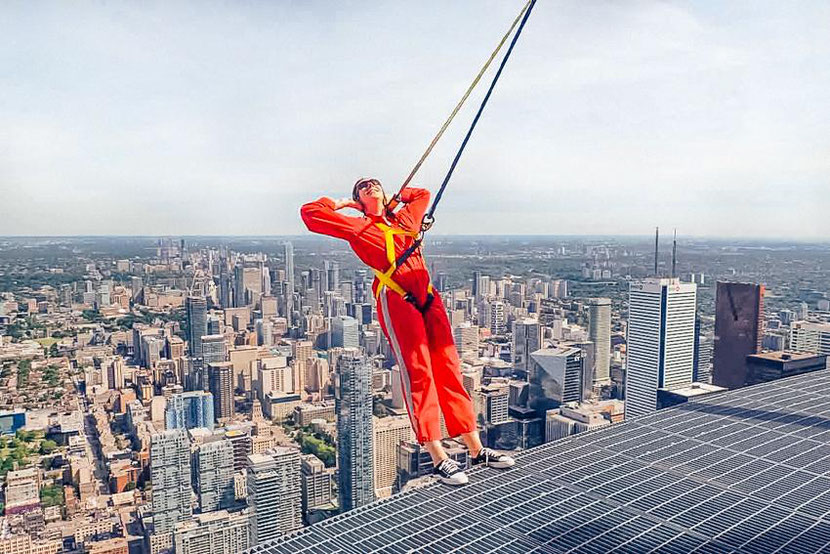 ANOTHER TOP TIP: DO NOT DRINK ANY ALCOHOL before you turn up. At all. They are VERY strict about this and you will need to take a breathalyser test. They won't let you go up with any alcohol in your system. 
The staff also spend a LOT of time talking to you, asking questions and generally assessing your mental state for both terror and drugs. So do NOT turn up under the influence of anything other than a healthy dose of blind panic.
Once you have your jumpsuit and a harness on and have removed anything which could possibly fall and kill someone below (and I'd borrowed a hairband from our guide) we were led up to an elevator and before you know what's happening, you're standing on a teeny tiny impossibly small ledge, staring down at the Blue Jays stadium and wondering what the hell you're doing with your life. I like heights, but this was HIGH.
AND then your guide asks you to put your toes over the edge. You'll also lean out forwards, backwards and eventually you'll be doing all sorts of crazy moves. 
The cost of walking around the CN tower is expensive. REALLY expensive. However, it's a once-in-a-lifetime experience and a great memory of Toronto, so for us it was worth every penny. 
Go Canoeing in Toronto Harbourfront
Mayuri | Canada Crossroads
Toronto Harbourfront is one of the must-visit attractions in the city. Originally used for shipping, and industrial purposes, the harbourfront today is a bustling neighborhood perfect for an evening romantic stroll, a morning jog or a cool hang out place to take in the breeze from Lake Ontario. 
The Harbourfront extends from Bathurst Street in the west, along Queens Quay. There are a lot of outdoor activities that can be enjoyed at the Harbourfront, from canoeing, boating to visiting the beautiful Centre Islands (on a day trip from Toronto). 
One of the amazing things to do in Toronto is to go canoeing here.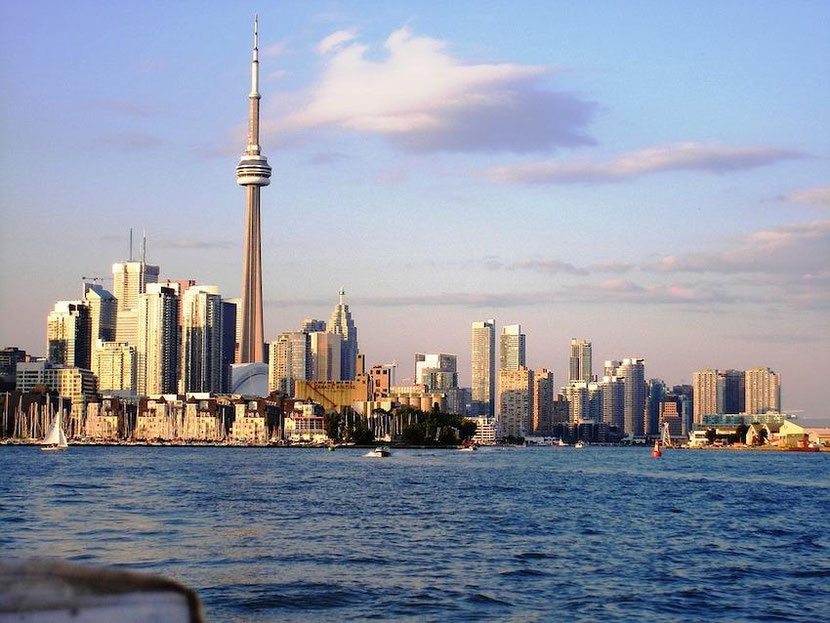 The harbourfront centre is a popular spot to start a canoeing tour. There are public and private waterfront clubs from where you can launch your trip. At the Harbourfront, near the Boulevard Club is a popular spot. 
This is also a great photography spot, as the entire skyline of downtown Toronto can be seen from the waters.
It is important to exercise caution, and safety if canoeing alone. Treat the waters and shores respectfully, and leave no trace.
If you are new to canoeing, you can join a tour, or hop on a big voyageur canoe. The Harbourfront Canoe & Kayak Centre provides canoe rentals and tours and is located on the edge of Lake Ontario.  
Highly recommend including a visit to the Harbourfront, on your Toronto itinerary to snap that gorgeous photo of the skyline or just to enjoy the waters and the shoreline of Lake Ontario.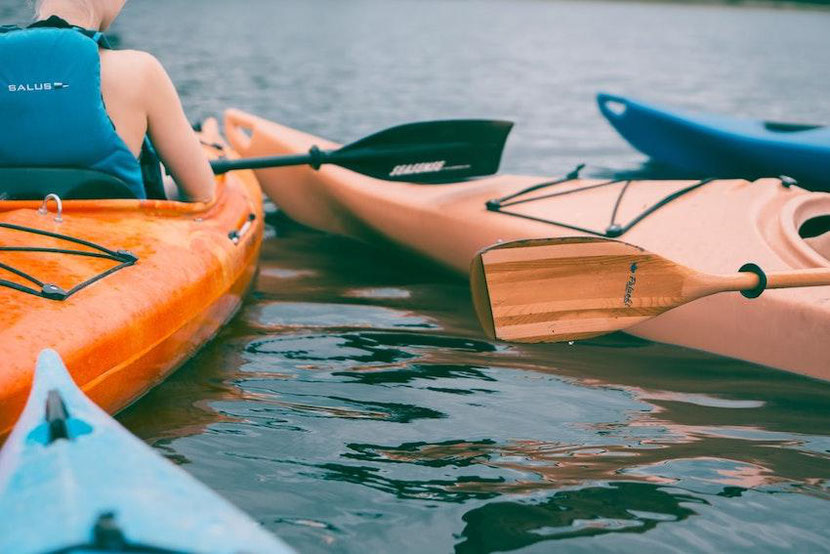 Summer is the best time to go kayaking in Toronto. These are typically the months of June to August.  
For a canoeing trip, remember to wear waterproof clothing and a life vest. You can always bring your own canoe. However, there are options to rent canoe and kayaks near the harbourfront in Toronto too. If you have never canoed before, we recommend joining a canoeing tour or hop on a big voyageur canoe. Joining a tour will make the canoe trip more enjoyable. The tour operator provides you with a life jacket and the canoe with a guide who helps you navigate through the waters.
On our first canoe trip, we joined a big voyager boat with 6 other visitors and 2 guides. It was a delightful experience, and we could capture the beauty of the waters and the buildings from the lake, very easily!