Lanzarote or Fuerteventura? The Canary Islands are dream destinations for enjoying beaches, hiking, surfing, cycling, water sports, and so much more, all year round.
Lanzarote and Fuerteventura are located quite close to each other, but it doesn't mean they are the same.
Not sure which island in the Canaries you should visit? I'll help you to choose.


The islands of eternal spring
The most amazing thing about the Canary Islands is that any time you come here, you will find the sunshine and eternal summer.
In addition, there is no rainy season and high humidity like in the South East Asia that makes the climate there just perfect. 
I've been to the Canary Islands both in winter and in summer, and the temperature was very pleasant during all my visits: 22 °C (72 °F) - 28 °C (82 °F).
If you need a dose of sun and you want to have fun time outdoors, the Canary Islands are the right place.
But which Canary island to choose?
Let's have a look at these two beautiful islands:
Fuerteventura in pictures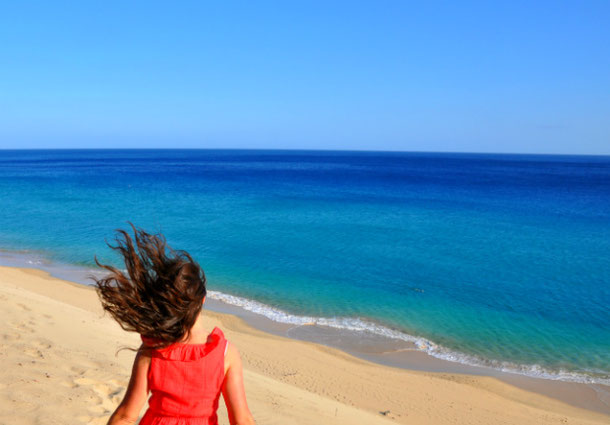 What do you think? Fuerteventura looks gorgeous, right? 
Are you already feeling the breeze? :)
And here is her neighbor, Lanzarote!
Lanzarote in pictures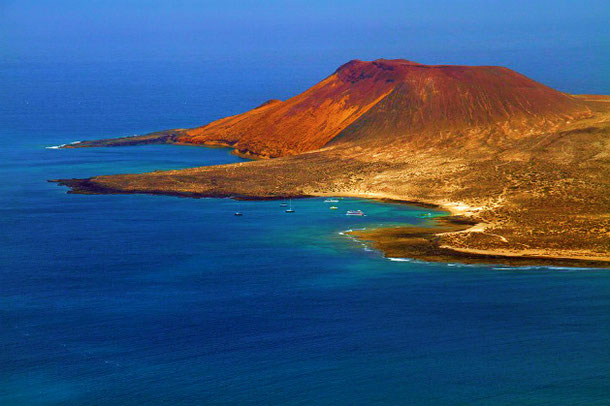 Which one is more beautiful?
When I heard about the Canary Islands first time, I imagined it as a paradisiacal place.
But when I was actually flying over it and watching in the window of the airplane, I saw something very different from the image of the paradise I had in my mind: there was almost no vegetation! (I must admit, in some places the islands looked rather post-apocalyptic than paradisiacal :))
On landing, I was keeping searching for the canary songbirds - I thought the Canary Islands were called this way because of the huge number of these cute yellow birds living there.
Of course, I didn't find any of them because there were even no trees.

Despite this, I still managed to find a paradise there as it was a perfect escape from the noise and pollution of big cities into the pristine nature.
The islands are spectacular and look totally surreal with their volcanic scenery! 
What to do & what to see in Fuerteventura and Lanzarote
Hit the beach!
Where are the best beaches in Fuerteventura and Lanzarote?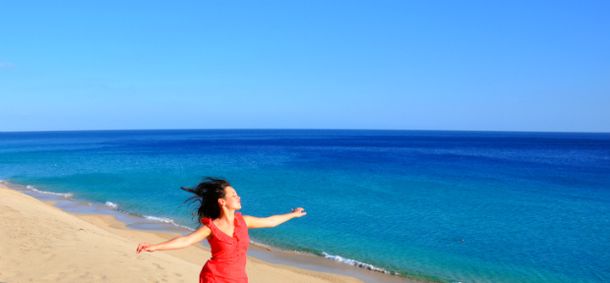 The reason number one for flying to the Canary Islands is, of course, the awesome beaches you will never forget!
I was amazed by the wide sandy beaches in Morro Jable area of Fuerteventura.
In the beginning, I was very annoyed by the strong winds there, but after a couple of days, I got used to it and actually started to like it as it was so refreshing in the hot hours.
Please just make sure, you put enough of sunscreen and wear a hat as the wind accelerates tanning. You have a chance to get a sunburn very quickly!

There are countless fantastic beaches in Fuerteventura!
Almost every day I was going to a different beach.
My favorites are Playa de la Barca, an incredibly long Playa de Sotavento, and beaches in the area of the Parque Natural de Corralejo.
The Sotavento beach actually consists of five beaches, and it is 9 kilometers long and 1 kilometer wide in some places.
In this area, you can bath in the shallow warm water of spectacular lagoons that change the shape due to tides.
The golden dunes of Corralejo will leave you speechless if you stay here till the sunset.
It's a must-visit place in Fuerteventura for the lovers of spellbinding views.
The beaches of Fuerteventura are the place where you will find peace, tranquility and where you can reconnect with yourself and with nature.
Lanzarote beaches are an entirely different story.
They are not less gorgeous than in Fuerteventura, but most of them are black.
And this is what makes them to stand out and capture your heart.
I totally loved black volcanic sand beaches in Charco de los Clicos, Playa del Janubio and Playa El Paso.
It's just magnificent!
Black sand beaches are the first picture I see in my mind when I think of Lanzarote.
It's not all black, though.
White and golden sand beaches are waiting for you there, too.
La Playa de Papagayo is a world famous beach with crystal clear turquoise water.
It is hidden in a protected area called the Monumento Natural de Los Ajaches, so don't expect any  service on the beach that stays stay untouched as Mother Nature created it.
There are no umbrellas and sunbeds available for rent. You have to bring everything you need with you.

On both islands, you can find many small idyllic beaches where you will be alone and can do nude swimming and sunbathing. I must say that nudism is quite widespread among the tourists there, so don't be surprised to see Adam and Eve.

However, the Canary Islands are much more than just two giant beaches! :)
There are also fun things to do and unique places to visit.
Keep reading :)

Take a road trip around the island
Road trip around Fuerteventura
What I enjoyed the most about the Canary Islands is renting a car and just going around the islands to explore stunning landscapes.
I loved the freedom to go where I liked, to stop when I wanted and to go off the road.


When you wander around the Fuerteventura, you will meet cute chipmunks, or Barbery Ground Squirrels, and goats - the only animals there.
The chipmunks (like those from the Chip and Dale cartoon) are not afraid of people, and they will come to you to get some tasty snacks.
To get a feeling of the local life, visit a Villaverde, a beautiful old village with two windmills, and El Cotillo, a small fishing village used as a harbor by local fishers. 
Road trip around Lanzarote
In Lanzarote, we rented a car for two days and made the tour of the whole island.
I had an impression that it's more diverse than Fuerteventura and has more attractions. One of the most amazing stops were El Golfo and Lago Verde.
Don't miss Los Hervideros to witness the astonishing spectacle of nature.
It represents rocks made of lava eruptions dating from the thirteenth century and falling into the water.
Solidified lava formed chaotic caves and balconies that you can walk on and listen to the thunderous roaring of the ocean.
Moreover, you can enjoy a superb view on the red Montaña Bermeja, Pico Redondo and other volcanoes located just north of Los Hervideros.
Explore volcanoes of Fuerteventura and Lanzarote: erupt your adventure life
You definitely can't leave Lanzarote without visiting Timanfaya National Park.
I tell you, it's one of a kind!
Timanfaya is the kingdom of volcanoes with its unreal landscape typical of the moon or Mars.
The locals even say that NASA showed the astronauts of the Apollo 17 pictures of Timanfaya's lunar landscape to prepare them for landing on the moon :-D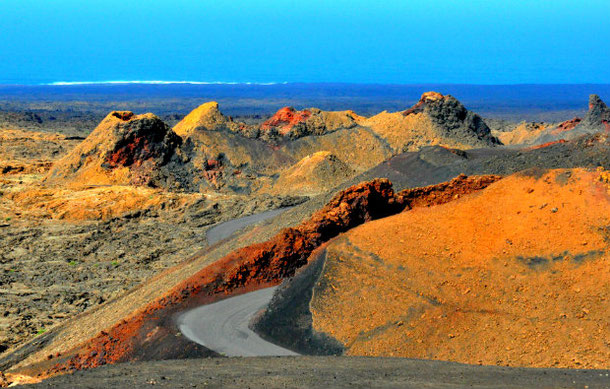 Here the scenes for the "Clash of the Titans," "One million years BC," and "When dinosaurs ruled the earth" were shot.
You will see, it's a suitable place for a movie like "Star Wars."
Here you will realize that the wildest human imagination can not be compared with the exuberance of nature.
The Montañas del Fuego (Fire Mountains) were created in the 18th century when more than 100 volcanoes (in the area of more than 50 square kilometers), erupted and devastated this part of the island including several villages. 
Still, now, the underground heat is very powerful, and the temperature just a few meters below the surface there reaches up to 600°C (!!!).
You can witness there how a man pours water in a hole in the ground that in a couple of seconds erupts like a geyser.
You can see how something falling in this hole catches fire immediately. You can even have your lunch cooked by the heat of the volcano.
The 'El Diablo' restaurant serves Canarian food cooked on a cast-iron grill placed over a large hole in the ground.
Believe me: it's something unbelievable! :-D

In Fuerteventura, there is no shortage of volcanoes either.
You can actually climb an extinct volcano.
The Gairia Volcano, the Sand Volcano (Volcan de la Arena), and Corralejo Volcanoes are the best volcanoes for an impressive trekking.
Savour local food at the Canary Islands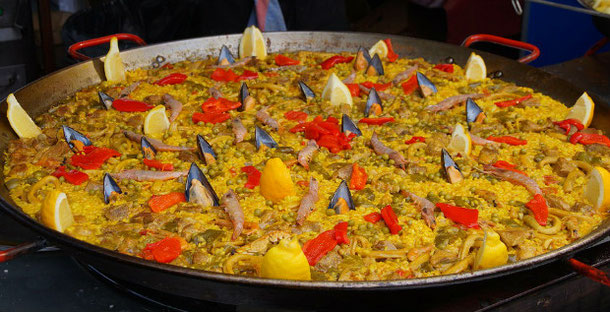 One of the joys you will find in the Canary Islands is the local food that combines traditional Spanish recipes with Latin American and African influences.
It's a unique blend of flavors, a one-of-a-kind combination of freshness and aromas.
Canarians like to eat well, a lot and healthy.
I was so happy to act like a local!
What have I found there?

First of all, the abundance of seafood.
Of course, it's the islands, so the main food comes from the ocean: fish, octopus, squid, mussels, prawns…
It's just a paradise for seafood lovers!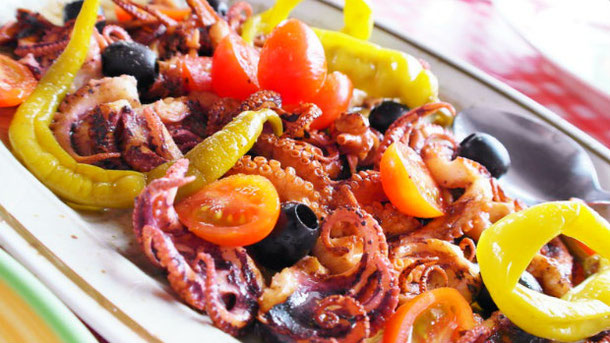 Next, I've eaten here the most delicious potatoes in the world!
I have never thought that the potatoes can taste like that.
When I was leaving, I even thought of bringing some potatoes with me.
What makes the Canarian potatoes, or Papas Arrugadas so special?
They are tiny wrinkled potatoes that grow in volcanic soil, boiled with a generous amount of sea salt, and served with paprika, red or green chili pepper garlic spicy sauce, - Mojo Rojo, Mojo Picon, and Mojo Verde.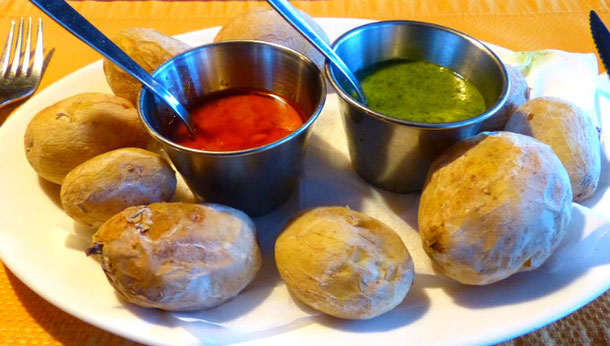 Did you know that there are more goats than people in the Canary Islands?
There is a reason for that.
Actually, two: Baifo, a marinated goat in a mixture made with bay leaves, garlic, thyme, and oregano, and ridiculously tasty Majorero goat cheese.
This cheese is a savory sensation, and it is best enjoyed grilled with a palm honey.
For a dessert, you can choose one of many fresh fruits such as cherimoya, dragon fruit, banana, papaya, or try a Bienmesabe, the most typical dessert made of honey, almond cream, eggs, cinnamon, and rum.
According to the local traditions, all this delicious food must be eaten in a good and cheerful company :) 
Visit Aloe Vera plantation in Fuerteventura and Lanzarote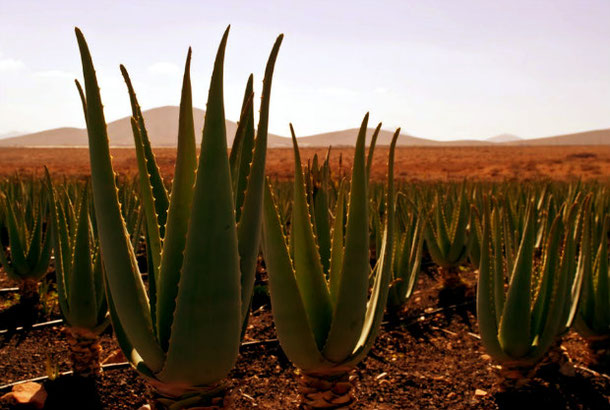 The Canary Islands are famous for being a home to the magic  Aloe Vera.
It's a unique plant: you can eat it, drink it, use as a cosmetic, a drug and even cook it!
You can learn about the history, cultivation, production and uses of this miraculous plant at the visitor centers which are plantations, museum and a shop at the same time.
In Lanzarote, there are five such aloe Vera visitor centers that are located in the villages of Arrieta, Punta Mujeres, Yaiza, Teguise, and La Graciosa. Admission is free.
In Fuerteventura, the plantations are situated in Tiscamanita and Valles de Ortega, between Antigua and Pajara.  I recommend visiting the Aloe Vera factory in Tiscamanita or Aloe Vera Information Centre in Jandia.

In all these places you can buy aloe Vera based creams, soaps, shampoo, perfume, or even the plants that you can grow at home.
I found Aloe Vera to be an excellent remedy for sunburns and tired feet, and I bought a bottle of pure aloe Vera gel for myself and as a gift.
In my trip to the Canary Islands I tried a real 100% aloe Vera juice and started drinking it regularly in the morning - diluted in water with honey, it has detoxifying, metabolism-regulating, lowering cholesterol and blood sugar, and immune system boosting benefits.
After visiting the Canary Islands, I fell in love with Aloe Vera cosmetics that became my true friend.

Catch a wave: try windsurfing, surfing or kiteboarding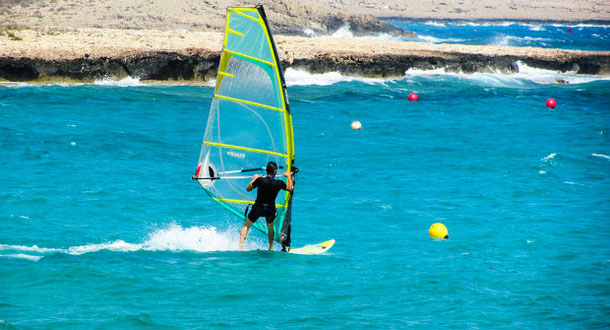 Both Fuerteventura and Lanzarote offer amazing conditions for active holidays and practicing extreme sports. 
In Lanzarote, Famara beach in the Northwest part of the island is considered the best for surfing.
It is famous for its big ocean waves, and it attracts surfers from all over the world. T
he top spot for windsurfing is Playa de las Cucharas, Costa Teguise.

Being windier, Fuerteventura is an ideal place for windsurfing lovers.
Check Playa de la Barca, a kiteboarding and windsurfing paradise in Fuerteventura.
Located there the René Egli Windsurfing Centre hosts the windsurfing and kiteboarding World Cup every year.
Even if you never tried windsurfing and you are not sure if you want to try, head to Playa de la Barca, look at all these enthusiasts and happy people in the water, and in a couple of hours, you will see yourself on the board.
There are many schools with professional instructors who will teach you how to start.

Accommodation in Lanzarote and Fuerteventura
Where to stay in Lanzarote?
The areas with the most offer of accommodation are Playa Blanca, Costa Teguise, Arrecife and Puerto Del Carmen.
The choice is enormous.
I had an enjoyable stay at The Barceló Lanzarote Resort in Costa Teguise.
It has a small beach, and the hotel provides a free bus shuttle throughout the day to the main long beach of Costa Teguise and the town where there are lots of restaurants, bars, and shops.
The food and service were fantastic, and the animation team would not let me just lay near the pool. There were games, cooking classes, cocktail making shows, concerts, yoga, and other activities organized from the morning till the late night.
You can't get bored there!
The hotel also has great promotions for car rentals. 
In Playa Blanca area, check The Volcán Lanzarote Hotel with the stunning views over the marina and located eight minutes walk from the beach and just 10 kilometers to the Timanfaya National Park.
To enjoy one of the most beautiful beaches in the Canary Islands, the Papagayo beach, check The Hotel The Mirador Papagayo that is located nearby.
If you prefer staying in the apartments, there are tons of rooms and flats for rent, as well as country houses, and villas. 
Where to stay in Fuerteventura?
The main resort areas in Fuerteventura are Corralejo in the north of the island, Morro Jable at the southernmost part, Costa Calma and Costa Caleta.
Corralejo is the most popular and the busiest place among visitors.
There is something to do for any age group: couples on their honeymoon, elder people, or families with children.
As the sun goes down,  the bars, clubs, and discos are open ready for a party night.
Avanti Hotel Boutique Fuerteventura is incredibly stylish in design with white and turquoise décor and is located just 1 minute from the beach.
It offers rooms with the ocean view and a roof terrace with a hot tube.
This hotel is adults-only. 
Fascinating from an architectural point of view, the Hotel Rural Restaurante Mahoh is a small distinctive hotel in the northern part of the island, built of volcanic stones in the XIX century.
All rooms at the Mahoh feature stone walls and wooden beams.
If you search for tranquility,  check the secluded rural hotel Casa Tile located in a charming fishing village Roque, Cotillo.
If you do not care much of accommodation and plan to devote most of your time to sightseeing and an active holiday, hostels would be an ideal place to stay.
So, one of them is the Kalufa Surf Camp Hostel.
It will appeal to the fans of surfing because it is also a surfing school.
The hostel offers bike, kitesurfing and surfing equipment rental.
Another option is to get an apartment on Airbnb.
With this promo code, you will receive up to 35 dollars discount on your first booking! 
How to get there to Lanzarote and Fuerteventura?
There are many options for flying into the Canary Islands.
Previously the connections from Europe were mostly operated by the charter flights, and to have holidays in the Canary Islands one had to buy an all inclusive package.
Since many low-cost airlines started flying here, too, the prices for flights became very democratic.
For example, you can fly from London-Luton to Lanzarote for as little as 17 EUR with Ryanair.
Lanzarote Airport is located close to Arrecife (the airport designator code ACE).
Fuerteventura Airport (FUE) is situated near the capital city Puerto del Rosario.
The airlines serving Lanzarote and Fuerteventura include Ryanair, Wizzair, EasyJet, Iberia, British Airways, Air Berlin, Jetair,  Aer Lingus, and Jet2 among others.
There is a good network of public transportation thanks to which you can reach almost any part of the islands.
If you want to travel between the Canary Islands, then check for two local companies Islas Airways and Binter Canarias. 
Now, please have a look at these Fuerteventura and Lanzarote videos that transfer well the mood of the islands:
Conclusion
So... Fuerteventura or Lanzarote? Which Island is better?
Personally, I've been to both, and I love both (and I recommend visiting both islands if you can).
You can take a ferry between Lanzarote and Fuerteventura with Lineas Armas or Fred Olsen for 15 EUR (please check their websites for actual rates) and fit both islands into your visit to the Canary Islands (or even more ;).
But if you really have to choose just one, then, my dear sun worshippers, the decision is tough because both islands are spectacular.
If you are more into water and wind sports, and you like large sandy beaches, then Fuerteventura would be a better option for you.
If you dream of visiting Mars-like places on Earth, then Timanfaya in Lanzarote should not be missed.
No matter where you choose to travel to the Canary Islands, you can't go wrong:
on both islands you will find beautiful beaches, pleasant glorious weather, and delicious food.
I am sure you will have a great time there!
Enjoy!!!!!
Thanks for reading!
If the article was useful for you, please LIKE The Alternative Travel Guide! 
Want to be the first to know when a new interesting article is published? 
With love,
Sasha 
To share this article, click here: 
 
 
 
 
 
 
 
 

 

ABOUT THE AUTHOR

 

Hi, nice to meet you! I'm Sasha, a "free spirit" and a world citizen at heart who was born in the country that does not exist: Transnistria. I am on my adventurous journey to discover alternative, quirky, unique and unusual things to do and to visit in cool cities around the world. Join me and try something new! I write in Globish, since English is not my native language, so feel free to correct me or to make fun of me :).