Have you ever been to Canada during Spring Season? If not, then you should definitely plan a holiday to this amazing country and visit it during the spring time at least once in your lifetime. Canada is absolutely beautiful, but spring season makes it spell bounding. Discover these spring break destinations and activities in Canada you haven't thought of yet!
After the long freezing winters, it is a beautiful sight to watch the white canvas of snow slowly changing into vibrant colors. The impressive vast landscape goes through a complete transformation cloaked in vivid assortments of green trees and blossoms.
Being the Great White North, not all the snow is melted away, some places in Canada is known for its frosty beauty, yet there are other places which are quite enhanced with the oncoming spring season.
So, what are the fun things to do in Canada in springtime? 
Go See the Cherry Blossoms in Vancouver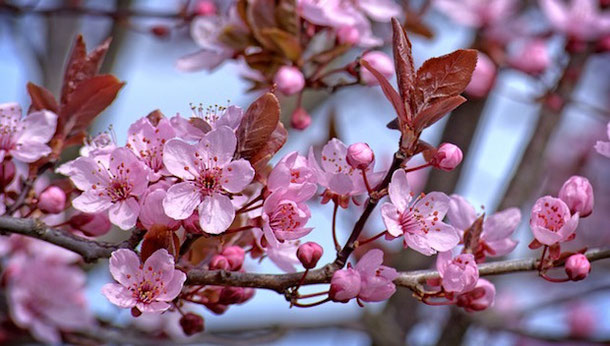 Canada is incredibly versatile. Do you know that you can view cherry blossoms here?
Vancouver has a charming section of over 43000 cherry blossom trees which spurt into full bloom during spring.
Inspired by the Sakura Festival in Japan, Spring in Vancouver is celebrated with Vancouver Cherry Blossom Festival where millions of pink blooms charm your sight. Adding extra allurement to the ambiance, tree barks and branches lit up in soft fairy lights, giving the surrounding a dreamlike feel and pleasantness. People gather here to experience a gist of Japanese scenery and culture.
The festival consists of a two-day Sakura event that exhibits Japanese arts, entertainment, music, and cuisine. You can also enjoy a grand lunch under the falling pink petals with other visitors in Vancouver's largest spring picnic event.
The festival is held at the end of March and through mid-April.
Vancouver looks brilliantly florid during the spring season, and that's why it is perhaps among the most popular places to visit during spring holidays in Canada.
Experience Spring Heli Skiing in Canadian Monashee Mountains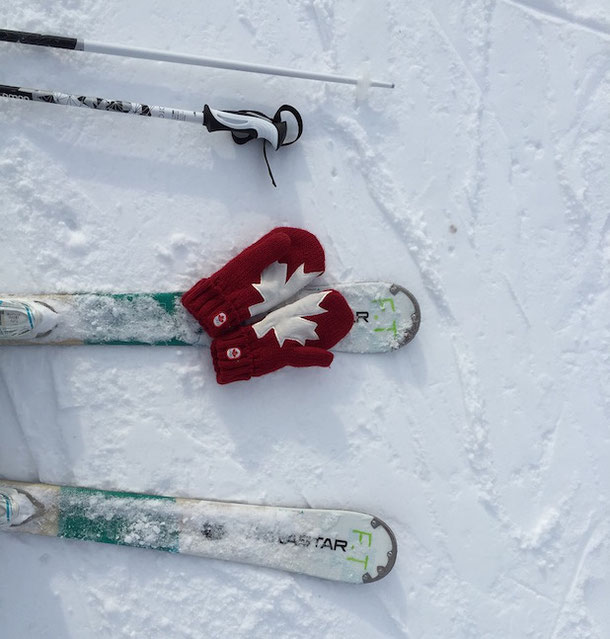 Winter sports are quite popular in Canada, particularly skiing. However what's presently gaining popularity is Spring skiing.
With the weather much warmer than icy winter climate, the snow still intact and powdery is perfect for a great skiing vacation for outdoor lovers.
Monashee Mountain stretch is a beautiful alpine terrain in British Columbia where you can have the ultimate Heli-skiing experience. Enjoy the breathtaking wilderness on a panoramic helicopter ride all the way up to the snowcapped summit then jump down to the soft fine snow and enjoy an exhilarating skiing experience.
Watch Bears at the Great Bear Rain Forest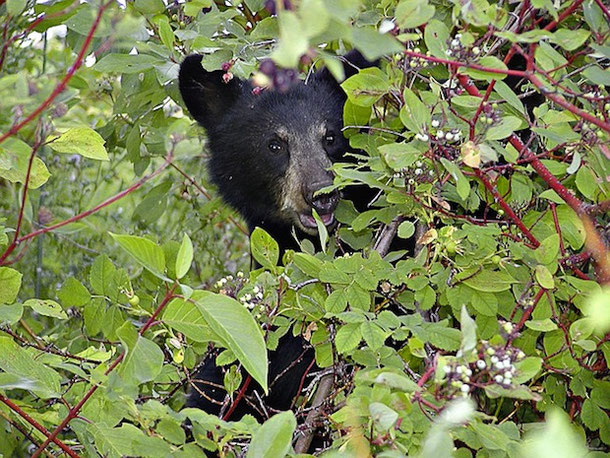 Stretching on the Pacific Coast of Canada, Great Bear Rain Forest is the largest coastal temperate rainforest in the world brimming with beguiling natural beauty, dense verdant foliage and outstanding wildlife.
As the name suggests, the rainforest is home to grizzly bears, Kermode bears, and black bears and if you are a wildlife enthusiast, this will be your most memorable trip.
You can watch bears in action such as fishing for salmons in the glacier streams and taking a nap by the shore. Venture into a full blown wild adventure where you can encounter exotic birds, marine and animal species such as bald eagles, whales, sea otters, dolphins.  
Hike around the wild trails or take a cruise down the transcendent glacier creeks and feel the sense of tranquility and solitude amid refreshing fjord valleys, terrains covered in colorful wildflowers, and glacier covered mountains and cliffs.  
Explore the Bruce Peninsula Grotto
A naturally carved rock formation and grotto, The Bruce Peninsula grotto is a startling beauty to experience with its brilliant blue water pool and background of gray rock formations.
The best time to witness this spectacular scenery in seclusion, without any hoard of tourists is during spring time. 
The hike through the park is an amazing experience with the nature trail offering brilliant shades of multi colors in its lush forests.
After a 30 minute hike through the bright, lush greenery, you will find yourself staring into awe-inspiring vistas of clear blue waters of Georgian Bay and the rugged coastline which you would follow along the Georgian Trail descending to reach the grotto.  
Take a Nature Walk in Hamilton, Canada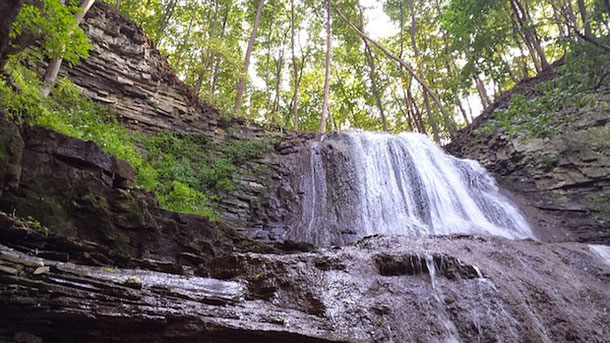 Known as the city of waterfalls, Hamilton is home to hundreds of spectacular cascades. Hike or take a bike ride along the many nature trails winding around the verdant woodlands and waterfalls to witness its spring splendor.
One of the popular trails during spring time is the Bruce Trail where you will feel enamored by the expanse of natural beauty which was up till now sheathed in the cold snow. Hamilton is also home to Canada's largest botanical garden which is a delight to experience during spring, being decked up with thousands of flowering plants and trees.
Don't miss the Gage Park Tropical Greenhouse Springtide bulb show and Food and Drink Fest to sample the finest in Canadian cuisine, breweries, and wineries while you are in Hamilton.
Welcome Spring at the Ottawa Tulips Festival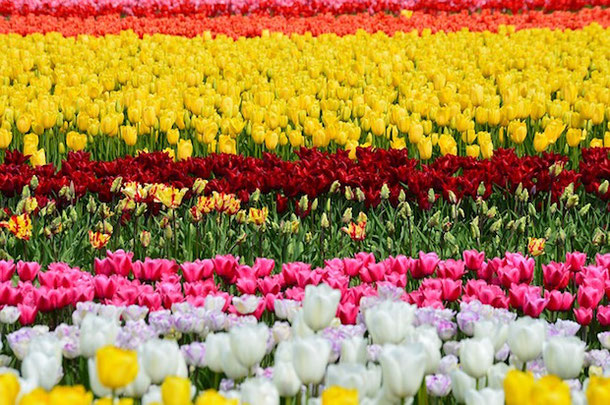 It's time to stop and smell the tulips in Canada. Spring in Ottawa means you are welcome to a spectacular sight of endless stretches of colorful tulips.
The month of May kicks off the annual Canadian Tulip Festival in Ottawa. As per the history, a symbolic and simple act of gratitude and friendship between the Dutch and Canada in the form of tulip bulbs lead to the mass displays of tulip stretches in Ottawa which inspired the annual tulip festival.
 Boasted as the largest tuple festival in the world, over a million blooms of different species of tulips paint various sections of the city in a vibrant display of colors. The most spectacular sightings can be experienced at Commissioners Park and along the Rideau Canal.
Canada feels like a magical land in spring time. Nowhere in the world can you find such dramatic changes in sceneries of crisp white snowy landscapes mingled with flamboyant hues of flora and fauna.
Spring starts on the west coast in February and spreads throughout the country till June. The places are breathtakingly beautiful and a Canada holiday is an excellent way to bond with the family while enjoying the vivid sights of spring.
Travel Canada at ease – all you need is a travel expert to guide you through planning the holiday and check for tourist visa requirements for Canada. Get ready; it's time to get exploring the beautiful Canadian places enchanted by the touch of spring.
Priya Ghatol is an avid travel writer who specializes in adventurous travel writing. Her blogs and articles give deep insight about various tourist places and act as a perfect travel guide for someone who is traveling to a place for the first time. Priya has exemplary research, writing, and editing skills which make her easily match the reader's intellect and interest. She has blogged extensively about her travel experience while traveling to several places like Malaysia, Thailand, Singapore, Europe, Dubai, USA, and Canada.
THE MOST UNUSUAL ACCOMMODATION ON AIRBNB THAT WILL BLOW YOUR MIND
Airbnb has changed the way I travel. Why do I love staying on Airbnb? Well, not only because of possibility to meet a genuine local host, or getting the whole apartment for a price of a hotel room, but also because I can stay at truly unique and unusual places that would not be available as accommodation otherwise. Here is a listing of some insane and incredible Airbnb rentals to add to your wish list!