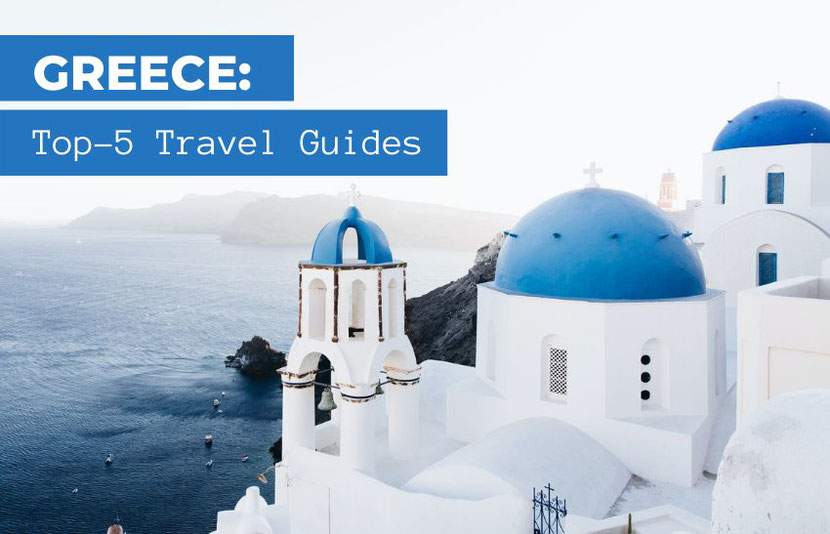 Greece is one of the most liked tourism destinations in Europe, and millions of tourists from around the world come to Greece for a perfect holiday in summer. When it is a huge and diverse country like Greece, it is crucial to learn before your trip about its historical background, top holiday destinations with the best beaches, attractions, and culture. 
Learning these details from the internet could be hefty and might take some time, and you can never be sure if it's up to date or not. Having a Greece travel book with you that provides you with the most important 
information about the best parts of Greece is something that you might need. 
In this article, I will review the five best Greece travel guides that will help you to prepare well for your trip and make it a meaningful and authentic experience.
Disclaimer: The Alternative Travel Guide is a participant in the Amazon Services LLC Associates Program, an affiliate advertising program designed to provide a means for sites to earn advertising fees by advertising and linking to Amazon.com. As an Amazon Associate I earn from qualifying purchases. For more information, please read our disclaimer page. 
Keep reading and find out about 5 of the Best Books on Greece
1. Fodor's Essential Greece: With the Best Islands
The first guide on my list is Fodor's guide that can quickly become your ultimate travel book on Greece. Fodor's travel guide offers precious advice and recommendations that have been professionally vetted. 
From this travel book on Greece, you will learn what to include in your Greece bucket list; you will discover many secrets about the Acropolis, crafts made in Greece, Greek gods and heroes, Greek history, and Greek wine.
It covers the best Greek destinations such as Athens, Thessaloniki, Delphi, Corfu, Meteora, the Peloponnese, Olympia, and many others. It also offers up-to-date practical information for the best hotels, bars, and restaurants. 
Fodor's guide also provides fantastic trip planning tools for you to make the best out of your trip.
It has a 4.5 of 5 stars rating on Amazon, and 70% of readers gave it a 5-star rating. According to the reviews, most travelers enjoyed this Greece travel book and found it very useful for planning a trip. Particularly, they appreciated sample itineraries based on the length of stay and lots of detailed and practical information. 
So, if you are looking for a comprehensive guide on Greece for your trip, this guide is the right choice. 
Click here to check the price and to read more reviews.  (paid link)
2. A Drop of Ladi & My Greek Soul
This time, it's not an ordinary Greece travel book. It's a cookbook that immerses you in the Greek culture. Here you will find information about the best Greek dishes that you must try when you are in Greece and discover the Greek food's cultural background. Moreover, this book contains authentic recipes for you to create your own Greek island at home.
I've added this book to the best Greece travel guides list because the author also shares travel stories and adventures.
All in all, the book A Drop of Ladi & My Greek Soul is very multifaceted, and it will make you understand the Greek lifestyle and even feel like a Greek!
Greek cuisine is one of the most extensive cuisines you can experience in Europe and has many unique and delicious dishes.  If you love eating good food, cooking, and trying different recipes, you will also love this book. 
A drop of Ladi & My Greek Soul guide provides you 100+ recipes from different Greece regions, and it is an excellent addition to any kitchen's library. 
The book has received a 5-star rating on Amazon. According to the customer reviews, A Drop of Ladi is a fantastic cookbook and a travel book on Greece that everyone needs to have. When you read this book, you'll feel the author's passion for Greece and Greek food, and you'll want to fly to Greece immediately.
With this book, you will be well prepared for a food tour in Greece. 
To sum up, if you like cooking and the Greek cuisine interests you, you should definitely go for this guide. 
Grab A Drop of Ladi & My Greek Soul now! (paid link)
3. Lonely Planet Greek Islands
Lonely Planet's Greece guide mainly focuses on the Greek Islands that are world-famous for their beautiful beaches, history, architecture, and attractions.
If you want to experience Greece to the fullest, you must visit the Greek Islands. Each of them is a little universe with unique landscapes, music, art, and food.
This amazing guide gives you all the information you may need:
Accommodation recommendations.
Cultural insights.
Attractions.
History.
Activities with kids.
Insider tips for getting around like a local.
Local politics. 
If you choose this book as a travel companion, you are guaranteed to have the time of your life in the Greek Islands.
According to the reviews on Amazon, nearly everyone who bought the guide loved what it offers. This book has only positive reviews, and it helped hundreds of people plan their trip to the Greek islands.
Lonely Planet's guide has an excellent track record in making comprehensive guides wherever the location is. It's one of the leading Greece travel books on the market. 
To sum up, this guide is perfect for you if you want to learn about Greek culture and choose the best Greek island for your needs and interests. It covers everything a traveler to the Greek islands may ever need. 
Add to cart the Lonely Planet Greek Islands guide (paid link) 
4. Greece - Culture Smart!: The Essential Guide to Customs & Culture
The fourth guide on my list is from Culture Smart. This time, it is a bit different than a traditional travel guide as it focuses on Greek culture and how to behave in Greece rather than information about things to do in Greece. 
A crucial aspect of this book is to help you understand the Greek people, their mentality, customs, habits, and traditions, and moreover, you will learn from this book how to act around Greek people. 
The book teaches you about Greece's culture and history, which is something crucial if you are visiting a foreign country. 
So, if you are looking for a deep knowledge of Greece's history, customs and culture, this book is excellent for you. As the publisher of Culture Smart!  says, this book is "For those who want to go deeper." 
If you are looking for a Greece travel book that is more than just tips on things to do, what to see, and where to stay, you will appreciate this guide. 
This book will be extremely useful for people who want to become ex-pats in Greece, stay there for a longer period, buy property, do business in Greece or collaborate with Greek people. It's one of the best Greece travel guides with an unconventional approach. The book includes:
Sections on business and social etiquette.
Advice on verbal and non-verbal communication with Greeks.
Tipc on how to be a good guest in Greece and make friends with Greeks.
To sum up, this book is gold for everyone who wants to be more than a tourist in Greece. 
Click here to check the price and to read more reviews about Greece - Culture Smart!: The Essential Guide to Customs & Culture. (paid link) 
5. Most Beautiful Villages of Greece
Greece is not just about the sea and the beaches. In addition to the many ancient sites and attractions, there are also authentic traditional villages hidden in the high mountains, where you can escape the scalding hot temperatures and admire glimpses of the sea from afar.
In this travel book on Greece, you will find beautiful Greek settlements hidden away from tourists' eyes and preserve their true culture and traditions.
Everyone who goes to Greece must see some of these villages. Without the villages, your picture of Greece will be incomplete.
Moreover, these villages are picturesque and very instagrammable. If you are looking for a place for a photo shoot, you will find some great inspiration in this guide. Some of the villages mentioned in this guide are white and blue; others are ochre, green, or even terracotta. They are unique on Earth and deserve your visit. 
This guide gives you a good perception of Greek villages and what to do or where to go. Some of the villages in this guide are world-famous, some are known to only locals. 
According to the reviews on Amazon, travelers loved this guide. It's one of the greatest Greece travel guide books that provides a different angle. So, if you like visiting villages and want to explore the Greek villages on the islands or the mainland, this guide could be an excellent addition to your travel. 
Add to Cart The Most Beautiful Villages of Greece. (paid link) 
Final words
So, here are some of the best Greece travel guides that are very diverse and cover different aspects of Greece.
Each of these guides will take you on a different journey through Greece and help you discover Greek culture and cuisine. 
Depending on your travel goals, you can find a suitable book on Greece from this list of travel books about Greece that will become your travel companion. 
Choose what you like and go for that. You will not regret the time reading and preparing for your trip as these books will provide you with all the essential information you need. After reading these books, you will feel like an expert and will be able to plan a unique itinerary in Greece.
Read also: