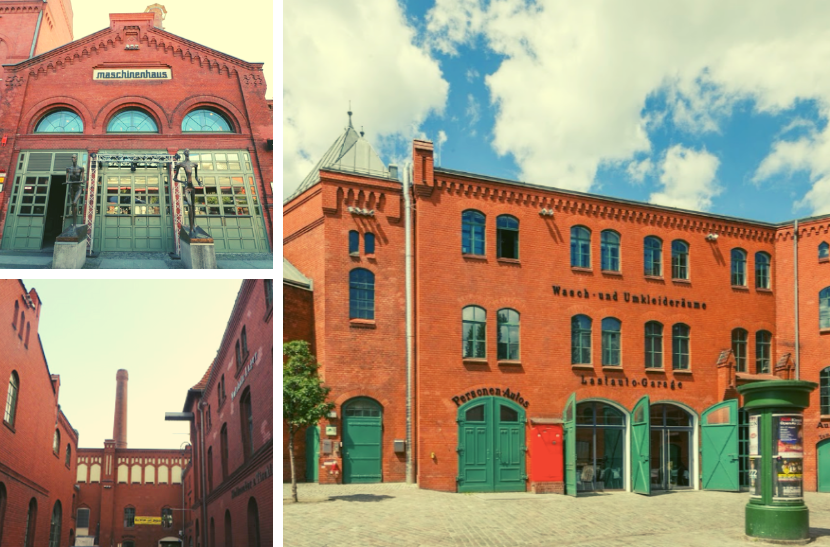 Prenzlauer Berg, the former proletarian-dissident area, where the GDR police was afraid to go, turned after the unification of Germany into a cult and trendy area with elite housing and restaurants. An industrial past that has overlapped with a rebellious past has given a unique vibe to this creative neighborhood. 
In this blog post: recommendations on where to stay, hotels, what to visit, and safety in the Prenzlauer Berg Berlin district. 
Prenzlauer Berg Berlin: Post-Industrial Chic and Trendy Lifestyle
Prenzlauer Berg is a prime example of the gentrification of Berlin.
For a long time, it was mainly a working-class area of the city.  Manufactories, factories producing beer and tobacco, slaughterhouses, a gas processing plant, and textile factories concentrated here.
After the war, the area was in the GDR and slowly began to plunge into decline. 
In the late 1980s and early 1990s, anarchists, punks, and artists lived in neglected houses in Prenzlauer Berg.
After the fall of the Berlin Wall, Western companies began buying and modernizing old houses.
Thus began the gentrification of Prenzlauer-Berg.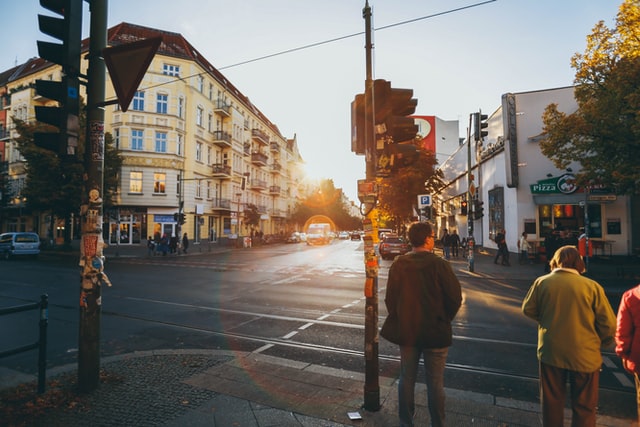 Trendy bars and clubs opened in the area, house prices rose, and retirees and the working class were forced to move out. For ten years, the population here has almost completely renewed, and now the main inhabitants are young and successful people aged 30-40 years.
Prenzlauer Berg is nowadays a trendy and prestigious area, especially popular with young families.
The typical character of the district is "Mama Latte Macchiato" - a young, well-groomed mum with a designer stroller sitting with her MacBook in a trendy cafe, sipping organic coffee.
Shops with local brands, hand-made, vintage, bio, and organic produce are scattered everywhere. Next to them are lofts, galleries, cozy cafes, some even have sandboxes for children, so that modern parents can easily combine raising children and active social life.
What to see in Prenzlauer Berg Berlin
1. Kollwitzplatz, Helmholzplatz and Kastanienalle
The best places to soak up the atmosphere of Prenzlauer Berg are Kollwitzplatz, Helmholzplatz and Kastanienalle.
Now, the old houses on Kastanienalle street are restored, but before the fall of the Berlin Wall, the area was in ruins.
The authorities of East Berlin were too busy building panel blocks on the outskirts of the city and gave up on the area.
That is why this district has become a refuge for the impoverished intelligentsia, and Kastanienallee was a symbol of freedom and radicalism.
It is here that the future members of Rammstein lived, dissident artists organized exhibitions in attics, and dissident poets read poetry in the courtyards.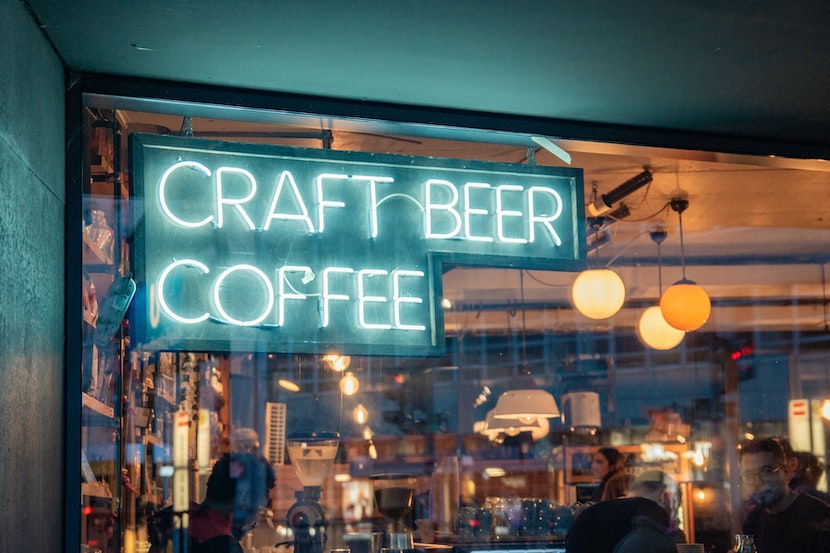 2. Kulturbrauerei: Beer was once brewed here - today it's culture
If you are staying in Prenzlauer Berg, be sure to visit its best attraction, the Kulturbrauerei cultural center, housed in a 19th-century brewery complex. For many years they brewed beer, now it's culture. 
Nowadays, this post-industrial complex includes a cinema, a museum of history and life of East Germany (by the way, it's completely free), several clubs and concert halls. 
Some of them also host Russian concerts, and in winter, the Kulturbrauerei is home to one of the best Christmas markets in Berlin - the Scandinavian one. In addition to the usual and familiar mulled wine, here you can taste its Swedish counterpart "gleg", and as well as the Finnish "Christmas beer".
Explore Kulturbrauerei and other hidden gems of Prenzlauer Berg with a Berliner who will share authentic insights and background information about this district. More information about Prenzlauer Berg Tour. 
3. Pfefferberg brewery
Another post-industrial tourism destination is the preserved 19th-century Pfefferberg brewery, which has now been converted into galleries and art workshops.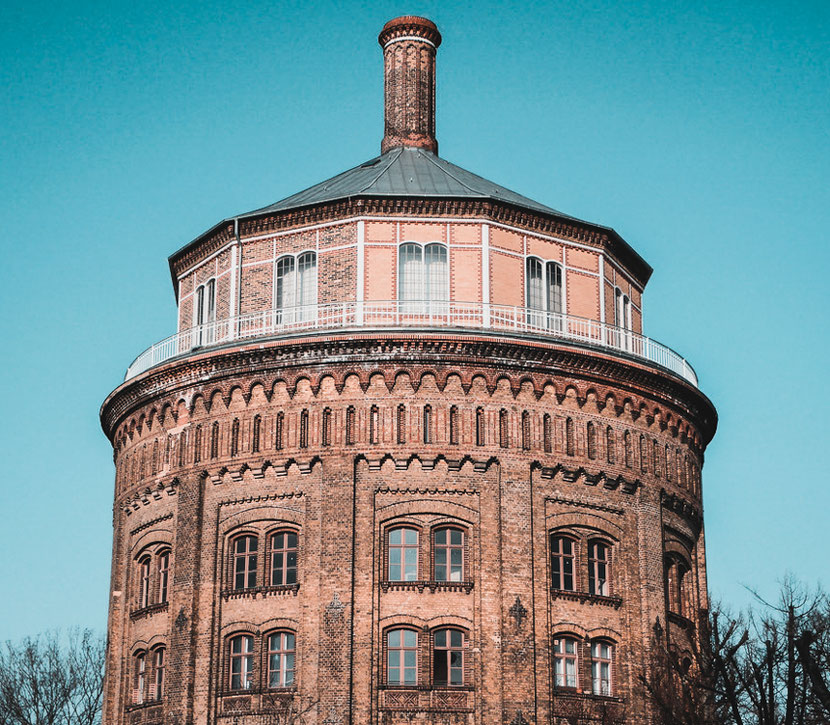 4. Wasserturm Prenzlauer Berg
Visit the Wasserturm Prenzlauer Berg - Berlin's oldest water tower, built in 1877 and used until 1952. 
The water tower is a symbol of Prenzlauer Berg.  The first concentration camp in Berlin was located in the basement of the tower, and now, after restoration, it houses luxury round apartments.
Where to stay in Prenzlauer Berg Berlin
Prenzlauer Berg is a cluster of mega-stylish and atmospheric apartments such as Belfort Rooms & Apartments. Prices are comparable to West Berlin but worth it.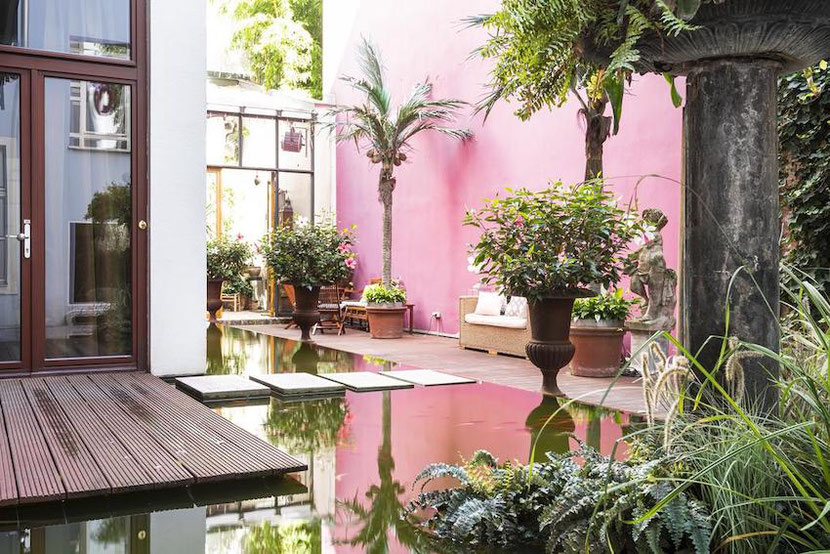 Photo: Belfort Rooms & Apartments
A real gem of Prenzlauer Berg is the historical hotel Oderberger functioning in a public bath house from 1902. 
The 'Stadtbad Oderberger' was designed in1898 by architect Ludwig Hoffmann to supply the then rapidly growing district of Prenzlauer Berg with public institutions. For 84 years — from 1902 to 1986  — the people of Berlin's Prenzlauer Berg walked into this wonderful building primarily to swim.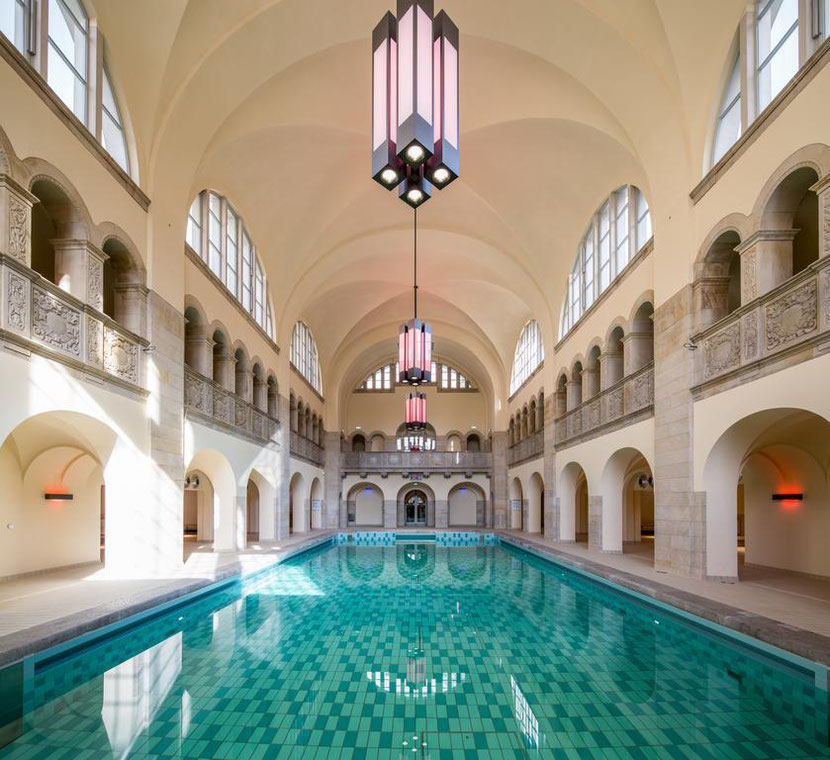 The baths survived the Second World War but were shut down in 1986 due to damages in the bassin.
The baths dilapidated till 2011 when a new owner converted them into a boutique hotel Oderberger Berlin.
This unique and unusual hotel in Berlin will suit lovers of adapted antiquity and repurposed historical spaces. 
The swimming pool was used for many years as a location for events, but since 2016 it's open to the public. So if you are in Prenzlauer Berg, seriously think about staying in this fantastic place. 
More information about the Hotel Oderberger
Hotels in Prenzlauer Berg
Safety in Prenzlauer Berg District of Berlin
Together with Charlottenburg, Prenzlauer Berg is among the top safest districts in Berlin.
The crime rate is very low and the area is popular with young families, expats, IT professionals, and mid-level managers.
1. Berlin Mitte District: All the Must-See Sights of Berlin within the Walking Distance
2. Berlin Charlottenburg-Wilmersdorf District: the Heart of West Berlin
3. Kreuzberg Berlin District: Hipster and Alternative Berlin
4. Friedrichschain Berlin District: the Center of East Berlin
5. Berlin Safety Tips for Travelers
With love,
Sasha & The Alternative Travel Guide 
SAVE IT ON PINTEREST FOR LATER: