Are you looking for a perfect place for "laptoping" in Warsaw? Check out this list of the best cafes to work from in Warsaw with free WiFi,  delicious coffee (and sometimes food), and a good ambiance. This list also contains free coworking spaces that provide an excellent environment for working diligently. If you are a digital nomad, traveler, entrepreneur, or freelancer, and in need of a remote desk, this list will help you to find your favorite work-friendly spot in Warsaw. 
It's my subjective list of the places in Warsaw where I enjoy working from (the experience collected during last 2,5 years). Travelers, digital nomads in Warsaw and new friends often ask me to advise some nice cafes to work from in Warsaw. So, I've decided to write down my favorite cafes and to share it on the blog.
It's a live list, and I am going to update it with more addresses.
Last update: November, 2019 
Google Campus
Google Campus is probably my favorite place to get the work done. Amazingly fast internet, cool ambiance, lots of extraordinary people, and a selection of healthy food at the cafe.
To work at the Google Campus office area, you have to become a Campus resident. But you are free to show up and work from their café.
As soon as you cross the threshold of the Campus, you can quickly catch a creative vibe there: as you can imagine, Google Campus is packed with innovators, change-makers, future-design-thinkers and the like. When I work from there, surprisingly, I am more productive than in a regular café.
A bonus for coming to Google Campus: there is a shelf with business and marketing books IN ENGLISH available for you to read for free.
Another bonus: in addition to meeting awesome people, you can also attend numerous events about business, marketing, internet and everything tech. 
WiFi: the internet is really fast (who would doubt that :)
Power sockets: everywhere))))))
Air conditioning: YES !!! (it's so important in summer)
Drinks: tea, coffee, soft drinks, fresh juices, smoothies 
Food: cakes, sandwiches, quiches, salads
Where: Plac Konesera 10
Daft Café @ Warsaw Spire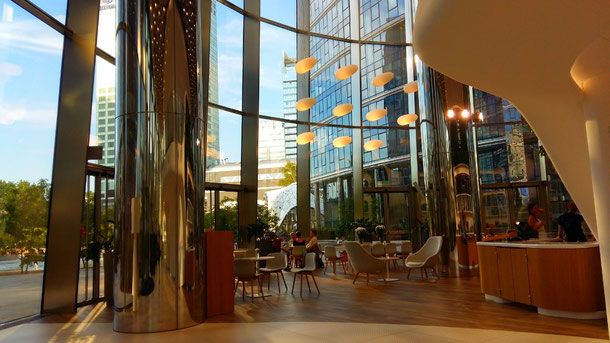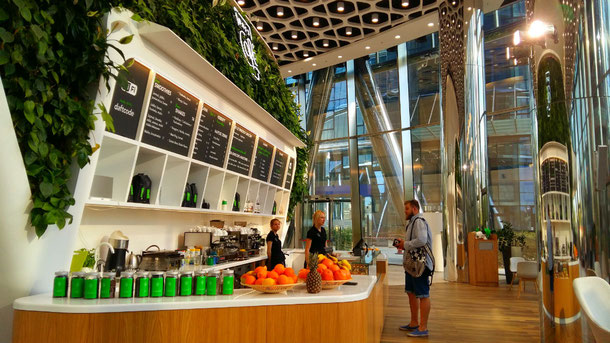 Daft Cafe is a modern café inside of the tower the Warsaw Spire. I like this spacious place with enormous glass walls and a very very high ceiling. The design is high-tech style and minimalist.
In the morning and during the lunch time, mostly the employees of the corporations from the Warsaw Spire hang out at the café, but in the remaining hours it's rather calm there, and it contributes to getting the work done. In addition, there are anti-noise chairs where you can talk on the phone.
For me, it's the place where I can stay the whole day and be productive.   
WiFi: good

Power sockets: on the floor, under every table
Air conditioning: yes
Drinks: Coffee, fresh juices, and delicious smoothies
Food: cakes, muffins, sandwiches
Where: Warsaw Spire, Plac Europejski street, 1.
Open : daily, 8:00-21:00

ETNO Cafe Marszalkowska
Etno Cafe is a Polish network of coffee shops that initially started in Wroclaw but then expanded to other cities. Their craft roaster is based in Wroclaw.
Etno Cafe is known for a good quality coffee, they even have their online store, and their Cold Brew Coffee. 
So if you are a coffee fun, you should try a coffee at the Etno Cafe. 
I worked from the Etno Cafe many times. There is a nice ambiance that attracts other freelancers and digital nomads. For sure, you will not be the only person sitting there with the laptop. 
In the Etno Cafe, they also serve food, so you can stay there as long as you want.  
Open:
Monday- Friday: 7:00-22:00
Saturday: 8:00-22:00
Sunday: 8:00-21:00
Address: Marszałkowska 87
Idea Summer Hub
UPDATE: This coworking space is permanently closed.
I've discovered this coworking space just recently, and it quickly became the place I like to come again (though, for summer time only). Created specifically for the holiday period, Summer Hub replicates the functionality of other Idea Hubs (more about it below).
Thanks to its location on the Vistula beach and a sunny terrace with lounges, you can feel that you are almost on holidays. Thirsty guests are served here with free lemonade and iced coffee. Although the Summer Hub was created by the Idea Bank, they don't provide banking services in this location, and this space is just supposed to promote the brand of the Idea Bank.
Please note, I am not connected in any way to the Idea Bank - I just like their coworking spaces :) 
Did I say that it's free to come here? Yes, it is (you should be the client or be accompanied by the client. You would need Idea Bank login to access the WiFi ). 

So come along, settle on a beach chair, put your sunglasses on, get a cold drink and start your working day. Can you think of anything better?
Now, while writing this blog post, I am right here :)
WiFi: good
Power sockets: there are many sockets in the inside air conditioned area, but not in the outside area

Air conditioning: yes
Drinks: lemonade and ice coffee

Food: no, but you can find something to eat around (for example, in Plazowa).

Where: Temat Rzeka, Wybrzeże Szczecińskie street, the beach near the Poniatowski bridge
Open: Monday-Friday 11:00-20:00; Saturday and Sunday 12:00-18:00
Idea Hub Free Coworking Space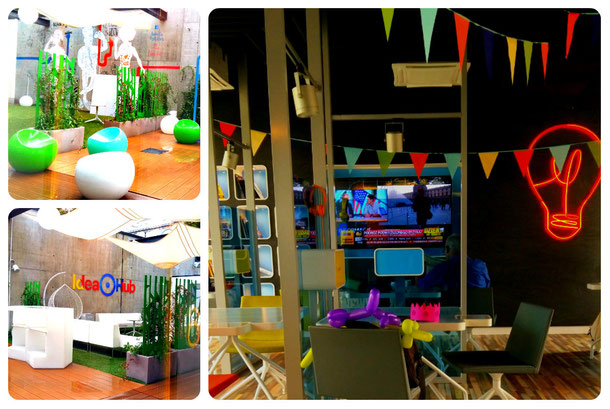 Another place from the Idea Hub family where I come often to work. It's a great coworking place, and good news: it's free. Moreover, you can serve yourself  free coffee and tea. As I mentioned above, to use this coworking space, you have to be a client of the Idea Bank. 

The only drawback is that this free coworking space is becoming popular, and often you may not find a spare desk (there is no possibility to reserve a desk). As people stay here for the whole day, you have a very tiny chance that the desk will free up in an hour like it is in the café.
WiFi: good 

Power sockets: near every table

Air conditioning: yes
Drinks: free tea, coffee and water

Food: no

Where: 
- Polna street, 11; open: Monday-Friday, 8:00-20:00.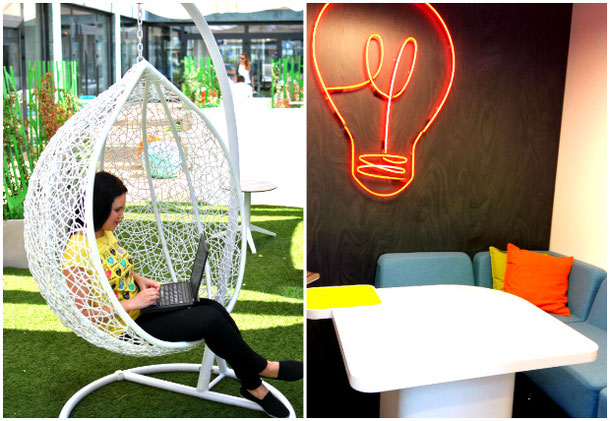 Miau Café - Warsaw's First Cat Cafe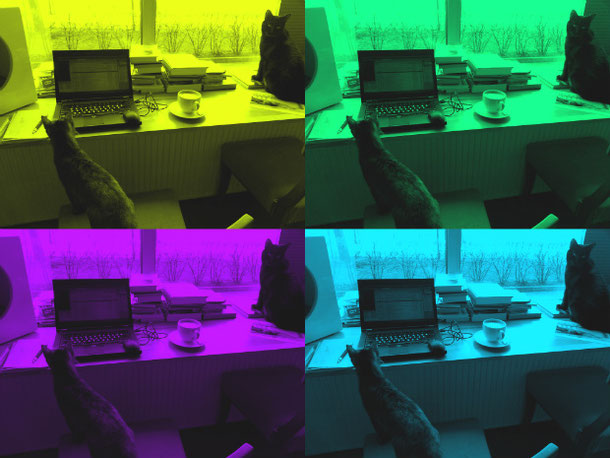 I am a big cat-lover and so I went several times to work from Warsaw Cat Café. I liked it so much that I even wrote a separate post about it: Warsaw Cat Cafe: When Are You Going for a Coffee with Cats?

The cafe is a bit far away from the city center: it takes around 30 minutes by tram from Warsaw Central Station to reach the place, but it's worth it.
The cats will play with your mouse, they may drink your latte, but generally you will work in a stress-free atmosphere :)
WiFi: good

Power sockets: a few, but visitors normally come there without laptops.
Air conditioning: no. there is ventilation, but in summer it's quite hot in the café
Drinks: good coffee, tea, soft drinks
Food: cakes
Where: Zawiszy street, 14.
Open:  daily, 10:00 -21:00
Green Caffé NERO: PRZESKOK and FEMINA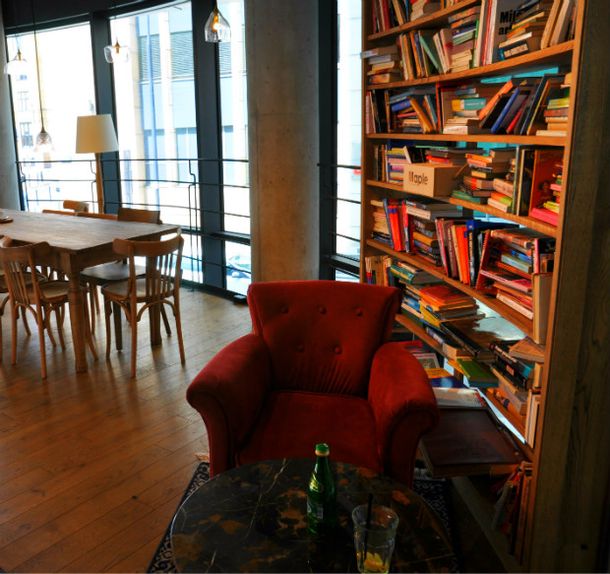 There are around thirty Green Caffe NERO in Warsaw, but PRZESKOK and FEMINA are my favorite ones.
Femina, because of its cozy ambiance created by the brick walls, arm chairs and bookshelves; and PRZESKOK, - because it's spacious, with big windows and in a super central location with the view on the Palace of Science and Culture. 
Offering high-quality espressos and all other forms of coffee, healthy food options, quiches, pastries and cakes, Green Caffe NERO, in my humble opinion, is a definitive winner over similar network cafes such as Starbucks, McCafe or Costa.
In addition, their playlist also pleases with lots of soul, Latino and Ethnic-style-tunes, though music can be a bit loud if you need to concentrate.
WiFi: good
Power sockets: one under every table, but as there are more people than tables, you may think of bringing a power strip.

Air conditioning: yes, very strong (if you stay there the whole day, consider bringing a jacket).

Drinks: of course, coffee in all possible variations, juices, smoothies

Food: cakes, quiches, pastries

Where: FEMINA, - Solidarności street, 117;  PRZESKOK - Szpitalna street, 5
Open : daily, 7:00 - 23:00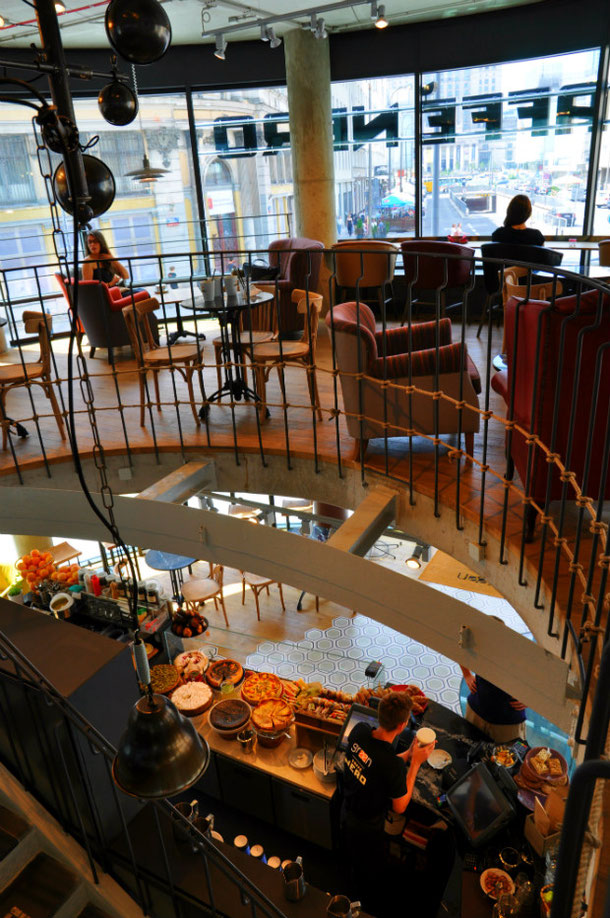 Na Lato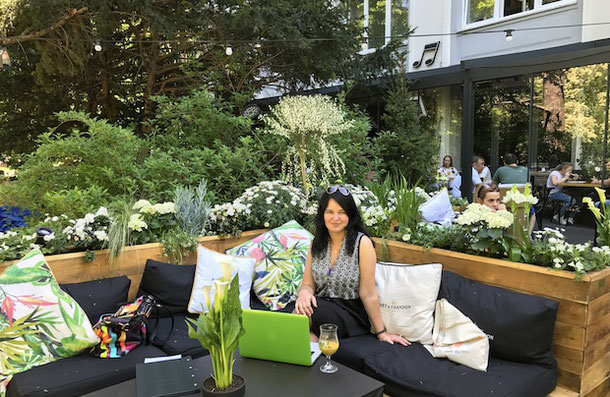 When summer is here and the weather is perfect, it's a pity to stay inside. On one of those days when I had to get the work done but I was craving for a fresh air and greenery around me, I decided to try to work from the Na Lato's garden.
I went to this place several times before and was always delighted with their food, mainly Italian. If you plan a business meeting, lunch, or brunch, Na Lato is a great option. Their summer garden is what I was looking for: quiet, peaceful, and with a lovely ambiance.  It's a nice and trendy place to spend several hours for working and then to chill out. 
WiFi: good
Power sockets: not many, but enough
Air conditioning: yes
Drinks: coffee, soft drinks, fresh juices, smoothies
Food: delicious Italian cuisine
Where: Rozbrat  street, 44
So, here are the places I go most of the time to work from. I tested many more cafes and coworking spaces in Warsaw, and I will add more venues soon. 
What is your favorite spot for working in Warsaw?
Feel free to share in the comments section below. 
If you want to connect with fellow digital nomads, entrepreneurs, and freelancers in Warsaw,  join the Facebook group "Warsaw Digital Nomads".  
Thanks for reading!
And, If the article was useful for you, please LIKE The Alternative Travel Guide! 
Want to be the first to know when a new interesting article is published? 
Enjoy your workday in Warsaw!
With love,
Sasha 
To share this blog post, click here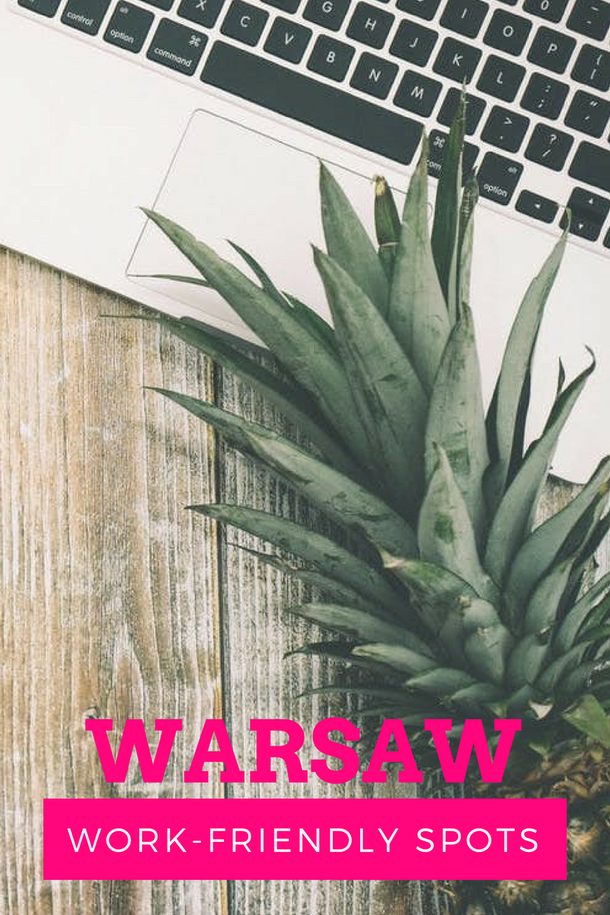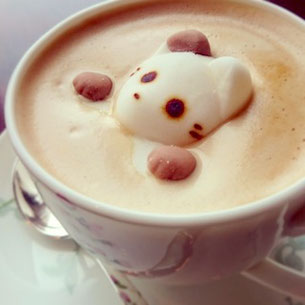 CAT CAFE WARSAW - WHEN ARE YOU GOING FOR A COFFEE WITH CATS?
Sweet cat alert! Are you looking for an original place to meet a friend for a cup of coffee? Or a place where you can come with your laptop and work in a nice ambiance? If that's what you're looking for, then you should come here - to a cat paradise, the Cat Café in Warsaw.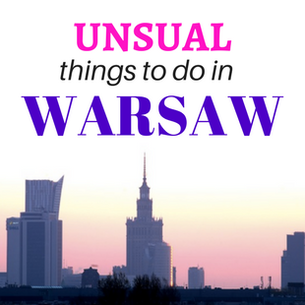 UNUSUAL THINGS TO DO IN WARSAW: FUN AND OFF THE BEATEN PATH ADVENTURES
Try out this list of fun things to do, unusual things to see, and alternative city tours in Warsaw.  Whether visiting for a day, a weekend or a week, you should be able to use this city guide to plan your itinerary and have a memorable experience in the capital of Poland.

 
 
 
 
 
 
 
 

 

ABOUT THE AUTHOR

 

Hi, nice to meet you! I'm Sasha, a "free spirit" and a world citizen at heart who was born in the country that does not exist: Transnistria. I am on my adventurous journey to discover alternative, quirky, unique and unusual things to do and to visit in cool cities around the world. Join me and try something new! I write in Globish, since English is not my native language, so feel free to correct me or to make fun of me :).