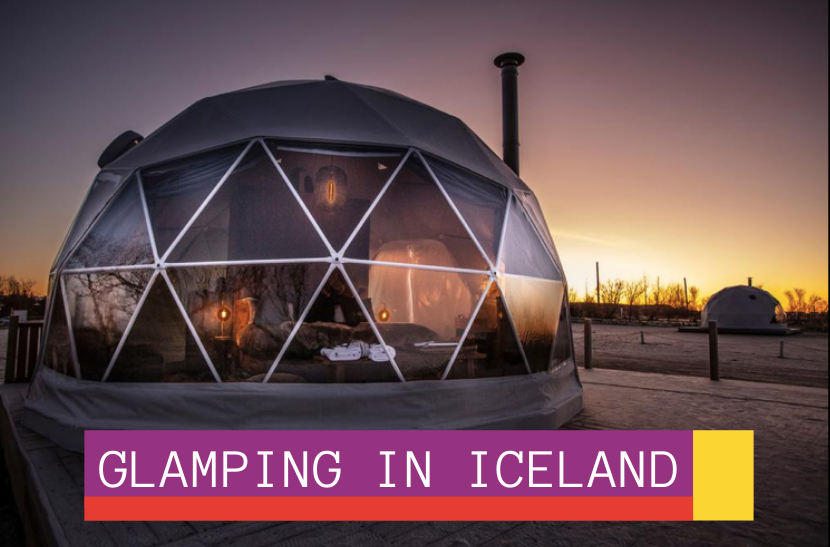 Do you want to know what paradise looks like in a hut? If you are not ready to carry a canned beef stew in a 60-liter backpack and toil with the installation of a tent, but you still want to be closer to the Icelandic nature, try glamorous camping aka GLAMPING. 
Where in Iceland to relax in nature with comfort? In this blog post, I selected the most unusual places. Check it out and get inspired! 
Looking to save money while traveling in Iceland?
---
WHAT IS GLAMPING AND WHY YOU SHOUD TRY IT IN ICELAND ?
The word "glamping" came from the other two: glamour and camping. 
For the first time, this neologism appeared in 2005 in the UK.
The concept has become very popular among the brits who love both nature and comfort.
In 2016, the word "glamping" became a trend and was even introduced into the Oxford Dictionary. 
1 | LUXURY FUTURISTIC TENT NEAR REYKJAVIK: REYKJAVIK DOMES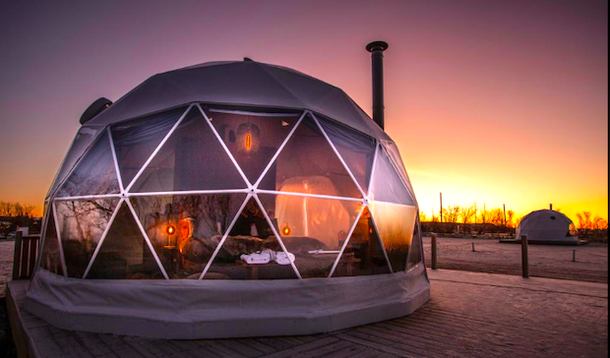 Photo courtesy of Reykjavik Domes
In Reykjavik Domes, glampers get all the charms of camping without camp hardships.
This unusual cozy dome of 25 m2 houses a soft double bed, covered with sheepskin, and a burning fireplace.
Guests enjoy a hot shower and a clean toilet not under a bush, but in a separate room. 
Here you can fall asleep looking through the large windows at the starry sky and the dance of the northern lights.
Moreover, you get a private jacuzzi.
And all this among the stunning scenery of Icelandic volcanoes and the Esia mountain range.
As for me, it's the perfect escape to nature. 
Get more details about Reykjavik Domes. 
2 | STAY FOR A NIGHT IN A DELUXE BEER BARREL: GLAMPING & CAMPING IN THE WESTMAN ISLANDS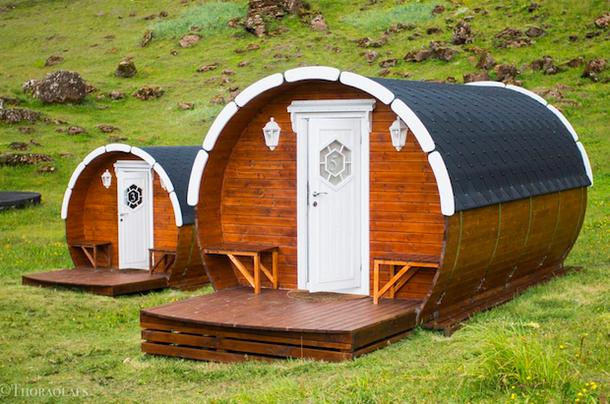 Photo courtesy of Glamping & Camping
If you are planning to visit the Westman Islands Vestmannaeyjar when traveling around Iceland, an excellent option for a night will be unusual houses in the shape of a beer barrel.  
The houses Glamping & Camping are located in a picturesque area near the mountains. 
Here you can relax in nature with comfort: in the cabins, there are comfortable beds with a seating area; in the building nearby you can take a shower and prepare your meals in the equipped kitchen.
If you travel for a long time and you need to wash your clothes, you can use a washing machine and a clothes dryer in this glamping.
Check availability and prices of Glamping & Camping 
3 | RELAX IN THE IGLOO : NORTHERN LIGHTS IGLUHUS ICELAND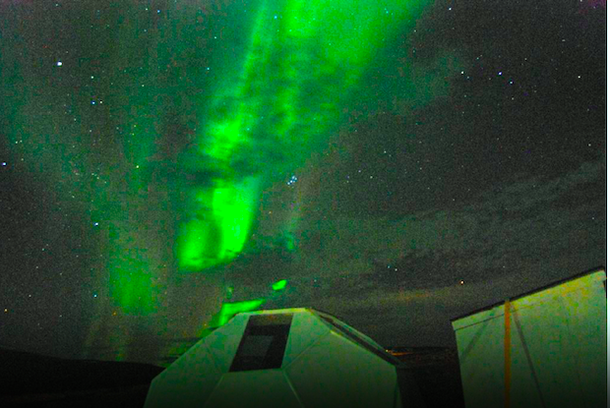 Photo courtesy of Northern Light Igluhus
At Northern Lights Iglúhús you can fulfill your dream of living in the IGLOO! 
This unusual glamping spot grew up in the town Arskogssandur in the northern part of Iceland.
The windows offer not only a view of the river but also the dance of the northern lights.
Indeed, the windows in the igloo are located even on the ceiling! And it means that lying in a warm comfortable bed, you can watch the northern lights before falling asleep. 
No need to go on tours for hunting the northern lights.
Igloo houses are located in a place where aurora appears often and brightly.
View more photos of the Northern Lights Iglúhús igloo.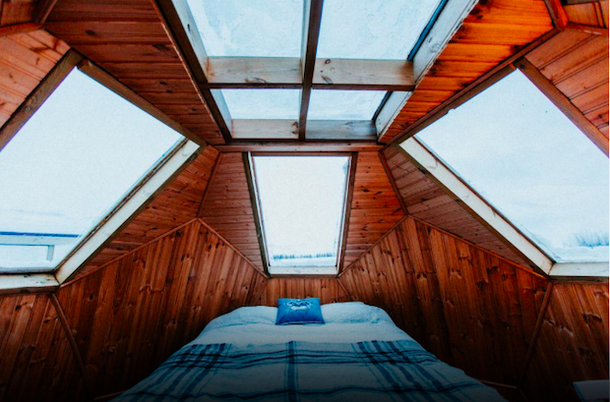 4 | MONGOLIAN YURT IN THE NORTHERN ICELAND:  ICELAND YURT
Photo courtesy of Iceland Yurt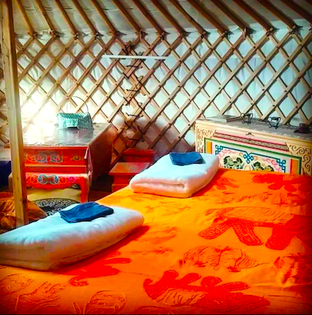 If you want to experience a truly unusual trip to Iceland, stop for a night in an unusual place.
How about a Mongolian yurt in the middle of nowhere?
Unexpected?
This glamping Iceland Yurt is located in Akureyri, in the north of Iceland.
Inside the yurt, you will enjoy a comfortable bed and furniture in the traditional Mongolian style, your own bathroom, and heating.
The owner of the yurt prepares a continental and buffet breakfast for guests.
If you like barbecue, then you can make it in the gazebo near the yurt, which has everything you may need for the grill. 
Get more information about the Iceland yurt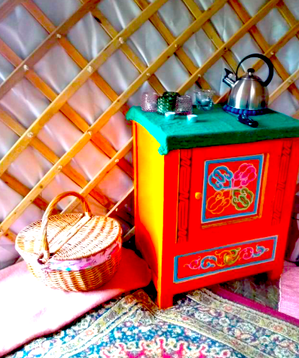 MORE TO DISCOVER ABOUT ICELAND
5 | 1001 NIGHTS STYLE TENT: CAMP BOUTIQUE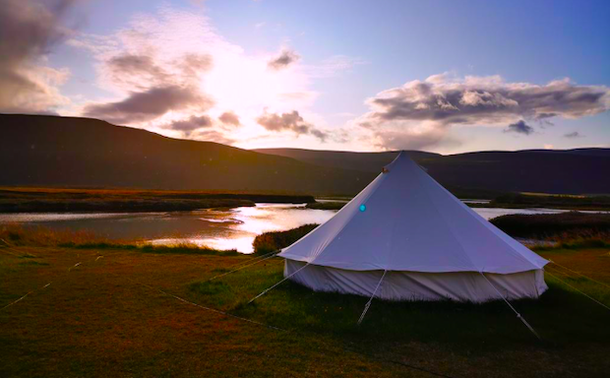 Photo courtesy of Camp Boutique Original North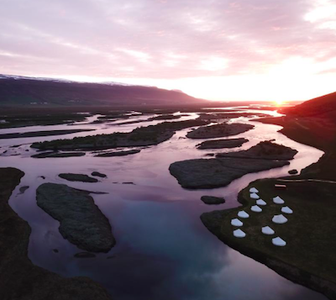 An unforgettable experience on your road trip around Iceland will be spending the night in a tent in the style of "one thousand and one nights".
Camp Boutique Original North is waiting for you in a quiet location in the town of Husavik, on the banks of the Skjalfandafloth River. 
Husavik is a great place to stop if you are traveling in the north of Iceland. In Husavik, you should go to the whale museum with the skeletons of the largest mammals in the world.
If you are staying at Camp Boutique Glamping, you don't need to think about how to start your morning: you will enjoy a delicious continental breakfast served there.
You can feel like a real northern Shaharazada in this tent: animal skins on the floor, dozens of small pillows, a large bed, candles, and kerosene lamps give the character to this place.
Check out availability and prices of Camp Boutique Original North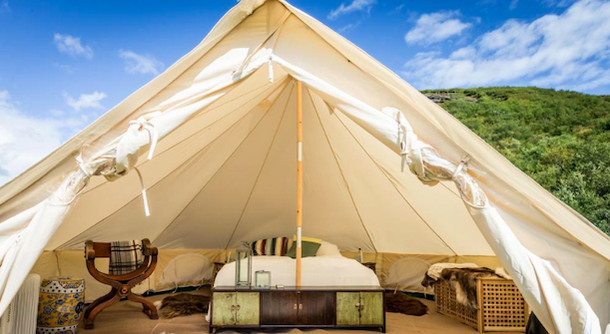 How do you like my selection of unusual places for your unforgettable night in Iceland?
I hope you got inspired and will try Icelandic glamorous camping!
Enjoyed this article? Follow me on Facebook and Instagram or sign up for my newsletter to get notified about new posts: 
PIN IT ON PINTEREST: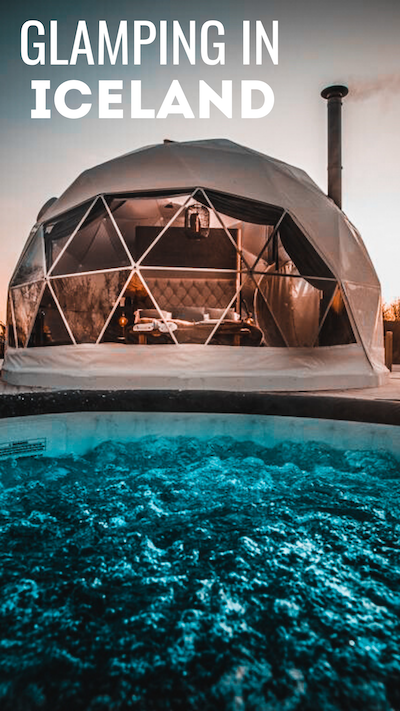 Share this article on your favorite social media: