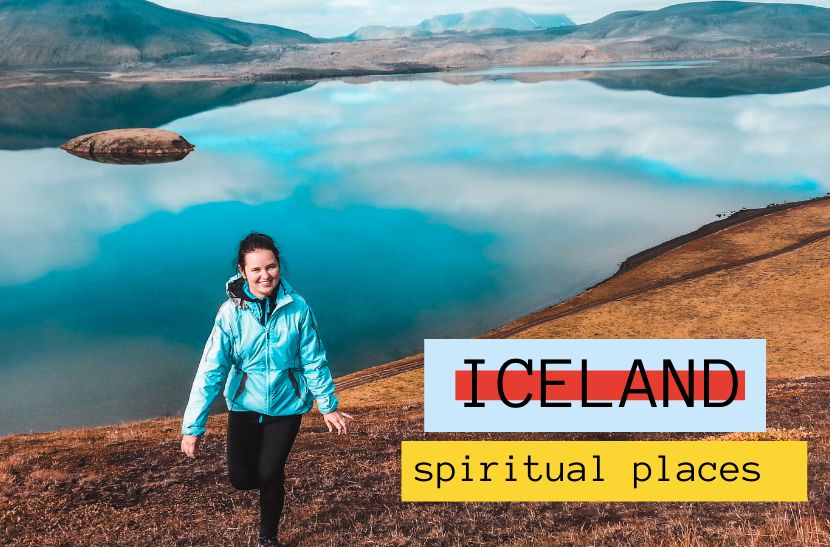 Iceland is so much more than its popular iconic places such as the Blue Lagoon and the Golden Circle. During my trip to Iceland, I visited all the must-see places, but I also wanted to discover Iceland hidden gems and go off the beaten path.
Apart from geysers, volcanos, glaciers, elves, and trolls, Iceland hides other miracles: spiritual places, also known as places of power. Here is what I found. 
But first of all, what are spiritual places and places of power?
Places of power are unique places on Earth where a large amount of cosmic energy is concentrated.
A person who gets there feels this energy on himself. 
The sacred places in Iceland are not about temples or churches built by people. Iceland is a wonderland of natural powerful places. 
There I felt like a primitive man, close to nature, alive to the tip of my hair and nails and connected with all living beings. 
To make experience transformative travel, add these Iceland hidden gems to your itinerary.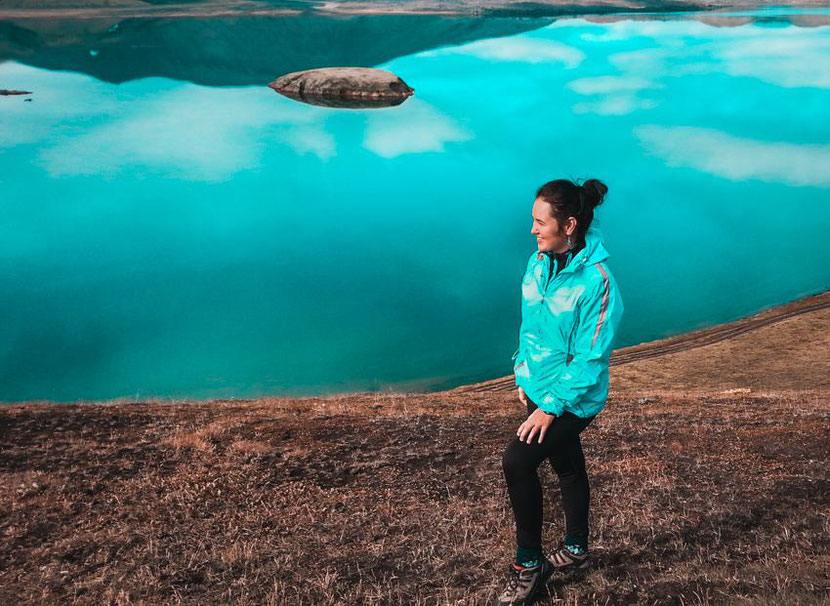 1. Helgafell "The Sacred Hill": a secret place in Iceland
Icelanders consider Helgafell Hill as a Saving Mountain and a sacred place.
They believe that if you climb to the top of the mountain without looking back and not saying a word, and make 3 wishes, then they will surely come true.
There are many testimonies on the Internet from people whose dreams come true the same day.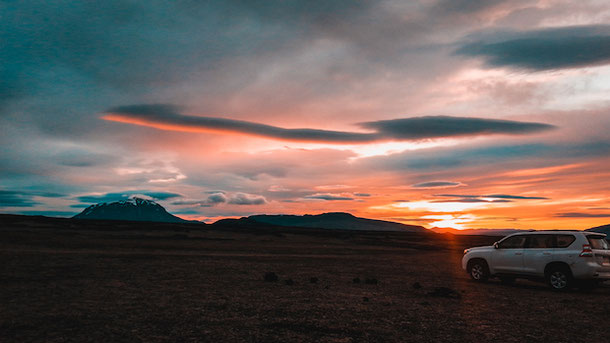 It only works for the first time when you climb a mountain, so most Icelanders have already hiked there and received their wishes.
The height of Helgafell is about 73 meters, and it takes about 15 minutes to climb to the top.
You will be rewarded with stunning views of the Breidafjordur Bay and its surroundings.
Where to stay near Helgafell:
The beautiful and tranquil Helgafell area is an excellent place for an overnight stay. 
Not far from the Helgafell Holy mountain, there is a small Helgafell Guesthouse. It has only four rooms, so you will have peace and quiet. 
Another superb place to stay near Helgafell is a historic farm Helgafell. It's a chance to meet an Icelandic family and see how locals in rural Iceland live.
The owner of the farm has six children, 270 sheep, five horses, and three dogs!!! 
If you choose this place, you will experience authentic Iceland. 
By the way, Helgafell is also a perfect place to see the northern lights, even in summer.  
You can enjoy hiking in the Helgafell area and also visit Stykkishólmur that is located only 7 km away. There you will find great restaurants with local food, a swimming pool, a supermarket, and museums. 
2. Althing in The Thingvellir National Park: a hidden gem in Iceland
Althing in the Thingvellir National park is a fantastic place where the Alþingi, the Icelandic folk veche, was founded in 930 AD.  This primitive parliament continued to gather there until 1798. 
The assembly was a central part of the early Icelandic society in the Viking era and the most important event in the annual social calendar.
In addition, it was also a center of justice and lawmaking. The Alting passed laws that were agreements between free people and resolved disputes.
 Leaders met to discuss various issues, enact legislation, and do justice.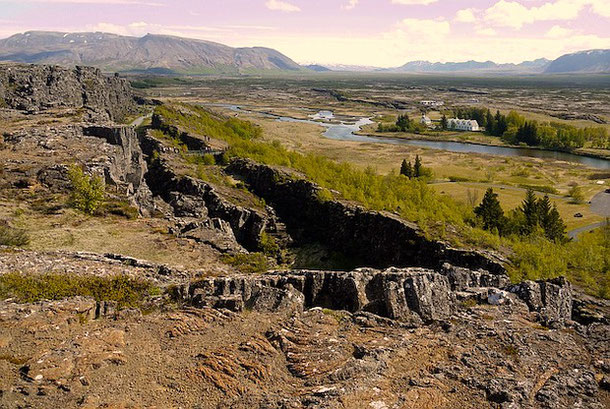 Here, women accused of witchcraft were drowned in a lake, and men were chopped heads.
Althing has great historical and symbolic significance for the people of Iceland, being, in fact, the oldest parliament in Western Europe.
Alting in Thingvedlir is a sacred place for Icelanders, as it marks the birth of the Icelandic nation.
In this place, in 1944 Icelanders proclaimed the independence of the Icelandic State. 
Moreover, exactly in this place in 1000 AD Icelandic people adopted Christianity. 
The Althing is interesting not only from a historical and symbolic point of view but also from a geological one.
You can see giant tectonic plate faults in Thingvellir.
Do you want to visit the easternmost edge of the North American tectonic plate, and in 10 minutes walk on the westernmost edge of the Eurasian Plate?
You can do it in Thingvedllir. 
Where to stay near Althing & Thingvellir National Park: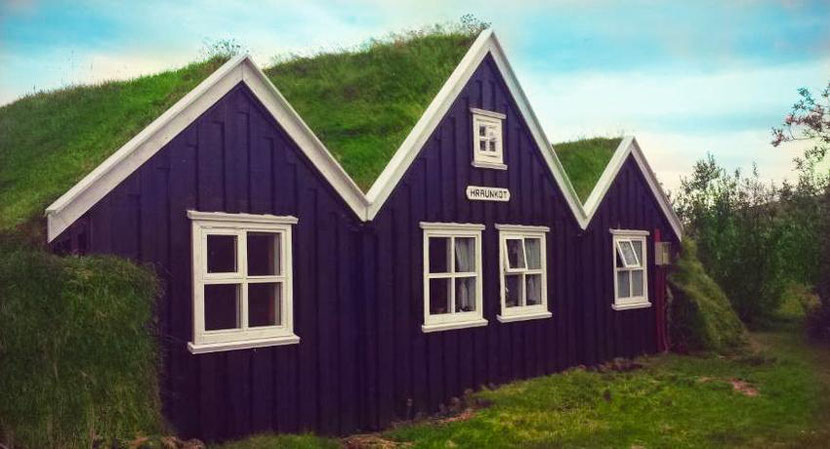 The closest accommodation to the Thingvellir National Park is Þingvellir Golden Circle Cottage that is located only 17 km from the park. It's a traditional Icelandic house with moss on the roof that looks like a fairytale. 
Another advantage of this place to stay is its proximity to the Golden Circle route. Here you get cozy rooms with mountain views and a jacuzzi. 
DISCOVER MORE ABOUT ICELAND:
3. Cape Vik: a Place of Power in Iceland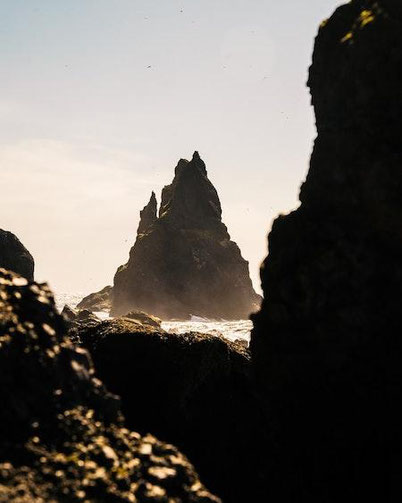 Cape Vik is a place of power in Iceland, where the waves emanating from the Antarctic, without the landmass to block it, collide here with a coast covered in black ash.
There are many beautiful natural places in Iceland, but this is one is where you can really feel cosmic energy.
Touch infinity at the basalt columns of Mount Reynisfjall among the black rocks on a black volcanic beach. 
According to legend, these rocks were once trolls, which were petrified by sunlight.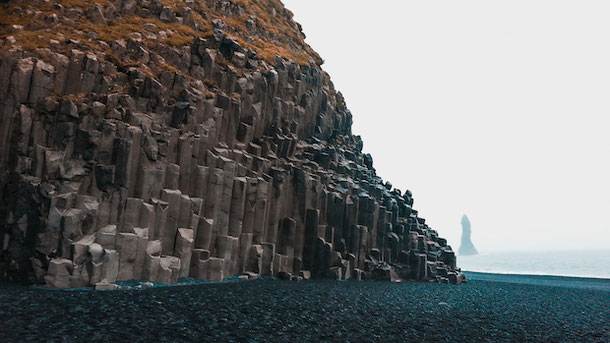 Vik is not only unusual mountains but also the village with the same name.
The black beach is actually called Reynisfjara.
This volcanic beach has been included in the list of the most beautiful beaches in the world by top world TV programs and magazines.
Where to stay near the place of power in Vik: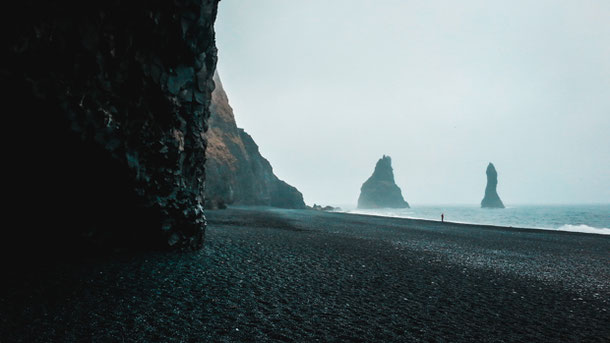 In Vik area there is a big choice of accommodation from the budget hostels and guest houses to more upscale hotels.  You can find here a place to stay for $52 per night. 
I recommend a stylish hostel The Barn that is located close to the Reynisfjara Black Sand Beach (4 km away). It is designed in a Vik-style with black furniture, dark wood and black stones.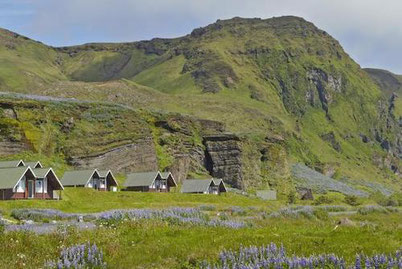 If you prefer privacy over design, then in Vik there are simple but cozy Vík Cottages. It's a great place to stay if you travel on budget. 
A more upscale option in Vik is a Hótel Kría located close to the black sand beach. 
This hotel is modern and has all the amenities for demanding travelers. You can enjoy mountain views from your room and evening or morning walks along the beach.
But the best part of staying there is to watch the sunset on the black sand beach and absorb the magical atmosphere of the black rocks. 
Final words
A trip to Iceland became a transformative travel for me.
I went to Iceland spontaneously. 
One day during hot August in Warsaw, I saw an ad that Wizz Air had just opened flights Gdansk-Reykjavik. The airline offered promotional prices for this new line, and my friend and I managed to get the lucky ticket. 
But the euphoria from tickets for 40 euros to Iceland vanished and got replaced by concern.  If you want a real adventure in Iceland, you should travel by car, and preferably a jeep. The problem was that my friend does not drive, and although I have a driving license, I am not an advanced enough driver to drive off-road, in the mountains, on snow and ice.
My dear beloved Couchsurfing came to the rescue.
I published an announcement that my friend and I would be in Iceland for 10 days and that we were looking for a company on a road trip, and most importantly, an experienced driver.
One Icelandic guy from Reykjavik answered me. He was also was looking for a company on a trip to non-touristy places in Iceland. It was a MATCH! 
And I intuitively felt that going with him, even a complete stranger, was the right choice.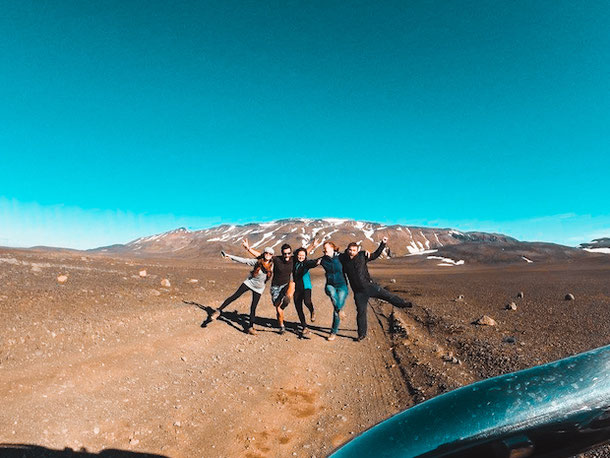 Thor, it was that guy's name, turned out to be not only a cool driver but also an excellent guide! In the car, we gathered a super-company: a DJ from Australia and a researcher from Canada. 
We visited the most incredible places in Iceland, where there was nobody else besides our car. Not a soul.
But we clearly felt the presence of the soul of Iceland. 
I found absolute silence, solitude, and places of power.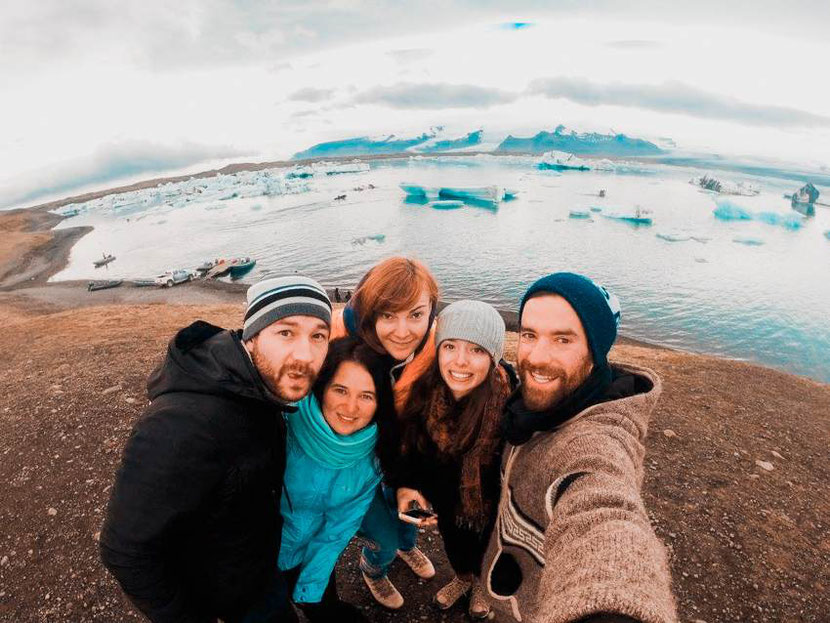 Helgafell, Alting at Thingvellir, and Vik are places of power that attract both Icelanders and travelers from all over the world.
But Iceland is a unique land, where, in fact, there are many natural places of power, and where everyone can find their "nameless" holy place, by simply following intuition and opening up to energies.
There you lose track of time.
Maybe because it is a meeting with infinity?
With love,
Sasha & The Alternative Travel Guide 
Enjoyed this article? Follow me on Facebook and Instagram or sign up for my newsletter to get notified about new posts: 
PIN IT ON PINTEREST: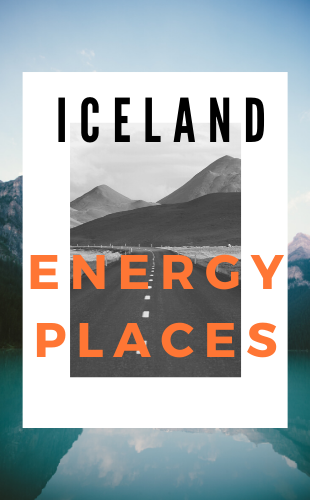 SHARE THIS ARTICLE ON YOUR FAVORITE SOCIAL MEDIA: