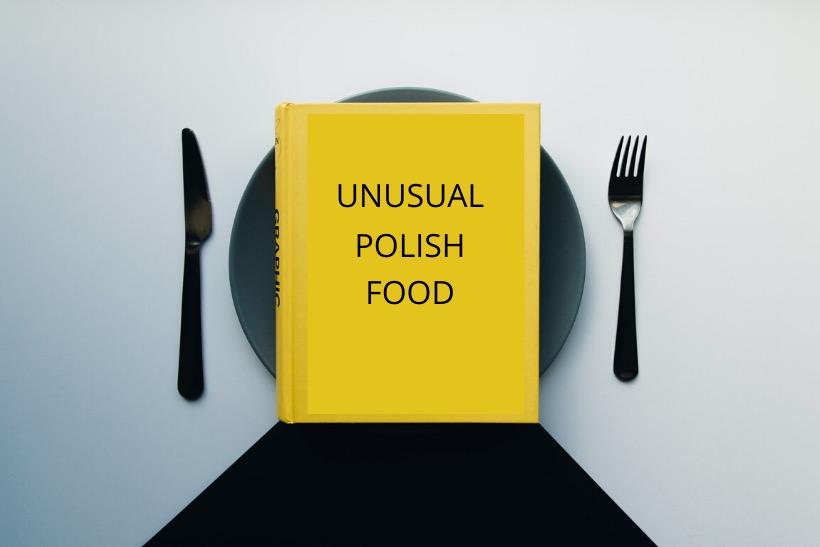 To truly get to know Poland, you have to taste it. But Poland is more than pierogi! Here is a selection of weird Polish food that will surprise you. 
Try unique Polish dishes: tripe soup flaki, sweet pasta with strawberry, fish jelly rybna galaretka and more. 
TOP-5 UNIQUE POLISH DISHES
1. Flaki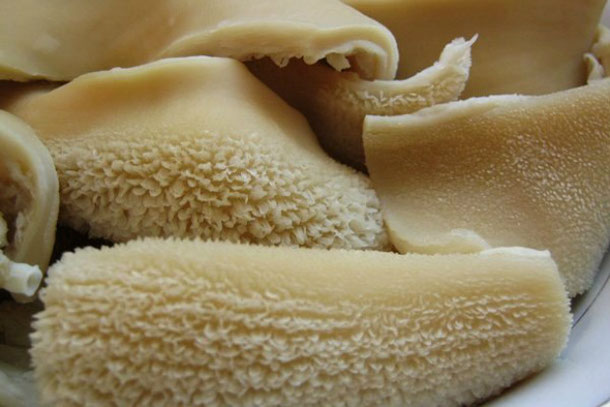 What do you think this is?
It is the main ingredient of the most popular Polish Flaki soup: tripe, the front part of the beef stomach. Does it sound appetizing?
Flaky soup is known as the perfect cure for a hangover. Maybe it is one of the reasons for the popularity of this soup in Poland?
It took me a while to try the flaki soup. I did it out of sheer curiosity.
Was it delicious? Well, to be honest, it is not my favorite Polish soup. But I still recommend you try flaki as it's one of the most authentic Polish dishes. But be ready for an unusual experience! And, who knows, maybe you will ask for supplements? 
Another unique Polish food that surprised me:
2. Sweet Pasta With Strawberry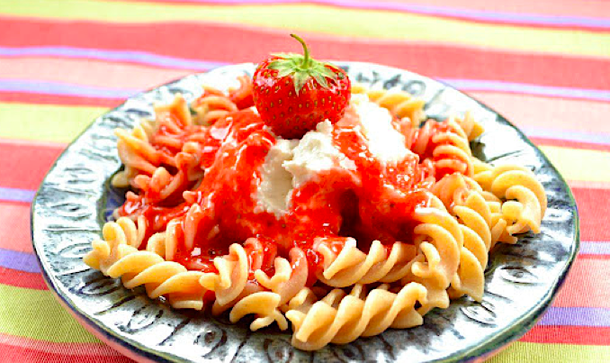 For some, it's a gastronomic shock, but among the Poles, pasta with strawberries and jam is a popular dish for children and adults.
Sometimes they also add milk, sugar, and other seasonal berries to the noodles and get a SWEET SOUP!
The variations of this weird Polish food can be found very often at home dinner and even in restaurants.
Yes, sweet fruit soup in Poland is served as a first dish, not as a dessert! 
3. Fish Jelly - Rybna Galaretka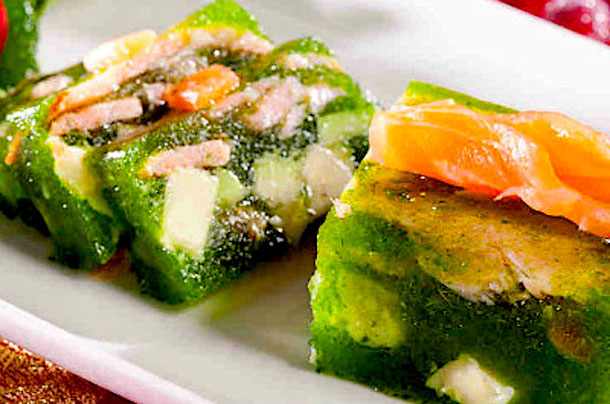 Perhaps, if you come from countries like Latvia, Bulgaria, Serbia, Russia, Ukraine, Romania, Croatia or Hungary and know what pork jelly is, you will not find fish jelly strange. 
But if you come from the Southern or Western Europe, I am sure you will be surprised to try this dish. 
My friends from France and Italy were shocked by fish jelly when I arranged for them a tasting tour of Polish dishes.
For them, jelly is by default something sweet and berry-fruit.
Myself, I am from Eastern Europe, but my family never cooked jelly fish at home. So, for the first time, I had the opportunity to try this weird dish in Poland.
Here it is a popular side dish. 
---
4. Blog Soup: Czernina
Chernina, or just black soup. Behind these names is one of the oldest Polish soups and most unusual Polish food.
This soup still causes a lot of controversies because of the main ingredient it's made of. 
The Duck blood.
For many people, blood soup is a dish that they would never agree to even try it.
However, there are people who love such bloody dishes, ranging from bloody sausages to bloody steaks.
The taste of Polish black soup is unique.
This soup owes its characteristic sweet and sour taste to sugar and vinegar, which are added to the soup to prevent blood clotting.
In addition to the main ingredients, fruits and other products are added, depending on culinary traditions from different parts of Poland and individual tastes.
Traditional recipes may include honey, plum or pear syrups, dried fruits, prunes, apricots, and cherries.
5. Warm Ice Cream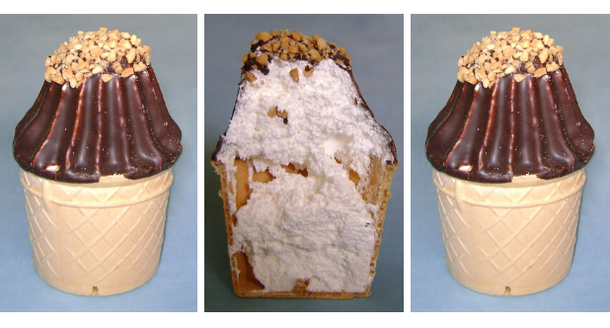 The warm ice cream is a sweet-stuff from the era of the Polish People's Republic PRL.
In times of shortage, when it was not always possible to find ice cream in stores, Polish mother-confectioners came up with an alternative: warm ice cream.
The dessert looks the same as regular ice cream in a waffle doused with chocolate. In fact, it is a sweet warm cream.
Although the deficit has long been a thing of the past, the Poles remained loyal to warm ice cream. 
This is still a popular Polish food product that you can buy at any supermarket or pastry shop.
WHERE TO TRY UNUSUAL POLISH DISHES?
You can try such unusual Polish foods in the restaurants specializing in Polish cuisine. Just ask about the dish you want to try. 
Or join a gastronomic tour to explore the full variety of Polish dishes with an expert.
I run a gastronomic tour in Wroclaw where you can try authentic Polish dishes. 
If you are interested in such a tour, leave a request here.
FOOD TOURS IN WARSAW
FOOD TOURS IN KRAKOW
FOOD TOURS IN GDANSK
With love,
Sasha from The Alternative Travel Guide
Enjoyed this article? Follow me on Facebook and Instagram or sign up for my newsletter to get notified about new posts: 
Share the article with your friends:  
SAVE IT ON PINTEREST FOR LATER: